For our first proper 2013 post, the Boy and I will give you a gift of a recipe. A recipe so easy to replicate and serve yet will make you look like a kitchen veteran (*may be slight exaggeration) that angels will herald your arrival and sing as you take up your chef's knife.
With the minor heatwave that Melburnians (and most of Australia) are currently facing at the moment, we thought we would share with a you a simple yet stunning recipe with you.
If you are bummed out that you can no longer stand in front of the hot BBQ stove as you slowly cook in the sun, have we got a treat for you.
We present you a Scallop Platter that will knock both yours and your guests' socks and hats off! BAZINGA!
We present you scallops cooked in not one but in three ways! How's that for good value and service? 😛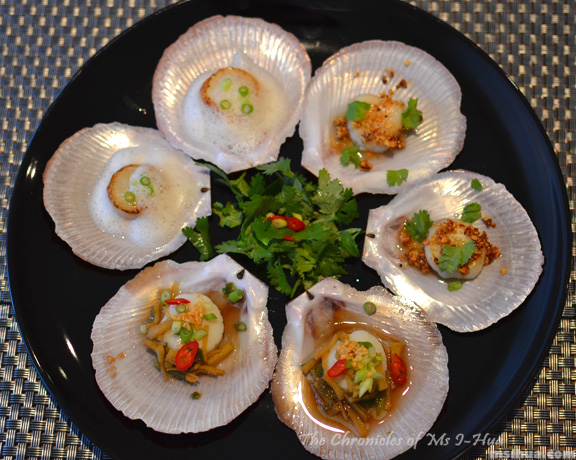 The Boy and I came up with these recipes as we were deciding what to do with half a dozen scallops (in shells) procured from Prahran Market one day.
They were large, juicy and succulent. Not wanting to overpower the freshness of the beautiful scallops, we decided to keep it simple with them and started coming up with ways in which we could keep it interesting without compromising on the freshness.
Being seafood, it doesn't take long to get this ready from the preparation stage to the main table. Serve it as a precursor to a fabulous seafood dinner (if you're stuck for ideas, I might suggest following this entreé up with my delicious Salmon Cakes recipe or any of these Fishy Ideas).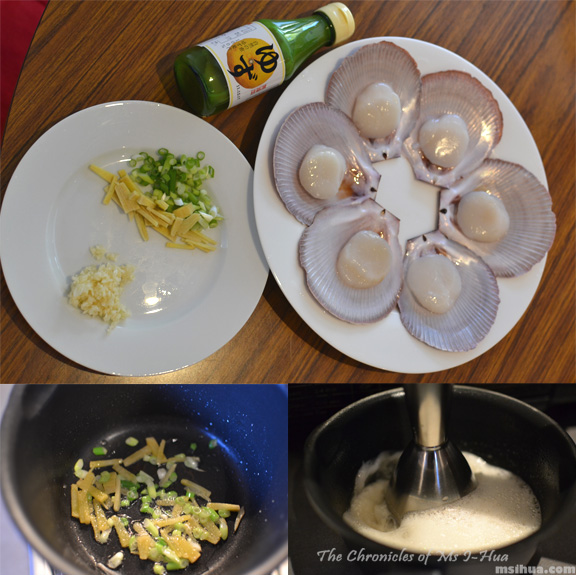 The reason why this dish is so simple to replicate, is because the only cooking and preparation you have to work on is the sauces!
Scallops Served in Three Ways Recipe
Ingredients:
Half a dozen Scallops (you can increase the quantity of the scallops as you wish)
4 cloves of Garlic (diced finely)
2 Tbsp of Butter
5 cm knob of Ginger (sliced into sticks)
1 Tbsp of Spring Onion/Scallions (sliced finely)
1/2 Red Chilli (sliced; for garnishing)
Sprigs of Coriander leaves (for garnishing)
1 Tbsp of Shaoxing Wine (Chinese cooking wine)
1 tsp of Light Soy Sauce
Yuzu juice (50 ml)
300ml of lukewarm Water
1 tsp of Soy Lecithin Powder
Olive Oil
Salt and Pepper to taste
Procedure:
Once the sauces are ready, steam scallops in a large wok (or pan) for around 2-3 minutes (or until the flesh turns opaque). An alternative would be to lightly pan fry (with a little bit of olive oil) the scallops by searing them for a minute each side.
Remove from wok or pan to start plating. Place one tablespoon of sauce on each scallop.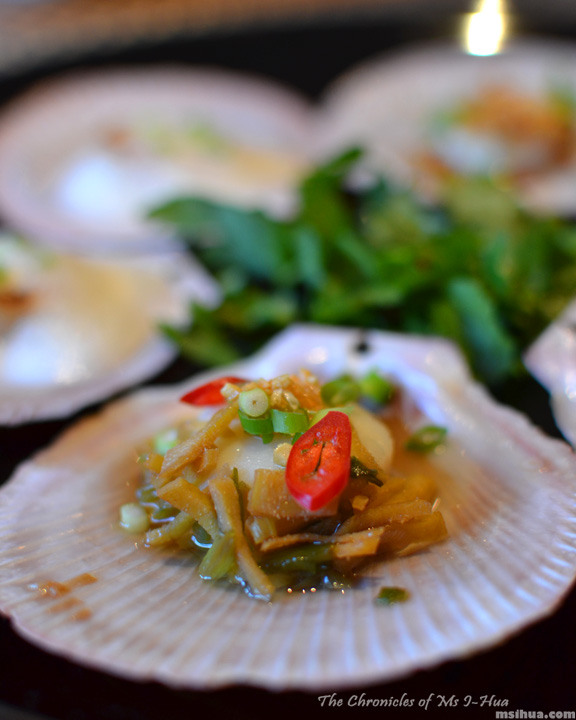 Chinese Sauce of Ginger and Rice Wine Recipe
In a saucepan, heat up two tablespoons of olive oil. Once the oil is sufficiently hot, add in the ginger and scallions and fry until fragrant.
Add in the Chinese rice wine and light soy sauce, cooking for 1 minute. Remove from heat and serve over the cooked scallops.
Garnish with fresh scallion and freshly cut chilli.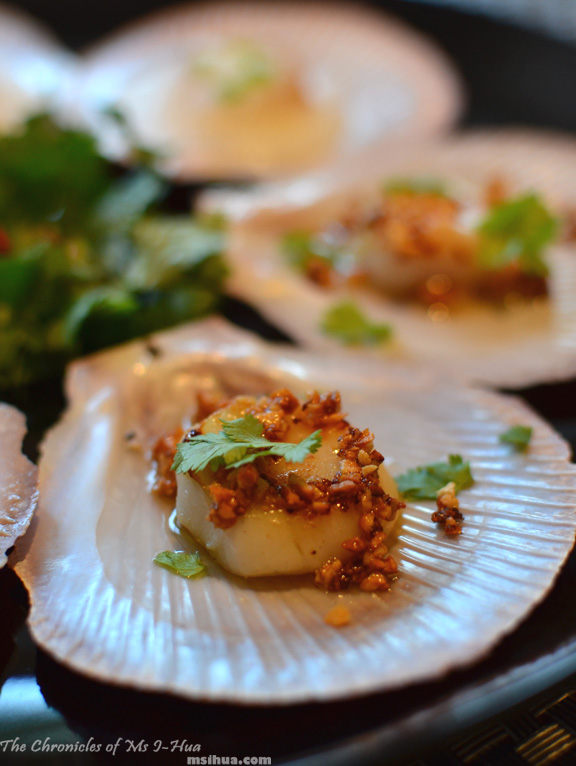 Burnt Butter Garlic Recipe
Heat up a tablespoon of olive oil and 2 tablespoons of butter in a saucepan.
Once the oil is hot, add in the chopped garlic and shallow fry until it starts to turn a golden brown.
Turn off the heat and continue to swivel the pan (removing from heat), keeping in check to not let the garlic burn and turn black. Remove and drizzle over the cooked scallops.
Garnish with coriander leaves and serve.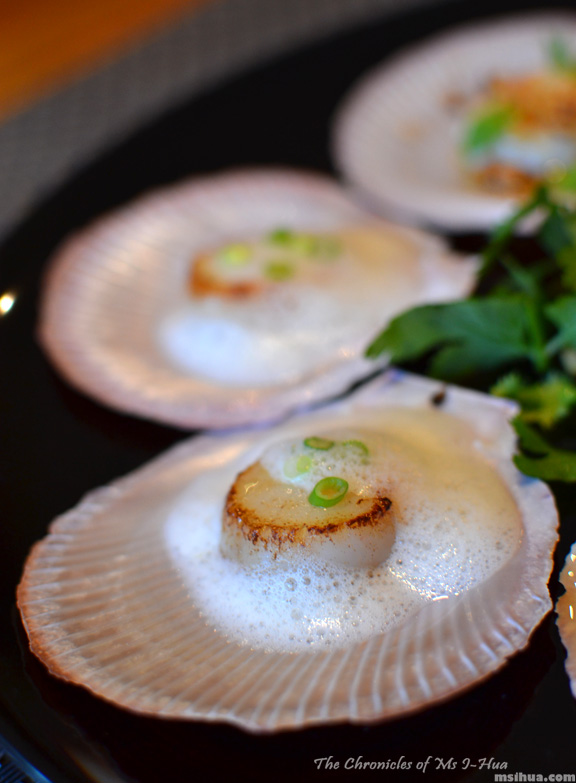 Yuzu Foam recipe
This is the simplest of the three. The key to making this 'sauce' is persistence.
Combine the yuzu juice, water and soy lecithin in a bowl. Using your hand mixer or stick blender, blend the mixture for 3 minutes or until foam forms. Try blending close to the water surface.
Scoop the foam onto the cooked scallop and serve.
We liked the effect of serving each scallop in their respective shell as it added just that extra touch of authenticity.
Simple? Easy? Now tell me how many other sauces can you think to serve with beautiful fresh scallops like this without compromising its quality?