As part of our fun and awesome hobby of eating around town and sharing hot new spots with our readers, the Boy and I get invited to some pretty cool launches and events to spread the word to the general public.
One such invite was to the relaunch of the Melbourne Arts Centre, with the newly refurbished and glamorous looking Hamer Hall as its major talking point.
Situated at the hub of Melbourne's Southbank Cultural Precinct the launch event was aptly named "A Gourmet Tour in Five Acts" with the promised finale to include an unforgettable dessert feast on stage at Hamer Hall itself.
With a new culinary team headed by Executive Chef Sean Keating and Culinary Consultant Jan Gundlach as well as a line-up of Signature Series products made and sourced specifically for Arts Centre Melbourne and created in collaboration with leading local producers which include Yarra Valley Chocolate Company, Nicolas Poelaert, Yering Station and Genovese Coffee, paves the way of their new concept that 'Food is Art'.
As I was coming in late from the Thousand Guineas Day in Caulfield (yes, this was a while ago :P) and the Boy waited for me to arrive like the gentleman he is, we missed Act 1 at the Commonwealth Bank Lounge.
According to the bloggers who were around, we missed the watermelon, duck  and parmesan tartlet canapés  but were greeted straight into the 2nd Act with  glasses of Sangria and Lemon Lime Bitters! No guesses to which I went for 🙂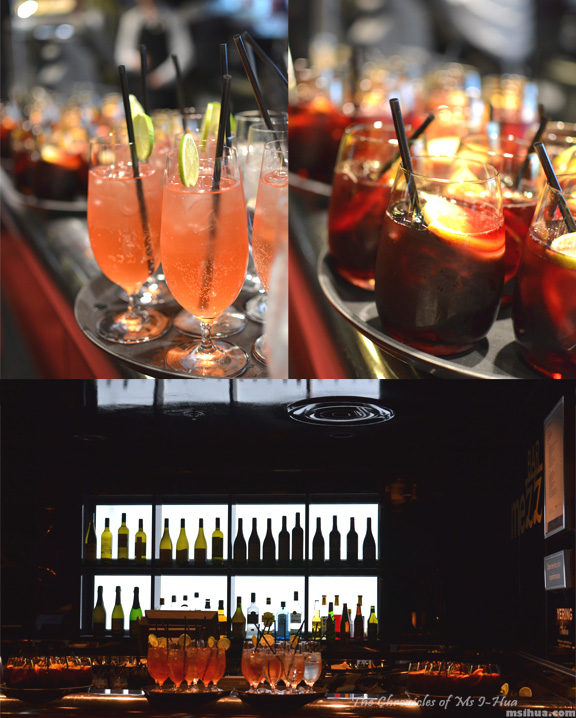 It took a while before the rest of the first act group caught up with us.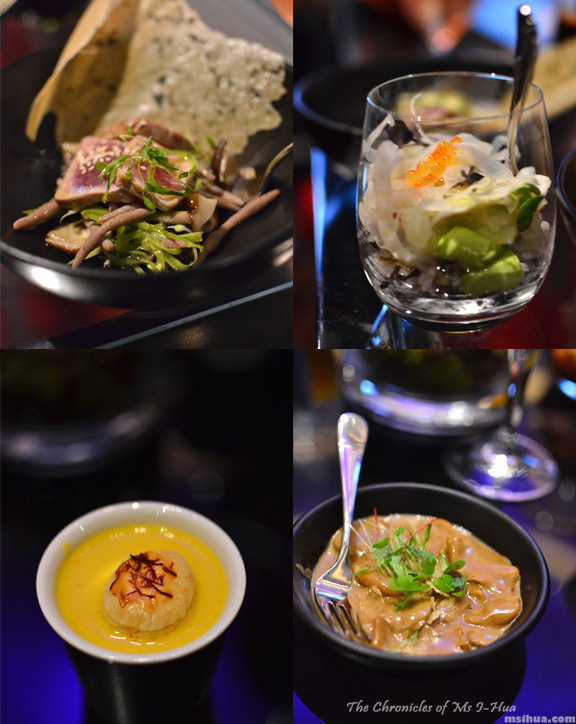 When they did, we couldn't be happier! Why? The food started to pile up on us 🙂
We were served an array of Asian inspired dishes. We were told that the team behind the Mezz Bar were Brazilian-born chef Juliana Pedrosa and Korean-born chef Julia Choi which explained the fusion style of food we had. We sampled two dishes at the Mezz Bar which included the seared rare yellow fin tuna, trofie, shiitake, spring onion, red wine and vinegar powder.
I particularly enjoyed the 'Sushi Royale', a kind of deconstructed sushi to me which included beetroot cured ocean trout, wild rice salad, avocado mousse and ocean trout caviar. I don't believe the deconstructed train is ever leaving the station at all!
Moving on quickly to the ANZ Pavilion for the 3rd Act, we sampled a creamy chicken and saffron soup which came topped with a sour cream pastry pillow. Alas, what I thought was a huge piece of scallop turned out to be pastry *sigh*. The taste of the soup was rich and comforting so my aghast was soon abated 🙂
What I really enjoyed from the whole night was the Swiss brown mushroom orecchiette as I am a great lover of mushroom dishes. So good.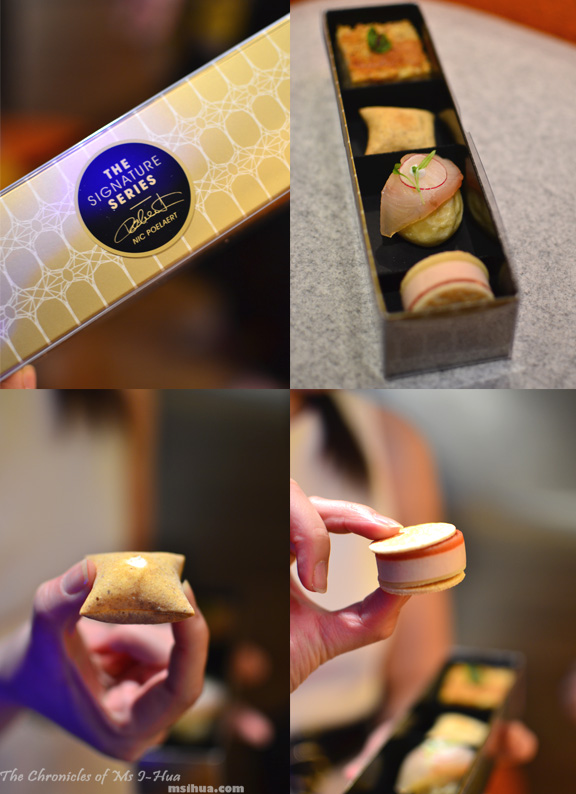 Then it was up the stairs and down the stairs and around the balcony, before we were brought to the 4th Act of the night at the Riverside Bar to sample a canapé box created by Nic Poelaert (formerly chef/owner of Embrasse and now head chef at Brooks).
Encased in the tiny box were a pear and frangipane tart; puffed rye bread pillow, goats cheese and thyme (best item in the box); cured kingfish with radish and yoghurt, and smoked ham, gruyere cheese and tomato chutney sandwich. The pillow of cheese was the stand out amongst the rest of the cold canapés.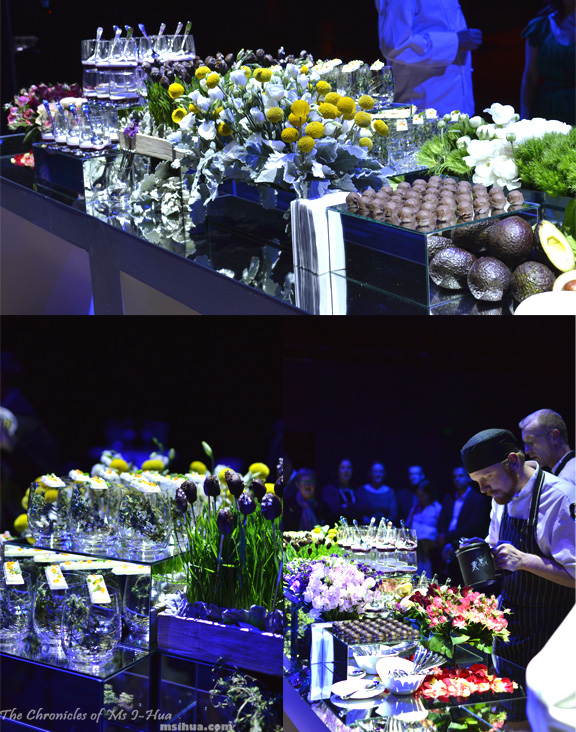 And with the final Act, we stood on stage and broke into a reprise of Phantom of the Opera bathed in blue silhouette light.
Okay, we didn't! Instead, for the 5th and final Act, we were served a variety of crazy desserts on stage by Culinary Consultant Jan Gundlach (recipient of Michelin Star as Chef de Cuisine at Bakkarat, Hannover in Germany) and his team.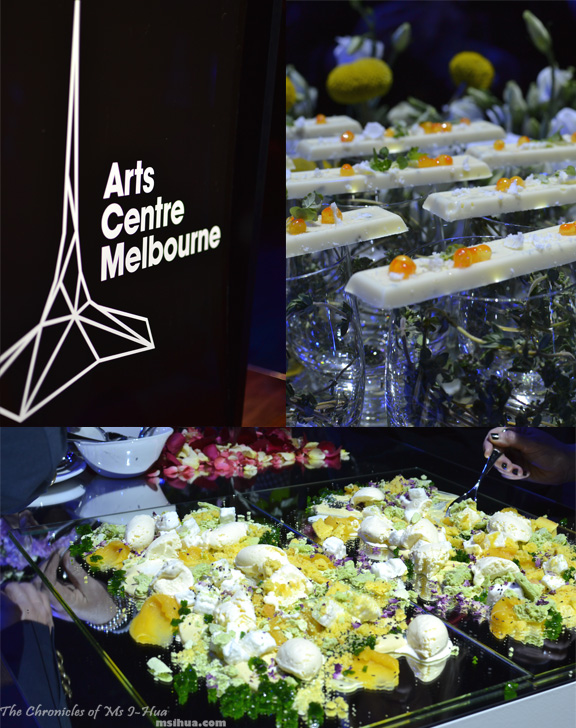 They created a fine mess of deconstructed (again that damn train) pavlova on mirrors (not bad), chocolate truffles (good), white chocolate and salmon roe (odd) and the unmentionable garlic coated chocolate onna-stick (very very odd).
Definitely some hits and misses here with the vision they were going for. I know that Heston has attempted at it and succeeded, but I would just leave that experiment to the Blumenthal.
With such a wide array of selection to dine on when visiting the Arts Centre, there can be no more complaints on getting those salt & vinegar chips and bemoaning that there is nothing else to eat!
[Ms I-Hua and the Boy reviewed and visited the Arts Centre by invitation]
For other recaps on this showcase launch:
Cleavers at Dawn
Gourmet Chic
Melbourne Dining
The Very Very Hungry Caterpillar
*Disclaimer: All food ratings are purely based on my own experiences and how I feel about the service, food and quality at the time of visit
Address:
Kings Domain Gardens/Linlithgow Ave
Melbourne VIC 3000
Tel: (03) 9281 8000
Website: http://events.artscentremelbourne.com.au
Twitter: @artscentremelb
How to get there: