I often get asked the question of "Where should I go for dinner with friends this weekend?"
More often than not, my frustrated and tired replies of, "Well, what cuisine would you like? What is your budget? Give me something to work with here! I'm not Urbanspoon you know!" would generate immediate responses of, "oh, I thought you would know a good place since you're the food blogger".
Sadly as the food blogger, one is meant to also be a mind reader and offer suggestions of dining places at the drop of a hat.
So, where do food bloggers go when they get stumped for ideas?
For one reason or another, we always end up with Japanese.
Where do we go when we need to play the tour guide and bring tourists around?
One of the few Japanese restaurants I would bring someone around to is Komeyui over at Port Melbourne.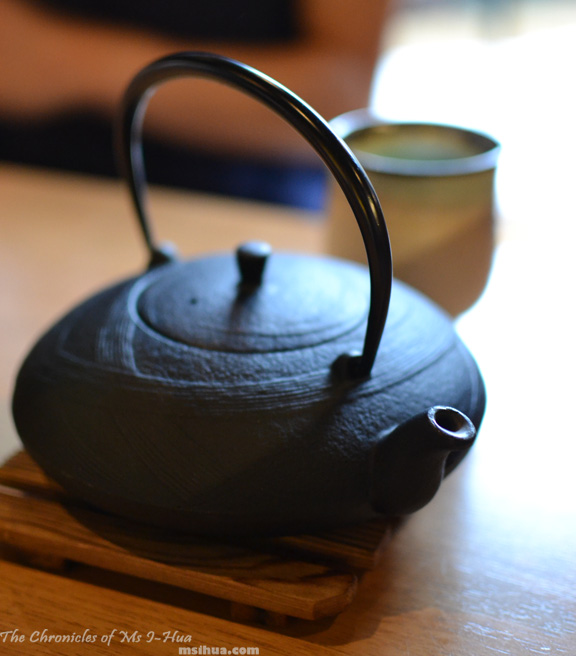 There's just something about this place that makes you want to come back for more.
It's in the food, in the service and in the ambiance.
Everything here is just so comfortable.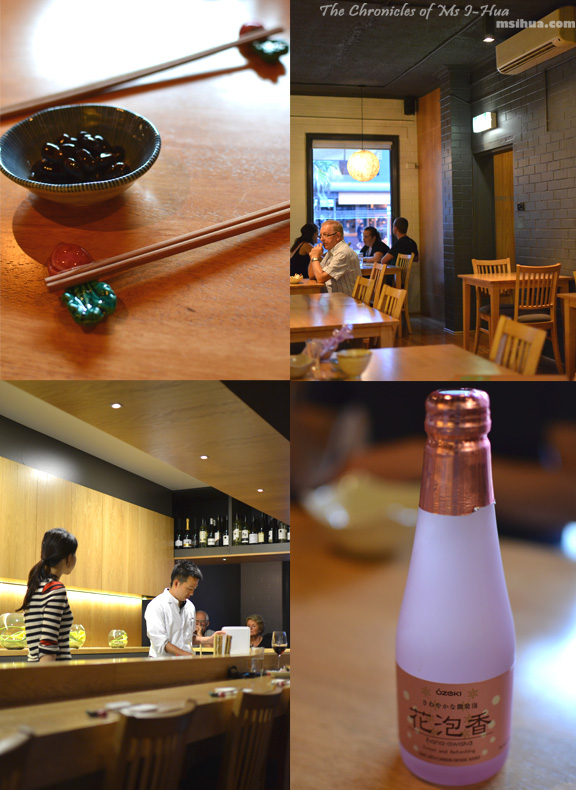 There's no loud incessant *doof doof* music blaring in the background. It's not hip and it's certainly not funky. It's old school and traditional.
There's a sushi bar where customers can enjoy ogling at the sharp handywork of Chef Kuma(bear-san)no.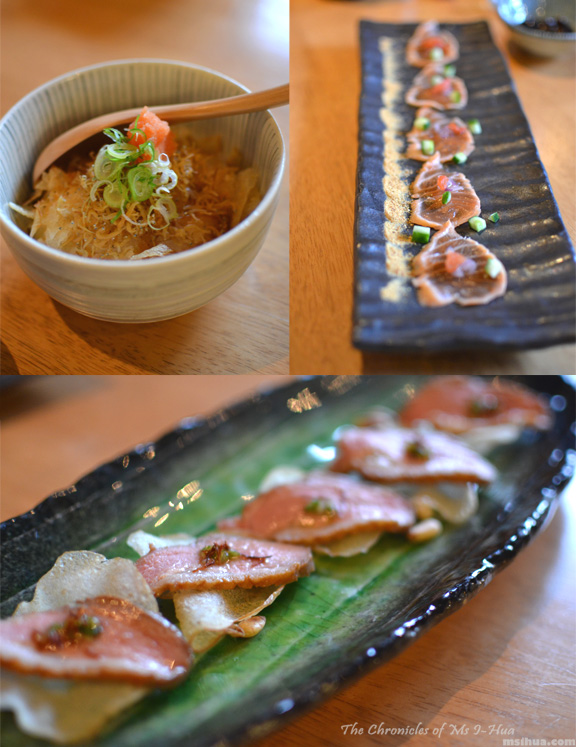 The Boy and I both love tofu so we can never go past the Tofu & Baby Anchovy ($14.00) which is devilishly delicate. Smooth and crispy all at once. With every mouthful of crunch, the soft and crispy texture feels so good that you don't even feel guilty that you're literally eating hundreds of anchovies. Mmmm.
We also like the Duck Breast Komeyui Style ($16.00) (5 pieces) with slivers of thinly sliced duck cooked in a soy-based red wine sauce served on potato chips.
On one past visit, we enjoyed the Yuzu Marinated Salmon, which was delicate and light.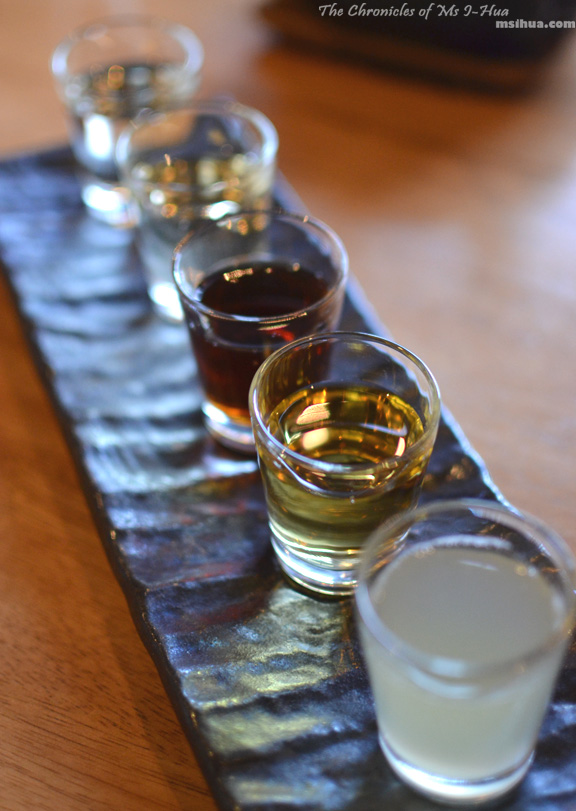 Of course when dining at a restaurant such as Komeyui, drinking the recommended drinks should never be passed.
So it came to be that my companions and I drank the matched sakes. I apologise as I don't remember the names for them, but they were all quite delicious!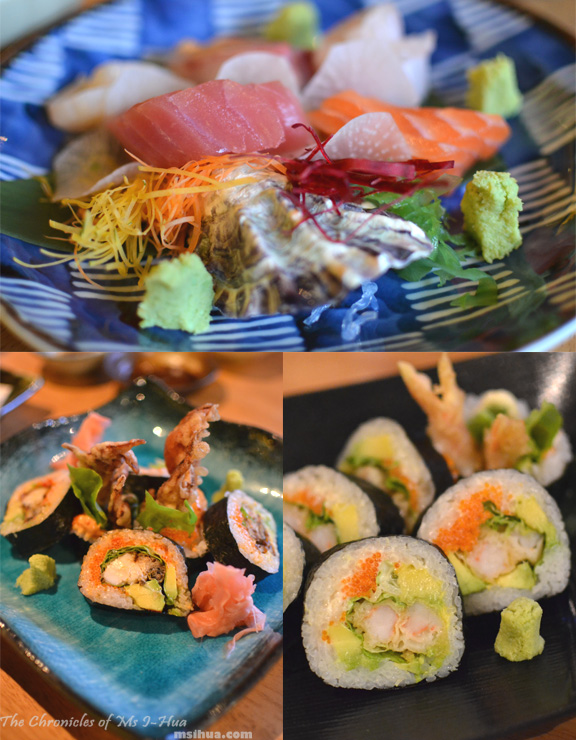 One of the best things to enjoy whilst dining at Komeyui is the sashimi and sushi offerings.
You can bet that the sashimi served here are the freshest available!
We recommend trying the assorted sushi and sashimi. If you're a fan then go for the Main serve for $45 or the smaller Entree option for $30.
Also a must to try are the Sushi Rolls and if you are torn from the options, go with the fried stuff *wink*.
The Soft Shell Crab and Tempura Prawn rolls are delicious $22 (each).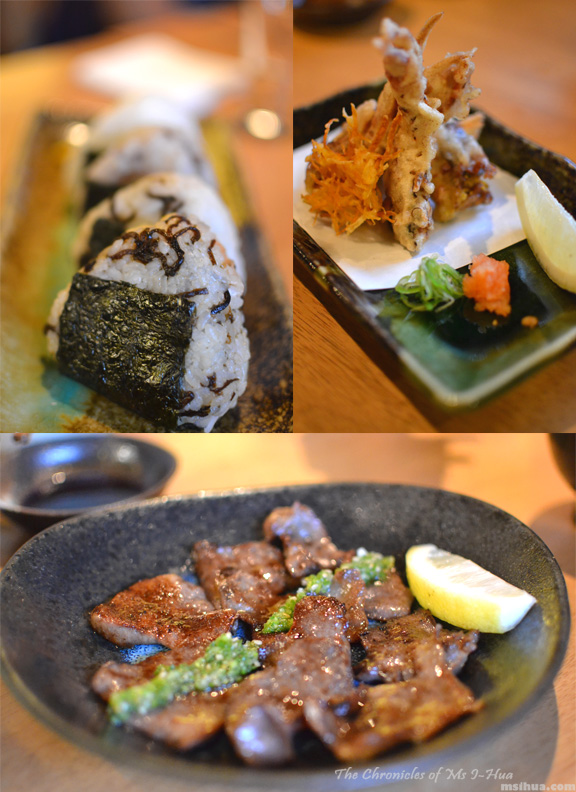 Another good thing to try here (which many places don't do) are the Omusubis'. Traditional rice balls served with fillings (similar to Onigiri) and costs $5.50 each.
The Boy and our fellow mutual blogger friends also like to order the Ox Tongue with Spring Onion $20.00 (100g) or $37.00 (200g) as they love how tender the meat is.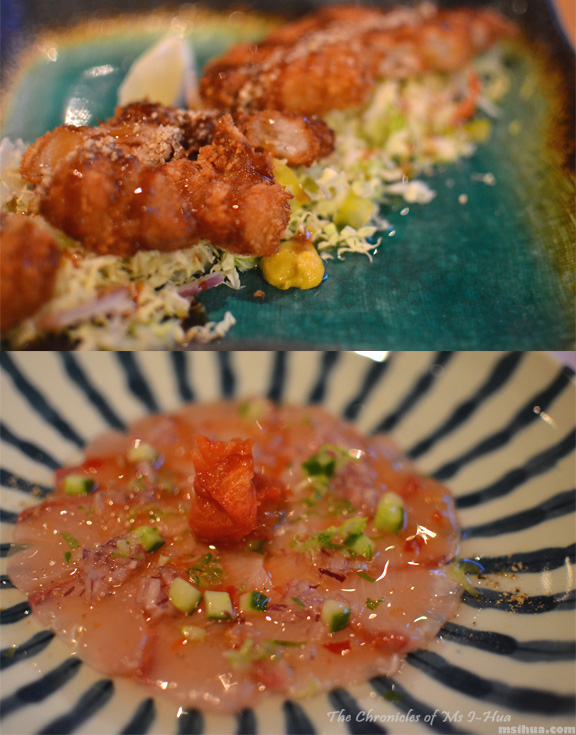 Amazingly, we have only tried the Berkshire Pork Tonkatsu ($27.00) once. It could be the fact that the seafood here is so fresh and good that we forget about the meatier based dishes.
Sometimes, just sometimes, a plate of delicious goodness that sits right outside the menu comes out of the sushi bar such as the beautiful dish of Kingfish Sashimi with yuzu and tamatoes.
This revisit post was a long time in coming. Nearly a year ago *gasp* and the only person to potentially remember this review was the one person (angle babe, Hannah) who wrote about this at the time this meal was taken.