One of our favourite things to order as we travelled back home to Malaysia was salted duck egg yolk anything.
Salted duck egg prawns, salted duck egg crab (which was the beginning of this madness), salted duck egg pork ribs, beans, chicken ribs. You name the item, they cover it in salted duck egg for you!
Coming back to Melbourne, we realised that the fad has caught on at local Chinese restaurants much to our happiness.
However, the Boy took that as a personal challenge that he could do it too. I keep telling him, "No one is challenging you. It is NOT a competition!"
But my mumblings as usual end up falling on death ears. Not that I am complaining too much *wink* as I do get to enjoy the tasty morsels he comes up with.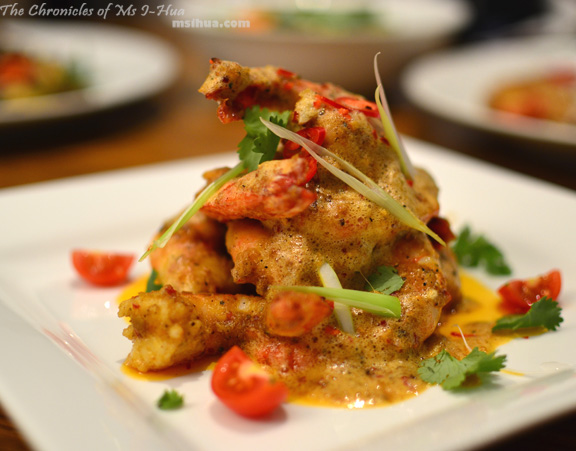 So "why?" you must ask, do I resist his mad cap challenges and ideas so much? It's usually 8 out of 10 times that ends up with me having to cook it all, prep and wash as he dashes around wringing his hands in frustration that his experiments will fail. Doing what a good wife always does at that point, he is relegated to a consultant role in the kitchen who finalises the look of all the dishes at the end.
With this dish however, there was none of that and he had me going back for seconds, thirds and fourths!
Salted Duck Egg Yolk Prawns Recipe
Ingredients:
400 grams of Tiger Prawns/Large Prawns (shelled apart from the tails and deveined)
3 Salted Duck Egg Yolks (pre-cooked & mashed with the back of a fork) – you can get them from most local Asian groceries and they come pre-cooked in a package. Or you can follow my recipe here to make your own batch 🙂
2 Tablespoons of Peanut Oil
1 Tablespoon of Butter
1/2 teaspoon of Sugar
2-3 cloves of Garlic (finely chopped)
1 Red Chilli (finely chopped)
Salt & Ground Black Pepper to taste
Spring Onions, Cherry Tomatoes, sliced Chillies and Coriander (for garnish)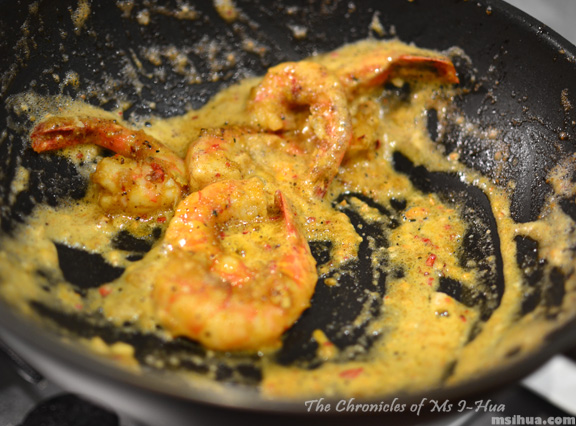 Procedure:
In a hot wok, heat 2 tablespoons of peanut oil. Stir fry the garlic and diced chillies until fragrant. Add the butter and toss in the salted duck egg yolks and mix it around with a spatula until it evenly breaks up and starts to froth. Add in sugar.
Toss in the prawns and fry until cooked ensuring that they are thoroughly coated with the egg mixture. Season with salt and ground black pepper to taste.
Plate up and garnish with sliced chillies, coriander, cherry tomatoes and sliced spring onions.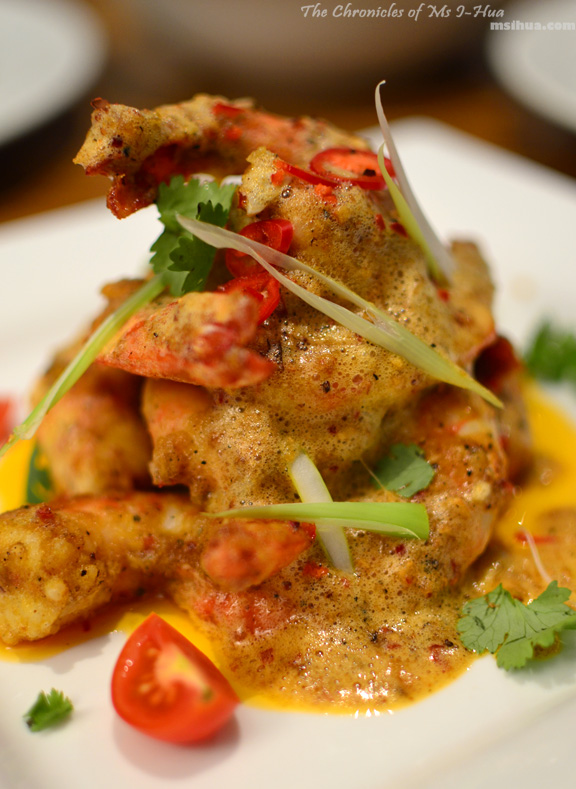 Frothy, buttery with a hint of spice, it's guaranteed to get you licking your fingers and slurping up the delicious sauce. Conversation will be halted during dinner as you enjoy this.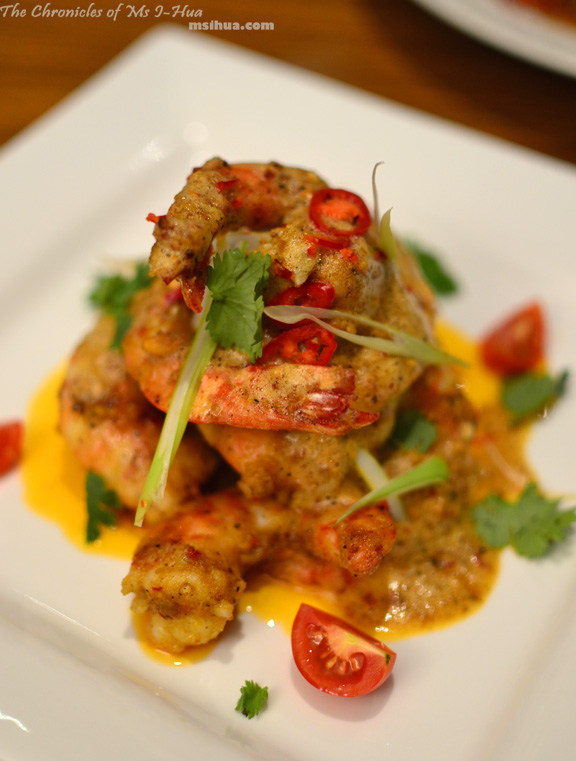 Serve it up hot with rice and you will be the crowd pleaser!
So it's not as difficult as it looks! I'm going to start my next batch of Salted Duck Eggs and I know what I'll be having in a month's time! Salted Duck Egg Yolk everything galore!!!