When I first received the email about ShanDong MaMa, I had a little giggle to myself.
It wasn't because the name was so cute, it was that the email content made me smile. For some reason, the words "Mama" and "dumplings" just make me giggle.
I politely responded to "Mama's Godson" that the Boy and I would drop by "one day". I tried to be as vague as possible as I wasn't sure when I would have the time and I wanted to see the place for myself.
Deep down inside, I had just filed ShanDong MaMa to be just another dumpling place.
Oh man, was I wrong!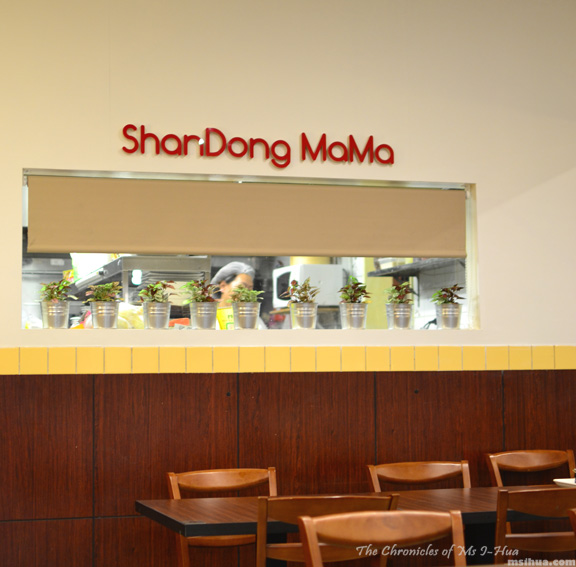 As we walked towards Chinatown one evening prior to attending the sideshow of The Killers (Hell yeah, that was an awesome concert!) for some quick and easy Chinese meal, I suddenly thought of ShanDong MaMa and their cute email. It took a while to locate it before we realised it currently resides in the old Gold Star Noodle House Restaurant (which I still miss *sniff*).
If you have no idea where that is, just walk towards the Mid City Arcade (where Kaneda and Dessert House is) where the old Chinese Cinema is located.
It was disheartening to see that the whole shop was completely empty apart from the lone staff standing guard at the cashier area.
As we took our seats, the lone staff started questioning us about our knowledge of the place. As I couldn't sit there and pretend to be oblivious to the shop, I introduced myself and the Boy and got to know Colin a.k.a. Mama's godson (he really is the godson of the chef).
Colin helps whenever he can (which is quite a lot) around his crazy schedule as a full-time cinematographer with his adopted family. It's definitely a family affair where Mama's sister, daughter, husband and godson have had a helping hand in making her dream of opening a dumpling restaurant come true.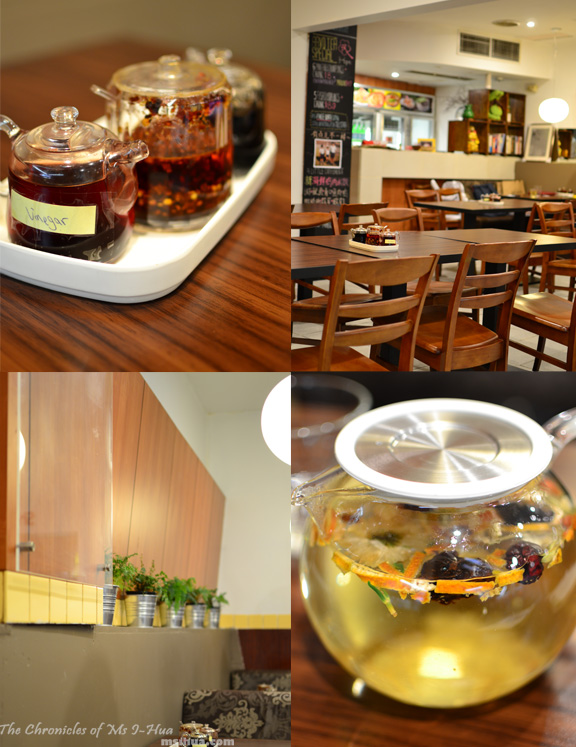 Whilst Colin convinced us to try the 8 Treasure Tea (Luo Han Gou, dates, mandarin peel and 5 other ingredients :P), he told us the story of how ShanDong MaMa came about (by the way, he is the creative brains behind the cute logo that the restaurant uses).
Colin explained that Shandong is a coastal town towards the north east of China that is exposed to a variety of deep sea fishes. It houses the sacred Mount Tai, a revered mountain to Taoists and Buddhists in Asia. It is also the region where Mama was originally from (during our conversations, he never stopped calling her Mama).
Mama grew up in the prefecture-level city of Yantai which houses the largest fishing seaport in Shandong.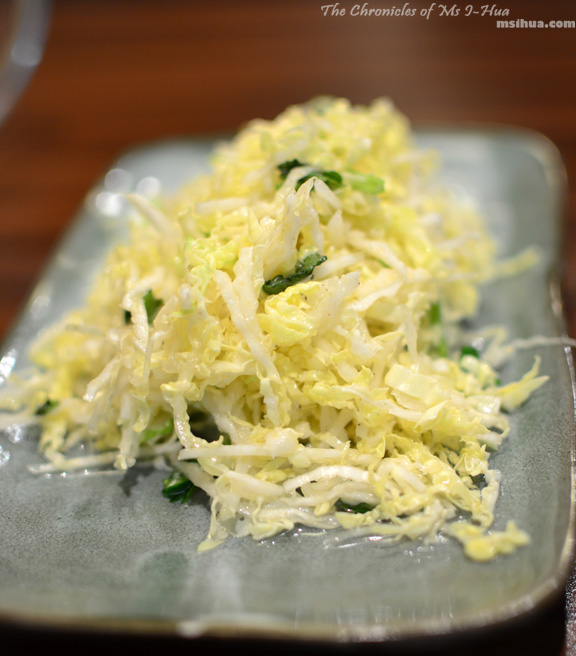 As the dishes arrived on our table, Colin took the chance to describe each one. Sometimes, with funny stories on how particular Mama (the chef) can get when she's choosing her ingredients and cooking in the kitchen.
We couldn't get enough of the Sweet & Sour Shredded Cabbage Salad ($4.80) with a dash of sesame oil. Immediately the weekend that came by right after our visit, the Boy and I tried to replicate the dish by purchasing a gigantic Wombok, but we just couldn't balance the flavours out right as Mama did.
We didn't particularly follow instructions though as Colin said that Mama will only use the leaves from the core of the cabbage as it is the sweetest part of the vegetable.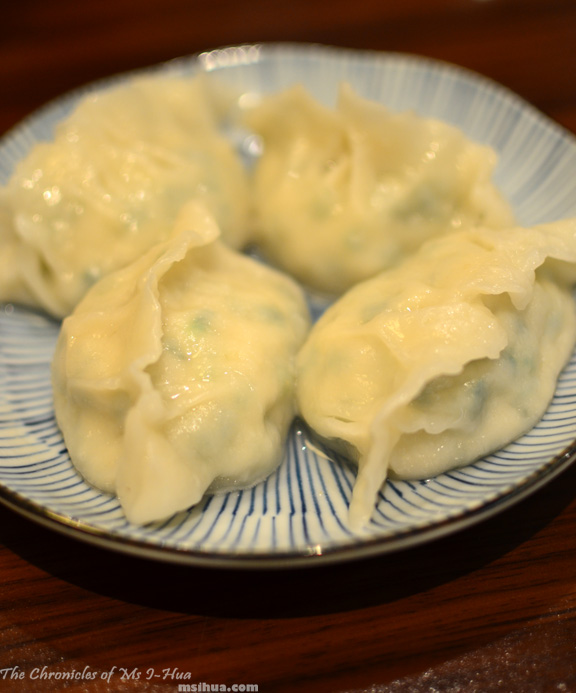 The plat du jour for us both (hands down no contention) was the amazing Fish (Mackerel) Dumplings ($14.80 for 10 pieces).
Mackerel fillet mixed by hand (Mama won't have it any other way!) with coriander, ginger & chives into a mousse-textured filling and then wrapped in a very thin dumpling skin. A traditional recipe from the coastal city of Yantai in the Shandong province of China.
I can hear you say, "Fish? Mackerel? Won't that be too pungent?"
Don't you worry about a thing my friends! Mama uses the freshest ingredients and will only make fish dumplings from one fish per day. She doesn't like wastes, so she won't make them in advance to store, nor will she serve you sub par dumplings.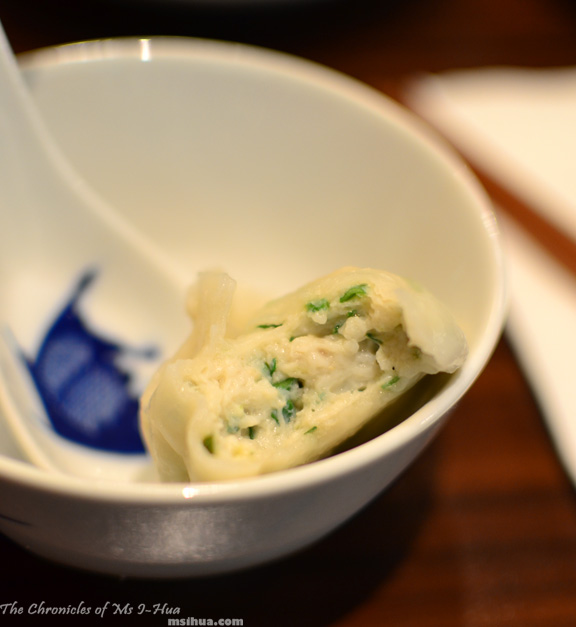 The texture of the fish in the dumplings was a cross between soft egg and tofu, but Colin reassured us that only fish and herbs are used in the filling. The soft silky texture is generated from skilful technique in mixing the fish. Handling it too hard, it becomes springy with the fat splitting from the fish and you get a resulting fish ball-like texture. Too soft and it disintegrates.
Apart from the fish dumplings, we also sampled a variety of boiled and pan fried dumplings.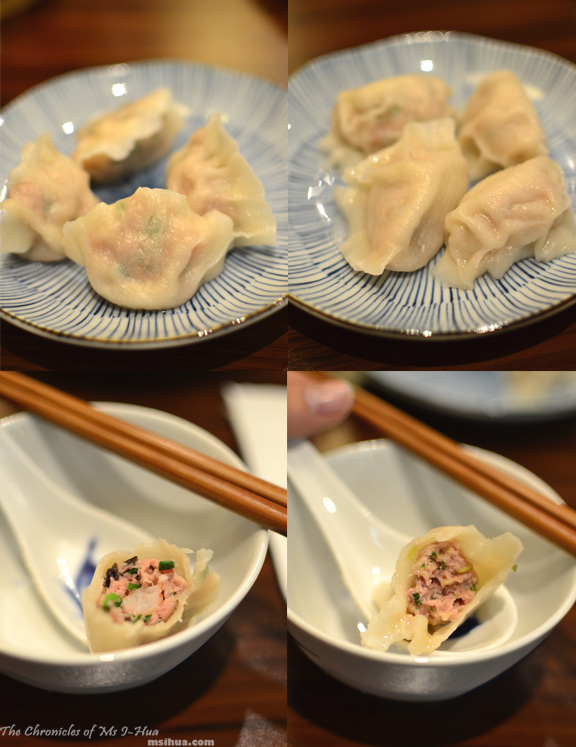 Prawn, Black Fungus & Chives Dumplings ($12.80 for 12 pieces) – Prawns with chopped chives, black fungus & a small amount of minced pork for texture & flavour. Wrapped in a thin dumpling skin made in-house.
Pork & Cabbage Dumplings ($9.80 for 12 pieces) – Pork mince, finely chopped & cooked Chinese cabbage, spring onions, ginger and dry shrimps for an extra flavour. Wrapped in a medium thick dumpling skin made in-house.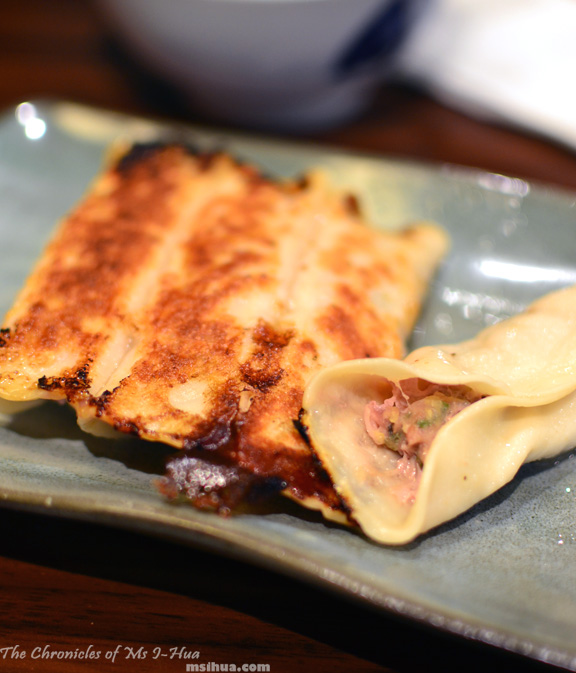 Pan Fried Meat Dumplings with the skin deliberately left open to allow excess juice from the filling to mix with the frying oil that adds flavour to the crispy skin. Dumplings are boiled first before frying.
The Boy and I both couldn't stop gushing about how good these were.
We are after all connoisseurs in fried food. Heck we love fried stuff and these fried dumplings certainly were the best ones we've had in recent times.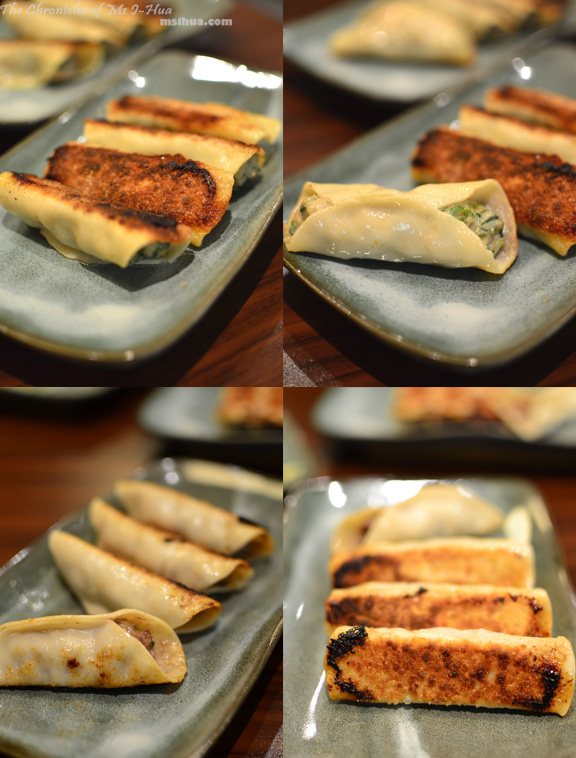 Chicken & Ginger Fried Dumplings ($9.80 for 12 pieces) – Chicken mince mixed with ginger, black fungus, shepherd's purse herb and dry shrimp with a dash of sesame oil in a medium-thick skin.
Beef Fried Dumplings ($9.80 for 12 pieces) – Beef mince, onions and chopped dry shrimps for extra flavour in a medium-thick skin.
Pork Fried Dumplings ($9.80 for 12 pieces) – Pork mince with a dash of cooking wine and sesame oil mixed with coriander, black fungus, cabbage and dry shrimp in a medium-thick skin.
Prawn, Black Fungus & Chives Fried Dumplings ($12.80 for 12 pieces) – Chunks of prawns with chopped chives, black fungus & a small amount of pork mince in a medium-thick skin.
As we got up to pay for our meal, we were beaten to it by the ever vigilant Colin (true Asian style of "let me fight to pay for this bill") who asked that we spread the word out about Mama's passion for good food and quality in the heart of Chinatown.
So we have been doing just that. I truly believe that ShanDong MaMa is worth the visit as it offers something uniquely different from the other gazillion or so dumpling stores out there.
And if you are a self-confessed "dumpring rover" you won't want to miss out on ShanDong MaMa's fish dumplings. We've also just noticed on their twitter profile that they have introduced pan-fried fish dumplings onto the menu!
Guess who's going this weekend?!
[Ms I-Hua and the Boy were convinced to dine as guests of ShanDong MaMa]
*Disclaimer: All food ratings are purely based on my own experiences and how I feel about the service, food and quality at the time of visit
Food/ Cuisine: Chinese Cuisine
Dining Style: Casual Dining

Opening Hours:
Monday to Saturday, 11:00am – 9:00pm
Address:
Mid City Arcade
Shop 7, 200 Bourke Street
Melbourne VIC 3000
Tel: (03) 9650 3818
Website: https://www.facebook.com/shandongmama

Twitter: @ShanDongMaMa

How to get there: