As you are all aware by now, the Boy and I try to venture out at least once a week to scout the hottest cafes for breakfast and brunch.
Usually, when we try out a new place, only one of us would strike gold with a winning dish. There's usually some small flaw that mars an otherwise perfect morning date be it soggy fritters, bad service or a boring menu.
When the Boy mentioned to me a couple of weeks ago that we would be visiting Prahran for breakfast, I had my doubts that we would be able to find a nice chilled out cafe with unpretentious food and people.
Well my friends, my socks (and hat) were definitely blown away with our visit to Oscar Cooper.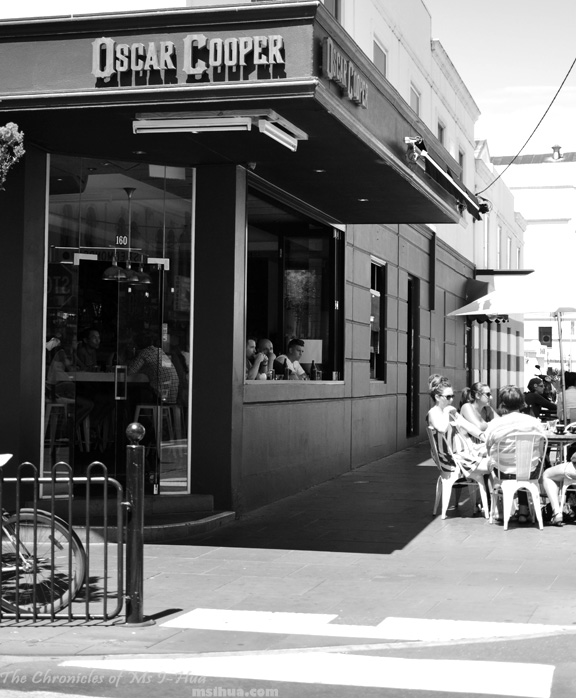 First things first, I love the name Oscar. It reminds me of the cutest most lovable puppy ever and whaddaya know? The mascot used for Oscar Cooper is a bulldog. Random coincidence or is the universe giving me a sign?!
Secondly, I loved the waitress who greeted us and eventually found us seats. She was friendly, helpful and bubbly that I couldn't help but feel my Saturday morning brightening up just with her presence! No surly grumpy bad service here that's for sure!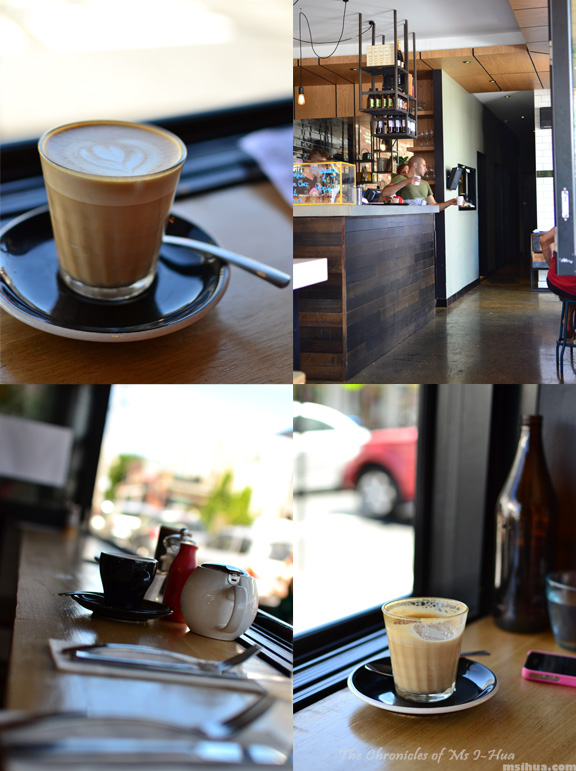 Whilst I enjoyed a lovely rounded latte (coffees from Small Batch) $3.50, the Boy sipped his English Breakfast Tea ($4.00) with his pinky up in the air (okay maybe he didn't, but he might have!).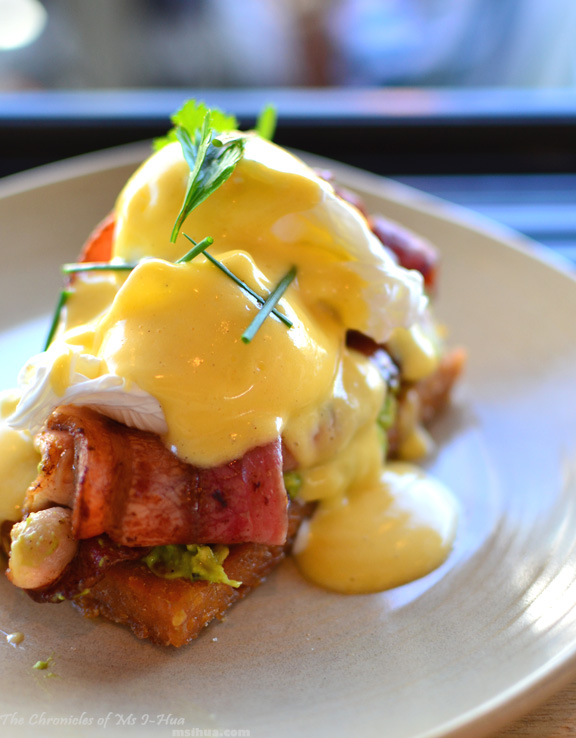 Without a pause, the Boy ordered the Oscar's Benedict on Potato Rosti, Poached Eggs, Berkshire Bacon, Smashed Avocado and Hollandaise ($17.00) as he is a great fan of most things hollandaise.
He. Just. Could. Not. Stop. Raving. About. It.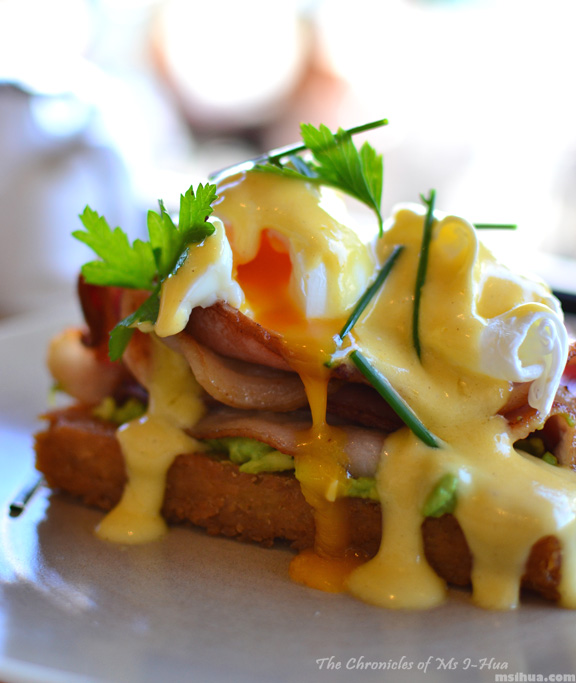 The rosti was perfect and crispy, and didn't get soggy from all the layers of food on top of it.
The poached eggs were perfectly done and the hollandaise was light and creamy.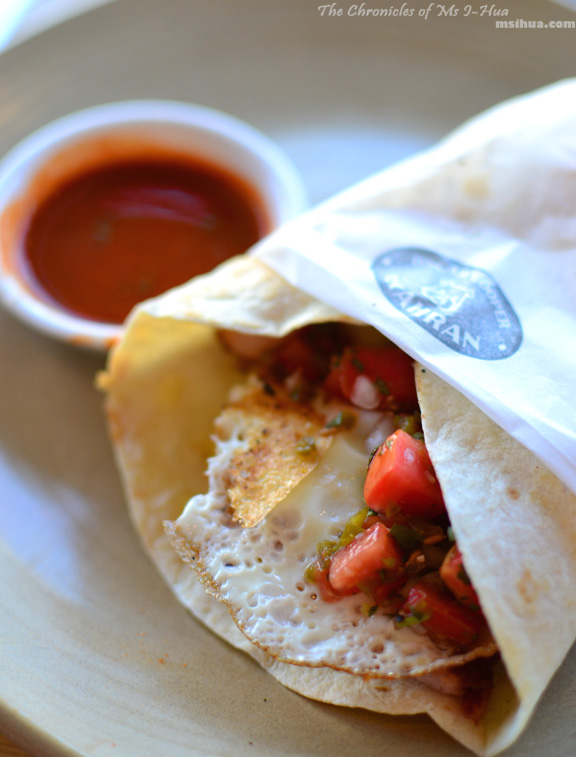 Whilst I couldn't quite decide on what I wanted from the menu (everything!), I decided to copy a few others in the cafe and cloned their orders. I absolutely had not regrets doing so.
I ordered the Breakfast Burrito on a Corn Tortilla with Berkshire Bacon, Fried Egg, Avocado, Cheese and a Spicy Tomato Salsa ($13.00). 
I just couldn't stop long enough to speak to the Boy as I was too busy enjoying my burrito, which I have now dubbed as the *crack burrito*.
I'm not quite sure what it was, but the house made tabasco sauce was just divine. Everything was. My only regret was not ordering TWO BURRITOS!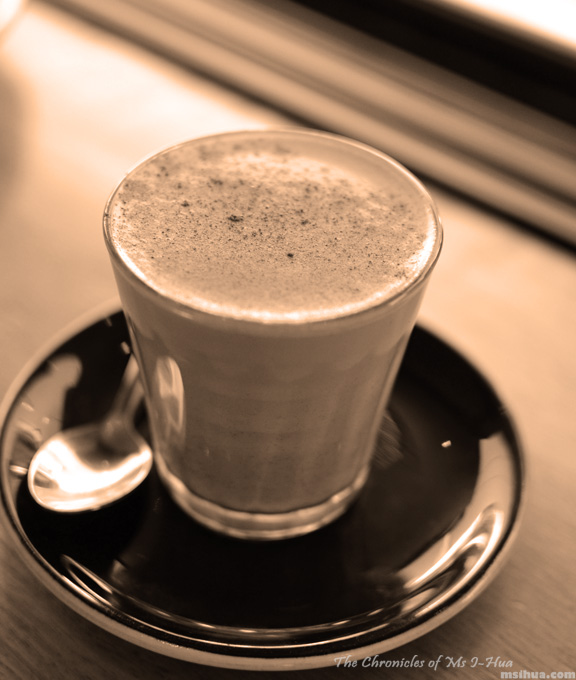 I finished off with a Chai Latte ($4.00) as I wasn't feeling quite satisfied. I chose liquid over the variety of cakes at the counter for no reason in particular, though I did stare at the carrot cake for a long time.
Think Prahran is too fancy for good food? Give Oscar Cooper a go.
Who might you see there? Casual locals catching up with friends over breakfast, gym people grabbing a quick bite and a coffee after exercising and possibly mums with bubs. There is limited seating, but I could see some space for prams 🙂
*Disclaimer: All food ratings & review are purely based on my own experiences and how I feel about the service, food and quality at the time of visit
Food/ Cuisine: Breakfast, Lunch, Coffee
Dining Style: Cafe

Opening Hours:
Tuesday to Saturday, 7:00am to 5:00pm
Sunday, 8:00am to 5:00pm
Address:
160 Greville Street
Prahran VIC 3181
Tel: (03) 9529 5670
Website: http://www.oscarcooper.com.au/

Twitter: @OscarCooperMelb
How to get there: