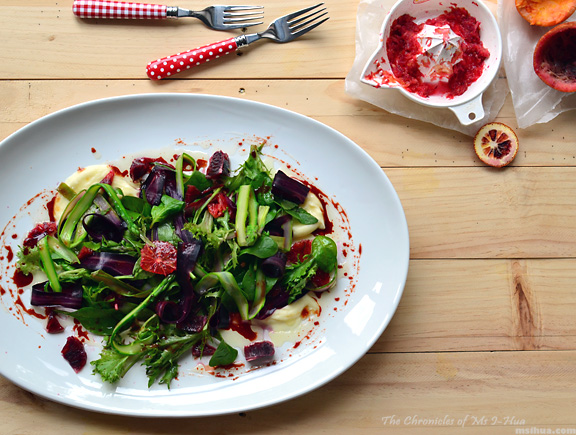 Not much longer until Autumn is over.
I must say, that this year it seems Mother Nature is intent on us missing out on Autumn altogether bringing us straight in from a harsh summer to a blistering winter.
However there have been days when Melbourne has seen beautiful Autumn days.
Autumn brings with it a colourful array of fresh produce. Indeed each season brings forth their own rich abundance, but since it's Autumn, the Boy and I would like to dedicate the following recipe to Autumn.
This is our ode.
An Autumn Salad
Ingredients
4-5

stalks of Asparagus

2

Purple Carrots

1

Blood Orange (peeled and segmented)

Bag of mixed Salad Greens
For the Parsnip Purée:
3-4

Parsnip

50

ml

Milk (hot)

1/2

Tbsp

of Butter

Sea Salt & White Ground Pepper to taste
For the Blood Orange Molasses:
1

cup

of Blood Orange juice

20

ml

of Molasses

2

Tbsp

of Red Wine Vinegar

Olive Oil
Instructions
To prepare the Blood Orange Molasses, add blood orange juice, molasses and red wine vinegar in a saucepan on high heat.

Boil until the mixture reduces to about 1/4 cup.

Set aside to cool. Before serving, add 2 parts Olive Oil to 1 part Blood Orange Molasses.

To prepare the Parsnip Puree, peel and core the parsnip. Add into a pot of boiling salted water and cook until they turn tender.

Drain parsnip and place in a blender with butter and half of the hot milk. Blend into a smooth puree, adding more hot milk as you go until you reach a creamy consistency.

Season with salt and pepper.

To prepare the vegetables, place the asparagus into a pot of boiling water and cook until just tender (do not over-cook them). Remove them from the pot with thongs and place into a bowl of ice water.

In the same pot of boiling water, put in the purple carrots and let them cook until tender. Remove the asparagus from the ice water and place the cooked purple carrots into the same bowl of ice water (topping up with more ice if needed).

Using a vegetable peeler, shave the asparagus (lengthwise) into thin ribbons.

Remove the purple carrots from the bowl of ice water and shave them using the same method.

To plate up, smear some parsnip puree on a large platter with the back of a spoon and place your mixed salad greens, purple carrots, asparagus and blood orange segments over it.

Drizzle some Olive Oil & Blood Orange Molasses mixture over the salad.

Season with some salt and pepper.
Notes
You can also add some feta cheese crumbles for extra saltiness.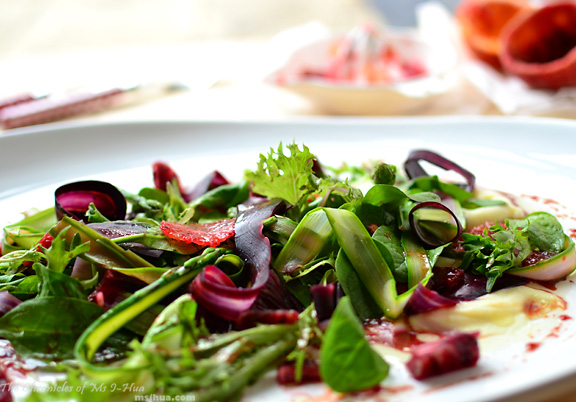 Look at the beautiful mass of freshly shaven ribbons.
Crisps and delicate, it makes for a fun eating.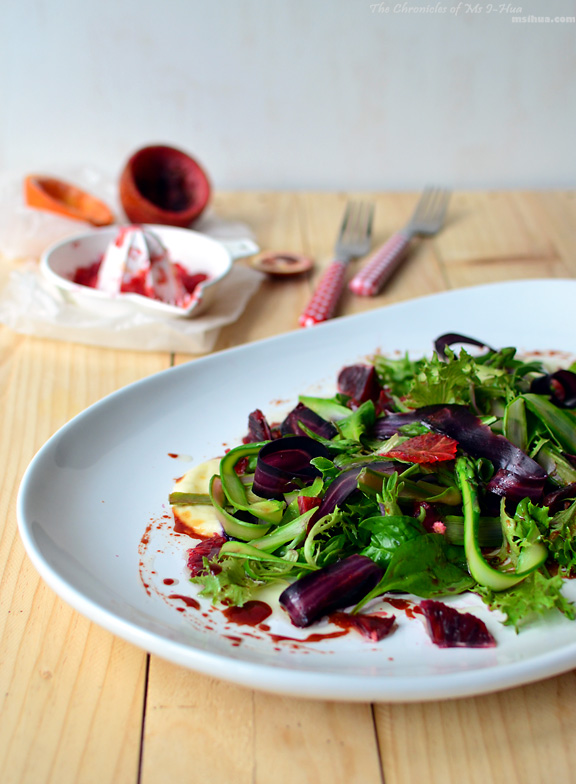 Serve on its own or as an accompaniment with a meat centered or pasta dish.
Absolutely delicious and fit for any king or queen at the table 🙂