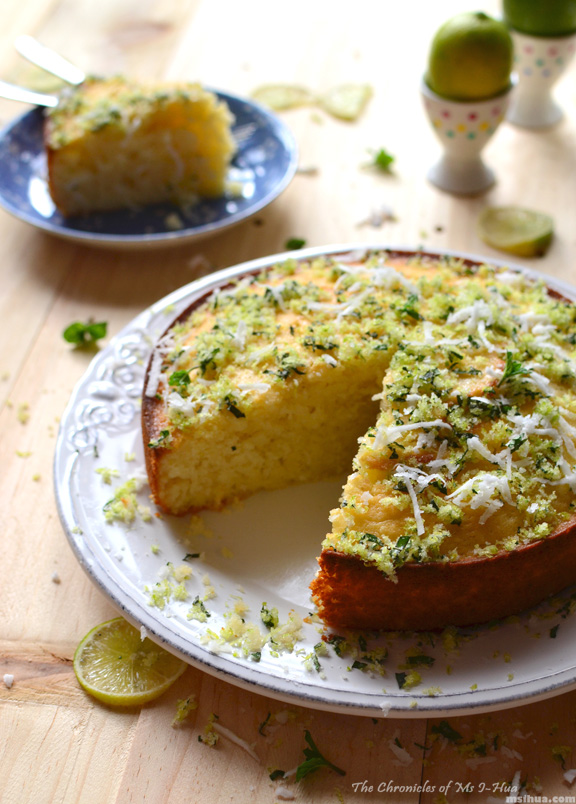 It must be the autumn air that makes me buzz so.
It could also be that summer has stayed on a little later this year and has zapped my brain cells.
In any case, I must have lost my mind as I've gotten into a baking frenzy and I don't know how to stop!
Yes! Me! The one that dislikes baking or baked goods to the extreme!
However, I have discovered in the last few weeks, that I can indeed bake, and I can indeed bake good cakes. Just don't ever let me attempt macarons again. I tried thrice and failed more spectacularly each time.
This cake has helped me find my confidence around baking and the oven.
It's brought me many compliments and demands for the recipe.
It's made people a little brighter, chirpier and pleasant when they have had a taste.
So without further ado, I share with you my recipe for my Lime, Coconut & Olive Oil Cake!
(Recipe adapted from Julie Jansen's Coconut Lime Syrup Cake on Taste.com.au, Souvlaki For the Soul's Lime, Yoghurt & Olive Oil Cake and Smitten Kitchen's Key Lime Coconut Cake)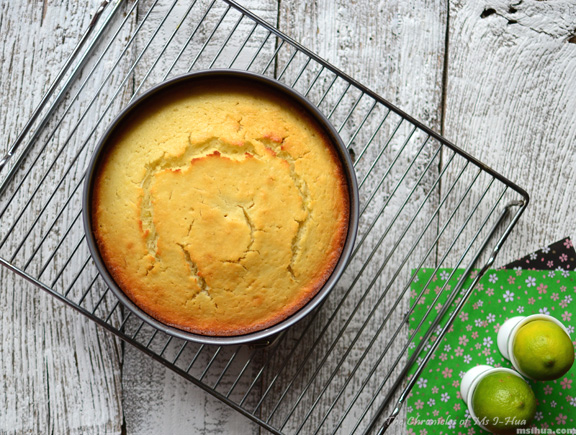 Lime, Coconut & Olive Oil Cake Recipe
Ingredients
Wet Ingredients:

165 ml of Coconut Milk + enough Full Cream Milk to top the Coconut Milk to 1 cup
60 ml Lime Juice
1/3 cup Olive Oil
2 Eggs (beaten)

Dry Ingredients:

zest from 1 Lime
1/2 cup Desiccated Coconut
1 1/2 cup Plain Flour
3/4 cup Caster Sugar
1 tsp Baking Powder

Topping:

1 Tbsp chopped Mint
2 Tbsp Lime Zest
4 Tbsp Caster Sugar
1/2 cup Desiccated Coconut
Instructions
Preheat the oven at 175 degrees Celsius.
In a large measuring jug (or bowl), pour in the coconut milk. Top it up to 1 cup with the full cream milk. Mix in the olive oil, lime juice and eggs.
In another large mixing bowl, add in all the dry ingredients and give it a good mix with a wooden spoon (or use your hands).
Pour in the wet mixture into the dry mixture and mix it in with the spoon, making sure to not overwork the batter.
Pour the cake mixture into a greased 22cm springform baking tin (I used a vegetable oil spray to grease mine).
Bang the baking tin on the counter top a few times to release any trapped air bubbles.
Place in the oven and bake for 45-50 minutes. To check if the cake has cooked, simply insert a skewer in the middle, if it comes out clean, it's ready.
The top of the cake should be a lovely golden brown.
Set aside on a wire rack and leave it to cool in the baking tin for 5 minutes before releasing the sides.
To make the topping, mix the chopped mint, lime zest and caster sugar in a bowl. Keep the desiccated coconut separated from the sugar topping as it will turn the mixture 'soggy' (trust me, I've learnt from my mistake).
Once the cake has cooled, sprinkle the sugar topping over the cake, followed by the desiccated coconut.
Notes
Adapted from Julie Jansen's Coconut Lime Syrup Cake on Taste.com.au, Souvlaki For the Soul's Lime, Yoghurt & Olive Oil Cake and Smitten Kitchen's Key Lime Coconut Cake.
http://msihua.com/2013/04/baking-frenzy-lime-coconut-olive-oil-cake-recipe/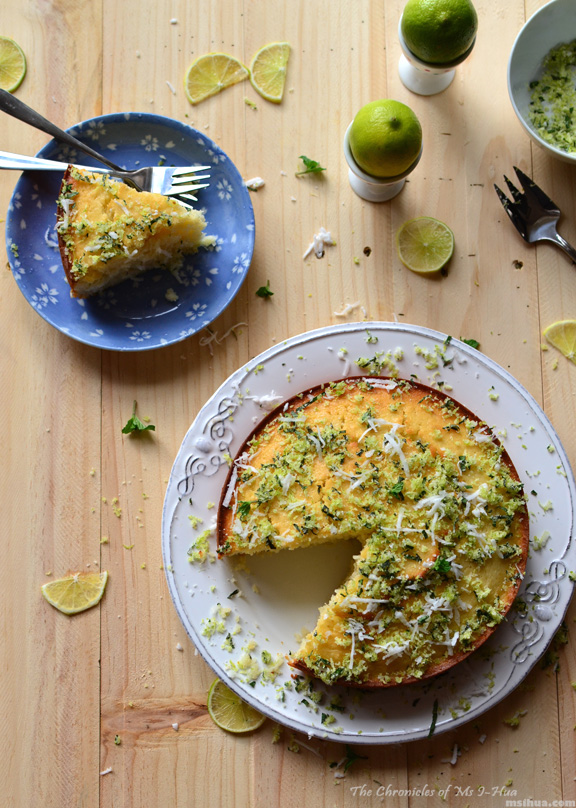 I guarantee that this cake will draw exclamations of surprise and praise.
It brings a smile to everyone's faces. I've baked this cake thrice now and have had everyone comment on how moist and zingy it was.
I love that it is a no fuss, whisk free, stiff egg white free kind of recipe.
Even your kids could make this with their eyes closed 🙂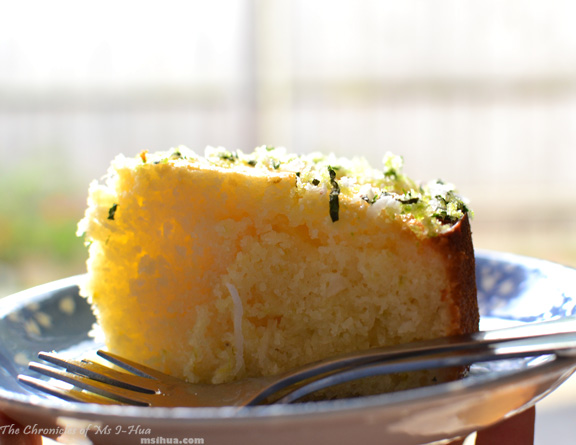 So what do you think of my new-found passion in baking?
I think I may be on to something here!