Hey there good looking!
I've been hankering for some good ol' Malaysian curries lately. I think it's because I've had about 3 people ask me for a recipe for a good Malaysian curry chicken. I always point people to Amy Beh's recipe (Spicy Curry Chicken, Nyonya Curry Chicken, Chicken Curry Chinese Style) but it does take a lot of energy (not to mention ingredients) to make.
Being a lazy cook and all that, I couldn't find the energy to want to mortar and pestle it out with all the spice pastes and mixes.
I also had none of the required ingredients (shocking) in my pantry for any of the curries listed above.
Which got me thinking! I am Malaysian!
I'll make one up by hook or by crook and it will be made by a Malaysian and thus will still qualify as a Malaysian Curry Chicken!
With that logic in mind, I tackled what ingredients I did have in the kitchen with my wooden spatula.
What I discovered, was that good tasting curries need not be overcomplicated. Just a few simple spices and voila! Happy days.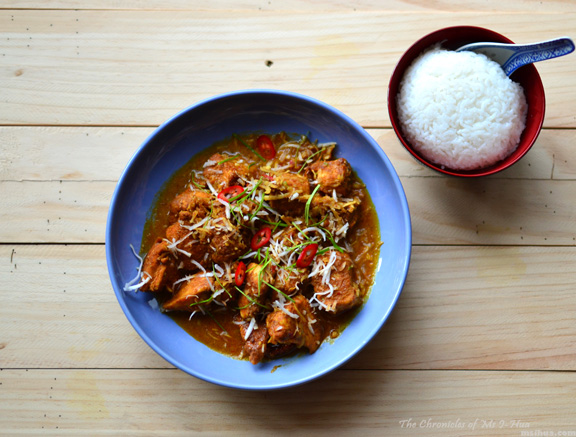 Ms I-Hua's Cheat's Malaysian Curry Chicken Recipe
Ingredients
500-600

g

of Chicken Breast (cut into rough chunks)

Meat Curry Powder (I used 'Faiza Curry Meat Powder' which is a blend of dry spices – but you can use any curry powder mix out there)

3

dried Red Chillies

a pinch of Salt

4

tbsp

Vegetable Oil

1

tbsp

chopped Garlic

2

tbsp

Worcestershire Sauce

1

tbsp

Fish Sauce

1

tbsp

Sambal Olek

1

tsp

Sugar

1

tsp

ground White Pepper

1

cup

of toasted Desiccated Coconut

1

cup

of Coconut Water*

1

Kaffir Lime Leaf (shredded finely)

Sliced Red Chillies (for garnishing)
Instructions
Coat the chicken pieces in the curry powder and salt and set aside.

In a hot wok (or frying pan), heat up 4 tablespoons of vegetable oil. Once the oil is hot enough, brown the chicken in the wok on all sides. Take out and set aside.

Using the same oil, toss in the chopped garlic, dried red chillies and sambal olek. Once the aroma starts wafting up, gently pour some coconut water into the wok letting it simmer gently.

Add in the Worcestershire sauce, fish sauce, sugar and ground white pepper and let simmer.

Turn the heat back up on high and toss the browned chicken back into the simmer sauce and give it a good mix.

Add in half a cup of the toasted coconut making sure to mix all ingredients in the wok as to coat everything.

As the sauce thickens up, add in the remaining coconut water and let it simmer gently.

Once the sauce thickens up again, turn off the heat and plate up.

Garnish with the remaining toasted coconut, shredded kaffir lime leaf and sliced red chillies.
Notes
*Note – to get the coconut water, simply soak the desiccated coconut in warm water and squeeze. Repeat this a few times making sure that the coconut is completely dry before you toast it. Save the water to be used in cooking. Alternatively you can mix 1/2 cup of coconut milk with 1/2 cup of water.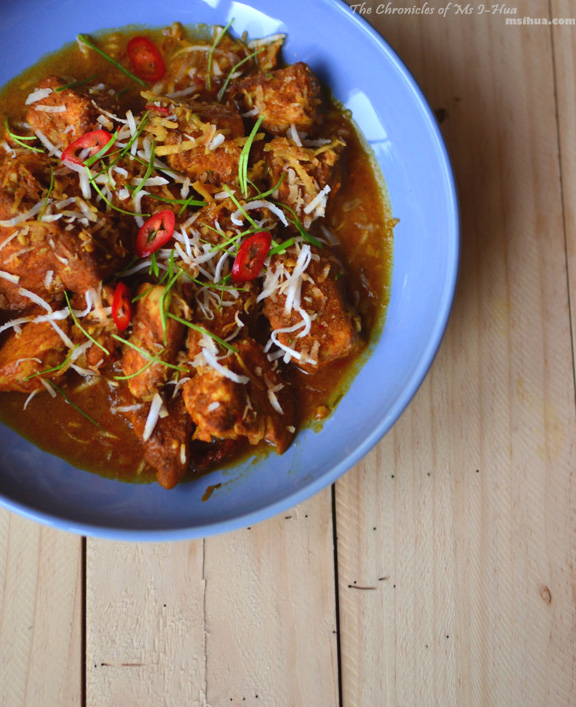 Serve with a heaped bowl of coconut rice (Nasi Lemak).
We had ours with fried egg, sliced cucumber and store bought ikan bilis and peanut mix.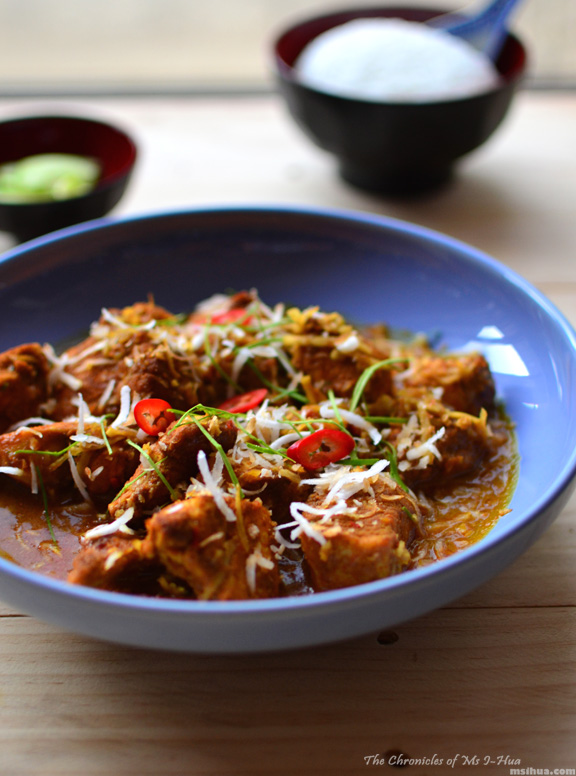 Delicious!