Two of my favourite things to eat whilst growing up in Malaysia if we were to dine out at the local eateries for dinner, was Lemon Chicken and Sweet & Sour Pork.
Yup, you read right. Not any lemon chicken or sweet and sour pork though, it has to be the ones served at Chinese restaurants in Malaysia known as "Tai Chow" (literally means Big Fry). The closest I've got in Melbourne to an excellent sweet and sour pork dish akin to that from Malaysia is at Supper Inn (in Chinatown).
I was known to eat bowls of rice as long as either one of these dishes were ordered by my family. So much so that before anything else could be ordered by Madam Mummy (or whoever was hosting the dinner), my Gong Gong (grandfather) would bellow at the top of his lungs that, "I-Hua wants Lemon Chicken! Did we order lemon chicken?!", in a tone that implied he'd throw a fit if my dish was not ordered.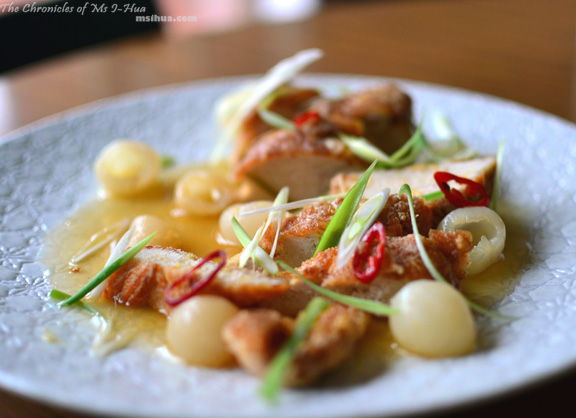 In more recent times, my Po Po (god bless her soul) would also stop anyone from touching the food before I had taken a picture with my camera. No one was allowed to eat until I said, "Okay, Po Po!". How I miss her so 🙁
It paid to be the youngest in the family (no longer the case!) but I usually got my way *wink*.
Food is such a big part of my life and I've written about the connections of each childhood dish to a certain memory about growing up with my Madam Mummy or my grandparents.
Indeed, I doubt I'd be having this blog today if I didn't have the food-centric upbringing that I did.
As I always say, the Boy does good when replicating my favourite dishes in the kitchen, so sit back and enjoy as he showcases his version of Lemon Chicken.
Lemon Chicken with Longan Recipe
Ingredients
1

double Chicken Breast fillet

1/4

cup

Cornflour mixed with 1/4 cup Tapioca Flour

Spring Onions (sliced diagonally for garnish)

Red Chillies (sliced for garnish)
For the Marinade:
1/2

tsp

of Salt

1

tsp

of Caster Sugar

1/2

tsp

of Sesame Oil

1

tsp

of Shaoxing Wine (available at most Asian groceries)
For the Lemon Sauce:
Juice from 1 Lemon & 1 tsp of finely grated Lemon zest

180

ml

of Chicken Stock

20

ml

of White Vinegar

1

Tbsp

of Sweet Sherry

2

Tbsp

of Caster Sugar

1

tsp

of Worcestershire Sauce

1

Tbsp

of Longan Syrup (from canned Longan)

8-10

Longans (canned Longans are available at most Asian groceries)

Slurry (mix 1/2 Tbsp of Cornflour with 2 Tbsp of cold Water)
Instructions
Slice double breast fillet in half and marinate with salt, caster sugar, sesame oil and Shaoxing wine. Place in refrigerator for 4-5 hours or overnight.

Take both marinated fillets out and let stand till it reaches room temperature.

Dust fillets with the mixture of Cornflour and Tapioca Flour. Fry each side for about 3-5 minutes (depending on the thickness and size of the fillets) until golden brown.

Drain on wire rack and let them rest while you prepare the lemon sauce.

Combine lemon juice, lemon zest, chicken stock, white vinegar, sweet sherry, caster sugar, Worcestershire sauce and longan syrup in a saucepan and heat over low heat till sugar dissolves.

Taste sauce and adjust accordingly (more sugar if you prefer it sweeter or lemon juice if you prefer it zing-ier).

Add in slurry and stir for another 1-2 minutes until the sauce thickens. Add in longans and turn heat off. Set sauce aside.

Slice chicken into strips and arrange on plate. Pour sauce over and garnish with sliced spring onions and chillies.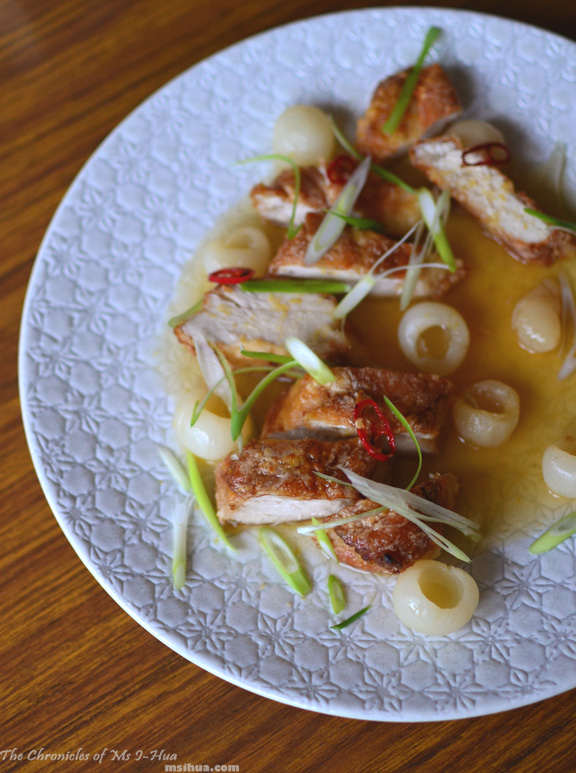 Serve with a side of rice for the ultimate comfort meal.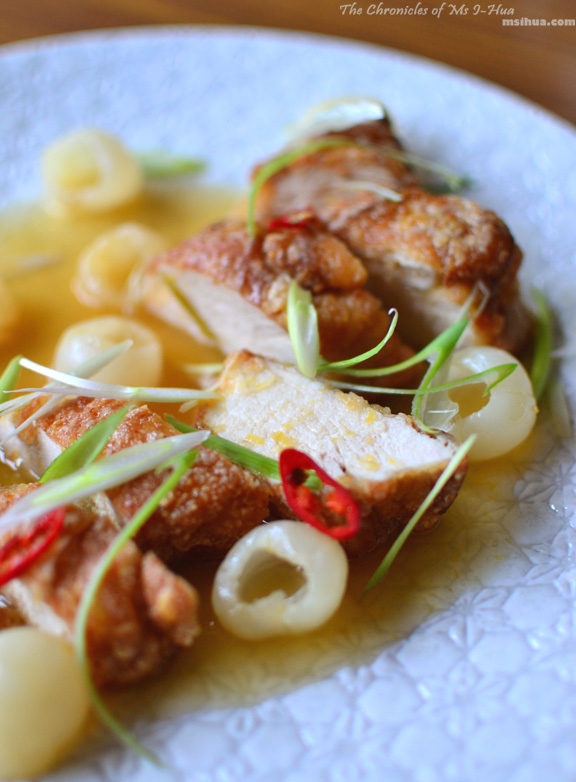 So what do you think? There are versions of sweet and sour pork out there with lychees, which is partly why we went down the path of Lemon Chicken with Longans 🙂
Would you be keen to try this recipe out?