Sometimes life takes us on an unexpected journey.
Ever since The Boy's health scare last year, he has had a hankering to track down the finest steaks that Melbourne has to offer.
I of course, am always happy to oblige as long as there are good pictures to be taken for the blog and good food for my belly to digest.
So like the wonderful wife that I am, I decided that the next spot for him to enjoy his steak would be at the Wayside Inn.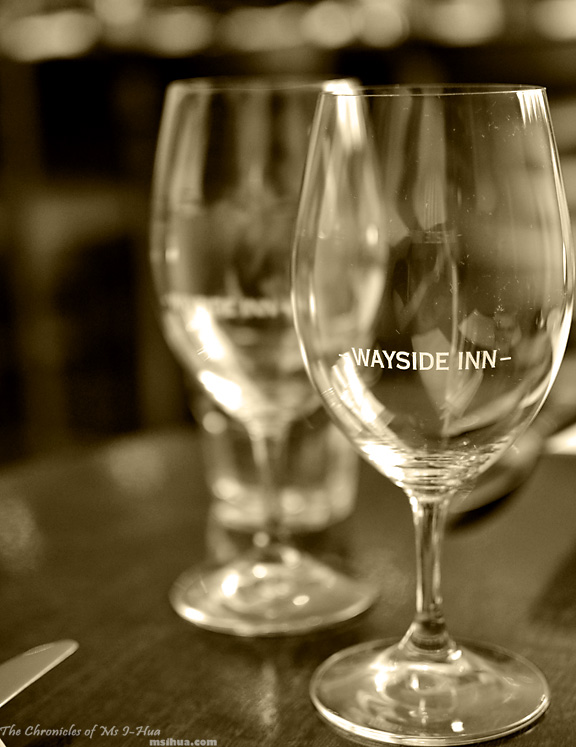 The day that we rocked up, the sun was high and bright, casting too many shadows in the glaring light (sounds like I'm starting a poem here).
So we asked if we could sit at the corner booth which happened to be next to a shaded window (oh my, who planned that? 0_0), to which the staff happily obliged.
It was a lovely Spring afternoon (sometime in September) and the weather was just perfect. Take note that the items we had below may no longer be on the menu, it has been a while 😛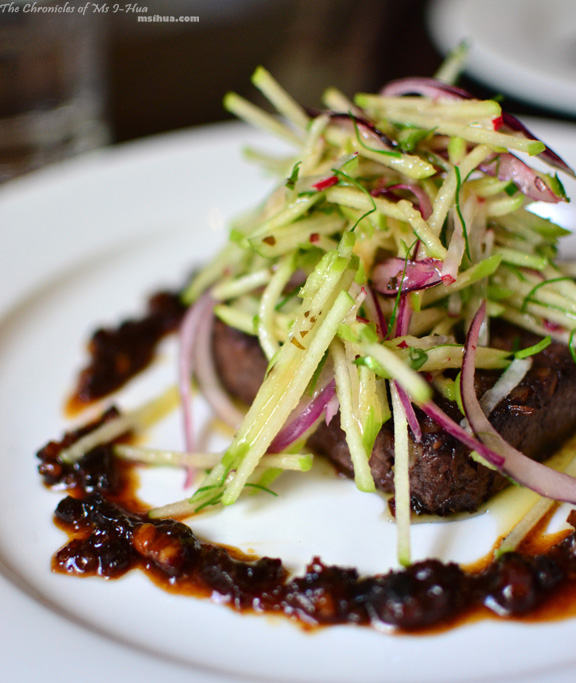 For one reason or another my eyes that day were definitely bigger than my stomach. I ordered enough food to feed a family of four! The Boy kept staring at me to see if I was alright. In my mind, all the dishes I wanted to try were offal related which meant that they would be tiny serves. Correct? I guess not.
Ever since I had the spectacular Black Pudding at The Commoner, I've been on a quest to find out if I could get the same great taste and quality of black pudding. So when I noticed that there was Homemade Black Pudding, Pancetta Vinaigrette ($12.50) on the menu, I was so there!
I wasn't disappointed either with the taste of the black pudding and happily used some of my bread to polish the plate!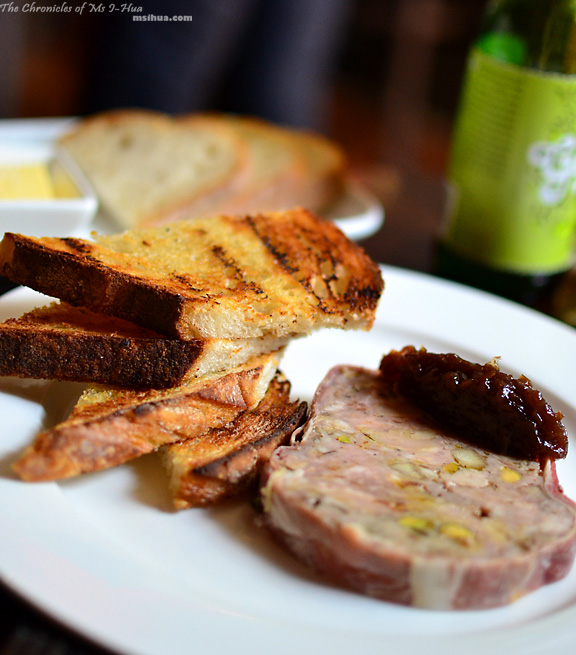 The next thing I wanted to eat was the Suckling Pig Terrine with Onion Jam ($12.50) which as terrine goes, was pretty awesome. I love the texture of terrines in general and this was no exception. Loved it!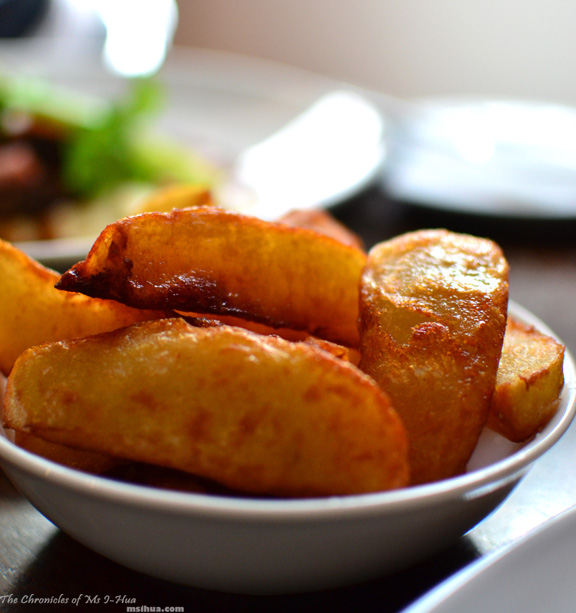 As The Boy is not a massive fan of terrines or black puddings, I thought I'd be clever and ordered him some Hand Cut Chips ($8.00). Though these chips were excellent (crispy outside and fluffy inside), it was a little on the overkill side of over-indulgent-ordering.
My sole reason for 'spoiling' The Boy with a visit to this establishment was to order and enjoy the famed Pig's Trotter 'Pierre Koffmann' ($29.00).
It was everything I imagined it to be and more. I noticed that this is no longer on the menu which is such a shame.
It was rich, decadent and so so delicious. It was melty goodness and cholesterol indulging, but I didn't care. It was so good. If I didn't polish off the two entrees (albeit with The Boy's help), I would have enjoyed this even more! Alas, my inner greedy pig caused me my own downfall and I could not finish the silky mash that was served alongside it.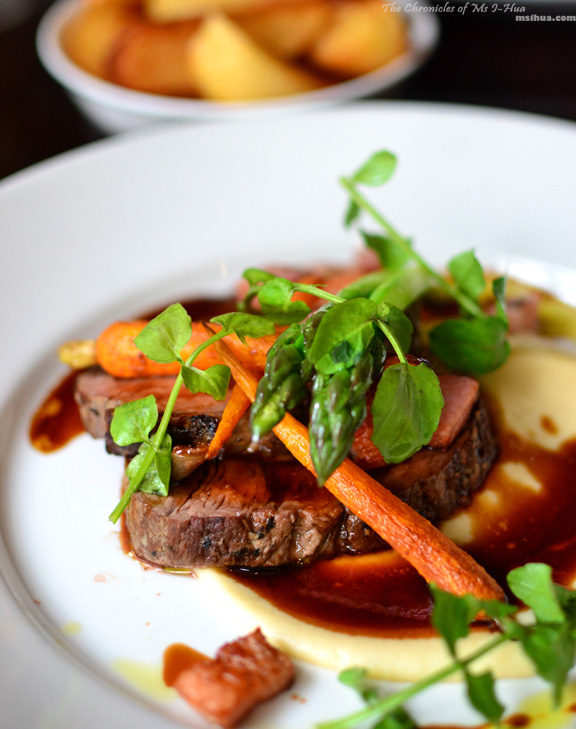 Luckily for The Boy, the day that we visited was a Sunday, which meant he got to enjoy the Sunday Rotissoire du jour of Grass Fed Sirloin ($34.00).
The texture was tender and delicious. The Boy said that it was perfectly cooked to his liking (which is medium rare). The carrots, asparagus and crispy bacon added another texture to the dish.
In his words, "It was just a lovely Sunday roast lunch". Indeed.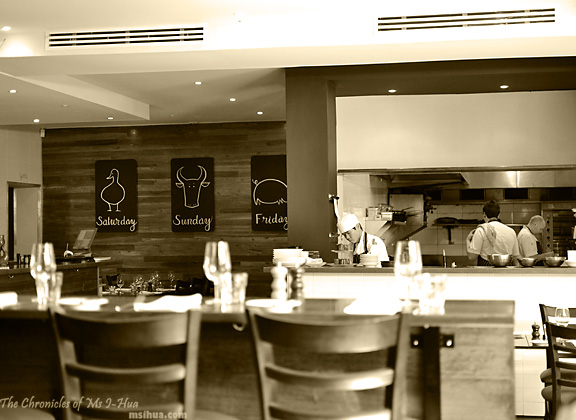 I would love to return to see what's new on their menu. This time round, I may have learnt from my greedy ways and bring more people with me to dine! (What? You thought I'd order less? :P).
Wayside Inn is definitely a place that seems to have flown under the radar. The food was excellent and the service was friendly. Perhaps I should organise a meal here soon with friends (no ulterior motive whatsover with #iloveoffal tendencies).
The fit out is large and welcoming with a courtyard and an upstairs for private dining.
*Disclaimer: All food ratings & review are purely based on my own experiences and how I feel about the service, food and quality at the time of visit
Food/ Cuisine: Gastropub (mainly French influenced)
Dining Style: Restaurant
Opening Hours:
Tuesday to Saturday, 11:00am – late
Sunday, 11:00am – 5:00pm
Address:
446 City Road
South Melbourne VIC 3205
Tel: (03) 9682 9119
Website: http://www.waysideinn.com.au/

Twitter: @Wayside__Inn

How to get there: