G'Day Folks!
How are you all enjoying the week? It's hump day! To celebrate this cheerful mid-week accomplishment (and survival), we've decided to run a little giveaway on this humble ol' blog since we haven't done one in a while.
What is it?
Taylors Wines, a family-owned Australian wine company established 3 generations ago, out of South Australia's beautiful Clare Valley believe in 'Bringing great wines to life.' Their passion of producing exceptional, hand crafted wines partnered with their understanding of the need to protect, preserve and enhance the quality of the fruit from their vineyards.
What I really love about the Taylors philosphy is their respect to the environment and their commitment to sustainability with a comprehensive Environmental Management System.
From a velvety Cabernet Sauvignon to delicate and refreshing Riesling, Taylors Wines boasts a world-class collection of unmistakeable quality and style.
Follow them on Twitter @Taylors_Wines for updates on their products!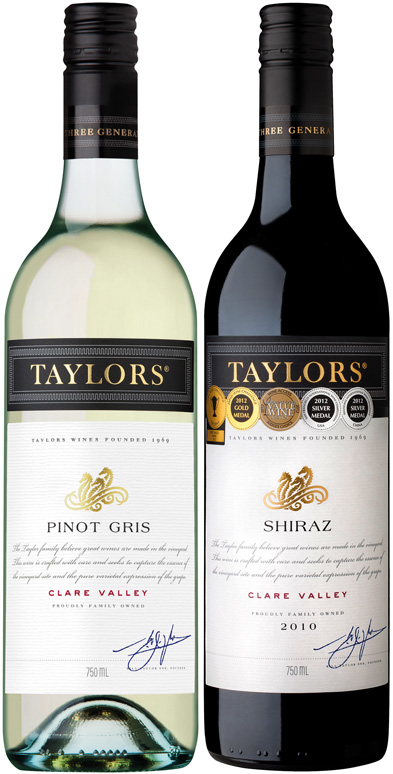 _______________________________________________________________________
COMPETITION TIME!!
Alright! So are you rubbing your hands together now and wondering "How can I get me some lovely wines"?
Well, guess what? The lovely people at Taylors Wines will send two lucky readers two bottles of wine each! The winners will receive a bottle of Taylors Estate Shiraz and a bottle of Taylors Estate Pinot Gris.
All you have to do is answer the question 'What would be the most creative dish you would cook with either one of the wines and for whom?'
The most creative answer will be chosen by us!! So what are you waiting for? Get your thinking hat on and start commenting now!
Competition for the giveaway will run from the Wednesday 1st May 2013 until 6pm Tuesday 7th May 2013.
The winners will be contacted and announced in this post, Twitter and Facebook on Wednesday 8th May 2013.
Terms and Conditions for the giveway:
**Please leave a valid email address in the email box (emails won't be published) as a contact point. The giveaway is open to readers in Australia only. Winners must be of legal drinking age and provide proof of age.
_______________________________________________________________________
[07/05/2013] Announcement: Winners of the Taylors Wines Giveaway
Thank you to everyone who left a comment here.
The 2 winners are:
1) milkteaxx
2) InTolerant Chef
… Congratulations, the winners will be contacted via email.
Competition Now Closed.