I think my instagram and twitter followers now know that I have an addiction.
It's an incurable disease and I'm not alone.
I dream about it, I plan about my next attack at it. If I don't have it once a week, I get the shakes.
Yes, folks. It's that serious.
Me and my fellow blogger friends are addicted to op-shopping (thrift shopping).
Turning into junkies and contemplating what our next 'shoot' will look like, what vintage plates and cutlery to use, which cake stand to display. It's all gotten a bit out of hand to be honest. However, it's a happy problem to have and my collection of cool vintage finds is growing.
The additional fun thing to do on an op-shopping road trip is that we get to dine at the local area we happen to be in.
On one such op-shop road trip occasion, Maz, Az, Taz and I found ourselves at the beautiful Barmah Park Vineyard & Cafe at Mornington Peninsula.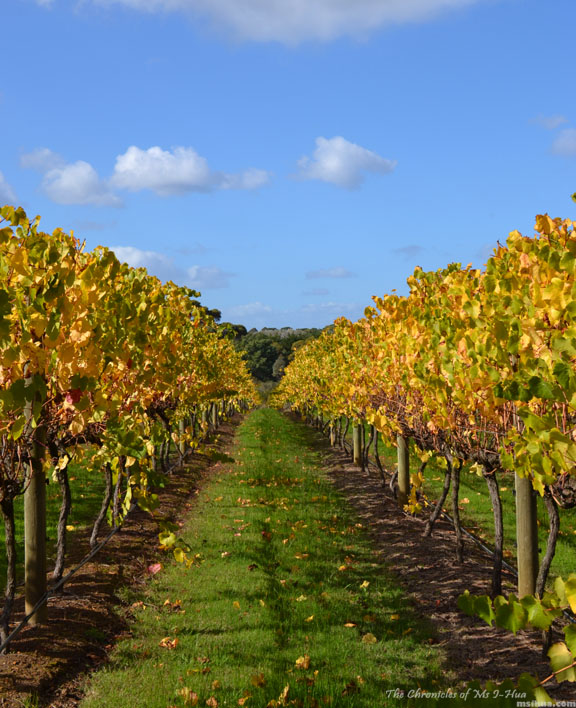 We couldn't help ourselves in taking scenery shots the moment we got there, as it was just magnificent.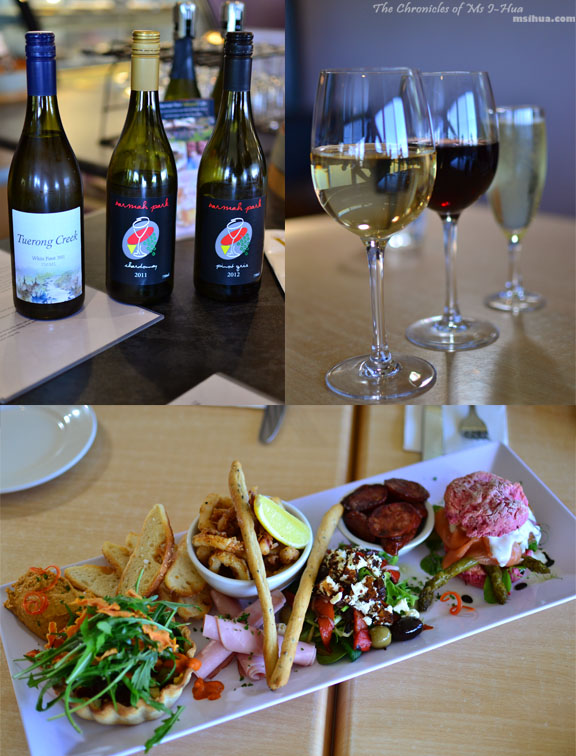 As we were invited by the team at Barmah Park, we were provided with wine tasting prior to our lunch. The wines we tasted included the White Pinot (Tuerong Creek, 2011); Chardonnay (2011); Pinot Gris (2011); Pinot Noir (2010); International Reserve Pinot Noir (2010); Cabernet (2011). All the wines bar the white pinot were from the Barmah Park estate.
We had to share the Barmah Park Meze (Plate for Two) which included a truckload of food. There was salmon scone, gypsy ham, chorizo sausage, baked tart, Mediterranean vegetable salad, a dip, handmade grissini & toasts.
If you were here and wanted to graze and enjoy the scenery and wines, I highly recommend getting this dish to share 🙂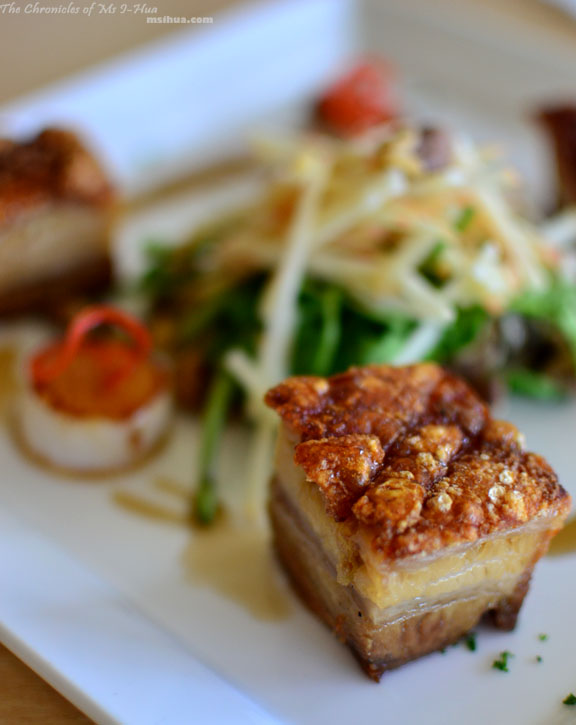 For our mains, we shared between us the Slow Roasted Pork Belly served with Seared Scallops & a Watercress, Walnut and Apple Salad, drizzled with a Sticky Caramel Star Anise Sauce.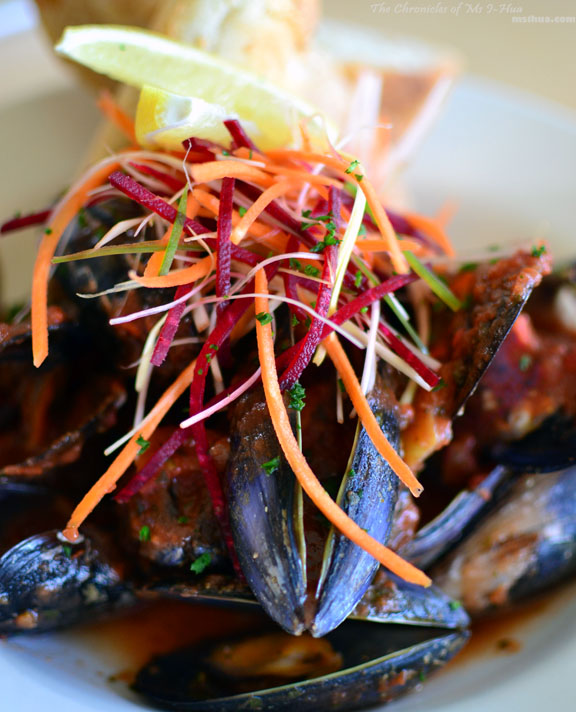 We also had from the light lunch option on the menu, Local Mussels steamed open in a Tomato, Coriander, Chilli & Lemon Broth served with Crusty Bread. I did find this a little on the salty side.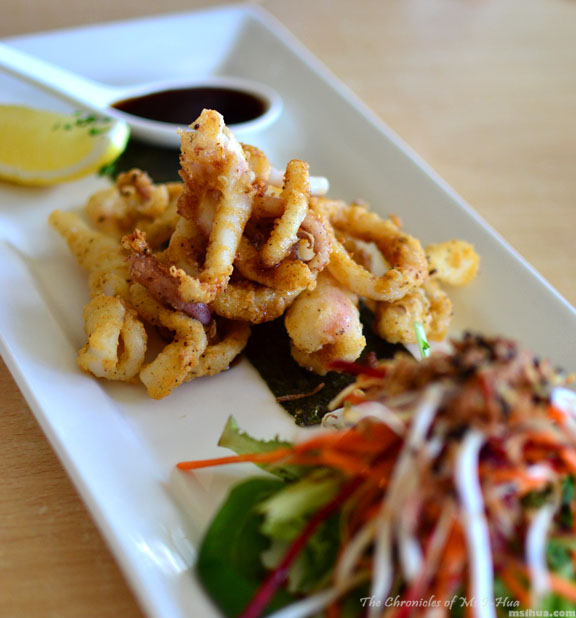 As a team, we decided we needed the Crispy Sea Salt Calamari with Szechuan Pepper & an Asian Styled Salad with Caramelised Orange Soy dressing.
The table was split on this dish in terms of the taste. Though I couldn't help but like the sweet tangy sauce, the rest of the group found it a bit too sweet.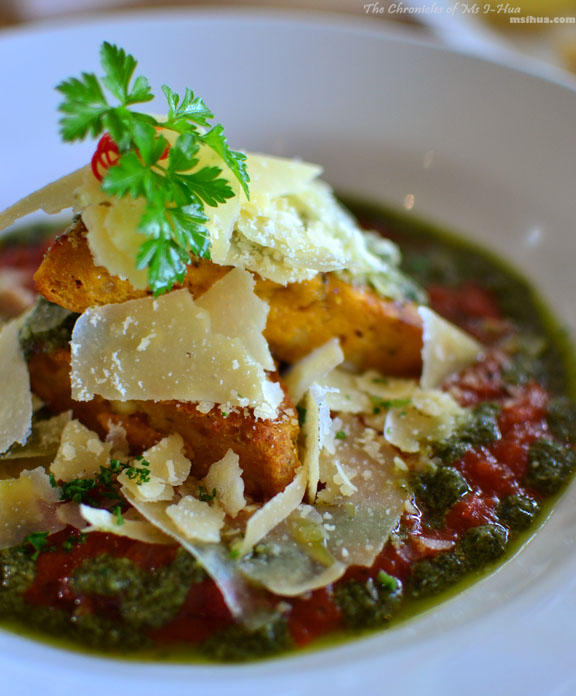 The winning dish of the day for us was the Baked Pumpkin & Feta Gnocchi served with Tuscan Napoli Sauce, Salsa Verde & topped with Shaved Parmesan.
Everything was perfectly matched and balanced with this dish.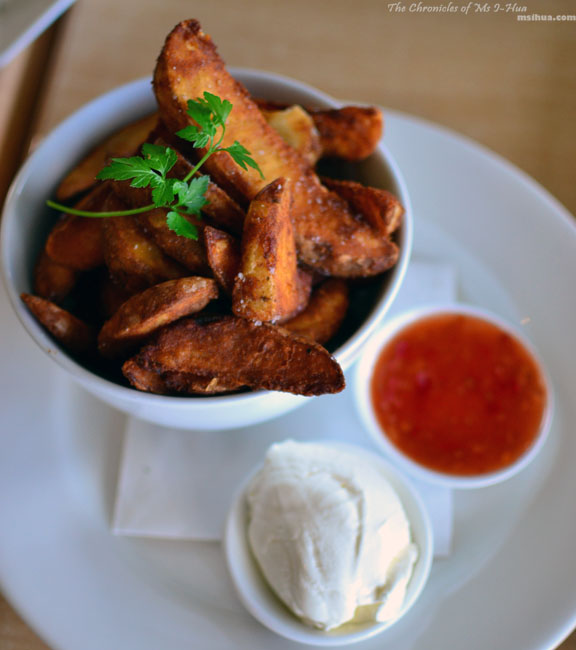 We didn't stop there. We also had Wedges served with sour cream & sweet chilli.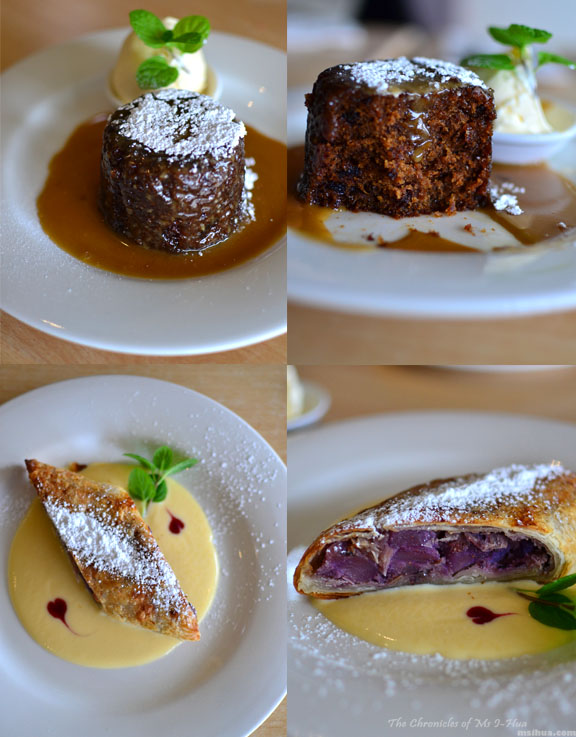 We shared our desserts as we couldn't eat a proper serve on our own.
We had the Sticky Date Pudding (delicious) served with Butterscotch Sauce and Vanilla Ice-Cream and from the specials board a slice of Apple & Berry Strudel (scrumptious).
Barmah Park is definitely worth a visit if you're looking to dine at a casual relaxed atmosphere with good food.
[Ms I-Hua dined as a guest of Barmah Park Vineyard & Cafe]
*Disclaimer: All food ratings & review are purely based on my own experiences and how I feel about the service, food and quality at the time of visit
Food/ Cuisine: Modern Australian
Dining Style: Cafe
Opening Hours:
Monday to Sunday, 9:00am to 4:00pm
Address:
945 Moorooduc Highway
Mornington VIC 3931
Tel: (03) 5978 8049
Website: http://www.barmahparkwines.com.au/

Twitter: @BarmahPark
How to get there: