Our beautiful friends Razzy and Laiky have become first time parents! Congratulations to them 🙂
A while back, they threw a baby shower (which was a pot luck event) and I brought baked goods to the party. I know right?
I made Peanut Butter Chocolate Chip Cookies (to be posted) and these amazing Double Chocolate Lamingtons which I had found and bookmarked from Dan Lepard's (no relation to Def Leppard) article from 2012 just before Australia's ANZAC day. When it got another mention earlier this year on The Age, I knew I had to make them soon.
I'm going to just say, the recipe not only makes a fine chocolate cake (which I'll probably make again), it certainly added some colour and fun to Peanut's party (which was what we'd taken to calling the baby).
To those of you who think it's pretty much sacrilegious to take on a twist to the traditional lamington recipe, it's all about having fun and embracing change.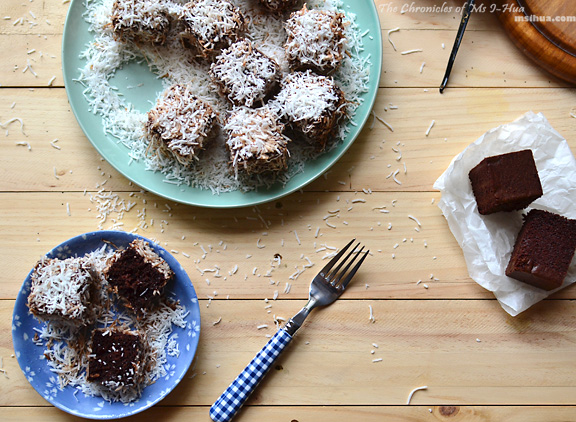 Congratulations again April and Laik! You're going to be such awesome parents and baby Peanut is so lucky! I love you already @juniorfoodtrail
For the rest of you, I would like to share with you this recipe 🙂
Enjoy!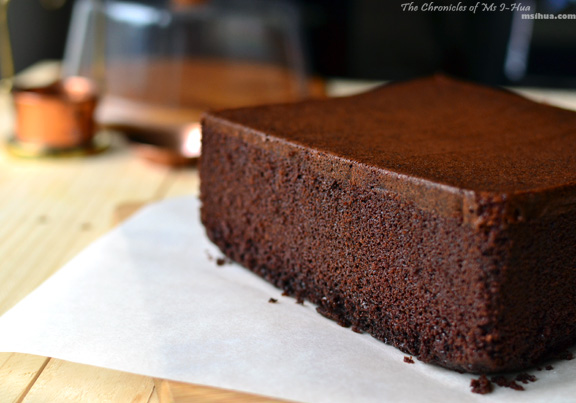 Double Chocolate Lamingtons Recipe
Ingredients
300

g

Caster Sugar

50

g

Baking Cocoa Powder

175

g

Plain Flour

3

tsp

Baking Powder

75

ml

Fresh Milk

50

g

Unsalted Butter

50

g

Dark Chocolate (we used NESTLÉ Plaistowe Premium Dark Choc)

50

ml

Sunflower Oil (we used Grape Seed oil as a substitute)

4

medium-sized Eggs

100

ml

Low-Fat Natural Yoghurt

3

tsp

Vanilla Extract
Ingredients for the Chocolate Coating
15

g

Baking Cocoa Powder

50

ml

Fresh Milk (Cold)

175

ml

Boiling Water

200

g

Dark Chocolate (finely chopped)

200

g

Icing Sugar

1-2

250g bags of Shredded/Grated Coconut (I used the dry shelf type and rehydrated them back with warm water and squeezing out excess water)
Instructions
Start of by lining the base of a deep 20cm square cake tin with non-stick (baking) paper. Pre-heat the oven to 170 degrees Celsius (or 150ºC fan-forced).

Place the caster sugar and cocoa powder in a bowl and beat in the milk.

Melt the butter and chocolate in a small saucepan (taking care not to overheat the mixture). Once the butter and chocolate mixture has melted, quickly remove from heat.

Add the chocolate and butter mixture into the sugar and cocoa mixture along with the sunflower oil.

Beat in the eggs until smooth, stir in the yoghurt and vanilla extract and mix in the flour and baking powder.

Pour the mixture into the prepared tin, cover with a slightly domed sheet of aluminium foil and bake for an hour.

Remove the foil in the last 15 minutes of baking. Once done, skewer the cake to check if it's cooked.

Remove the cake from the oven and set aside to cool in the tin. Cover with clingfilm (while still warm) to keep it moist.

For the chocolate coating, mix the cocoa powder and milk until you get a smooth consistency. Whisk in the boiling water, then stir in the chocolate until melted.

Next, whisk in the icing sugar until it is dissolved before pouring it into a deep bowl.

Cut the cake into equal squares (9 or 12 portions). Dunk each piece in the chocolate coating and fish out with two forks.

Roll in shredded/grated coconut (it does get a tad messy at this point, but persevere) and leave to set.
Notes
Lepard advises putting foil over the cake because it helps the cake rise more evenly.
Recipe adapted from Dan Lepard.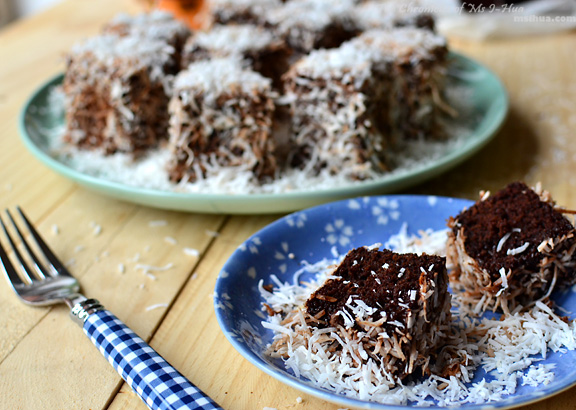 So what do you think? Not too complicated at all is it?
I might make a variation on this the next time I make it and twirl in some peanut butter for an added salty tang! Sounds good?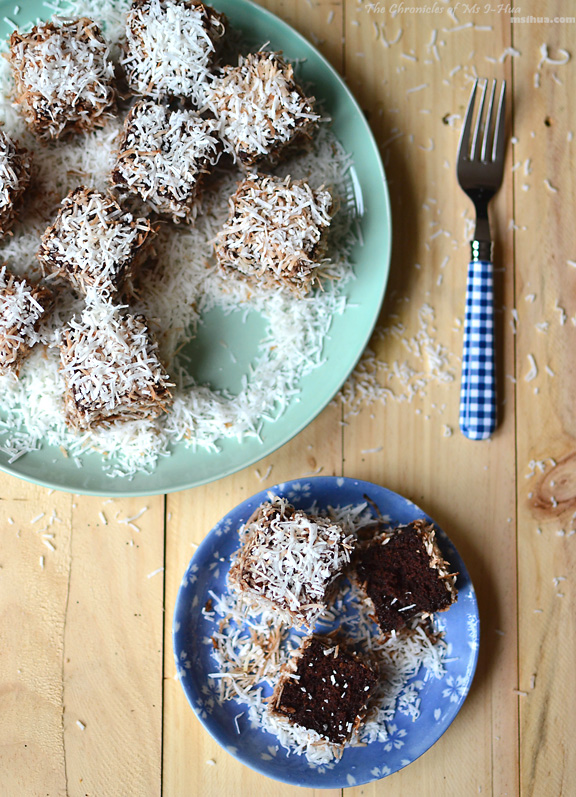 It doesn't have to be ANZAC Day or Australia Day to make these! As long as you like chocolate and coconut, I think you'll be pleased with this.
There was only one piece of this left when the party ended (trust me, that was a great feat considering how much food there was at the party) and it was hugged by Peanut's father 😛