[This post is sponsored by Nuffnang Australia]
Curiosity is a funny thing, isn't it? I'm not talking about the curiosity that makes you the gossip queen, the one that everyone goes to for news about their aunt's sister's mother's grandfather's best friend's dog. I'm talking about the innate curiosity in all of us that is only satiated by random facts of knowledge and wisdom.
For example, I have always been curious about the history and design of the buildings in Melbourne and have gone a little above and beyond in sourcing out my information. So much so that, when a tourist drops in on me, I get all excited because I not only get to bring them on a mini-tour to take in the sights and sounds of Melbourne, but I get to use my random facts of the sights.
I get to say things like, "Did you know that the spire that sits above the Melbourne Arts Centre is inspired by the billowing of the ballerina's tutu?" or as we pass by Melbourne's tallest building, the Eureka Tower, "Did you know that the gold that glints off the top of those apartments are actual 24 carat gold plated glass panels?"
What I also love about Melbourne is its beauty of hidden gems and cafes situated along the many lane-ways that riddle around the matchbox-like CBD.
Earlier this year, The Age launched a new marketing campaign showcasing that things aren't always what they seem to be. With the tagline, Forever Curious, each of the different stories uncover fascinating insights to be discovered when scratched beneath the surface.
As part of this, The Age are creating a number of reader experiences to bring this campaign to life, using key topics (news, investigations, food & wine, arts & culture, entertainment, business and more) as starting points.
The first Forever Curious event took place on April 20, at the St Kilda vs Essendon AFL match after a clue was placed in the sports section of The Saturday Age. Those whose curiosity was aroused, acted on the clue and were rewarded with prizes ranging from footy scarves through to tickets to a corporate box complete with a surprise visit from Sean Dempster and Spencer White.
The second Forever Curious event took place on Tuesday (7th of May) at SILO By Joost with Joost Bakker himself as well as Epicure's Janne Apelgren and Larissa Dubecki taking part. SILO By Joost, Melbourne's first bin-free café featured in the Forever Curious campaign to share SILO's campaign against waste and awareness around sustainability.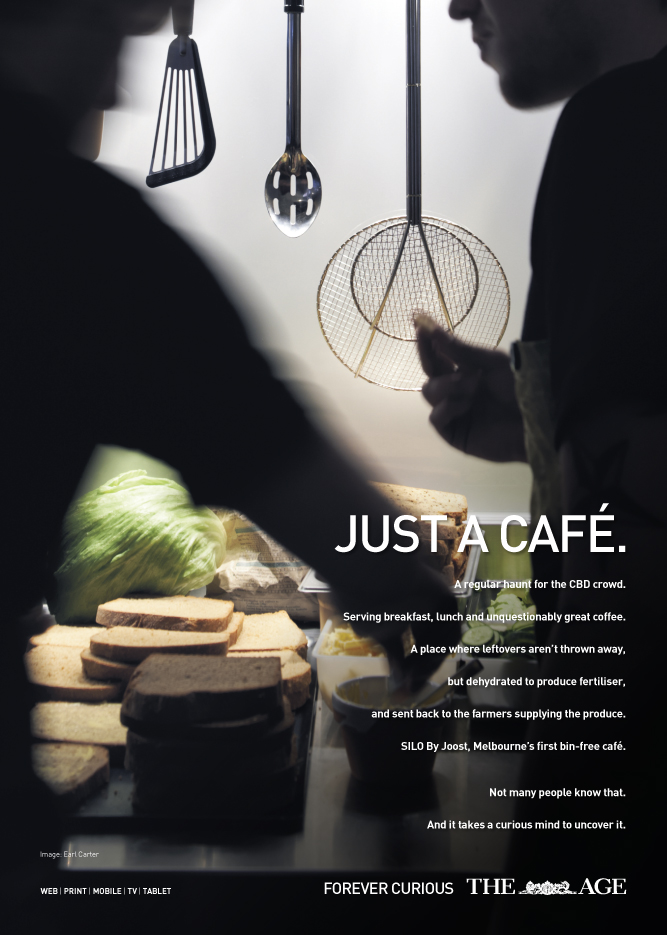 A clue was placed in that Tuesday's Epicure encouraging readers to visit Hardware Street in the CBD, whereupon they would see a man sitting on a stack of newspapers. All they had to do was whisper 'Just a Cafe' into his ear.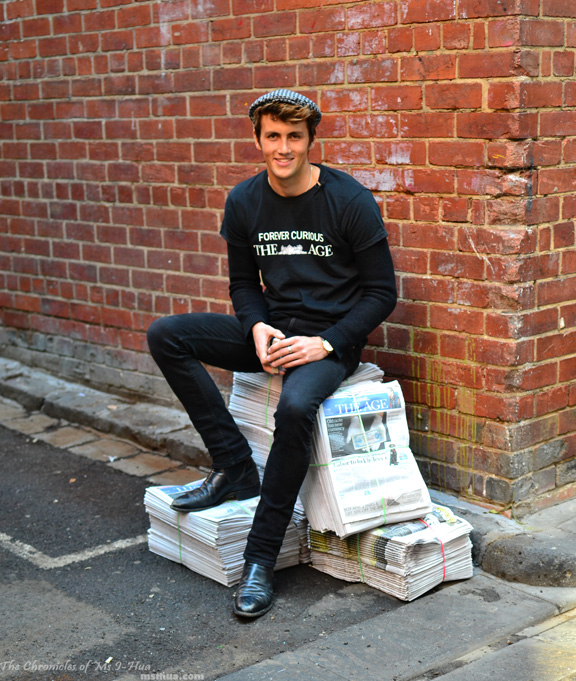 The resulting reward was a ticket that the winners took into SILO. The ticket entitled them to a free coffee, copy of the newspaper, a delicious vegetable baguette and a healthy muesli fig bar in a recycled brown paper bag, machine sewn by a friend of Joost's!
In a nod to the café's ethos, the muesli bars were wrapped with bus and tram shelter "Just a Café" posters that SILO had recycled. Winners were also encouraged to chat to Janne, Larissa and Joost at a table out the front.
I sat down with the guys for a short while and had a great conversation with them about their thoughts on food, home grown vegetables and their thoughts on sustainability.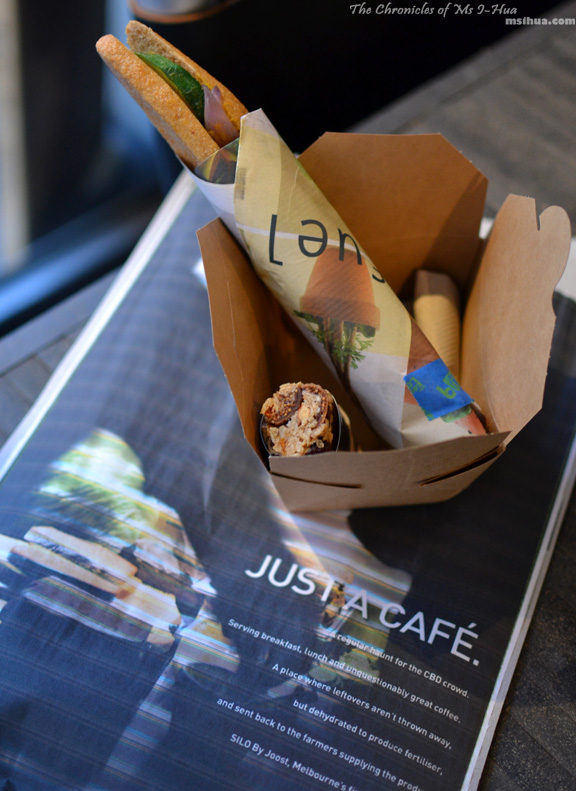 Larissa gave a good tip on what to do with vegetables that have been sitting around the pantry for a while and that are growing a bit old. Vegetables such as broccoli, pumpkins and potatoes can be turned into a hearty soup. Perfect for the winter season coming up!
It was nice to see that Joost's passion on sustainability at work has been passed on to his staff at Silo. He explained how when he first opened SILO, soymilk wasn't an option available to customers as it went against their ethos of using packaged product. They couldn't get their suppliers to come to a mutual agreement on using sustainable delivery options and had given up on the soymilk option.
When Joost next visited the café, a staff member of his proudly served Joost a soy based coffee, which led to some very stern remarks from Joost. Unbeknownst to Joost, that employee had gone on to do some research (via the internet and YouTube) on 'soy milk production' and learnt how to make soymilk from scratch.
Now, SILO makes its own fresh soymilk in-house! Joost mentioned that he has been really lucky and thankful for such passionate employees who share the same ideals as him, making his work a more enjoyable part of his life.
The Age's summary of the event can be found here.
As mentioned above, SILO isn't just an ordinary cafe as it does its best to reduce waste by recycling leftovers into fertiliser to give back to the farmers that supply the café's produce. I was fortunate enough to be taken on a quick tour to the back of the cafe to visit the dehydrator by Douglas McMaster (Head Chef at SILO).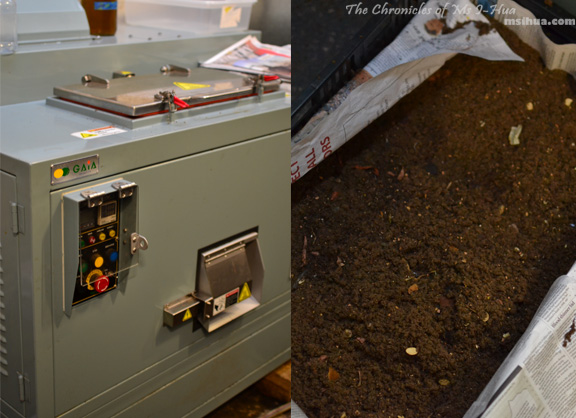 Fun Fact: SILO received the Award for Innovation in The Age's 2013 Good Food Guide, and the Sustainability Practice Champ in The Age's 2013 Good Food Under $30.
I hear that there are a few more of these reader experiences taking place over the next few months, remember to look out for the clues in The Age if you're curious enough! It definitely pays to be curious!
_____________________________________________________________
COMPETITION TIME!!
Alright! So you have read the post, stretched yourself out like a curious cat, purred and feasted (with your eyes). Are you ready for the competition?
The fabulous people at Fairfax are giving my lucky readers a chance to win 1 of 5 x copies of the 2013 Good Food Under $30!! Hooray!
All you have to do is answer the question:
'What do you find most intriguing about Melbourne that piques your curiosity?'
I will be choosing the top 5 answers that come through!! So what are you curious cats waiting for? Leave a comment and get your hands on a copy of the 2013 Good Food Under $30 now!
Competition for the giveaway will run from the Monday 20th of May to Sunday 26th of May 2013.
Terms and Conditions for the giveaway:
T&C for the 2013 Good Food Under $30 Giveaway
For more information on the Forever Curious Campaign and related articles follow #ForeverCurious on Twitter and visit:
Forever Curious Website
Forever Curious – Footy Campaign
Forever Curious – Just A Cafe
_______________________________________________________________________
[27/05/2013] Announcement: Winners of the 2013 Good Food Under $30

Thank you to everyone who left a creative comment here.
The 5 winners are:
leaf @ Indolent Cook

Daisy @ Never Too Sweet

Michelle @ The Bakeanista
Brenda
Libby @ The Very Very Hungry Caterpillar
… Congratulations, the winners will be contacted via email.
Competition Now Closed.