I love it when a new cafe which is quaint, cosy and good opens up.
Better yet, when it opens up in a neighbourhood near me!
Little Chloe, a relatively new cafe on the market (it's only been slightly over 2 months since they opened up) is an all-rounder. They claim to be a Cafe, Specialty Coffee, Micro Roastery, Catering, Food Store (which is a lot of things to be).
The Boy and I thought we'd visit them one day after hearing good things from both Fatboo and The Hangry Bitch 🙂
If you're curious with the title for the post, the name Chloe is derived from the Greek name χλόη (khlóē), which means, "young green shoot". Fun fact of the day 🙂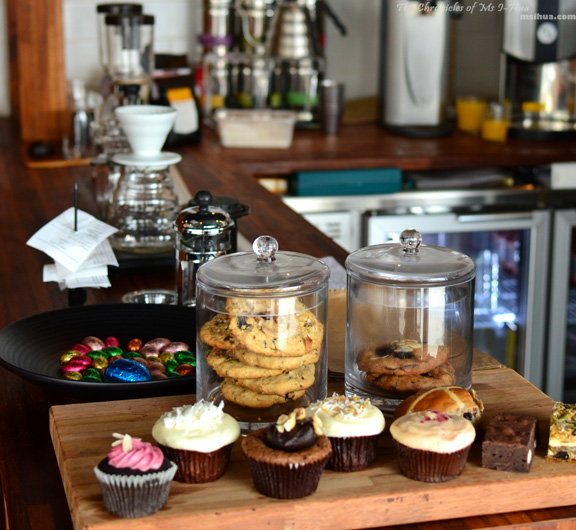 As we walked through the front door, we were greeted with a wonderful feeling of home. It's chirpy interior of nature and wood immediately cause a wave of calm to wash over me. I love the whole outdoor-indoor concept and can't think of why more cafe's don't adopt it 😛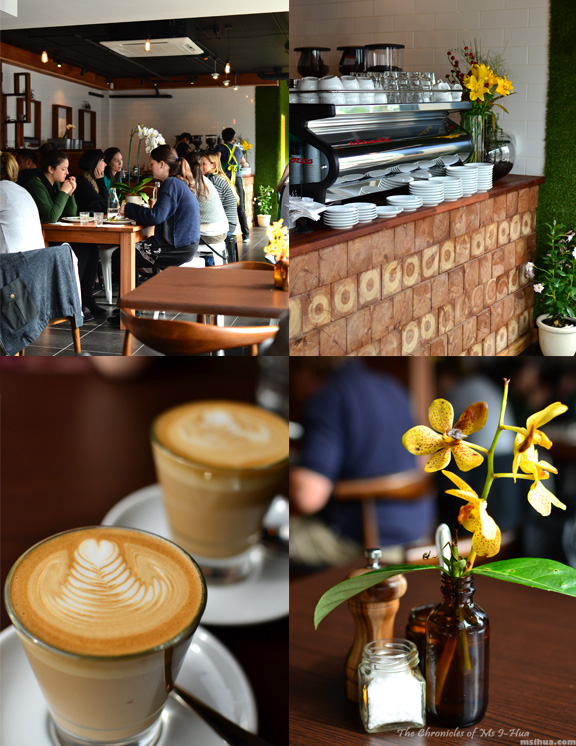 As usual, we got a couple of Lattes ($3.80) to start.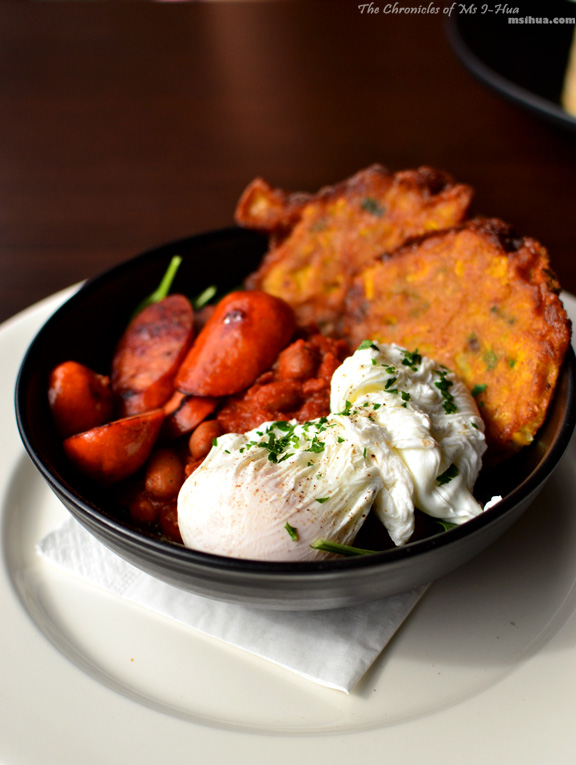 Knowing me as you do by now, it would be no surprise to anyone that I ordered the Thin Corn Fritters ($15.50) – with spicy baked beans, spinach, chorizo & poached eggs.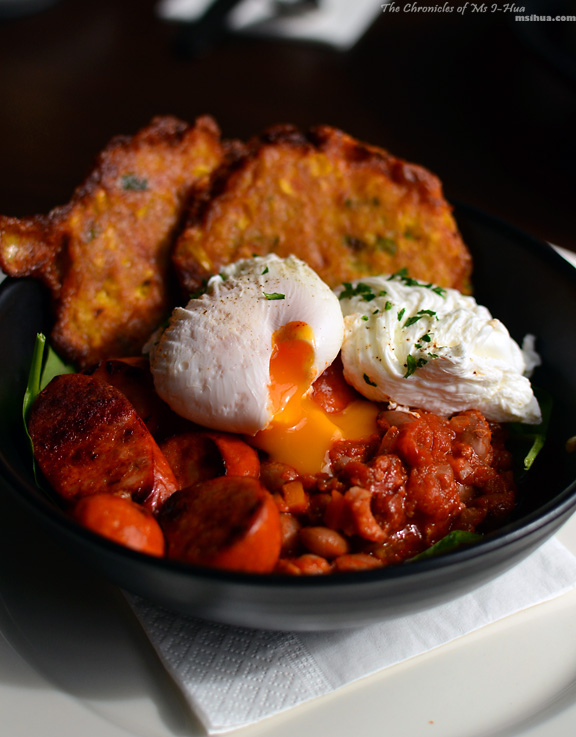 The fritters were beautifully done and very crispy. My only nit-picky issue with this dish was that it came served in a bowl, which made the bottom of my fritters go all soggy from soaking up the beautiful sauce.
Also, having this served in a bowl made it really hard to eat. That's really the only thing wrong with this dish. It was otherwise, perfect!
I love the interior.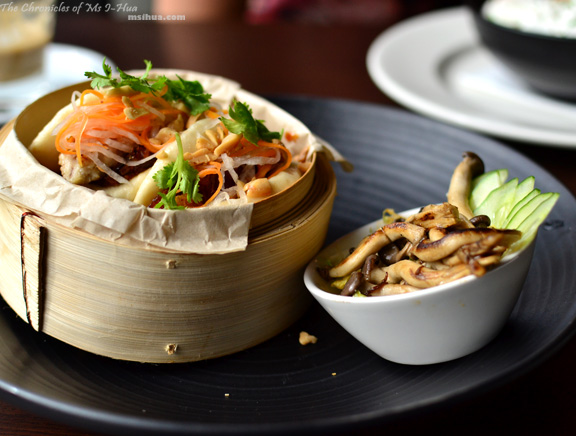 Little Chloe's Pork Belly in Homemade Steamed Buns ($18.00) – with carrot daikon pickle, cucumbers, coriander & peking-style sauce served with wombok salad, buna-shimeji mushrooms & peanut crunches.
These sure reminded me of Momofuku's famed pork buns and it wasn't surprising to learn from Fatboo's interview with one of Little Chloe's owners that they were inspired by Momofuku for this dish! (Aren't we clever?!)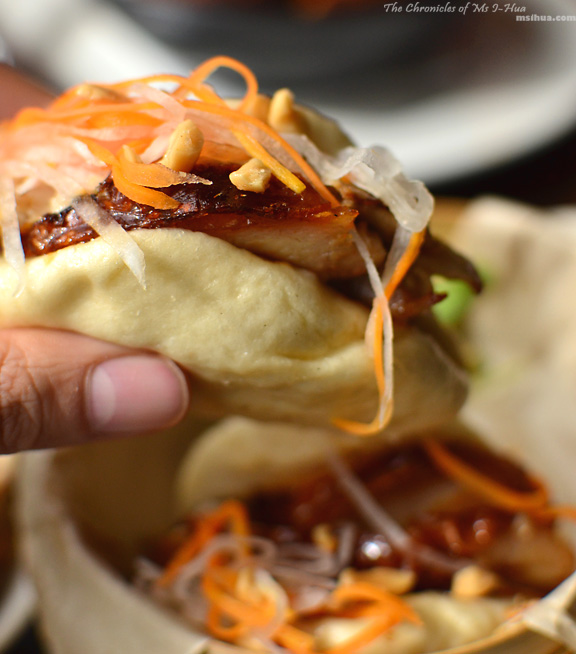 Who wouldn't want pork belly for breakfast .. mmmmm … *nomnomnom*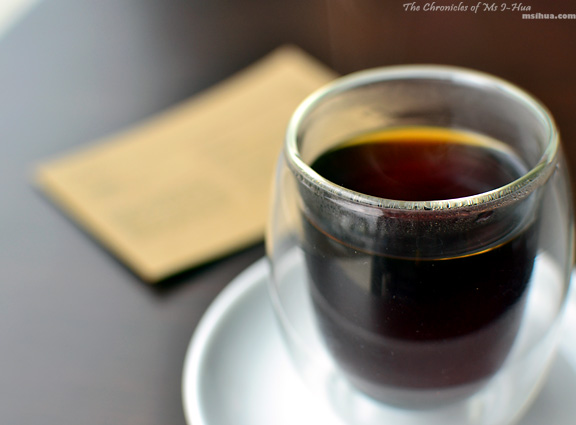 As I had inhaled my coffee when we arrived, I decided to order another glass of coffee. Also because they had more than the usual options. I went with a Market Lane Single Origin Pour Over (Cyiya) which was delicately brewed.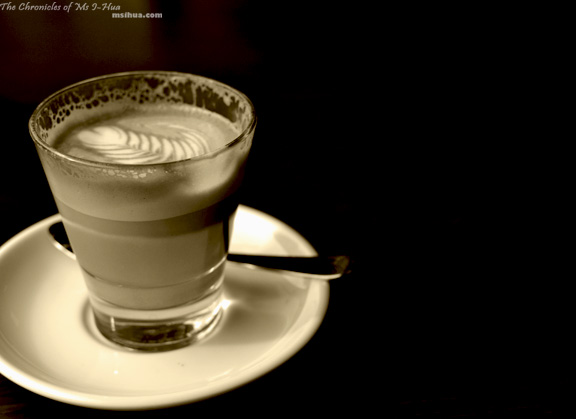 With Little Chloe being so comfortably close to us, we will definitely be making more return trips soon!
Why should you come? The menu is simple and a great mix of Asian and Modern Australian fusion.
Is it kid friendly? The place is wide enough to fit prams and has bench/bar sitting by the windows for you to park your pram. They have a kids menu too which includes items such as Cheese Solider Toast and a Bacon, Fetta and Cherry Tomato Pizza! If you are into healthier options for your kiddies, there's also a Yoghurt Fruit Compote and Muesli Stacks option.
Other than that, it is a great place for all sorts, kids and adults alike 🙂
*Disclaimer: All food ratings & review are purely based on my own experiences and how I feel about the service, food and quality at the time of visit
Food/ Cuisine: Breakfast, Lunch & Coffee
Dining Style: Cafe & Micro Roastery
Opening Hours:
Monday to Friday, 7:00am – 4:00pm
Saturday & Sunday, 8:00am – 4:00pm
Address:
Ground Floor
1810 Malvern Road
Malvern East VIC 3145
Tel: (03) 9699 4054
Website: http://www.littlechloe.com.au/
Twitter: @littlechloecafe

How to get there: