I think I've mentioned this before, but what I love most about Melbourne is its unique multicultural embracing society.
Not only do I get to learn about the myriad of different cultures and backgrounds of people, I get to sample their traditional types of food as well.
Remember last year's Sweets Festival at the Immigration Museum? Well this year, following on the success from last year's event, Immigration Museum Victoria is hosting yet another multicultural foodie event.
This time centring around CHOCOLATE!
Yup! For all chocolate enthusiasts, no matter what age you are, listen up!
There will be a Chocolate Event this coming Sunday entitled MELT.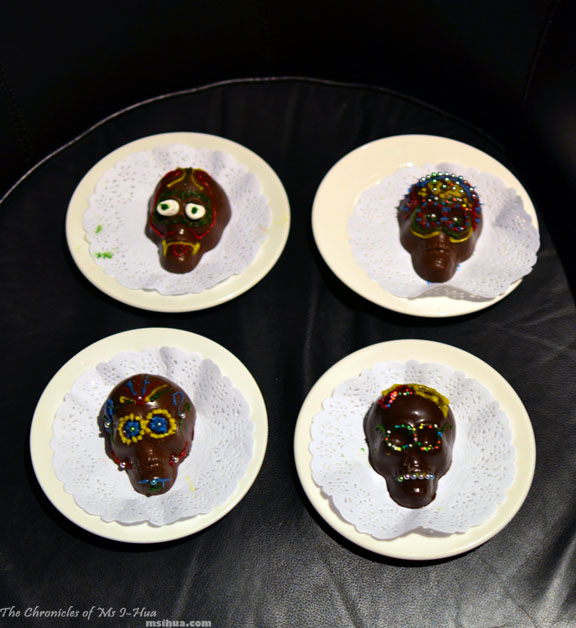 What to expect when you visit:
A celebration of chocolate in all its glory and diversity. On this one-day festival, join Portuguese, Belgian and Mexican communities along with others to explore the role of chocolate in cuisine, culture and commerce.
Festival day includes:
An array of chocolate food and drinks such as Belgian waffles with chocolate sauce, Mexican champurrado (thick hot chocolate) and sweet bread, Brazilian brigadeiros (chocolate truffles) and savoury lunch options.

Chocolate, sweets and products from vendors including Brasil Sweets, El Cielo, Van Nunen Chocolates, Monsieur Truffe, 2Pocket Fairtrade, Oxfam, Pana Chocolate and Sissy's Gourmet Delights

Belgian Chocolate & Beer tasting workshop

Mexican Day of the Dead Chocolate Skull decorating workshops

Brazilian Brigadeiro (chocolate truffle) making workshops

Talks on the origins of cacao in ancient Mexico, history and development in Brazil, bean to bar processes, ethics and sustainability in local and global industries

Info and displays from community organisations and international chocolate museums

Dance and music performances as well as family craft activities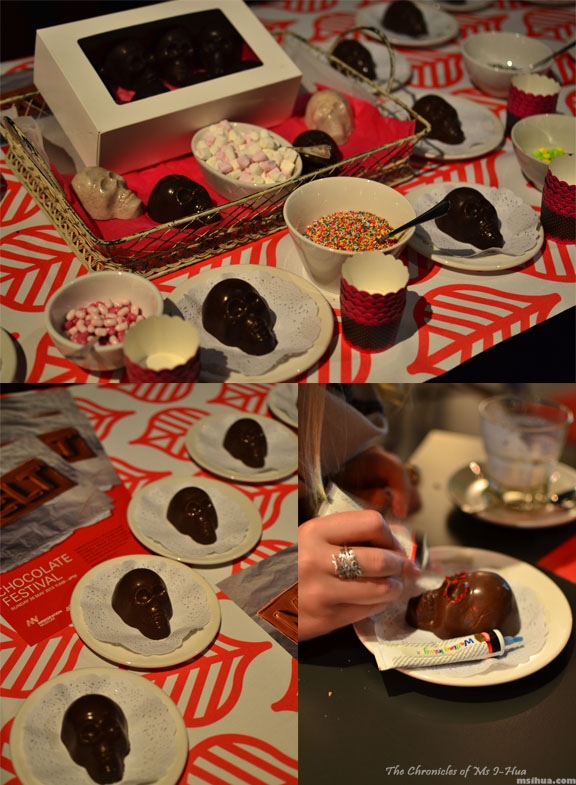 I can tell you that those who attended along-side me were completely engrossed with the decoration of the chocolate skull. It was so much fun.
The lady who made the skulls (from the Mexican community) came up to explain to us, that in Mexico, the 'gift-giving' of chocolate skulls to one another on the Day of the Dead is not to do with anything spooky or ominous. It's actually a joyous affair in celebrating life. So when a friend gives you a chocolate skull (or any decorated skull) with your name on it, they are wishing you goodwill and good life.
I also really enjoyed the Mexican Chocolate Drink, Champurrado, made with corn flour and served with corn bread.
The Belgian chocolates were also masterfully made, with favourites being dark chocolate, hazelnut and a dark chocolate encased in a white tempered shell in the form of giant red lips!
If you're looking for a fun family activity to attend this Sunday, why not head on to the Chocolate Festival at Immigration Museum. Have some fun, get your creative hat on and let the chocolate heal your soul!
Details:
Melt: Chocolate Festival
Venue: Immigration Museum, Old Customs House, 400 Flinders Street, Melbourne VIC 3000
Date & Time: Sunday, 26 May 2013 11:00am – 4:00pm
Entry Fees:
Festival ticket included with museum entry: $10 adults, free for MV members, concessions & children under 16.
(Workshop tickets additional to museum entry: bookings essential as places limited $15 adults, concessions and children or $13 all MV members)
Website: http://museumvictoria.com.au/immigrationmuseum/whatson/melt-chocolate-festival/