A couple of weekends ago was my good friend Mazzie's birthday 🙂 So to celebrate (and also 'cause we live 12 minutes away from this place) she kindly invited us along with Daisy and her mister for a birthday breakfast 🙂 #anyexcusetoeat
She chose The Merchants Guild after ogling at Lianne's picture of the buckwheat pancakes on offer here. If you haven't seen them, scroll down for some drool worthy #pancakep0rn 😛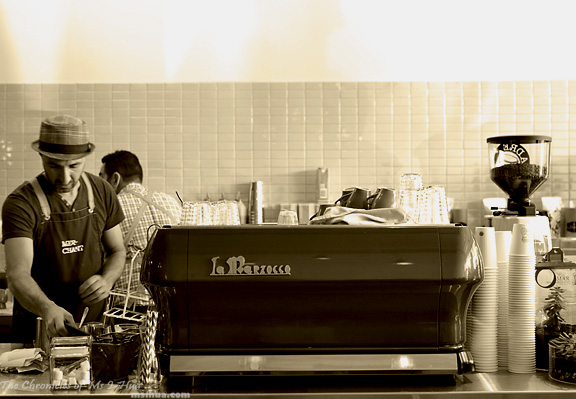 We got there slightly past 9.30am and the cafe was already bustling with the local crowd.
Luckily for us, the Birthday Girl was early to her own party and managed to snag us a table smack bang in the middle of the action.
At our seats, we could ogle the action-packed bench that housed the baristas. Barricaded behind their La Marzocco espresso machine, they churned out Padre coffees like there was no tomorrow. If coffees aren't your thang', they also have an array of teas on offer such as Jasmine Pearls, Organic Chamomile Flowers, Golden Monkey and Puerh just to name a few.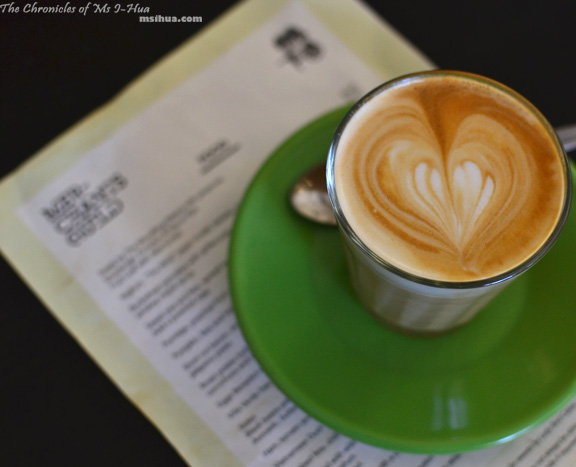 But of course, the Boy and I went with a Latte ($3.80) each, vowing that on our next visit back here we would give the teas a go!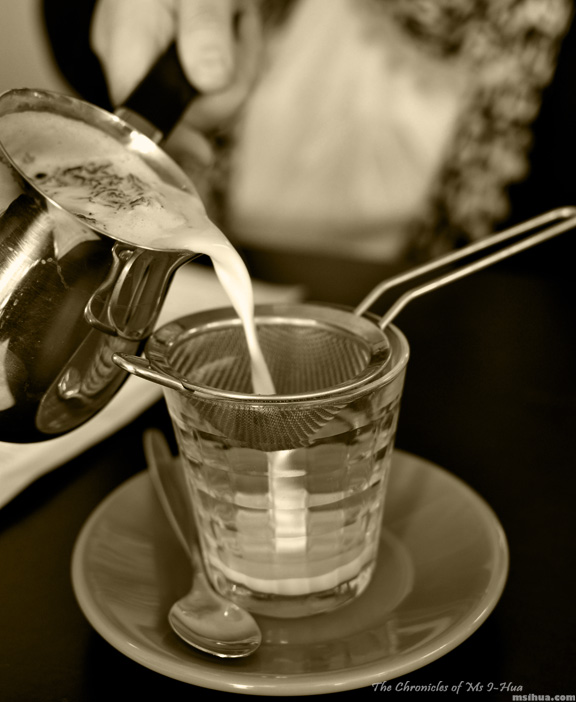 Mazzie daring to be different, ordered the Prana Chai (of spices, tea, honey and ginger) $4.50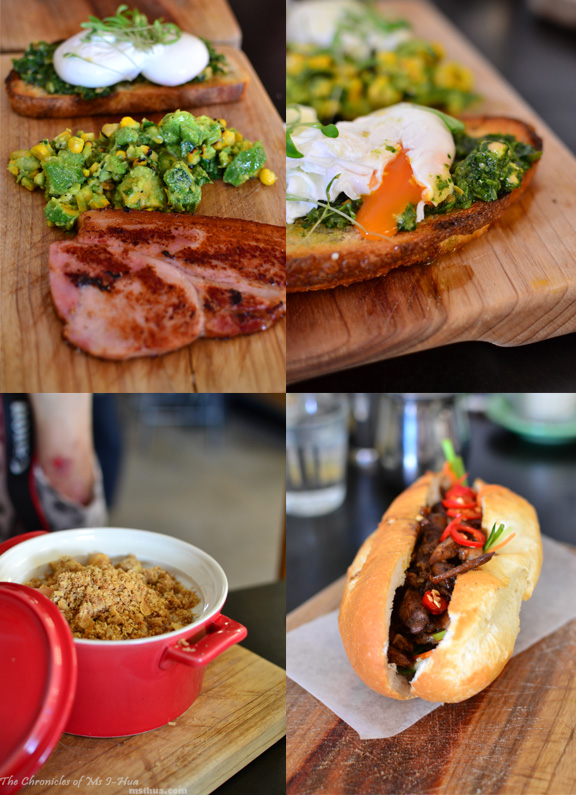 Seeing that there was Short Cut Bacon, Avocado & Chard Corn Salsa on Sourdough Toast, Poached Eggs, Jalapeno Pesto ($17.00) on the menu, I jumped at the chance of ordering it. The bacon being a thick slab was a little salty on its own. I did however love the corn salsa and couldn't get enough of the toasted corn within it.
Daisy went with the Porridge, Poached Fruit & Crumble ($11.50) as she needed sugar -_0
Maz went with the Vietnamese Duck Banh Mi Baguette with Pickled Vegetables, Pate, Chilli & Coriander ($12.50) once I managed to convince the group that we would order the famed pancakes to share all round *phew*. The birthday girl was a happy camper with her choice!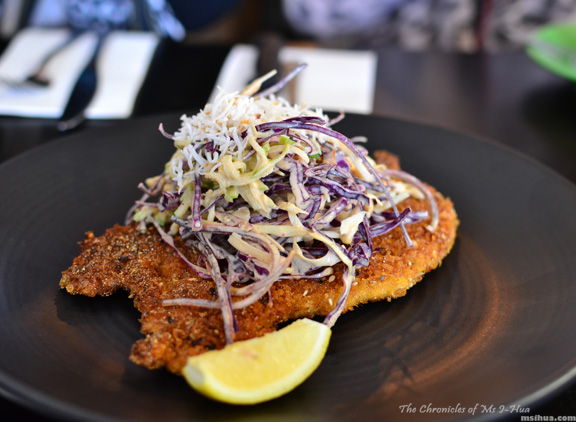 The Boy failing to take on the challenge of spelling Mississippi with his bum and ignoring me, went on to order the Mississippi Chicken with a Creole Coleslaw of Cabbage, Fennel, Apple & Purple Carrots ($17.00). He said that the chicken was beautifully crumbed and sacrificed a tiny piece for me to try. I couldn't help but agree that the crumbed chicken was perfection.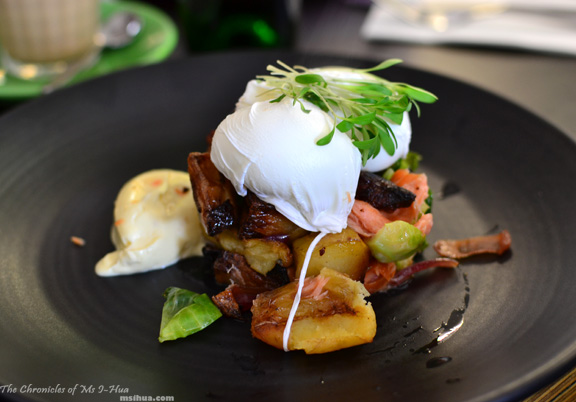 Mr Bao ordered the Roast Potato Bubble & Squeak, Hot Smoked Trout, Horseradish Cream, Cornichons and Poached Eggs ($18.00) and enjoyed it very much.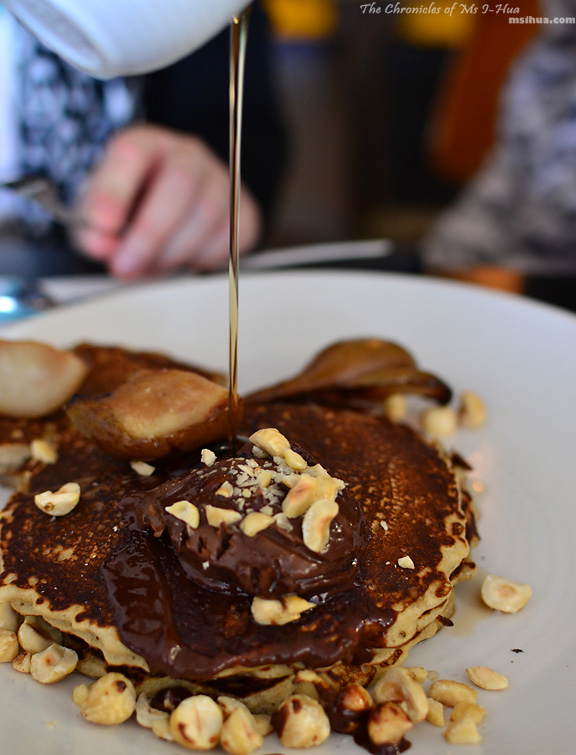 And then! The pièce de résistance! It arrived and we gasped in glee.
Buckwheat Pancakes with Grilled Pear, Chocolate Fudge, Hazelnuts and Whiskey Maple Syrup ($14.50)
I don't think I need to say more. Decadent pancakes drizzled with boozed-up maple syrup and chocolate fudge, hazelnuts threatening to spill over, we were in ecstasy.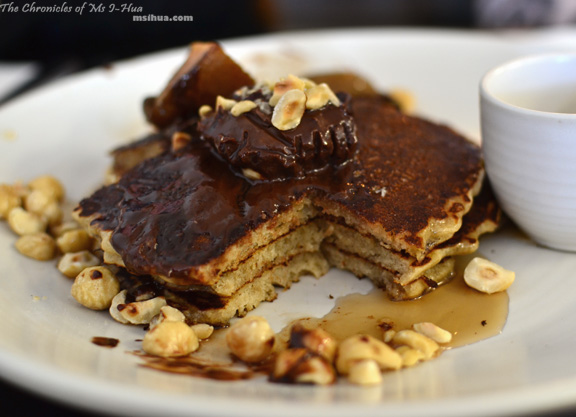 Definitely come if you're in the area. People of the South East! Hearken now! We no longer have to journey to strange lands for good brunch fare. Sign up and join in the membership of The Merchants Guild.
Families rest assured, kids menu are also available here.
*Disclaimer: All food ratings & review are purely based on my own experiences and how I feel about the service, food and quality at the time of visit
Food/ Cuisine: Breakfast, Lunch & Coffee
Dining Style: Cafe
Opening Hours:
Monday to Sunday, 7:00am to 4:30pm
Address:
680 Centre Road
Bentleigh East VIC 3165
Tel: (03) 9579 0734
Website: http://themerchantsguild.com/
How to get there: