When one door closes, another one opens. Such is life.
When I had heard that one of my favourite dining places of 2012 had shut (The Sharing House) to make way for a new spicier entry, I was absolutely gutted.
But when I heard it was a Thai street food joint, I couldn't but help to get slightly excited. I am addicted to Thai food.
BangPop a wordplay on Bangkok and what owner Paul Mathis describes as "in the Thai language, the word 'bang' means a village situated on a stream, while the 'pop' element encapsulates the bold flavours, vibrant colours and larger-than-life personality of this Yarra-side restaurant."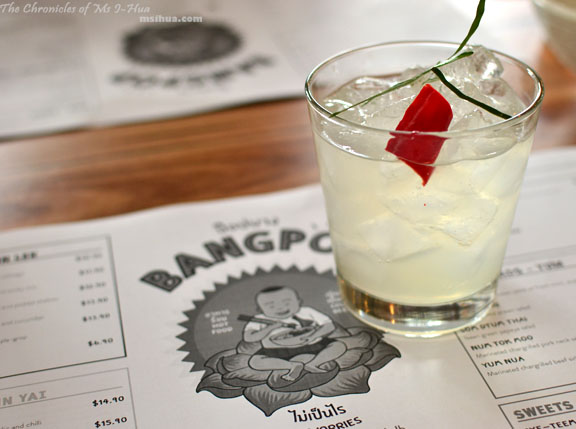 BangPop takes on Thai food from another angle altogether. If you are used to a big, punch-in-your-taste-buds Thai take on food, then BangPop is not for you.
BangPop does subtle and delicate. It does warm and welcoming. It does gentle north-eastern Thai (Isan). With help from Yaigum (a Thai stallholder of more than 40 years) who will share her family's secrets with the kitchen (curry pastes, dipping sauces, marinades and Isan dishes), BangPop brings Hawker stand staples. Items such as grilled pork neck, chicken spare ribs and pork sausages not usually found on menus of local Thai restaurants make a staple here.
Head chef Kam McManamey refines these offerings all the while paying respects to the importance of nahm jim and aromatic condiments always found readily available at hawker stalls and road side tables.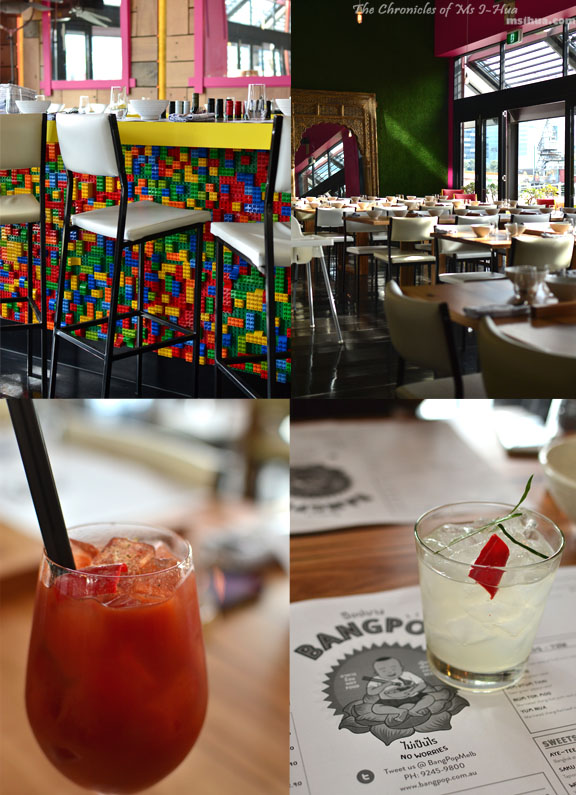 To start, I ordered the Thai twist on the traditional Bloody Mary Cocktail with the Thai Bloody Mary ($15.00) – Vodka, tomato juice, Thai soy sauce, fresh lime juice and chilli, whilst Azzie ordered the Tom Yam Siam ($15.00) – Vodka, lychee, fresh lime juice, red chilli and kaffir lime leaves.
I enjoyed both of these Thai influenced cocktails. My notes indicated that I thought the Thai Bloody Mary was similar to drinking a cold spicy soup whilst Azzie's drink was…wait for it.. yes. Very Limey 😛
We decided to order a few starters to whet our appetite and to start our sensory tastes going. We ordered the delicious Sai Krok Isaan ($10.90), a type of sour Isaan pork sausages with chilli, fresh herbs and cabbage. Slightly sour with a slight hint of chilli, I couldn't get enough of these.
We also ordered the popular street food Num Tok Moo ($15.90), marinated chargrilled pork neck salad.
When I saw that fish floss was available on the menu, I knew I had to have it! We ordered the Yum Pla Foo ($20.90), a roasted & fried 'Cotton Fish' dish with green papaya salad and nam-plawan.
It was everything I'd imagine to be. Crunchy, crispy and oh so addictive. It also came with a side of salad which was tangy and sweet. It reminded me a bit of the sauce found in my favourite pork belly and barramundi dish at Chin Chin.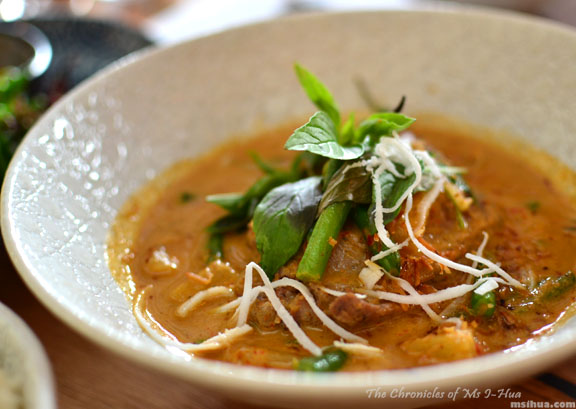 We also ordered the Gaeng Daeng Phed ($24.90), slow cooked duck leg red curry with basil, fresh chilli and roast coconut.
Upon first taste the curry seemed a bit mild and under-seasoned. When we made a mention of this to the waiter, he happily divulged to us that this was the perfect dish to start playing with the balance of flavours via the readily available condiments on the table.
Armed with that knowledge we began experimenting (in our own bowls) with the chilli flake, vinegar chilli sauce, fish sauce and sugar. Each one of us achieved our own sense of "perfection" upon playing with the condiments. It was fun to see what each one of us thought was "lacking" in the dish, be it salt, sugar or spice!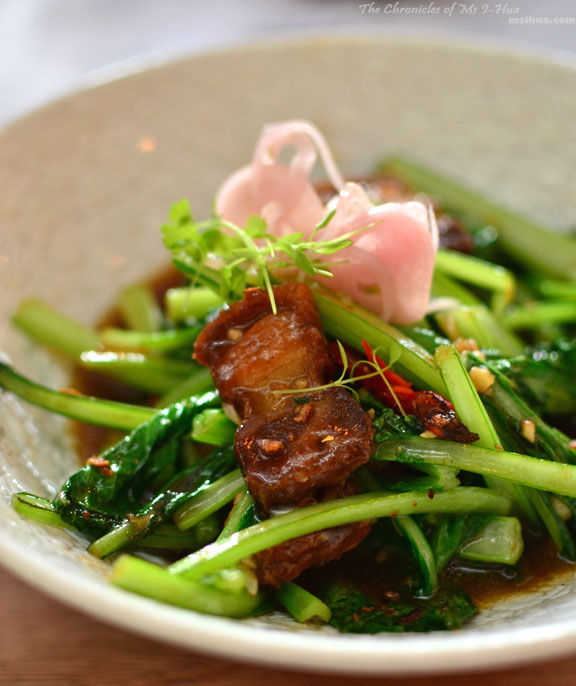 As we needed some greens, we ordered a serve of the Pad Ka-Nha Moo Krob ($14.90) as well. Crispy pork belly tossed together with Chinese broccoli, oyster sauce, garlic & chilli. They ran out of Chinese broccoli and substituted it with Choy Sum on that day.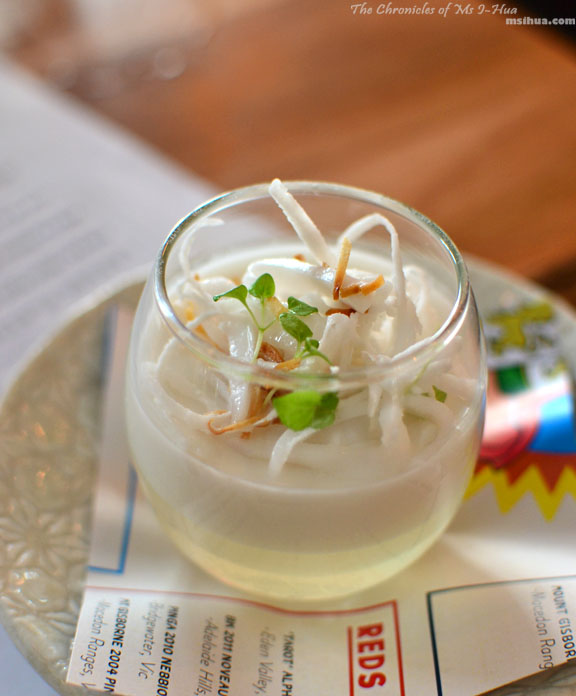 Then came time for dessert! Between the three of us, we shared two desserts which appealed to us most.
We ordered the Woon-Ma Prow ($10.90) a type of young coconut jelly with young coconut flesh and toasted coconut. Instantly it was a blast from the past in taste as I remembered eating these whilst growing up in Malaysia. It might have looked somewhat fancier in its presentation, but the taste was definitely there. Similar to Woon Gati (which is wrapped in banana leaves in small square pots).
Loved it!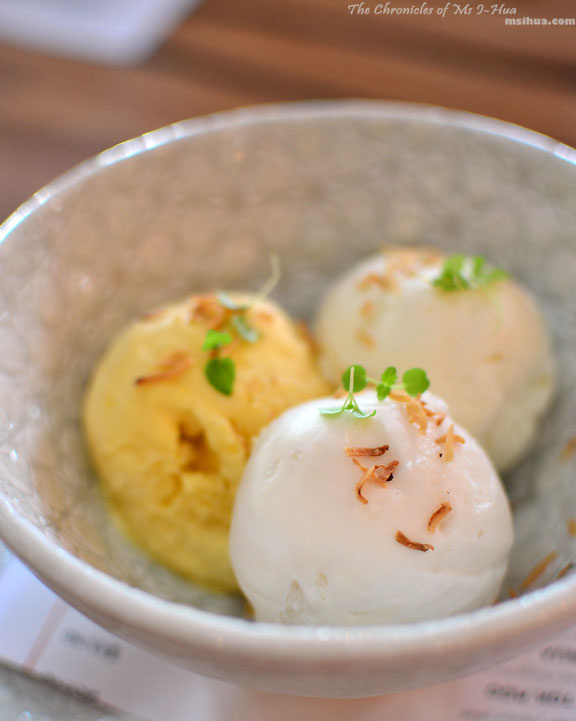 Just as a final sweetener to top off a great lunch, we also had the Aye-Teem Krungthep ($10.90) – Bangkok street ice cream and sorbets of the day. We had Mango, Coconut and Lychee flavours that day.
I do hope that BangPop stays and doesn't disappear like its predecessor. If you feel the urge to have Thai food and can't be bothered with the queues at you-know-where, why not venture out to the other side of the river for a different take on Thai food?
*Disclaimer: All food ratings & review are purely based on my own experiences and how I feel about the service, food and quality at the time of visit
Food/ Cuisine: Thai
Dining Style: Restaurant

Opening Hours:
Monday to Sunday, 12:00pm to late

Address:
Shed 6
35 South Wharf Promenade
South Wharf VIC 3006
Tel: (03) 9245 9800
Twitter: @BangPopMelb

Website: http://www.bangpop.com.au/

How to get there: