The Boy and I have taken a leap of faith in our relationship in recent times. Yup, we've gone slightly off track in our long relationship, so we tend to do things a little backwards.
However, finally the time has come to reveal our next big adventure.
We are thinking of buying a new washing machine. Actually, I haven't told The Boy yet. He'll find out as he edits this post 😛
We've had our washing machine since we moved in together nearly 10 years ago. Yep. We were young students with no extra cash to spend on frivolous white goods. Whatever we could scavenge, we would use.
Our old faithful washing machine (let's call him Thierry, this will only make sense if I reveal that all other electrical appliances in our house are named Henry), was second hand when we bought him, thus making his age fairly indefinable.
It has come time to deposed of him. I want a faster, better, version of Thierry. One that doesn't wreck everything that we put in it. One that doesn't jiggle and shake faster than you can shout, "Shake your tailfeather"!
As we hunt for Thierry 2.0, we take a brighter look at life. We thank Thierry for keeping our clothes clean for us long as he has. But as with all good things, it must end.
What doesn't end however, is our search for good breakfast and brunching spots for us and our readers. So here's one for you to pay a visit to if you're in the area, Mr Brightside 🙂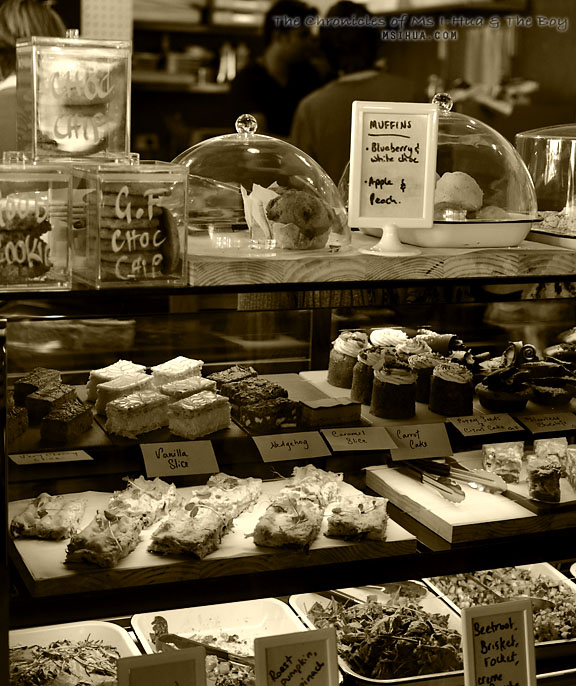 This is our new favourite go-to cafe when we can't be bothered to travel more than 5 minutes. It's safe, it's good and it comes highly recommended (by me :P).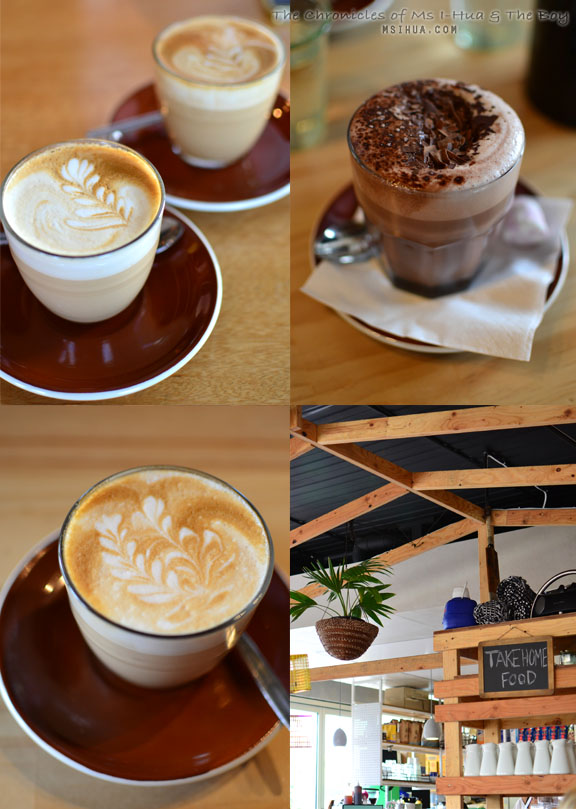 This post combines both our visits here. We have brought friends (The Librarian and Ms Tinymouse) here (shows you how happy we are with this place) and together we have managed to order quite a lot from their humble menu.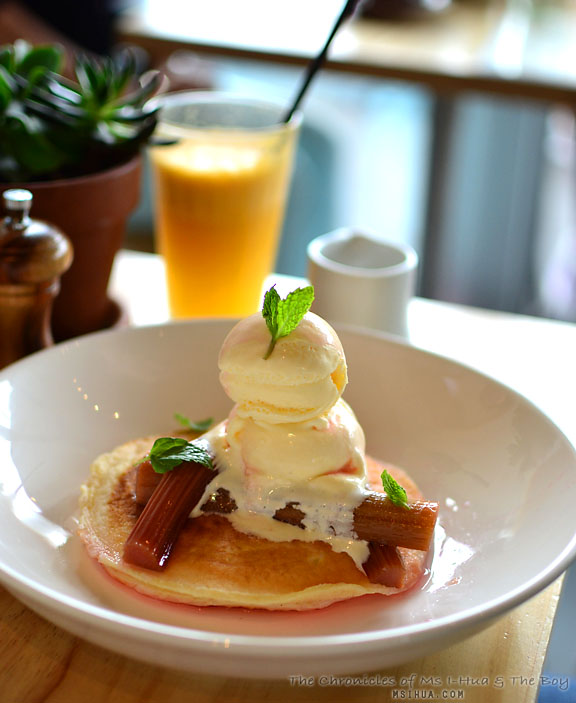 The Librarian upon hearing the specials read out loud to him, made an instantaneous decision to order it. What got his attention? Well, Pancake, Rhubarb with Ginger Ice-Cream. It was inhaled within 5 minutes of it being set down.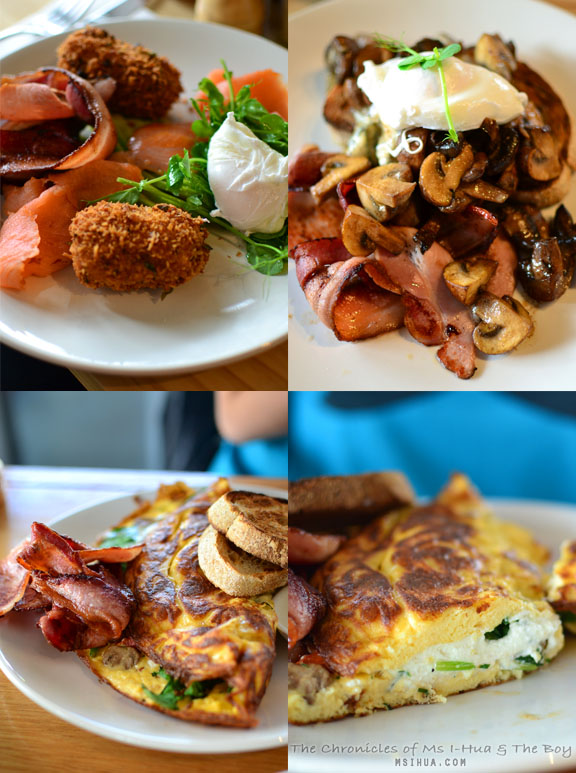 Ms Tinymouse ordered the Corn Croquettes with Smoked Salmon, Snowpea Tendrils with Lemon Dressing, Poached Egg ($15.00).
I went with the Specials Board option of Sautéed Swiss Brown Mushrooms with Blue Cheese and Toast (with added bacon of course). It was so good that I forgot to find out what the price was on the board #failblogger. This dish was just so heavenly sinful and rich.
On another occasion, I had the Omelette with Mushroom, Tomato, Spinach, French Goats Cheese ($14.50) with extra Bacon ($4.00).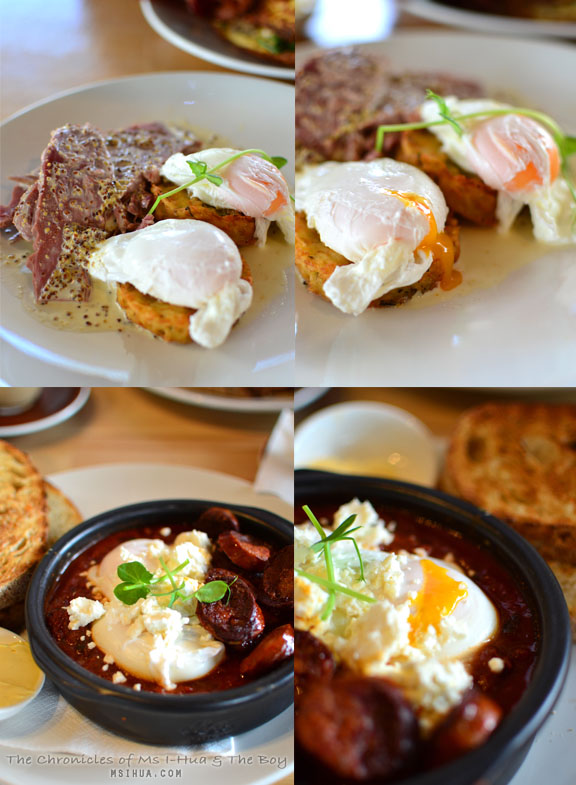 The Boy had the chance to try the Potato Hash Browns with Beef Brisket, Poached Eggs, Grain Mustard Sauce ($14.50) and the Shakshouka-Baked Eggs with Spicy Tomato Sauce, Leafy Greens and Crumbled Feta with added Chorizo ($19.00) on two separate occasions. The Shakshouka was his favourite and he couldn't wait to cook up his own (recipe post coming soon).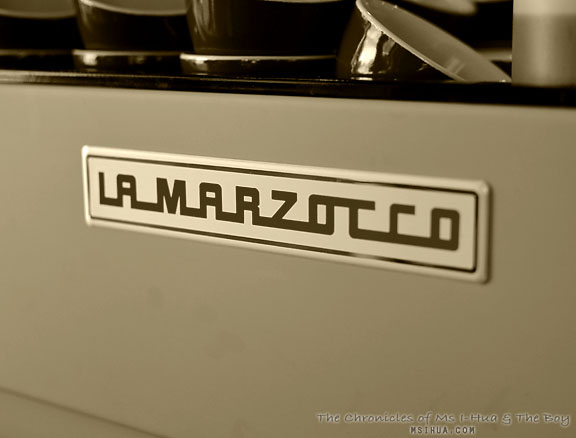 Would we come back? Clearly. We've been here a few times now and this revisit post is long overdue.
Service is friendly and food is good. Ambience is comforting as well. All in all, not a bad place to visit at all 🙂
*Disclaimer: All food ratings & review are purely based on my own experiences and how I feel about the service, food and quality at the time of visit
Food/ Cuisine: Breakfast, Lunch, Coffee
Dining Style: Cafe
Opening Hours:
Monday to Friday, 7:00am – 4:00pm
Saturday & Sunday, 7:30am – 4:00pm
Address:
189A Booran Road
Caulfield South VIC 3126
Tel: (03) 9576 9588
Website: http://misterbrightside.com/

Twitter: @Cafe_Brightside

How to get there: