It has been nearly 2 years since we experienced he magnificence of Brent Savage's cooking in Bentley. So when we made our way to Sydney to celebrate the Little Monster's (my nephew) appointment to being a 1 year old, The Boy and I knew we had to revisit Bentley in Surry Hills.
Trying to fit it into our amazingly food ridden (surprised?) itinerary took a little planning. First we had to wake up early for a trip to Flour & Stone (post to come) so that we wouldn't miss the beautifully baked treats from Nadine Ingram. Then we had an hour to spare to walk from F&S to Bentley. Given that the walk took all but 20 minutes, we had a 40 minute time gap to kill.
Neither of us felt like visiting Gelato Messina as it would have wrecked our ability to have our degustation lunch plans. So we did what every sane person would do before mounting on an eating expedition. We walked from one end of Surry Hills to the other end (both sides). Let's just say we were very well acquainted with Crown Street and all its tiny quaint shops.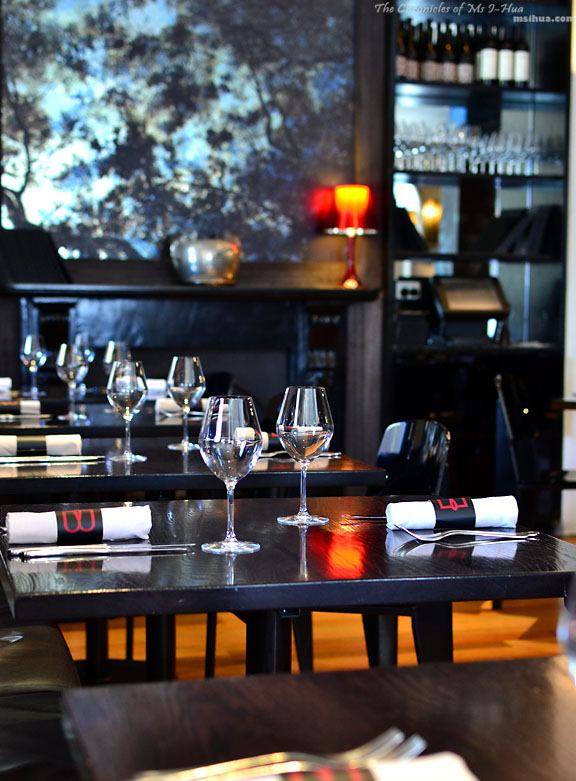 5 minutes to our reservation time, I was tired and I needed refuel desperately. Luckily for us, we were seated without any fuss. Having studied the menu in depth for the last couple of days, we nodded politely as our wait staff went through the menu with us. When he finished, we took a look at each other and made our order. He probably was surprised that we made the decision so quickly.
The Boy initially planned to experience the same Fixed Price Lunch menu but I swayed his mind by putting it out to him that it might be another 2 years before we had the opportunity to eat here again. So we went with the signature tasting menu ($120 pp for 9 courses). Good thing we did too, as it wasn't long after our visit that Bentley announced that they would no longer be trading as of mid-August 2013 :,( However, they will reopen at the Radisson Blu Plaza Hotel in Sydney CBD (all hail a sigh of relief).
As it was a fairly warm day (or perhaps it felt like one after our long exercise) I desperately needed to cool down. So I ordered a "Side Car" cocktail ($15 .00).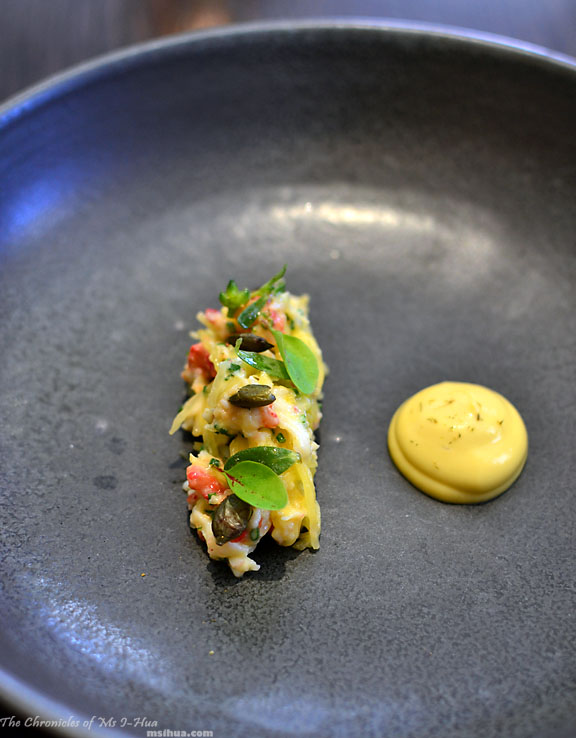 The first course of Crab with Spaghetti Squash & Yuzu cream was very well balanced. The texture of the kewpie mayo really helped in cutting through the acidity of the yuzu. We both loved the spaghetti squash as it was both interesting (I'd only come across it in books) and delicious. Loved the delicate interplay of sweet and umami flavours.
The next dish of Seared Scallop served with Sweet Potato, Sea Banana and Smoked Eel was another highlight. The broth was rich and thick. The salty tang of the beach herbs made me think of the beach when I closed my eyes.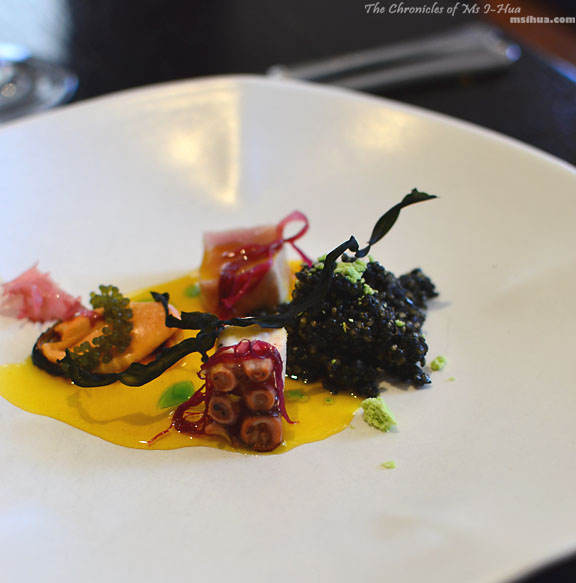 Next, we had the Tuna, Pickled Mussels & Octopus with Squid Ink, Quinoa and Sea Grapes. The slight hint of wasabi, sorrel oil and red seaweed assisted with the umami flavours once again.
The Boy claimed that this was his favourite dish at that point, to which I huffed at him for jumping the gun so soon.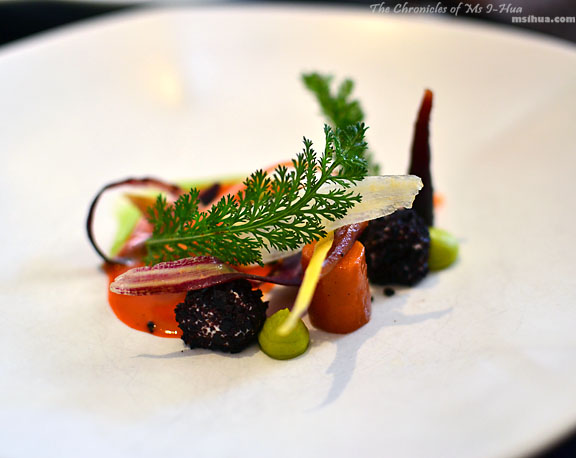 The next dish was a Spiced Heirloom Carrot served with Pistachio, Yoghut, Black Olives and Fenugreek. It was a lovely dish to break the stream of lighter seafood courses before we got started on heavier meat dishes.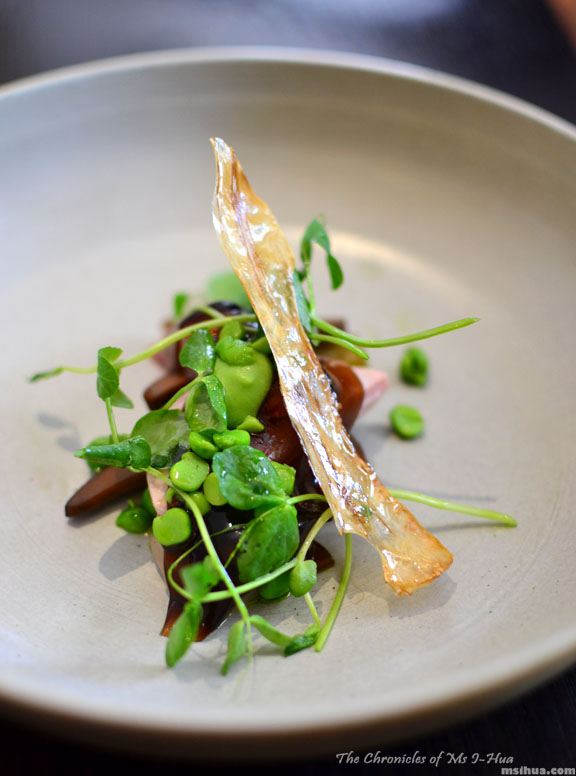 The first of the mains arrived and I was torn. There on the plate were both the things I enjoyed most and least enjoyed. Together, sitting side by side in harmony. Eek!
Despite my misgivings to the peas on my plate, the Roasted Quail with Mushroom Custard, Peas and Mint dish was comforting to me. The added touch of the eggplant crisp also completed the food styling balance of colours (geek!) as well as a crunch texture in an otherwise texturally tender and mushy dish.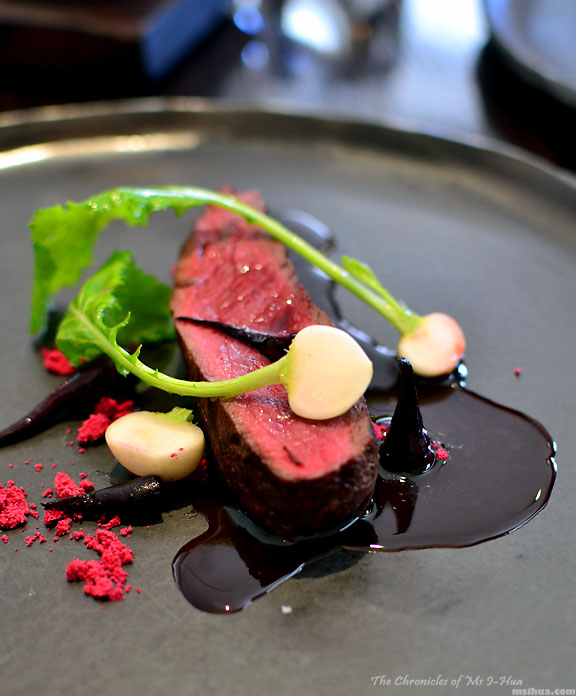 In lieu of the Black Angus Beef dish, The Boy and I had the Venison with Baby Beetroot, Blackcurrant & Turnip (from the ala carte menu option).
Knowing that The Boy would be silently cursing me at having missed the Black Angus opportunity (they could only do same dishes per course), I sat stoically whilst trying to send powerful telepathic mind signals to Brent Savage in the kitchen to make the dish work.
I must have ESP after all. The venison was superbly well cooked and went really well with the rich sticky blackcurrant sauce. This was the winning dish for me!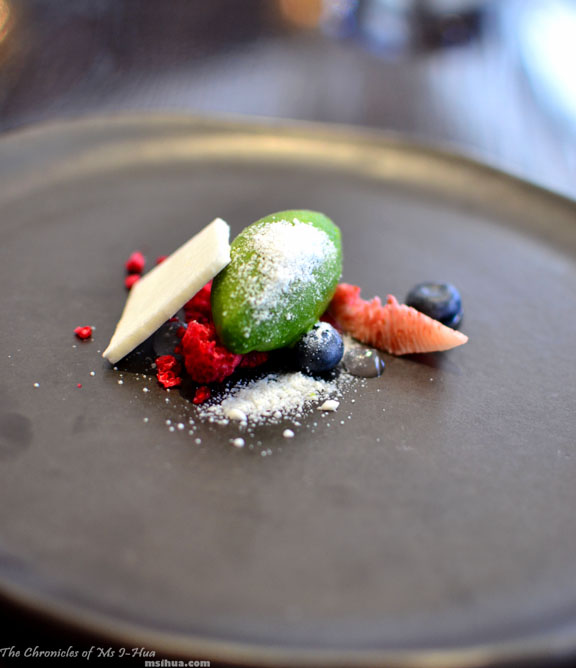 All too soon, we were served the dessert courses. My mind wanted more, my belly said "please, no more!".
"Mind over matter ", I responded to my stomach.
Thus I conquered the next two desserts like a champion.
The Sorrel Sorbet with Fig, Raspberry & Magnolia acted as a really good palate cleanser. It was light and it was floaty. It did remind me of a similar dessert we had from Nic Poelaert (with his mushroom dessert).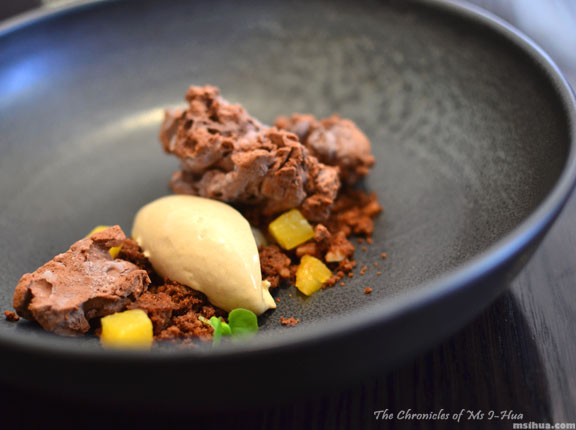 The final dessert of Frozen Chocolate Mousse with Pineapple, Sesame & Toast Ice-Cream was a great end to a fabulous meal. The mousse was so airy it felt almost guilt-less 😛
I was so desperate for things not to end that I even proposed to The Boy that we order one serve of the dessert tasting menu. He very nearly agreed, except that he knew that I was just greedy in the mind. There was no possible way we could have managed anything else after our epic meal.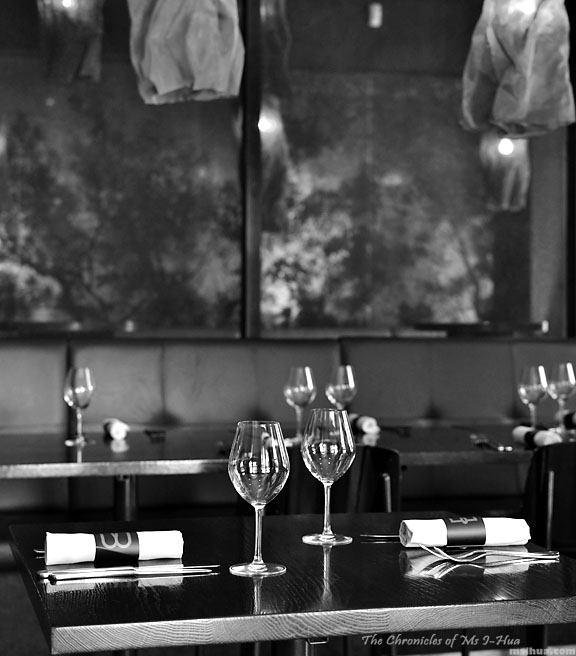 We were both really glad and happy that we had made our revisit trip to Bentley. It felt good and it felt right. Now that we know that we will never dine at the Surry Hills outlet again, we are ultimately glad that we had an amazing farewell with Brent and his team at Bentley.
Thanks for the inspiration throughout the years, I'm sure you can see it in The Boy's experiments in the kitchen (most notable of late, his use of olive soil). It was you who taught him pumpkin was a friend. It was you who taught him PVC pipes could be used for plating purposes.
Fare thee well Bentley. Until we meet again 🙂
On Saturday August 10, 2013 Bentley served their last meal in Surry Hills, before reopening their doors at the Raddison Blu Hotel (at the corner of Pitt and Hunter Streets in the Sydney CBD) in November 2013.
*Disclaimer: All food ratings & review are purely based on my own experiences and how I feel about the service, food and quality at the time of visit
Food/ Cuisine: Modern European
Dining Style: Fine Dining
Address:
320 Crown St
Surry Hills NSW 2010
Tel: (02) 9332 2344
Website: http://www.thebentley.com.au
How to get there: