Usually when our group of food loving friends decide to throw a food themed party, I would let The Boy come up with the dish of what he wants to make, watch him have a kitchen disaster, assist in taking over and then presenting the dish at the end of the day. Usually it works and we are happy with the end result (or I am at the very least, The Boy sets very high standards for himself and most often doesn't meet them).
However, this means that on the lists of who's cooking what, it always reads this sentence, "something crazy". Our friends know that we never bring what we promise at the beginning and/or that we bring what we say we are but it turns out to be completely different (case in point Salmon Rillettes).
When Thanh decided to throw a Matcha (Green Tea for the uninitiated) Party at Michele's house, The Boy's mind went into over-drive. I knew this meant disaster for me as he doesn't bake and has not entered into this foray as willingly as I have. He just can't as he refuses to follow baking instructions and makes it up as he goes, which just doesn't work when it comes to baking.
After a very busy and long week at work, a late night before the day of the Matcha party, I had given up on The Boy's plan (he had given up the previous week to come up with an idea and told me that it was all up to me!). So I went to bed and told the guys that we'll be bringing simple matcha brownies. But…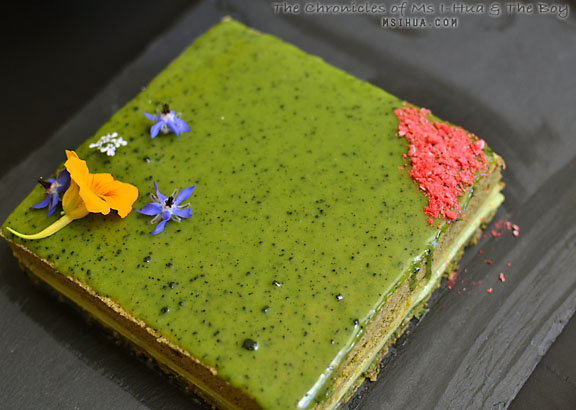 …as I was preparing to go to bed, I looked up my instagram feed just in time to see that Daisy had also changed her mind about what she was bringing to the party. She announced that she would be bringing Matcha Brownies!! Oh, to seven hells of damnation. I couldn't bring the same dessert now!
With that in mind, I woke up early the next morning (7am for a Saturday planned sleep in is way too early) and started banging around the kitchen.
I woke up feeling positive (and re-energised). I couldn't let the team down! I had to bring something spectacular. I knew what I had to do but I'd never done it before. Feeling as if I was put to a pressure test on Masterchef and with only 3 and a bit hours before the party was to start at 12pm, I commenced on Operation Matcha Opera Gateau.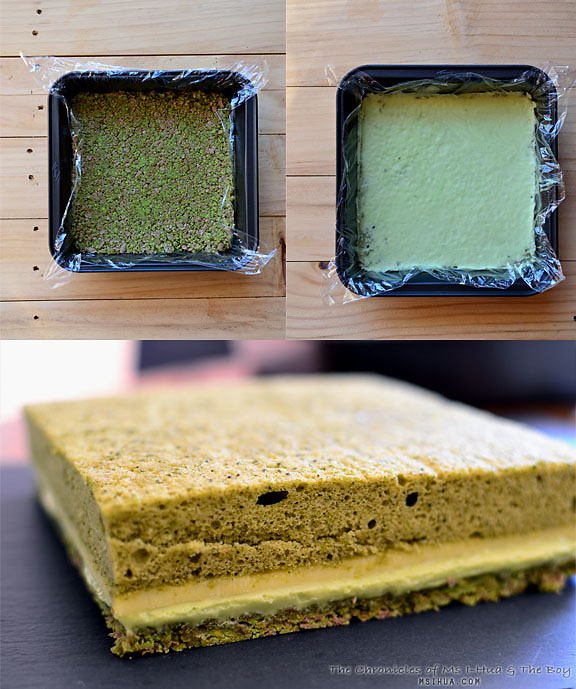 There are several recipes out there to make a Matcha Gateau or a Matcha Layered Cake. However, as I couldn't find the perfect combination in which I wanted to present, I decided to compromise and combine several different recipes together.
The layers I had to make were:
Matcha and Pistachio Feuilletine
Matcha Mousse
White Chocolate Buttercream
Matcha Sponge
Matcha Ganache
For the purpose of the step-by-step process of making this cake, I will start with the layers I did chronologically rather than from base to top layer.
Matcha Opera Gateau (Green Tea Layer Cake) Recipe
Ingredients
*Makes approximately 12-14 slices - depending on how you cut it.

Matcha Mousse

7.5 grams Powdered Gelatin
30 grams Cold Water
50 grams Sugar
5 grams Matcha Powder
165 ml of Milk
115 ml of Full Cream

Matcha Sponge

3 Egg Yolks
3 Egg Whites
50 gram Sugar (split into 25 grams)
70 grams Plain Flour
10 grams Matcha Powder
40 grams of Grape Seed Oil (or melted butter)

Matcha and Pistachio Feuilletine

80 grams White Chocolate
20 grams Roasted Pistachios
15 grams Butter (softened)
50 grams (about half a cup) of Paillete Feuilletine
5 grams Fleur de Sel

White Chocolate Buttercream

115 grams White Chocolate
40 grams Full Cream
70 grams Butter (softened)
120 grams Powdered Sugar (Icing Sugar)

Matcha Ganache

115 grams White Chocolate (chopped finely)
100 grams Full Cream
10 grams Matcha Powder
Instructions
Start by making the Matcha Mousse as it requires time to set.

Matcha Mousse

Sprinkle the powdered gelatin over the cold water and set aside.
Place the matcha powder and sugar in a medium size bowl. In a heavy base saucepan, bring the milk to the boil. Remove from heat. Slowly whisk the hot milk into the matcha and sugar mixture.
Heat the gelatin in the microwave for about 10-15 seconds and stir into the matcha-milk mixture.
In another bowl, beat the full cream to soft peaks. Fold into the matcha-milk mixture and set aside. You can also speed the process up by placing the Matcha Mousse mixture into the refrigerator.

Matcha Sponge

Preheat oven to 230 degrees Celsius (210 degrees celsius if fan forced). Grease a square cake pan (I used an 8" x 8" inch pan) and line with baking paper.
In a bowl, mix plain flour with matcha powder.
Beat the egg whites with half the sugar (25grams) until stiff peaks are formed.
In a separate bowl, beat the egg yolks with the remaining sugar until it turns thick and pale. Fold the egg yolk mixture into the egg white.
Fold in the flour-matcha mixture and grape seed oil to the egg mixture. Pour the batter into the prepared pan and bake for 10 minutes.
Remove from the oven and let cool for 10 minutes. Remove matcha sponge from cake pan and set aside to cool.

Matcha & Pistachio Feuilletine

In a hot pan, toast the pistachios until fragrant. Take care to keep tossing the nuts to keep them from burning. Remove and let cool. Once cooled, ground the nuts into powder form. I used a spice grinder for this.
In a double boiler, melt the butter, white chocolate and matcha powder while mixing until smooth. Remove from heat and fold in the paillete feuilletine, fleur de sel and pistachio powder. Set aside to cool.

White Chocolate Buttercream

In a medium saucepan, melt the white chocolate and full cream until a smooth consistency is formed. Add in butter and powdered sugar. Whisk all ingredients together to form a paste-like texture. Set aside.

Matcha Ganache

Place together the white chocolate and matcha powder into a bowl. Heat the full cream in a saucepan and bring to a boil. Pour over the hot cream into the chocolate mix, stirring consistently until all the chocolate has melted. Set the glossy mixture aside.

To Assemble:

Line the same square pan (from the matcha sponge) with plastic wrap.
Press the pistachio feuilletine into the bottom of the pan, making sure that it is spread evenly. Use the bottom of a spoon to do this.
Pour the matcha mousse mixture on top of the feuilletine and refrigerate until set. As I was working to a tight time limit, I popped mine into the freezer for about 30 minutes.
Spread an even layer of the white chocolate buttercream onto the set mousse gently.
Place the matcha sponge over the white chocolate buttercream layer. Cover the top of the cake with more plastic wrap and refrigerate for another 30 minutes to set.
To remove the cake from the cake pan, we flipped the cake onto a chopping board (to remove the bottom plastic wrap) before flipping it onto the slate where we trimmed the sides of the cake.
Spread the matcha ganache layer over the top of the cake evenly. As I only wanted the glaze to be on the top, this meant that I had to be extra careful. (Unfortunately, during the car ride to Michele's house, this meant the glaze spilled a bit over the sides.)
Decorate as you wish. I used dehydrated strawberries and crushed them to a fine powder before sprinkling at the corner of the cake. Topped with fresh edible flowers from the garden, the cake is ready to be served.
Notes
You can make this cake with any other flavour. I experimented with purple yam/ube the next day and it was also really good.
For an added wow factor, bake two layers of matcha sponge to add an extra layer under and above the white buttercream.
Make sure that you have all your ingredients organised and sorted, ready to reach. Lay each ingredient out for each of the steps so that you do not panic and have plenty of time for each layer.
http://msihua.com/2013/09/matcha-opera-gateau-green-tea-layer-cake-recipe/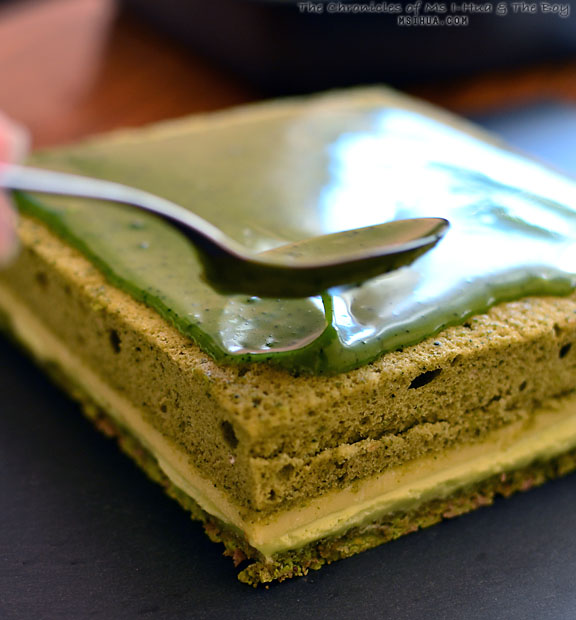 What do you think? I was rather impressed how quickly I did this and managed to bring it in time to the party! Not to mention it was my first time attempting a layer cake like this.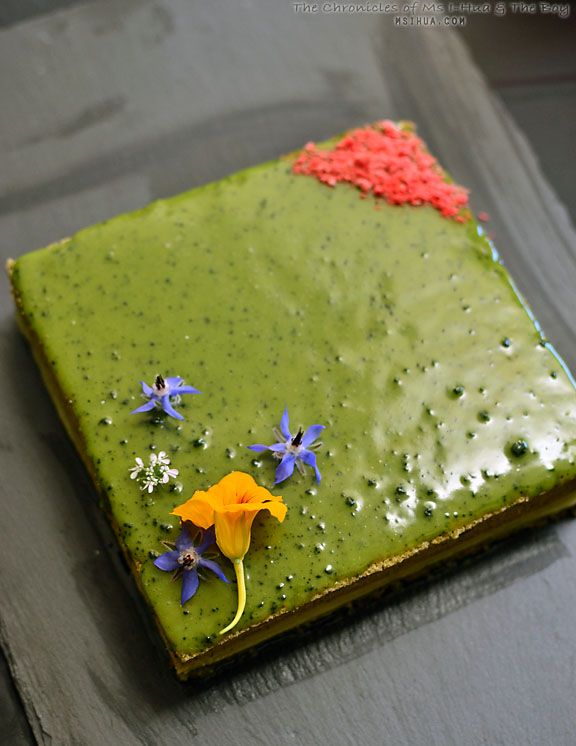 Would I make this again? I sure would! I made this style of cake the very next day with different flavours. Using the same ideas, the possibilities are endless!
Hope you enjoy this cake!