Usually when our group of food loving friends decide to throw a food themed party, I would let The Boy come up with the dish of what he wants to make, watch him have a kitchen disaster, assist in taking over and then presenting the dish at the end of the day. Usually it works and we are happy with the end result (or I am at the very least, The Boy sets very high standards for himself and most often doesn't meet them).
However, this means that on the lists of who's cooking what, it always reads this sentence, "something crazy". Our friends know that we never bring what we promise at the beginning and/or that we bring what we say we are but it turns out to be completely different (case in point Salmon Rillettes).
When Thanh decided to throw a Matcha (Green Tea for the uninitiated) Party at Michele's house, The Boy's mind went into over-drive. I knew this meant disaster for me as he doesn't bake and has not entered into this foray as willingly as I have. He just can't as he refuses to follow baking instructions and makes it up as he goes, which just doesn't work when it comes to baking.
After a very busy and long week at work, a late night before the day of the Matcha party, I had given up on The Boy's plan (he had given up the previous week to come up with an idea and told me that it was all up to me!). So I went to bed and told the guys that we'll be bringing simple matcha brownies. But…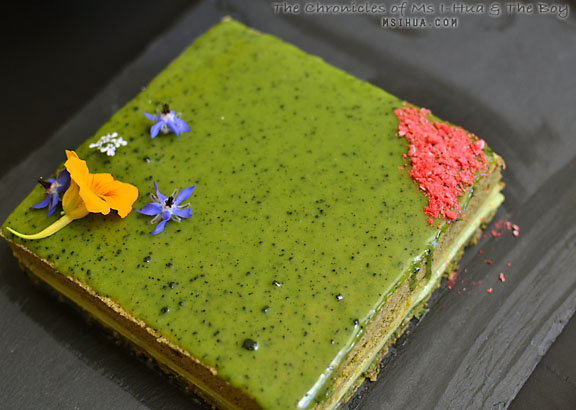 …as I was preparing to go to bed, I looked up my instagram feed just in time to see that Daisy had also changed her mind about what she was bringing to the party. She announced that she would be bringing Matcha Brownies!! Oh, to seven hells of damnation. I couldn't bring the same dessert now!
With that in mind, I woke up early the next morning (7am for a Saturday planned sleep in is way too early) and started banging around the kitchen.
I woke up feeling positive (and re-energised). I couldn't let the team down! I had to bring something spectacular. I knew what I had to do but I'd never done it before. Feeling as if I was put to a pressure test on Masterchef and with only 3 and a bit hours before the party was to start at 12pm, I commenced on Operation Matcha Opera Gateau.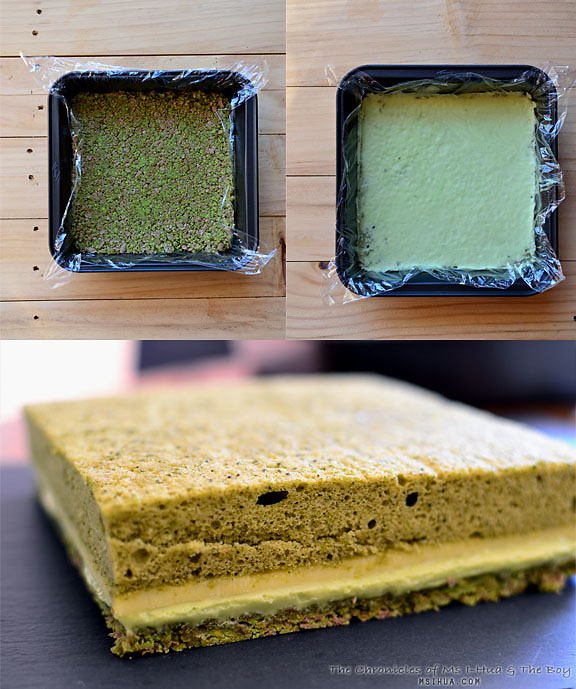 There are several recipes out there to make a Matcha Gateau or a Matcha Layered Cake. However, as I couldn't find the perfect combination in which I wanted to present, I decided to compromise and combine several different recipes together.
The layers I had to make were:
Matcha and Pistachio Feuilletine
Matcha Mousse
White Chocolate Buttercream
Matcha Sponge
Matcha Ganache
For the purpose of the step-by-step process of making this cake, I will start with the layers I did chronologically rather than from base to top layer.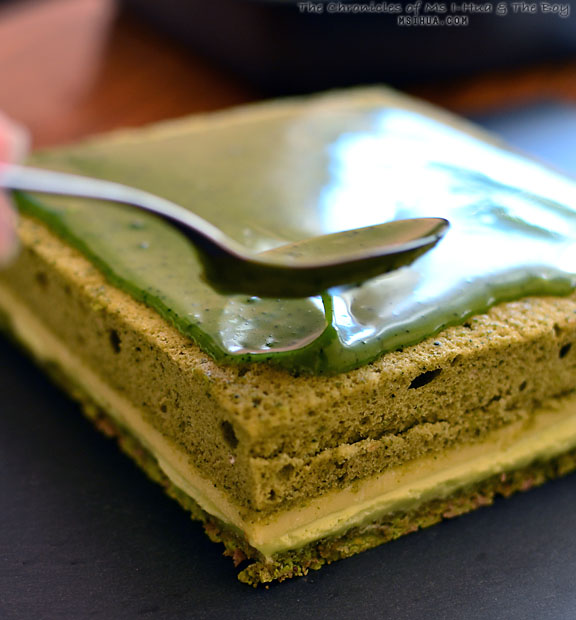 What do you think? I was rather impressed how quickly I did this and managed to bring it in time to the party! Not to mention it was my first time attempting a layer cake like this.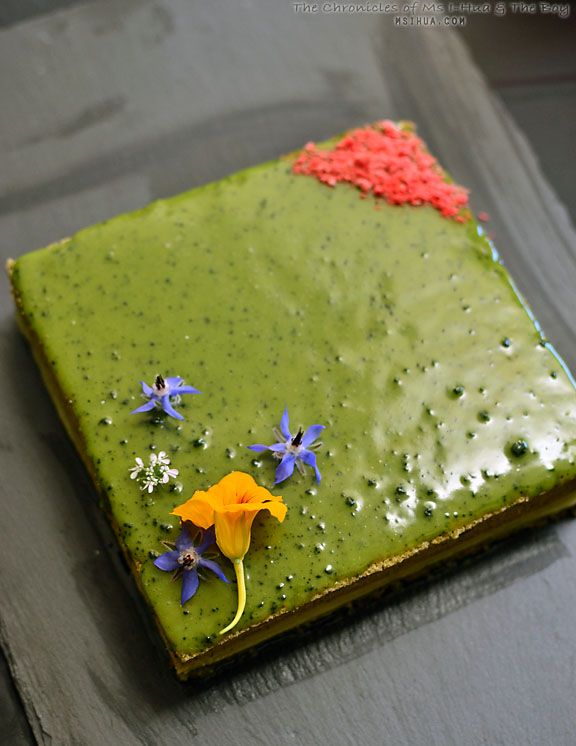 Would I make this again? I sure would! I made this style of cake the very next day with different flavours. Using the same ideas, the possibilities are endless!
Hope you enjoy this cake!