The Mid-Autumn festival is celebrated once a year by Chinese people around the world. Typically, it's a time of merry making and get-together with lots of food.
There are several legends as to why this festival is celebrated. The most popular story is the tragic romance of Chang'e and Hou Yi. Once upon a time, there were 10 suns in the sky, Hou Yi being a sharpshooter with his bow and arrow was tasked with shooting down the suns. When he had shot all 9 suns (he left one to be the sun), he was rewarded with an elixir of immortality. Not wanting to leave his love Chang'e behind, he did not go on to take the elixir. However, Hou Yi had an apprentice who was clouded by greed and wanted the elixir of immortality for himself. One day, when Hou Yi was out hunting, this apprentice tried to steal the elixir for himself. Chang'e rather than let this apprentice take the elixir, took it herself and flew to the moon. When Hou Yi returned he was devastated and began worshipping the moon by providing cakes, sweets and sacrifices to his wife on the moon.
Having grown up in Malaysia, I was brought up with a different Mid-Autumn festival legend, the Mooncake festival legend. During the Han uprising against the Mongols at the end of the Yuan dynasty, messages were concealed in mooncakes by the Han Chinese to arrange a rebel uprising on the Mid-Autumn day.
Whatever the legend is surrounding the Mid-Autumn festival (15th day of the Chinese Lunar Calendar), you can be assured that there is much food, laughter, lanterns and general happiness in the atmosphere. This year, the Mid Autumn festival falls on Thursday 19th September, 2013.
A couple of weeks ago, a few bloggers including The Boy and I were invited to a mini Mid-Autumn Festival at Silks in Crown Casino. To celebrate this year's 'Mid-Autumn' festival, Silks will be having a special banquet menu to coincide with Crown Casino's inaugural Mooncake Festival from the 9th-22nd of September, 2013.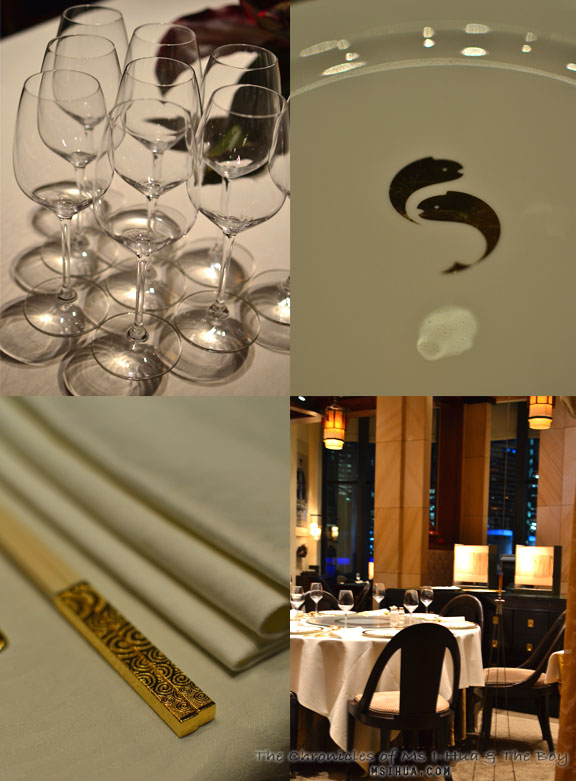 We had never dined at Crown's Silks Restaurant before, so it was a privileged experience for us to experience Chinese fine dining in Australia. Silks also recently appointed 2 Michelin starred chef, Tsang Chiu King as their new Executive Chef.
It was also quite funny to see how we were all transfixed with the gold and glamour of the cutlery set out in front of us including the double pair of chopsticks (one for communal and one for personal eating).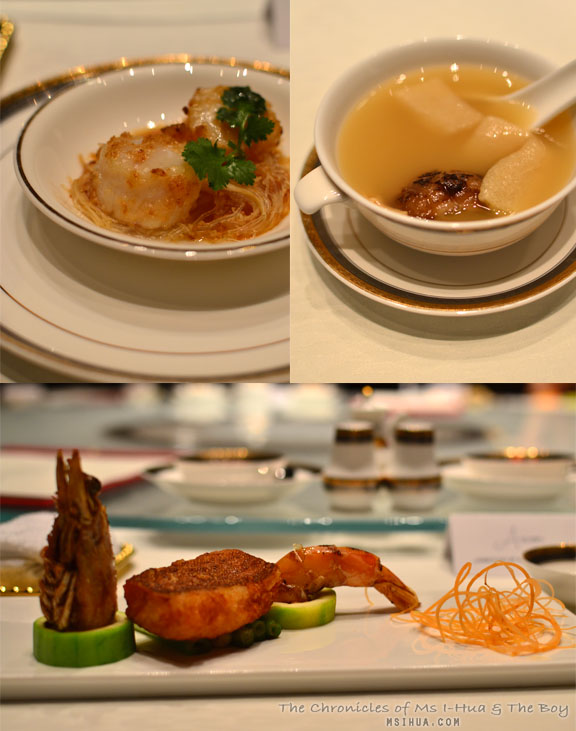 The meal started off with a bang with Steamed Scallop and vermicelli with garlic, Double boiled chicken consommé with dried scallop and mushroom and a Giant coral trout enrobed in minced shrimp.
The scallop dish was rich and flavoursome. The garlic hit was well balanced and not overpowering. The soup was brilliant! My favourite dish of the night had to be the Giant Coral Trout and Shrimp dish. It was such a technical dish and I was so in awe of it. The only thing was that the description of the fish dish had be in giggles (I am such a child).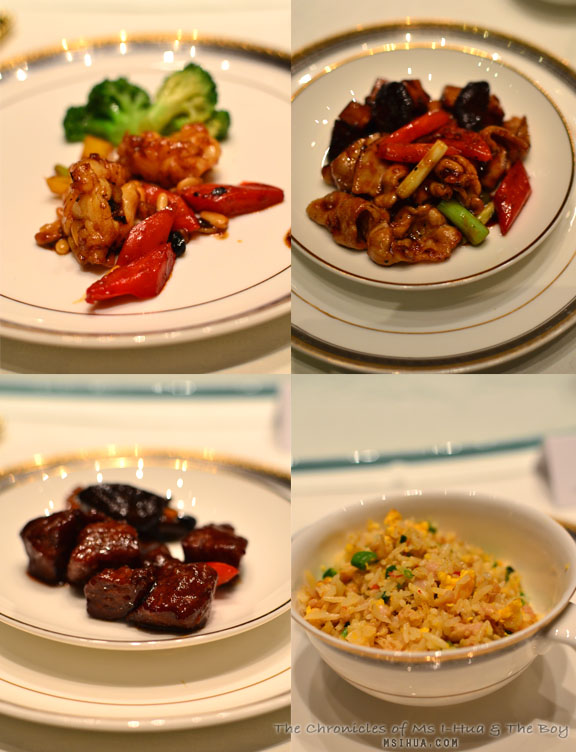 We then moved on to heartier fare. We had the Sautéed lobster in black bean sauce and pine nuts. A more glamorous version of the usual chicken and black bean sauce.
Whilst everyone gushed on how beautiful their Diced beef tenderloin with mixed mushrooms in gravy sauce was, I wasn't left out! I had my version with tender slices of pork instead. It was so good.
The beef dish was The Boy's favourite from the night.
We also had a Chicken Fried Rice in XO Sauce.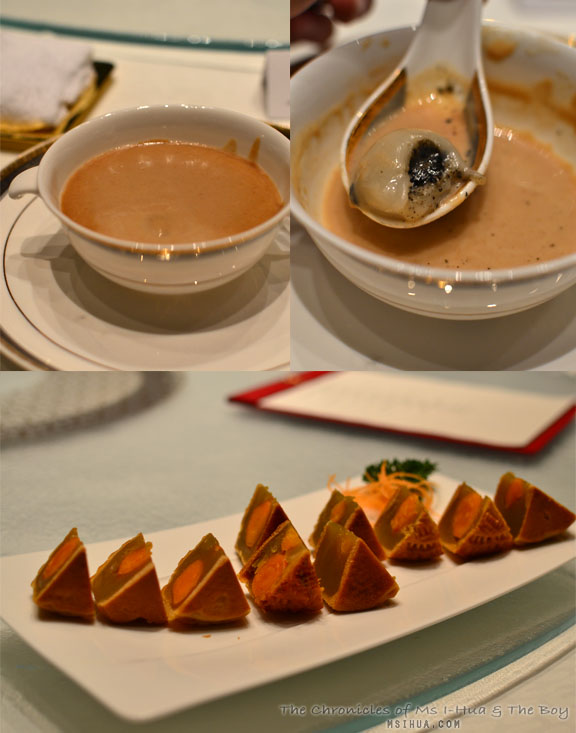 For desserts, I have to admit, I was not looking forward to. All my life growing up, I had come to the decision that I am not an Asian desserts kind of girl.
However, as to not be rude, I decided to taste the Sweetened Walnut Soup with dumplings and the Double Egg Yolk mooncake.
Thank goodness I did! I had a life changing experience. This was definitely the case with the mooncake. You see my friends, I'd never grown to like moon cakes. That night, something clicked in my head and I fell in love with it. It was so astonishing for me that when I told Madam Mummy the next day, she wanted to know where her real daughter had gone as she'd been trying for years to get me to like Asian desserts.
It was such a delicious banquet and it certainly reminded me of every family gathering I've experienced growing up during festivals such as the Mid-Autumn festival. Food was excellent and the service was superb.
For other recaps to this memorable dinner, please visit:
Food Made With Love
Gourmet Chick
I'm So Hungree
Off The Spork
Poppet's Window
Second Helping
[Ms I-Hua & The Boy attended as guests of Silks Restaurant and Media Moguls]
*Disclaimer: All food ratings & review are purely based on my own experiences and how I feel about the service, food and quality at the time of visit
Food/ Cuisine: Chinese
Dining Style: Restaurant

Opening Hours: 
Lunch: Monday to Sunday, 12:00pm to 2:30pm
Dinner: Sunday to Thursday, 6:00pm to 10:00pm
Dinner: Friday & Saturday, 6:00pm to 10:30pm
Address:
Level 1, Crown Towers
Crown Casino
8 Whiteman Street
Southbank VIC 3006
Tel:(03) 9292 6888
Website: http://www.crownmelbourne.com.au/silks
How to get there: