[This post is sponsored by Nuffnang Australia]
Last Saturday was a glorious, sunny day. We spent the day with fellow food enthusiasts at the Collingwood Children's Farm for the launch of Dairy Farmers Thick & Creamy re-formulated everyday gourmet yoghurt. This new yoghurt gracing our local grocery shelves tastes exactly as promised by its name, thick and deliciously creamy.
Why is this so? The new yoghurt base has a fat level of 8%, which ensures the natural full cream taste and mouth feel that excludes the standard yoghurt ingredient of gelatine. So no artificial colours, flavours or preservatives are present. Normal full cream yoghurt has 3-4% fat.
Instead, luscious fruit appears generously in the fruit based flavours whilst rich creamy natural goodness makes up the non-fruit based flavours.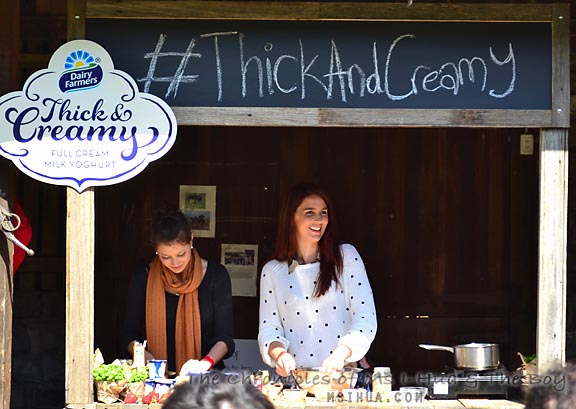 To help educate us better about this new product, Janet from Dairy Farmers accompanied by the beautiful Alana (of Masterchef fame) spoke to us about the finer points of the yoghurt.
Whilst Janet and Alana spoke to us, we mingled and sampled the many flavours of the yoghurt that were available. Best start to the morning! With 8 new delicious flavours to choose from, including staple flavours, Original Sweetened (so creamy), Field Strawberries, Field Blueberries to the slightly more tropical and gourmet Mango & Passionfruit, Lemon Cream, Yellow Box Honey, Caramelised Fig and Raspberry & Coconut.
It was hard to choose a favourite, but we did anyway. Mine was the Lemon Cream and The Boy's was the Caramelised Fig. Of all the flavours we tried, the full cream taste was consistently evident in the yoghurt.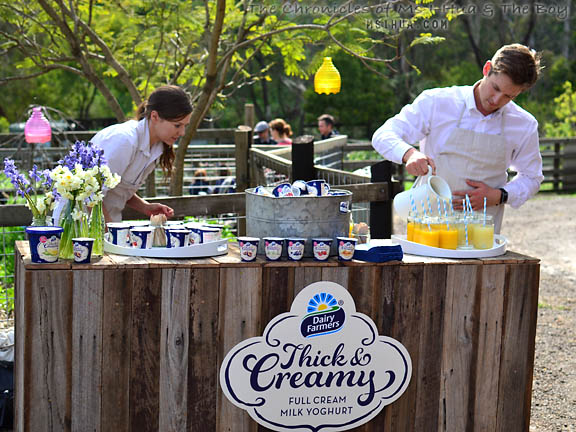 This was followed by a few Collingwood Farm activities such as milking Biddy the cow, feeding the goats and chickens and hugging the guinea pigs.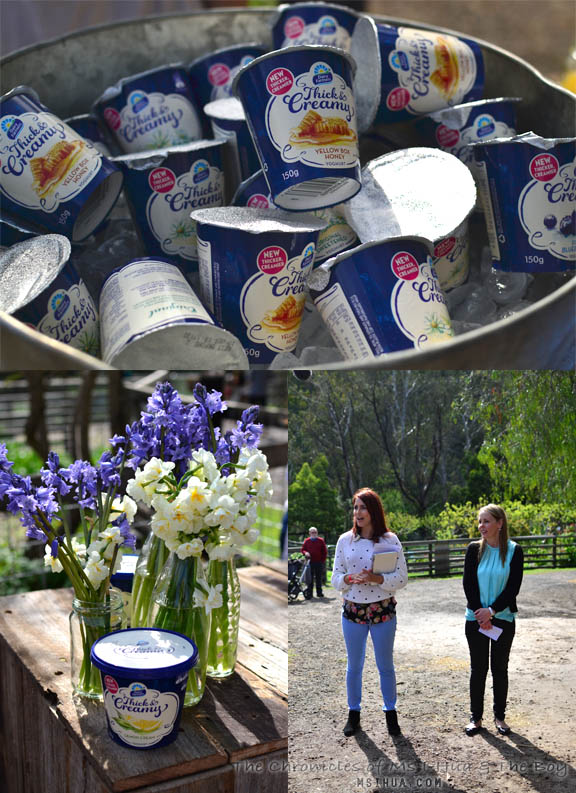 Once our appetites for cute farmyard animals were whet (I want a goat!), we were escorted through the farm to the most beautiful farmyard table setting we have ever come across. It was just like a wedding! So pretty.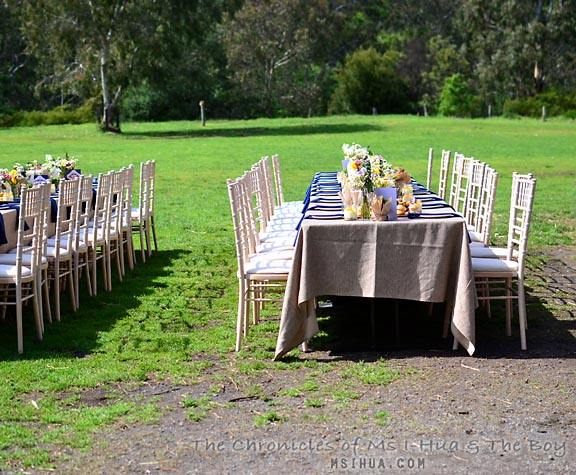 As we took our seats after much ooh-ing and aah-ing, we proceeded to "nom" on all available food at the table.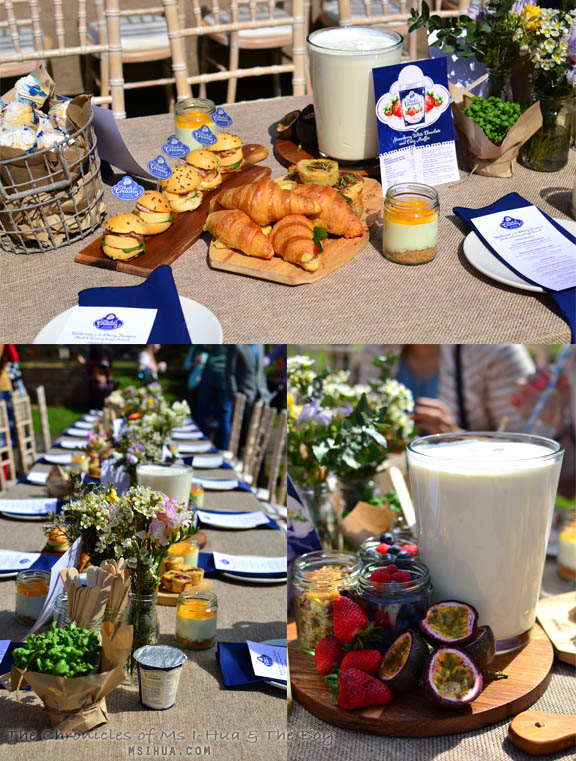 The highlights included a smoothie yoghurt bar at one corner of the bar but the biggest fun factor for me was the DIY yoghurt spread complete with granola, fresh fruits and honey!
We also had egg tarts, croissants, bacon and egg rolls, muffins and a layered cheesecake (in a jar).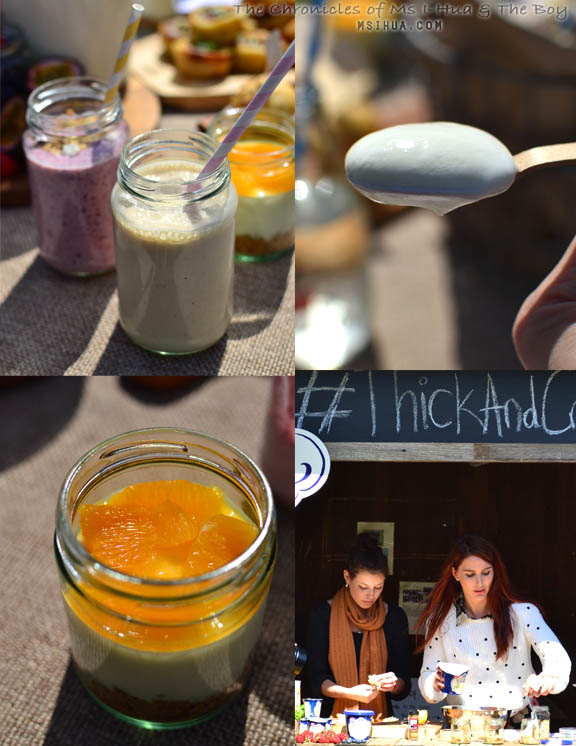 The two flavours from the Smoothie Bar were the Dairy Farmers Caramelised Fig yoghurt smoothie with banana, honey & cinnamon, as well as the Dairy Farmers Field Strawberries yoghurt smoothie with spiced berry compote. My favourite out of these two was the Caramelised Fig yoghurt smoothie.
To end the brunch event, Alana took to the stage by showcasing a simple Farmhouse Layered Cheesecake recipe.
To commemorate our experience and new-found joy with this yoghurt, I came up with this recipe utilising the Dairy Farmers Lemon Cream yoghurt.
It's simple, refreshing and perfect for the coming spring and summer months. Enjoy my take on the classic lemon drizzle cake of Lemon Drizzle Yoghurt Mini Cake with a twist. Inspired by the wonderful Dairy Farmers Thick and Creamy yoghurt, it's so easy to bake that even kids could whip this up in no time!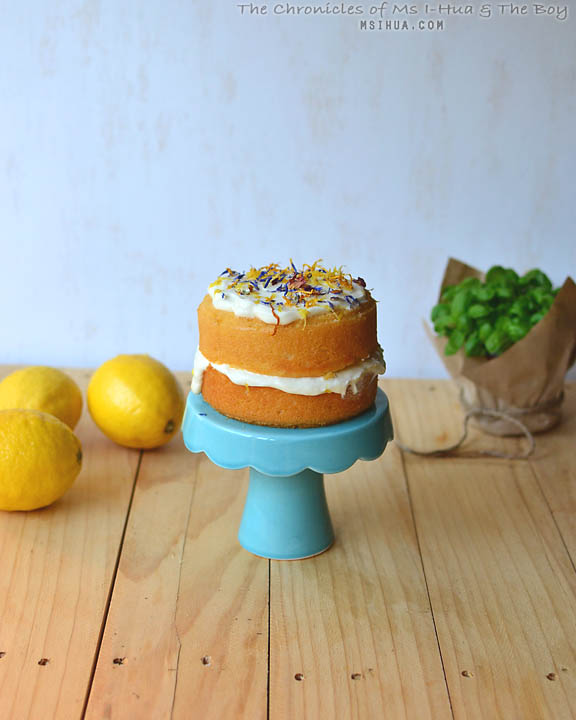 Lemon Drizzle Yoghurt Mini Cake Recipe
Ingredients
150

grams

(1 small tub) Dairy Farmers Lemon Cream yoghurt

75

grams

Caster Sugar

150

ml

Grapeseed Oil

270

grams

Self Raising Flour

2

large Eggs

Juice and zest of 1 Lemon

Dried Edible Flowers

150

grams

Dairy Farmers Lemon Cream yoghurt (additional)
Instructions
Preheat oven to 180 degrees Celsius (160 degrees Celsius fan forced).

Grease two 11cm diameter spring form tins (you could also use one 22 cm diameter spring form tin) with a dash of grapeseed or olive oil.

Place lemon zest, lemon juice, flour, sugar, oil, eggs and 150 grams of Dairy Farmers Lemon Cream yoghurt in a large mixing bowl. Using a wooden spatula, thoroughly mix all ingredients together until a smooth and thick consistency is formed.

Pour the cake batter into the two prepared tins (there will be additional cake batter which can be used for a third layer) and bake in the oven for 35 to 45 minutes or until a wooden skewer (or toothpick) comes out clean.

Once cooked, remove and let cool in the tins for 5 minutes before releasing. With a clean knife, gently remove the cake from the bottom of the tin and further cool on a cake rack.

Once the cake is completely cool (this is important), use a clean sharp knife to trim off the top of each cake so as to have two perfectly flat discs of cake.

To assemble, place one of the cakes onto a cake stand (or plate) and generously place a large dollop of Dairy Farmers Lemon Cream yoghurt on top, spreading evenly across the cake. Place the second cake on top of the yoghurt and repeat process.

Garnish with some lemon zest and dried edible flowers and serve immediately.
Notes
*It is important to serve this cake immediately if using additional yoghurt between the layers to retain the cakes appearance.
**It is important that the cake is completely cooled before placing the yoghurt on top of it to prevent the yoghurt melting.
Adapted from Gino (http://shows.stv.tv/talk-tv/232914-lets-do-lunch-gino-dacampos-ginos-light-lemon-drizzle-cake/)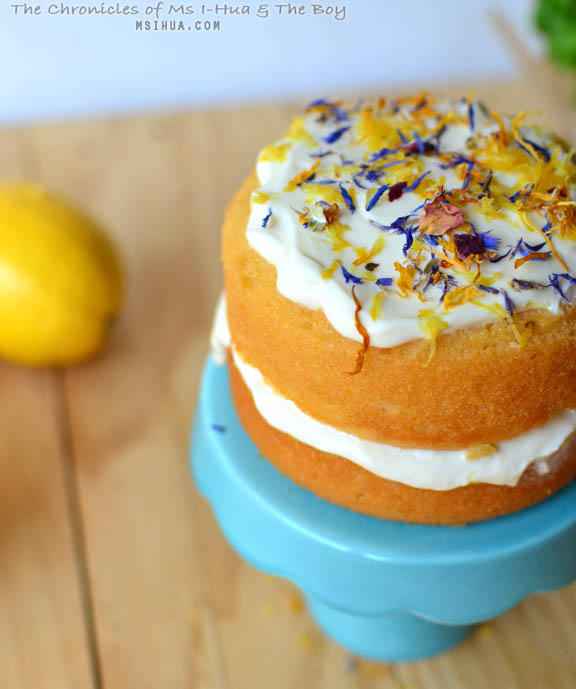 The cake was moist and unsurprisingly, very creamy. The lemon flavour was not overpowering and the yoghurt served with the cake was a simple twist to a traditional scoop of vanilla ice-cream and lemon drizzle syrup.
Here's a video that has been put together of the fun filled day by Nuffnang:
Let us know what you think of the Thick and Creamy yoghurt if you have tried it before. We would love to hear your thoughts on the product!