I think by now, most of you know that I am a big coffee freak. Coffee snobbery is second nature to me these days. So when I received an invite to an exclusive degustation dinner for the launch of North Melbourne's Sosta Cucina as Melbourne's first restaurant to be selected to serve the new Lavazza Gran Riserva special blend, I was definitely going to be there.
Drawing inspirations from the home of Lavazza, Turin, Italy the dinner was an exclusive invite-only affair.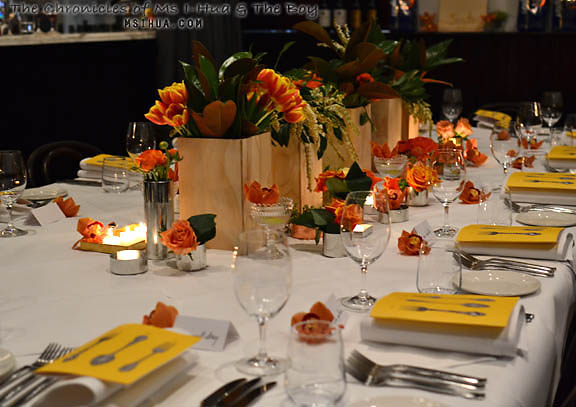 The Gran Riserva blend, which is 80 percent Arabica and 20 per cent Robusta, is a combination of 4 blends of coffee from these regions. It's been described as an "exceptional blend with a generous, velvety crema and a rich, fully rounded aroma with delicate liquorish notes".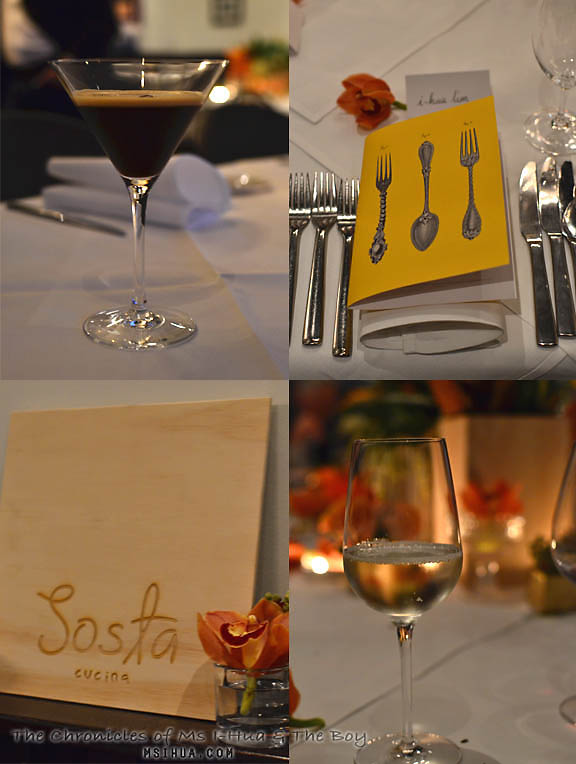 On arrival we were each greeted with warm hugs and kisses all round before being handed a very very stiff Espresso Martini. It was delicious.
The dinner started off with some Antipasti of Seared Yellow Fin Tuna with Tuna Mayonnaise and Capers. I was ecstatic to note that my menu had completely changed to reflect my dietary requirements through out the night. Love the thought that went into these. Everyone else had a similar version but with veal in this dish.
This was followed by Hand Cut Pasture Fed Beef Fillet Marinated with Garlic, Anchony and Olive Oil whilst I had Seared Scallops with a Soft Canellinni Cream, Celeriac and Pear Remoulade and Crispy Salsify.
Matched with the Antipasti was the 2011 Conterno Fantino Dolcetto D'Alba DOC, Bastia as selected by Matt Paul from Trembath and Taylor.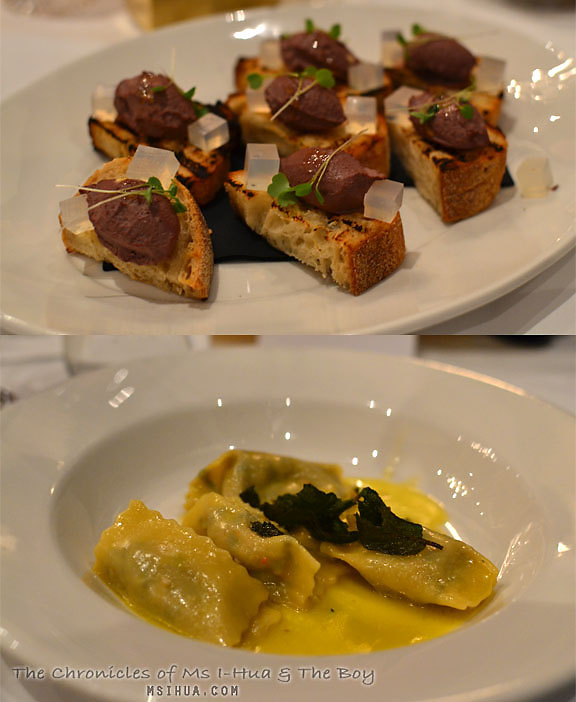 Next we also had Crostini with Duck Liver Pate and Moscato Jelly followed by an amazing Piemontese Style Ravioli filled with Meredith Goats Cheese, served with a Sage and Butter Emulsion (The rest had theirs filled with veal and rabbit).
There were also spoonfuls of Ferron Vialone nano Risotto with Italian Porcini Mushrooms plated out which was heavenly.
These were matched to the 2009 Poderi Colla Barbera D'Alba DOC, Costa Bruna.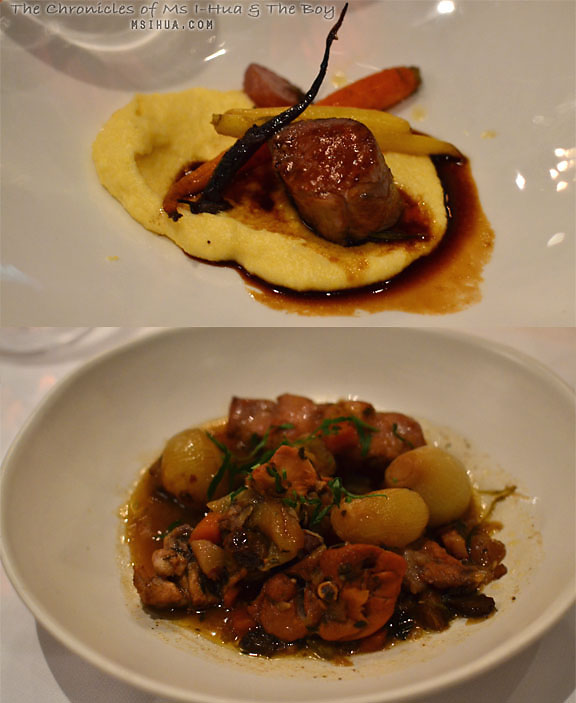 From the Second menu of the night, I enjoyed a Slow Cooked Lamb Loin with Polenta Cunsa and Heirloom Vegetables (the rest again had veal). We also had to share between us a stunning dish of Braised Sweet and Sour Rabbit on the Bone with Pancetta, Thyme, Chestnut Honey with Pearl Onions. I am not usually a massive fan of rabbit and I found this to be so rich in flavour and beautiful to eat.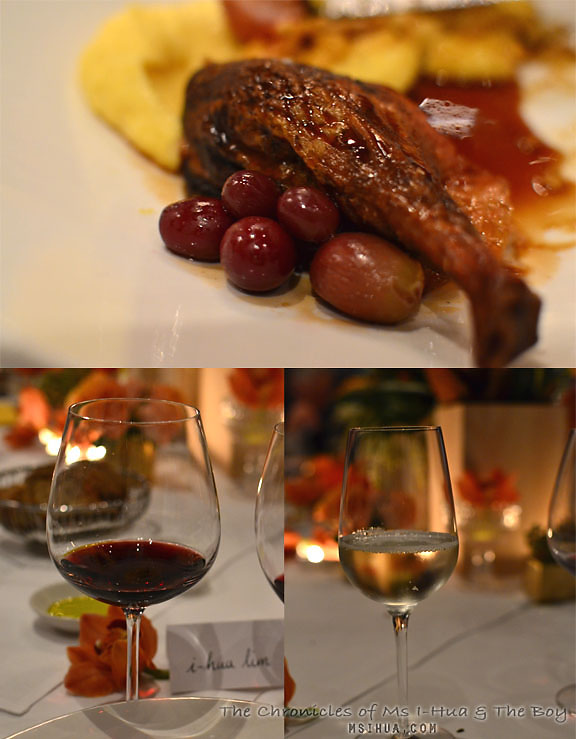 We also had a serve of Roasted Half Thirlmere Duck accompanied with Grappa infused Grapes and Roasting Juices. Again, another delicious dish. We also had asparagus and roasted potatoes because you never go hungry with good Italian hosts 🙂
The strong meats from the secondi menu meant that we would match this with a stronger wine, 2007 Marcarini Barolo DOCG, Brunate.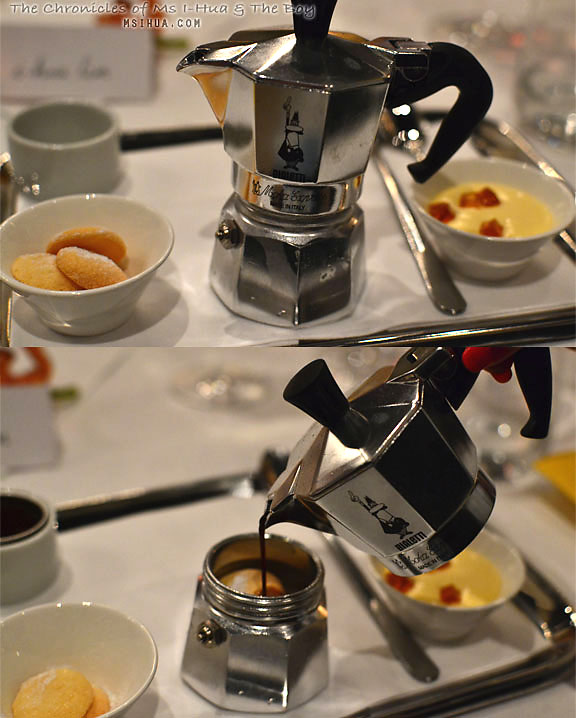 Dessert was an amazing adventure on its own. We had the joy and theatrics of Sosta Cucina's take on Tiramisu using the Gran Riserva blend. A DIY Tiramisu should always be served at the end of a wonderful dinner.
This was matched with a 2012 Marcarini Moscato D'Asti DOCG which happens to be my favourite region for Moscato!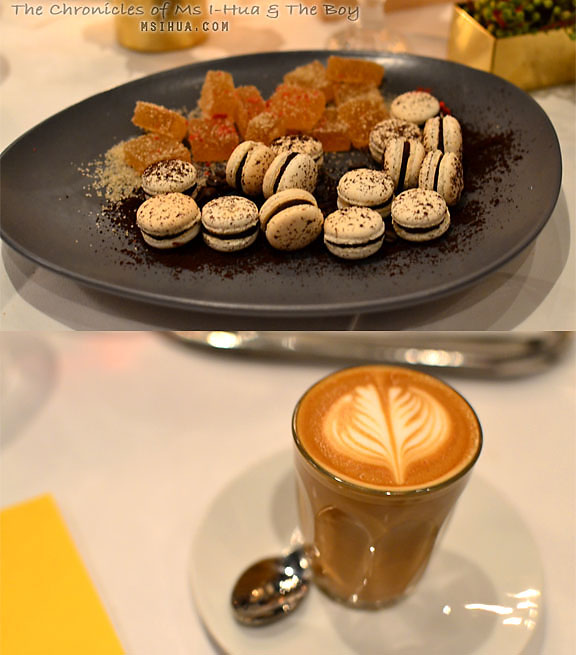 To finish off we had more coffee using the Lavazza Gran Riserva as well as tiny macarons and jujubes.
I had an amazing night at Sosta Cucina and was blown away by the friendliness and warmth from our hospitable hosts, Maurice and his wife.
[Ms I-Hua attended as guests of Lavazza Australia and Sosta Cucina]
For another take on this night, visit:
Mel: Hot or Not
Italianicious
Bean Scene
Lavazza Gran Riserva Details: Gran Riserva
*Disclaimer: All food ratings & review are purely based on my own experiences and how I feel about the service, food and quality at the time of visit
Food/ Cuisine: Italian
Dining Style: Restaurant

Opening Hours:
Lunch: Tuesday to Friday & Sunday, 12:00pm to 3:00pm (No Lunch on Saturdays)
Dinner: Tuesday to Sunday, 6:00pm to 10:00pm
Closed Mondays
Address:
12 Errol Street
North Melbourne VIC 3051
Tel:(03) 9329 2882
Website: http://www.sosta.com.au/

Twitter: @sostacucina
How to get there: