Good day my beautiful people! Happy Friday!
To cheer you up from this dreary weather that's about to hit after a couple of sun shiny glorious days, here's a recipe to a cake!
Not just any cake.
I present to you Poh's (from Poh's Kitchen) Orange Chiffon Cake!
Why am I sharing with you a straight cut, out of the book recipe? To prove to you that it can be done easily and to share that Poh is awesome (if you didn't know already :)) Now join in the clan of #pohstalkers on instagram 🙂
This is a cake recipe that is so perfect that I didn't have to make any changes to it, other than the way it was presented. Instead of using the chocolate and roasted hazelnuts that was in the recipe, I instead tried to keep to the integrity of the fruit by keeping it orange all the way through with an orange glaze and orange segments.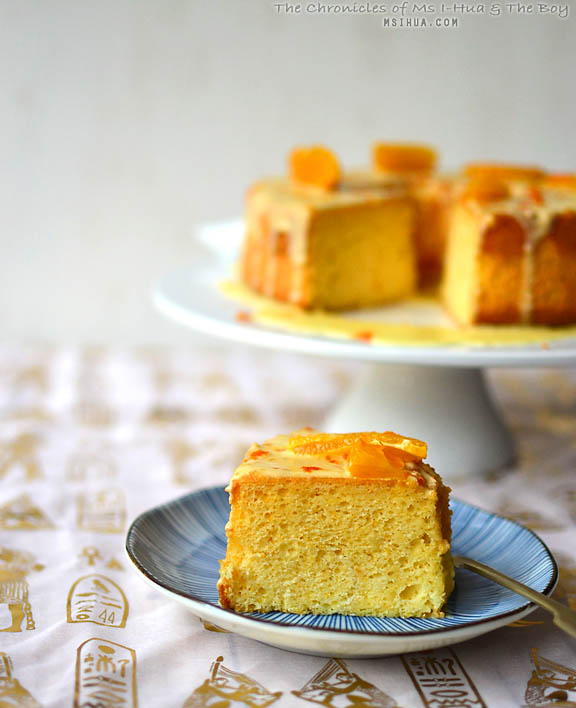 Poh's Orange Chiffon Cake Recipe
Ingredients
For Orange Chiffon Cake
5

Egg Whites (at room temperature)

2.5

grams

Cream of Tartar (sifted)

75

grams

Caster Sugar

5

Egg Yolks

75

grams

Caster Sugar (additional)

100

ml

Coconut Milk

80

ml

Vegetable Oil

80

ml

Orange Juice (freshly squeezed)

1

tablespoon

Orange Zest (finely grated)

150

gram

Plain Flour (sifted)

7

grams

Baking Powder (sifted)
For Orange Glaze & Garnish
160

grams

Confectioners Sugar (powdered/icing sugar)

15-20

ml

Orange Juice (freshly squeezed)

Orange Zest (as required)

Segmented Orange
Instructions
Preheat the oven to 170 degrees Celsius (160 degrees fan forced).

In a large mixing bowl, whisk the egg whites and cream of tartar until soft peaks form. Slowly add the caster sugar a little at a time and whisk until stiff peaks are formed. Set aside.

In a separate mixing bowl, whisk the egg yolks with the additional caster sugar until a pale, thick and fluffy mixture is formed.

Add the coconut milk, vegetable oil, orange juice, zest, flour and baking powder and whisk until combined.

Gently fold the egg whites into the yolk mixture.

Pour into a 22cm Angel Cake tin (remember to not grease it. Poh also notes that you do not use a non-stick tin).

Bake for 50-55 minutes or until a skewer comes out clean.

When the cake is out of the oven, immediately invert the tin and leave the cake in the tin to cool completely on a flat surface (this takes approximately 2 hours).
For the Orange Glaze
Mix the sugar and the orange juice in a small mixing jug (or bowl) until a smooth pale glaze forms.

When the cake has cooled completely, decorate by glazing the cake with the Orange Glaze, orange segments and zest.
Notes
Make sure that you have all your ingredients lined up and that you are organised as this helps quicken the process (i.e. measure sugar in two separate bowls so that you can just keep going with the whisking).
Do remember to invert the cake on a flat surface, an uneven surface may result in breakage when the cake "drops" down (it happened to me the first time).
Adapted from Poh's Kitchen (http://www.abc.net.au/tv/pohskitchen/stories/s2768097.htm).
So what do you think of my ode to Poh's Orange Chiffon Cake? I've made this a few times now (mostly with the orange glaze) but with different toppings.
It definitely is a crowd favourite. I brought it into work one day and everyone commented on how light and fluffy the cake was.