Flashback Friday time!
Someone in the group mentioned matcha (green tea) and how we should throw a Matcha Party. I think it was Thanh who initially started the idea flowing and then Michèle volunteered her house.
Next thing you know, recipes were being bounced around and we had the date set.
Welcome to this recap of the amazing impromptu Matcha Party. I reckon we need another dress up one soon team 🙂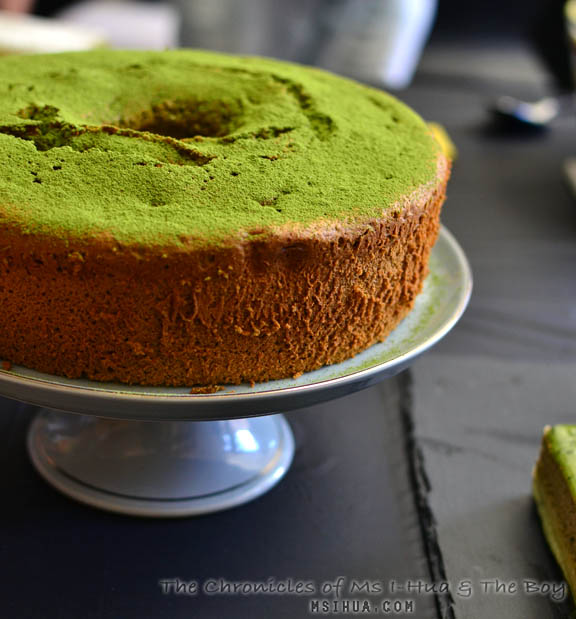 The one and only T Do himself made this light and fluffy Matcha Chiffon Cake.
Azzie the fabulous DD made Matcha Mochi and Matcha Kit Kat (how cool are they?).
The Macaron Queen, Winnie from Eat Play Shop certainly got fancy and playful with her ode to the humble Matcha with these amazing macarons. She made Matcha Macarons and Lime Macarons.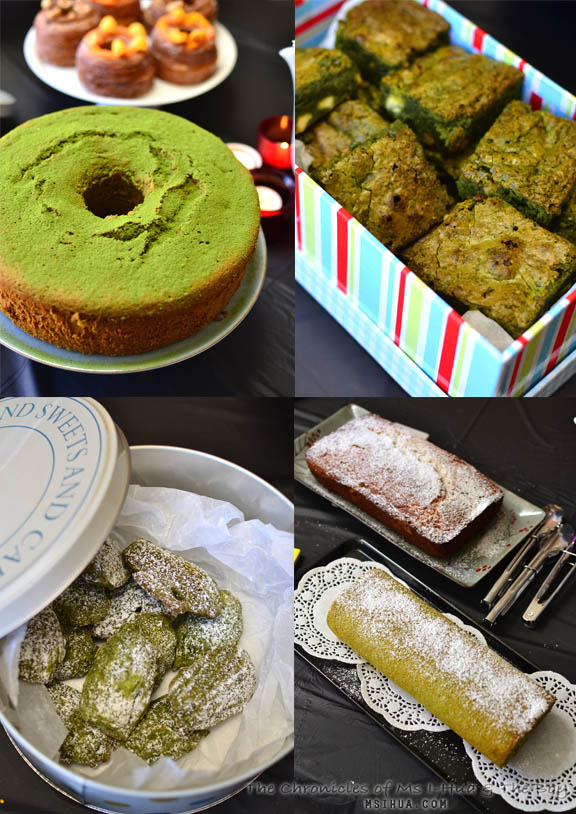 Daisy the ever present Sweet Tooth Fairy made Matcha Brownies (which I originally intended to make) and Matcha Madeleines.
Lianne who makes everything with love (<3) whipped up a Matcha Swiss Roll complete with Azuki Beans (red bean) filling and a Matcha Pound Cake.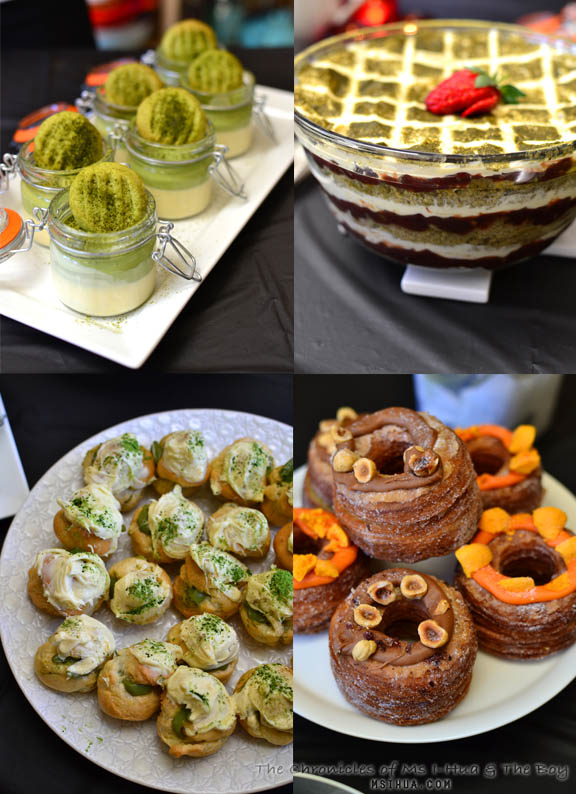 Duy & Andrew made cute little mini Matcha Panna Cotta's whilst the very handsome Wince made Matchamisu (Matcha Tiramisu) 🙂
Macaron Queen, Winnie also made these cute Matcha Cream Puffs (profiteroles).
Daisy also bought some cronuts for us to try.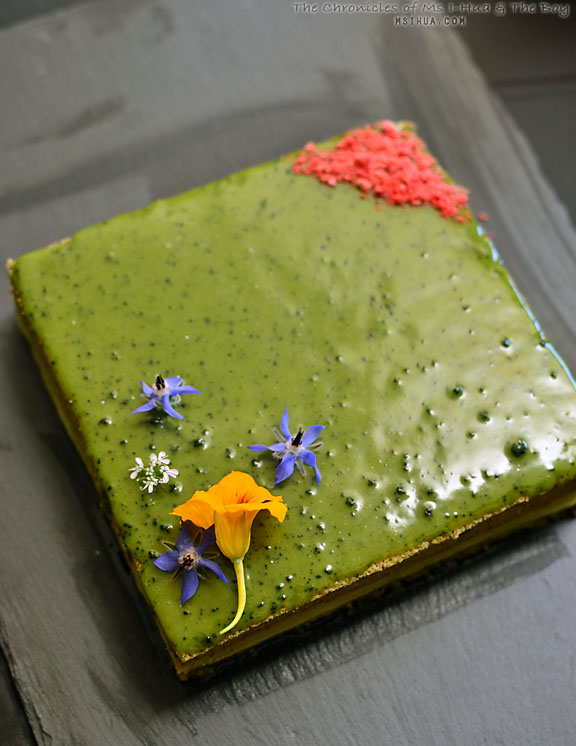 I of course met the team and shouted Game On! Well, not really, but I blame this madness on Daisy. She stole my lazy Matcha Brownie idea, so I retaliated and made this Matcha Opera Gateau to the partay 😛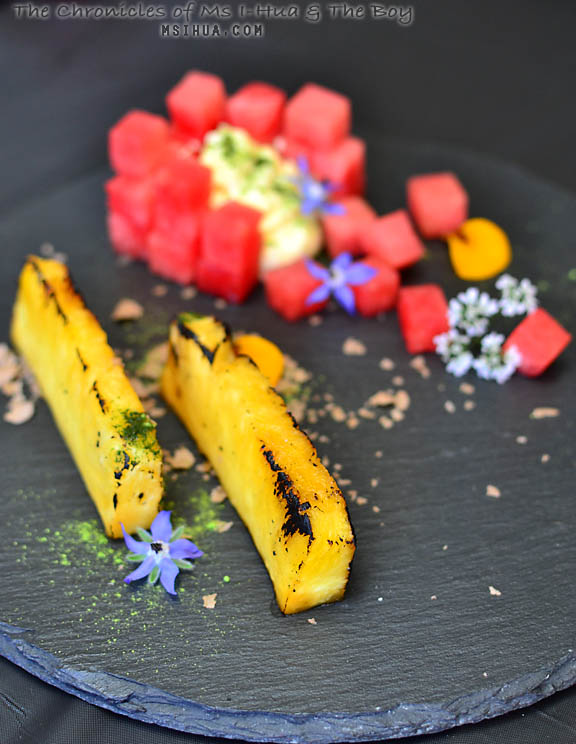 The Boy. Oh where do we even begin.
He plated this up. Sous Vide & Bruleed Pineapple, Paillete Feuilletine, Watermelon Cubes & Mariage Frères Smoked Cream sprinkled with Matcha & Sour Plum Powder ala modern Fruit Rojak.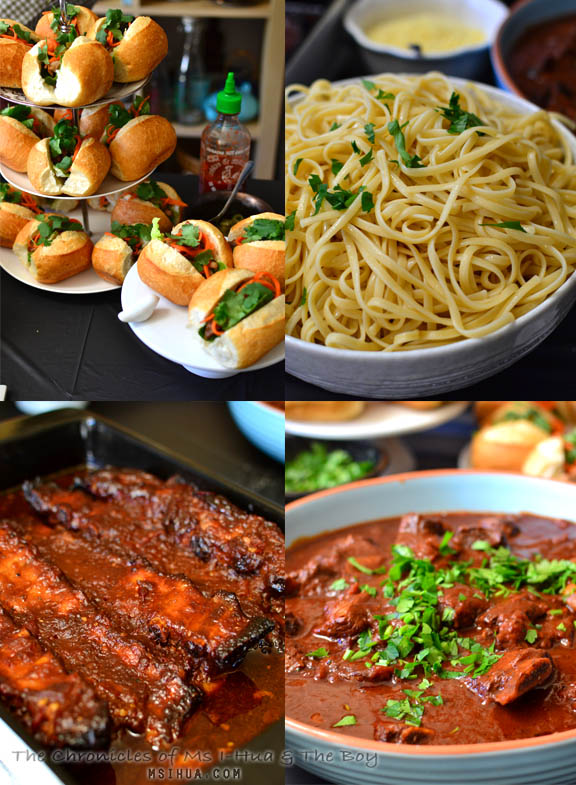 Of course a party isn't a complete party if there weren't any savouries!
Michèle put up some really cute Bahn Mi's and the most addictive pork ribs ever on this planet. If you need the recipe, visit T Do's blog for Alana Lowe's Sticky Ribs.
Wince also made Beef Ribs with Fettucine.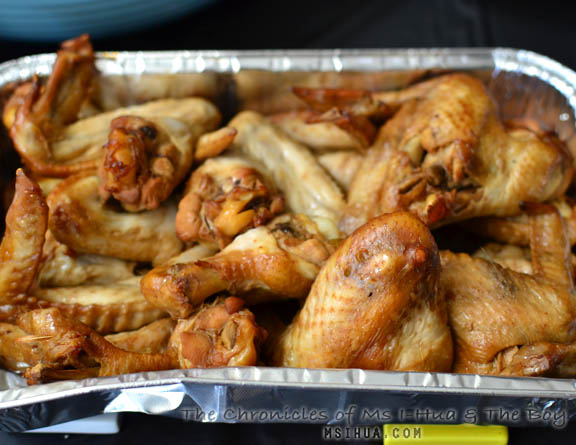 There were also Chicken Wings. Because you can never go wrong with Chicken Wings.
So what do you think? Have we inspired you to go forth and create a Matcha dessert (or savoury) dish? Go ahead. Throw a party whilst you're at it. It'll be fun 🙂