So let's rewind a bit. Last week, I wrote about our trip to the Mornington Peninsula where we gathered in four teams of two to cover as much of the Wine Food Farmgate as we could.
Let's start at the very beginning of our trip. The Boy and I were running late due to prior commitments so we met the team at the beautiful Yabby Lake Vineyard. When we got there, the rest had already finished their entrees and were moving on quickly to the mains, which we shared. Phew! All was not lost!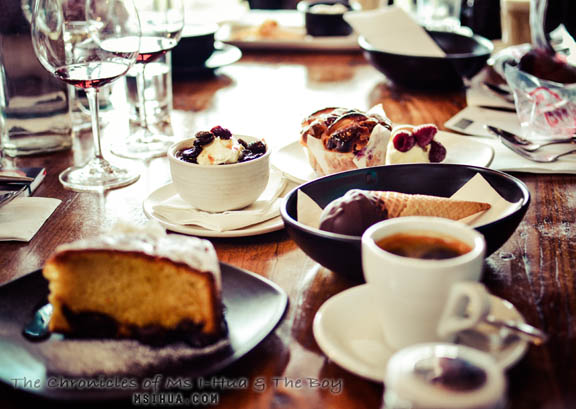 As a group we shared a selection of mains from the menu and specials board. My favourite had got to be the Lamb Tagine. Was just so tender and delectable. This was closely followed by the Patatas Bravas!
Desserts were also a highlight with a joint item created with the people of Chin Chin of Palm Sugar & Coconut Ice Cream with Lime Syrup, Honeycomb and Sponge Fingers. The girls (Az and Maz) couldn't resist but order classic Choc Tops!
Notable mention is that the coffee is from Market Lane, so if you are from the Coffee Snobbery world (like I am), this is indeed a highlight.
Invalid Displayed Gallery
After our very fulfilling lunch, we divided into 3 groups to manage our way through to the many pit stops we needed to visit as part of the Wine Food Farmgate trail.
A fun reason for doing this? We were to source our ingredients from local produce available from farms and wineries on the trail to cook up our dinner.
We were tasked with visiting Red Hill Cherry Farm (which we blogged about earlier) and to get the meats for our BBQ. Just to recap from our first post, Michèle, Michelle, Thanh and Adrian were to visit 2 Macs Farm and Green Olive farm. Agnes and Al were to visit Main Ridge Dairy and Mock Red Hill.
_______________________________________________________________________
Prime Cuts
Our first pit stop was to drive over to Mornington town to visit Prime Cuts. As we entered the shop, I couldn't help but have my attention taken away by all the cute signage around.
The Boy with business on his mind, went straight to the racks of meats to start planning the menu for the night.
The staff were lovely and helpful and helped me work out the different types of sausages and meats they had in store.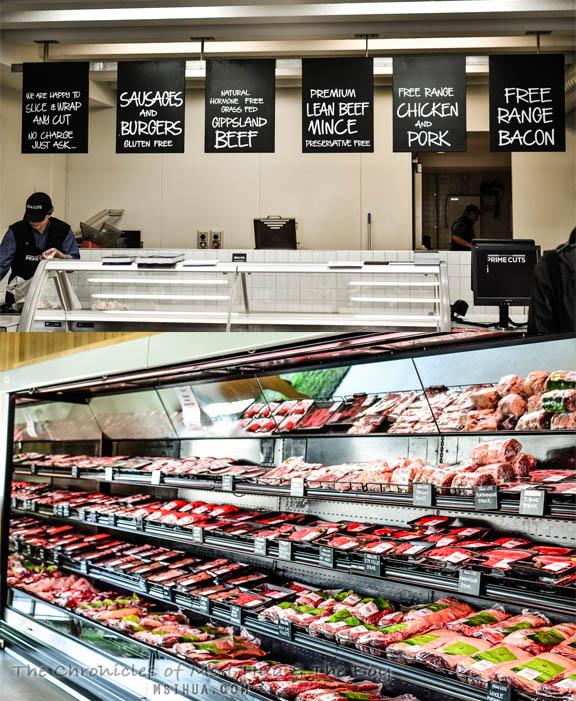 In the end, we settled for a few trays of sausages, one butterflied chicken, an eye fillet and some lamb chops. We spent about $70 in total on meats. Wheeeee!! I was so excited and couldn't wait to head back to cook, but we had one more stop to visit Trevor at the Cherry Farm before we made our way back to our accommodation for the weekend.
Prime Cuts Details:
Address:
Shop 1/26 McLaren Place
Mornington VIC 3931
Website: http://www.morningtonprimecuts.com.au/
Phone: (03) 5977 0055
Email: [email protected]
Opening Hours:
Monday to Thursday: 8:00am – 5:30pm
Friday: 8:00am – 6:00pm
Saturday: 8:00am – 4:00pm
Sunday: 9:00am – 4:00pm
_______________________________________________________________________
Max's Retreat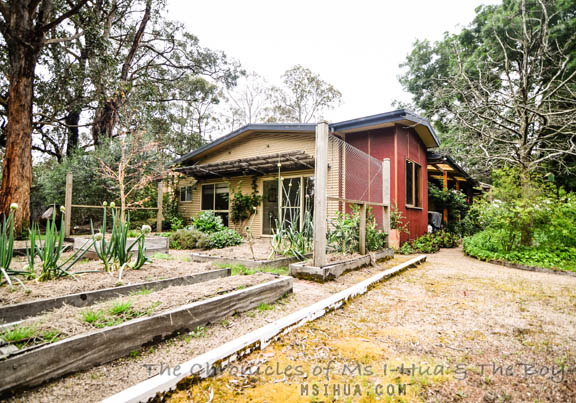 As we drove up the area leading to Max's Retreat, I had an overwhelming sense of "coming home". That's how I knew we were all set for a wondrous weekend getaway with friends and food!
We were the second group to arrive after Az and Al, so we managed to pick our room which was at the back of the house overlooking the vegetable garden.
All the rooms at Max's Retreat were beautiful and were each set up with its very own personality and decor.
We joked at the end of the night that we were the 'parents' of everyone as we chose the room most secluded away from the other three bedrooms.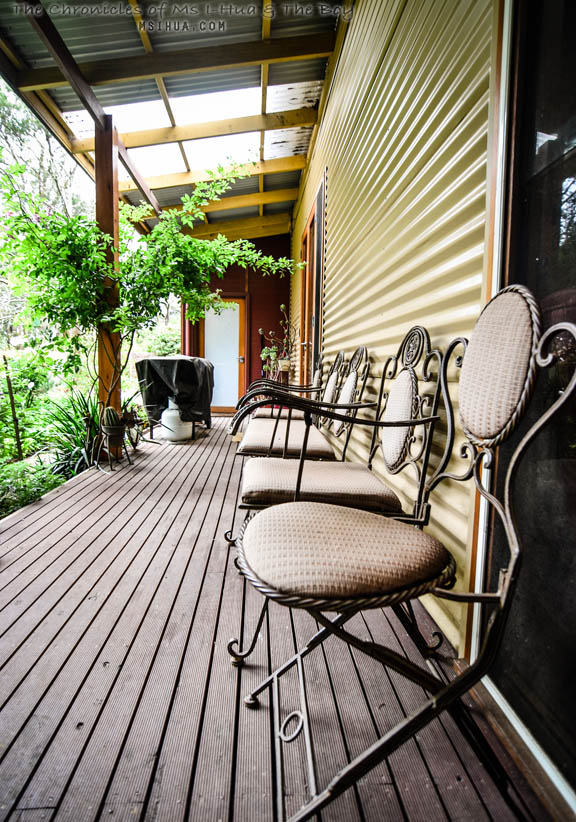 Max's Retreat is a fully functioning house complete with a fully equipped kitchen and a fireplace. I want to move there now!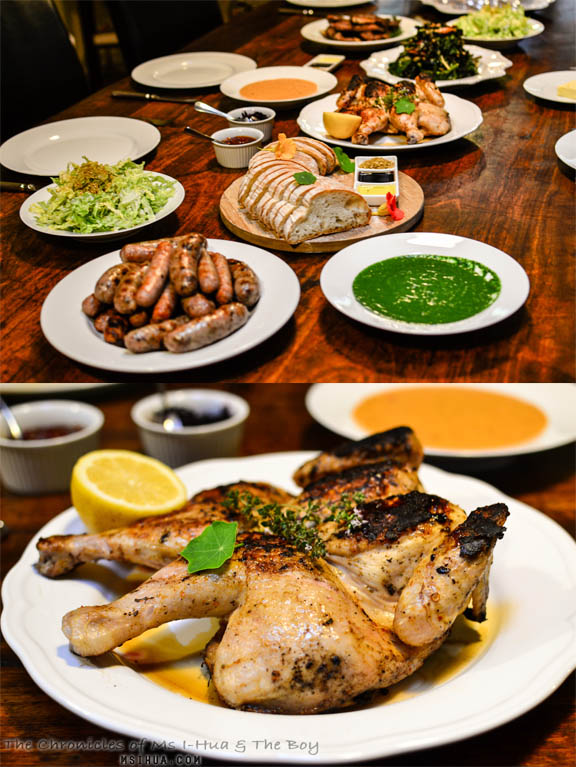 What do you get when you place a bunch of food loving people in a house with lots of produce? An amazing feast for dinner!
The group that visited 2MacsFarm scored the most produce for our dinner with cabbages, bouquet garni, baby leeks, garlic, lemons, beetroot relish, rainbow chard, broad beans, stinging nettles, eggs, (amazing) raw butter and honey. They also came back with lamb sausages, olive oil and olives from the Green Olive farm.
Favourite dish of the night? Peri-Peri Chicken barbecued whole on the gas BBQ at the house.
The Boy also made an amazing barbecued eye fillet dish involving stinging nettle purée, beetroot relish, nasturtium, olives and magic 🙂
Invalid Displayed Gallery
We spent the night drinking wines and playing Scattergories (which I had not been familiar with). I spent the first game trying to think of 'Boys names starting with W' before realising too late that I was meant to work through the list of items starting with the letter 'W' and not 12 of the first item 😛
Bookings for both Max's Retreat at Red Hill Estate is essential. For more information and to discuss your accommodation, visit their website or send an email to the below email address.
Max's Retreat Details:
Address:
9 Station Road
Red Hill South VIC 3937
Phone: (03) 5989 3007
Website: www.maxsretreat.com.au
Email: [email protected]
_______________________________________________________________________
Somer's General Store
The next morning, we all woke up at the crack of dawn (okay, not quite, but 7am on a Sunday morning getaway was still very early) to help clean the retreat up and get ready for our day's visits.
Off to Somers we went for our breakfast.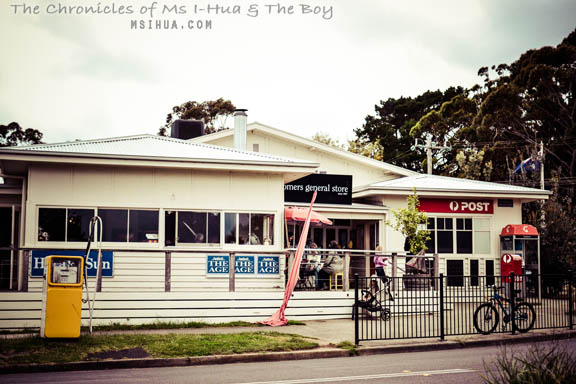 I immediately fell in love with the 1927 facade of this building. It was just so quaint and rustic. Perfect beach side venue for breakfast. Somers General Store caters to locals for breakfast, lunch, dinners and events!
Attached to the cafe is a general provisions store selling cute trinkets, crafts and treats.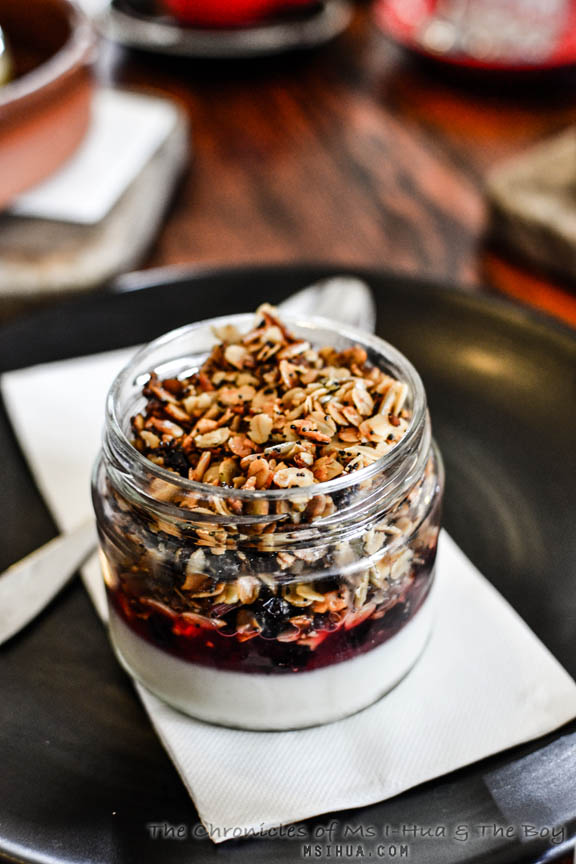 For breakfast, some went light and others went heavy.
I of course, took the championship gong and went all out with the SGS Big Brekkie much to the surprise of the entire group. I was just really hungry 😛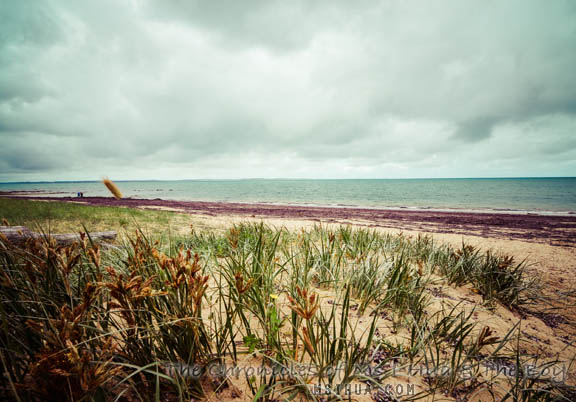 After our breakfast, we decided to take a stroll down to the beach. It was a very cold and windy morning but we persevered with our obligatory beach/sea side group selfie before trekking back up to our cars and heading to our next destination.
Somers General Store Details:
Address:
2 The Boulevard
Somers VIC 3927
Phone: (03) 5983 2070
Website: http://somersgeneralstore.com/
Opening Hours
Monday to Friday: 8:00am -4:00pm
Saturday & Sunday: 8:00am – 4:00pm
Open for Dinner every Saturday night
Make a booking on (03) 5983 2070
General Store – Opening Hours
Monday to Friday: 8:00am – 5:00pm
Saturday & Sunday: 8:00am – 5:00pm
Take Away Coffee till 5:00pm
_______________________________________________________________________
Sunny Ridge Strawberry Farm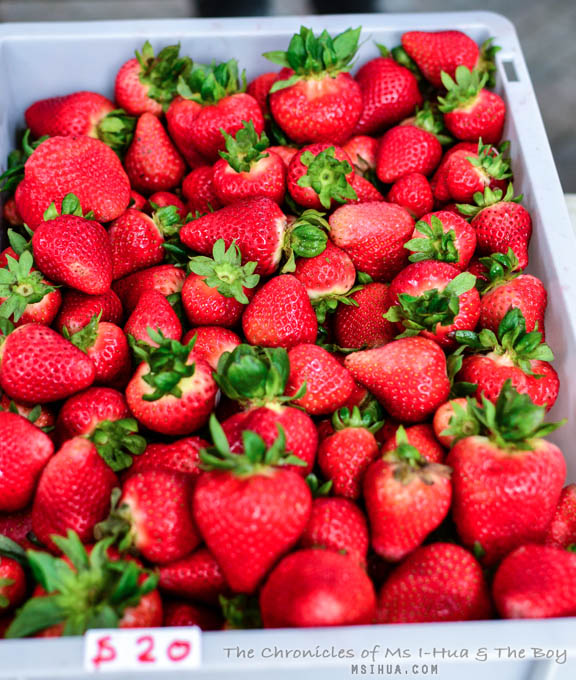 As we missed the chance to visit the Sunny Ridge Strawberry Farm the day before, as a group we decided to make a quick trip for some juicy couture 0_0.
My eyes nearly fell out of my head upon seeing the jumbo sized strawberries at the farm. I couldn't understand how the giant strawberries were possible. I was hesitant on tasting them, but on the first bite (there were samples available for guests), I was in heaven.
Best strawberries I'd ever eaten in my life. All of us came away with a few punnets of fresh strawberries. Michèle and I may have also bought some Cheeky Rascal ciders to try, though I cannot confirm this 😛
Sunny Ridge Strawberry Farm Details:
Address:
244 Shands Road
Main Ridge VIC 3928
Website: http://www.sunnyridge.com.au/
Phone: (03) 5989 4500
Email: [email protected]
Opening Hours:
January 2014
Wednesday, 1st January – Closed
Daily 9:00am – 6:00pm (U-Pick 4:40pm, Cafe 5:00pm)
Thursdays 9:00am – 8:30pm (U-Pick 8:00pm, Cafe 5:00pm)
Strawberry Season (November to April)
Daily 9:00am – 5:00pm
U-Pick Strawberries 9:00am – 4:30pm
(Closed Christmas Day, New Year's Day, Good Friday)
Strawberries Out of Season (May to October)
Weekends Only 11:00am – 4:00pm
NO U-PICK
_______________________________________________________________________
Darling Park Vineyard
We also decided to make a quick visit to a vineyard and chose Darling Park Vineyard for some wine tasting.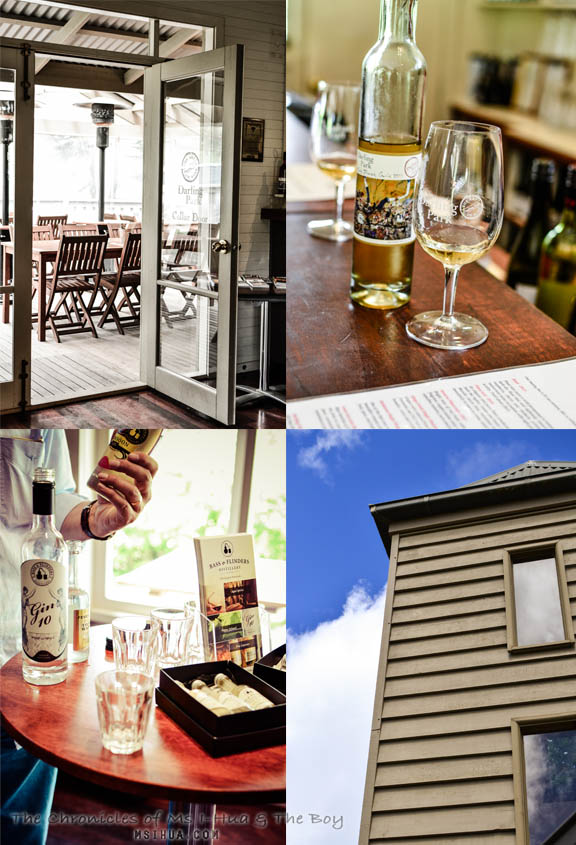 We arrived a little early and noticed they were still packing up from an event the night before. We patiently waited and played by the giant tyre hung on the main tree at the entrance (we are such big kids sometimes).
I loved loved loved the fact that they sold a late harvest Pinot Gris, so I bought one to cherish. I am a collector and lover of sweet wines and still have a few bottles of double picked riesling from Rutherglen. Delicious sticky sweetness 🙂
Darling Park Vineyard Details:
Address:
232 Red Hill Road
Red Hill VIC 3937
Phone: (03) 5989 2324
Website: http://www.darlingparkwinery.com/
Email: [email protected]
Opening Hours:
Everyday from 11:00am to 5:00pm
_______________________________________________________________________
Mornington Peninsula Brewery
The story behind the beginnings of Mornington Peninsula Brewery is quite funny. The owner Matt, explained that he had an epiphany after the Hawks won their last Grand Final match back in 2008 (so not the most recent game). Thanh who is an avid Hawks supporter was all ears as Matt mentioned this point.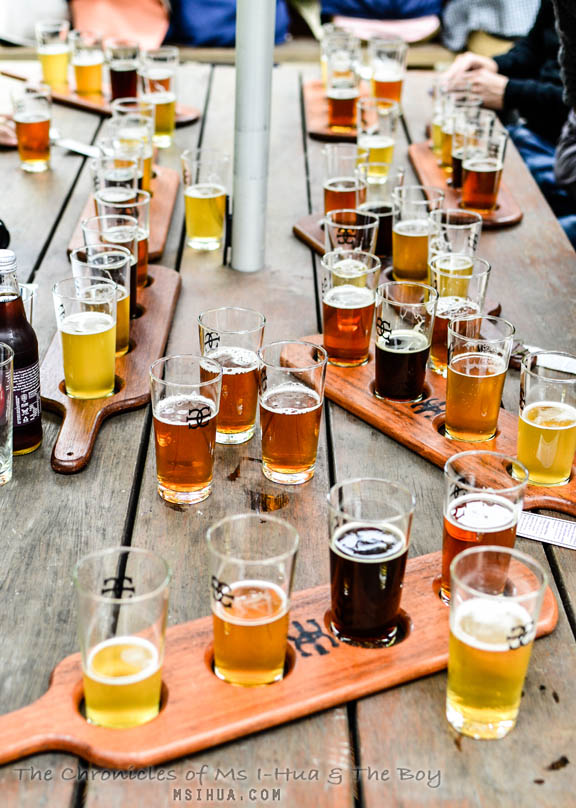 Besides really good beer that is made in-house by master brewer AJ, the menu here is kept really simple. Pizza! A match made in heaven or so we were told by Matt, and we agree. The pizzas were all superb! Matt did make mention that the secret ingredient in the dough was the beer (I won't tell you which one).
As part of our visit, we each got to taste a beer paddle. We had all assumed they would be fairly standard shot glass sizes of beer, but hilariously, pints of beer on a paddle were brought out to each of us, much to the envy of the boys around us.
There was more beer than I had ever seen in a long time. After a fabulous amount of pizzas and more beers than we could manage (the non-drivers), we made our way back home 🙂
Mornington Peninsula Brewery Details:
Address:
72 Watt Road
Mornington VIC 3931
Website: http://mpbrew.com.au/
Phone: (03) 5976 3663
Email: [email protected]
Sales: [email protected]
Opening Times
Thursday & Friday: 3:00pm to 11:00pm
Saturday: 12:00pm – 5:00pm
Sunday: 12:00pm – 7:00pm
_______________________________________________________________________
It was an epic trip we had and I am so grateful in meeting the many people we have met in the journey along the way. Our lives are more enriched by this experience!
We highly recommend taking a weekend (or a few days more) to do a trail similar to what we did by following the guide/trail on Wine Food Farmgate.
You can also keep tabs on the Wine Food Farmgate via:
[Ms I-Hua and The Boy visited Mornington Peninsula on the Wine, Food, Farmgate Trail courtesy of Q Strategies]
To check out the recaps from the others on this trip, visit: