So just before the year was out, The Boy and I, along with a few other bloggers were invited to a breakfast in Windsor.
As big fans of all things breakfast and brunch, we said yes.
Beautifully restored and revamped by the creative duo that is Russell & George, the fit-out of this 1887 building looks magnificent.
Morris Jones Bar & Restaurant, has been in operation for nearly two years but has long gone unnoticed by the eye of many. Thinking that it was time for a change, the owners made a move in the kitchen with the appointment of Head Chef, Matthew Butcher early April last year.
With work experiences alongside our very own Shannon Bennett, Ryan Clift (the Tippling Club, Singapore), and most recently with Gordon Ramsay (The London NYC) before he packed his bags to come to Australia to head up the Morris Jones kitchen, Morris Jones was only ever guaranteed a menu that evoked Butcher's quirky and innovative cooking style.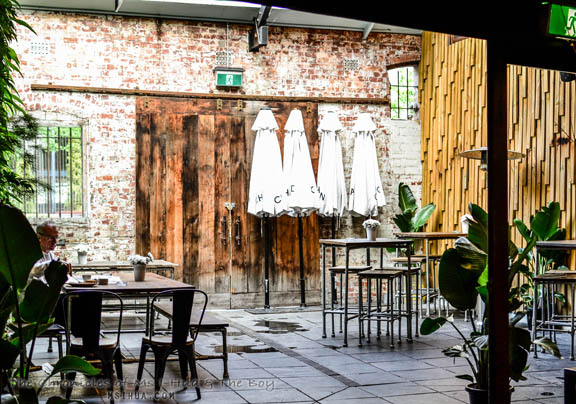 As we waited for everyone to brush away the sleep from their eyes and turn up for our 9:00am breakfast appointment, those that were early were given a brief tour of the building. As one, we slowly fell in love with the high ceilings, beams and the original stained glass window rediscovered in the restoration of the building.
Located in what is now fast becoming the foodie mecca end of Chapel Street, the large interior and courtyard of this bar and restaurant is not only inviting but able to hold quite a lot of people and a few function spots.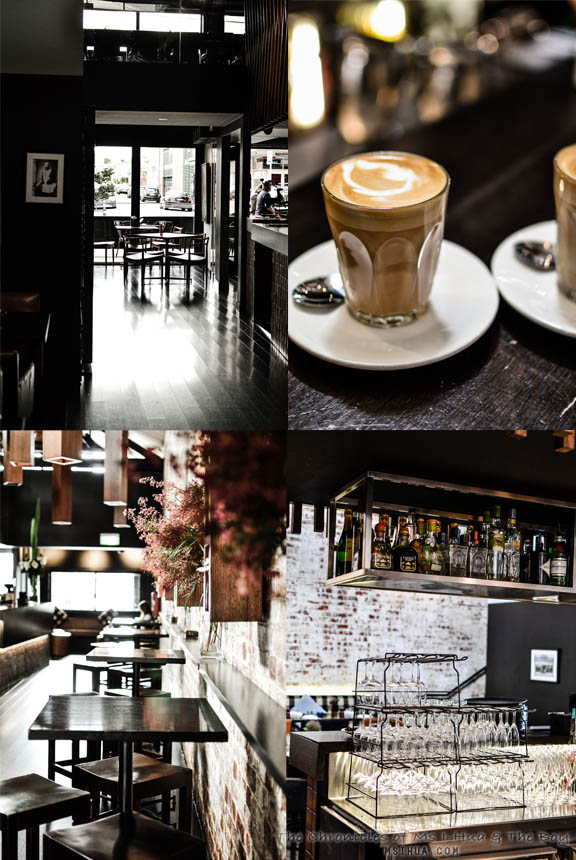 The beautiful industrial yet modern feel of the restaurant by Russell & George keeps the originality of the building as well as fitting out the restaurant with all things modern and new. In my eyes this challenges the thinking of design that is so often becoming a cafe cliché of revamping old warehouses and factories with retro designs and furniture.
However, enough love with the architecture and more love to the food!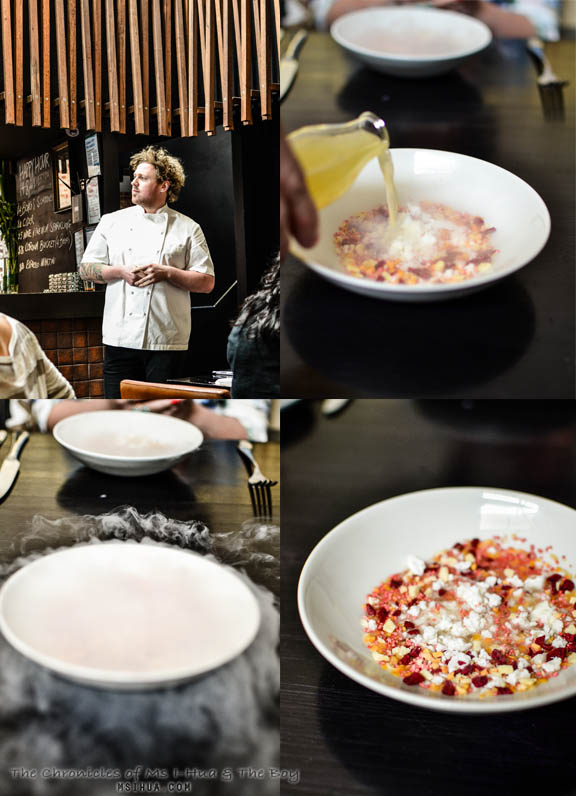 To start us off, Butcher introduced us with his version of a Champagne Breakfast, which included juice, fruits and pop rocks. Liquid Nitrogen makes everything cool. See the video I posted of the magic happening here.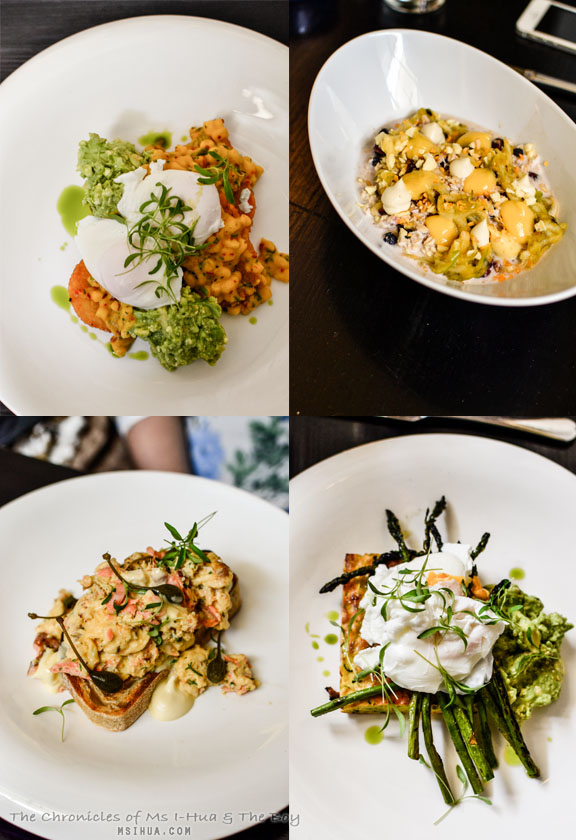 [Clockwise from top left to bottom left: Poached Free Range Eggs, Avocado, Hash Fritters, Corn & Chilli Relish; Bircher, Appleslaw, Passion & Fruit, Honey Mascarpone; Zucchini Slice, Poached Eggs, Smashed Feta, Asparagus; and House Smoked Salmon, Scrambled Eggs, Caperberries, Creme Fraiche]
For our main breakfast meal, we were each given a choice to choose from a specially created menu for the breakfast. Like a flavour pairing diagram, the menu charted out the elements that would be used.
The Boy had the fritters and I had the smoked salmon. Both were good and delicious. Quite cheekily, I asked to have a look at the normal breakfast menu and noticed that there was Maple Bacon available as a side and asked if we could have a taste.
The chef complied and we were in heaven! I would come back just for the Maple Bacon alone!!!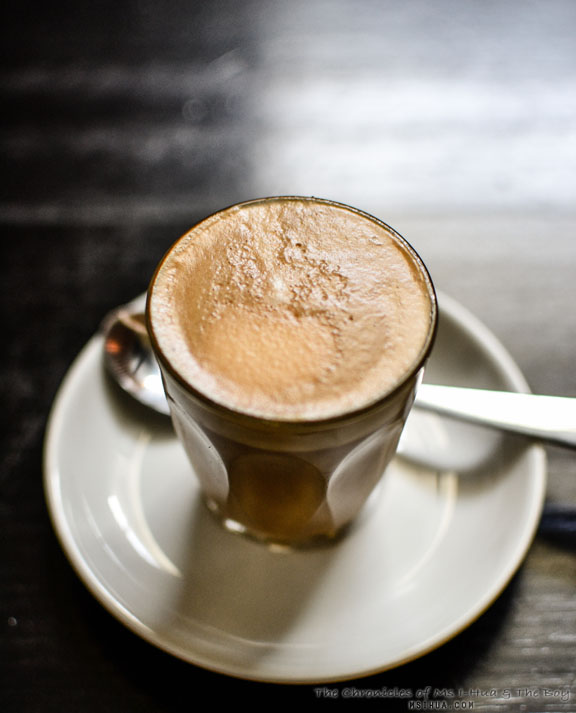 Breakfast aside, Morris Jones also does cocktail and dinner matching events (check out their website for more information) where notable drink masters match their prowess with Butcher's creations in the kitchen.
There is also a tasting menu for dinner which The Boy and I are keen to try out. Yayy for new places (or revamped) to dine at in the new year 🙂
[Ms I-Hua & The Boy attended as guests of Zilla & Brook]
*Disclaimer: All food ratings & review are purely based on my own experiences and how I feel about the service, food and quality at the time of visit
Food/ Cuisine: Modern Australian
Dining Style: Restaurant
Opening Hours:
Tuesday to Friday, 4:00pm – 1:00am
Saturday & Sunday, 9:00am – 1:00am
Address:
163 Chapel Street
Windsor VIC 3181
Phone: (03) 9533 2055
Website: http://www.morrisjones.com.au/

Twitter: @MorrisJonesBar

How to get there: