Happy 'Straya Day folks! Yup. That's how you say it down under.
Australia Day if you aren't aware, is the day that marks the arrival of the First Fleet of British Ships at Sydney Cove in 1788. Since then, Australia has come a long way.
Whether you are for or against the celebration of this day, you have to admit, Australia Day brings like-minded people together who share in their beliefs and the different ways they go about celebrating or protesting this day.
For migrants like us, Australia Day is when we see everyone start speaking with very strong Aussie slangs and making merry with traditional lunches of barbeques and beer. It is also a day when most start their day by having good ol' Vegemite on toast.
This year, we thought we would jump on the celebratory wagon with our version of the classic Pavlova, which is somewhat an Australian iconic food item, but with a twist.
Bring on The Black Forest Pavlova!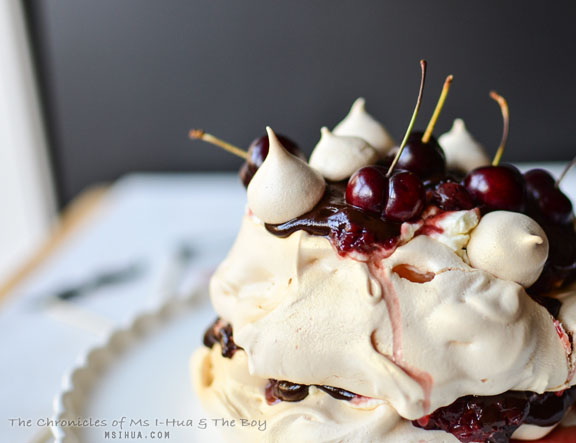 Black Forest Pavlova Recipe
Ingredients
For the Classic Meringue (as adapted from Jamie Oliver):
Egg Whites from 6 large eggs

300

g

of Caster Sugar

1

pinch

of Sea Salt
For the Cherry Mixture:
60

g

of Dried Sour Cherries

300

g

of Pitted Morello Cherries (available in jars & 3-4 Tablespoons of Syrup from jar)

3

Tablespoons

of Kirsch/Cherry Liqueur

50

g

of Caster Sugar
For the Chocolate Ganache:
125

ml

of Thickened Cream

300

g

of Dark Chocolate (chopped)
Garnish:
Edible Gold Color Mist (Food Color Spray)

Fresh Cherries (for topping)
Instructions
For the Classic Meringue:
Preheat the oven to 150°C (130°C if fan forced).

Place the egg whites into a clean and dry mixing bowl and whisk them at a medium speed until they start to form nice firm peaks.

As the egg whites are still being whisked, gradually add the sugar and a pinch of salt. Turn the mixer up to the highest setting and whisk for 7-8 minutes more until the meringue forms a white, glossy and smooth texture. If it feels grainy, whisk for a little bit longer, being careful to not let the meringue collapse.

Line two baking trays with baking paper. Divide the meringue mixture evenly between them and shape each blob into a circle about 20cm in diameter*.

If you have left over meringue, pipe them into small desired shapes to decorate the pavlova.

Put both trays into the oven and bake for approximately an hour, until the meringues look slightly golden and are "marshmallow-y" in the middle. Remove and set aside to cool completely.

Once cooled, lightly spray some gold shimmer over the meringue for that extra touch of class.
For the Cherry Mixture:
In a small saucepan, gently heat & stir the Morello cherries, syrup, Kirsch and caster sugar for 2-3 minutes or until the sugar completely dissolves.

Using a wooden spatula, gently mash & stir the Morello cherries into a jam like consistency.

Add in dried sour cherries and cook for another 3-5 minutes until dried cherries starts to swell. Add more syrup if mixture is too dry. Set aside to cool completely.
For the Chocolate Ganache:
Gently heat cream in a small saucepan and turn heat off once it reaches just below boiling point. Place chopped dark chocolate in a bowl and pour over hot cream. Stir mixture until chocolate melts and you get a smooth consistency. Side aside to cool completely.
For the Cream:
Once the meringue layers, cherry mixture and chocolate ganache have sufficiently cooled, start with the whipping of the cream.

Place the cream into a clean mixing bowl and following the instructions of your mixer, whip at medium speed until the cream starts to thicken out. Be careful to not over-whip the cream as it can go from smooth and creamy to fluffy and whipped in a matter of minutes (it happened to me!)
To Build The Pavlova:
Place the first meringue on a cake stand. Top it with a layer of cream, followed by a layer of chocolate ganache and finally the cherry mixture.

Place the second meringue over the first layer. Repeat the cream, chocolate ganache and cherry mixture layers.

Top pavlova with some fresh cherries and individual meringues to finish off.
Notes
*It's really up to you how you want your pavlova to look and the number of layers you want. You could do smaller blobs and divide the mixture evenly to 3-4 blobs to have a pavlova tower.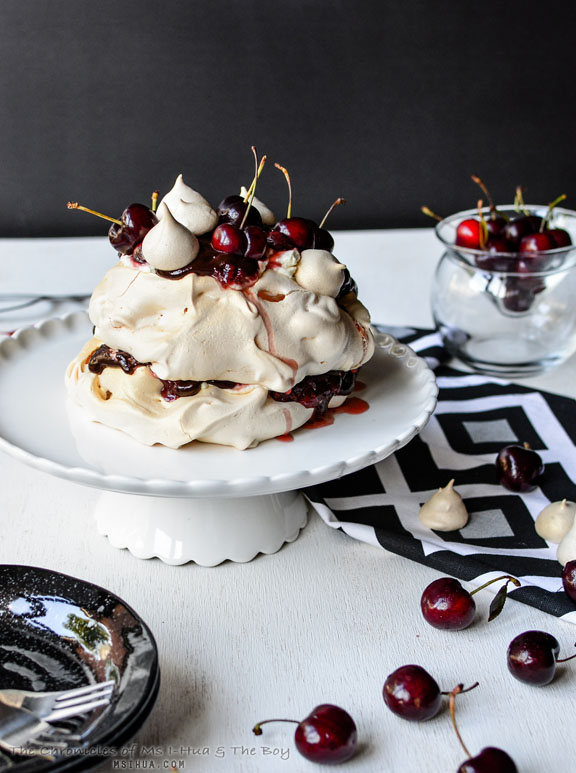 _______________________________________________________________________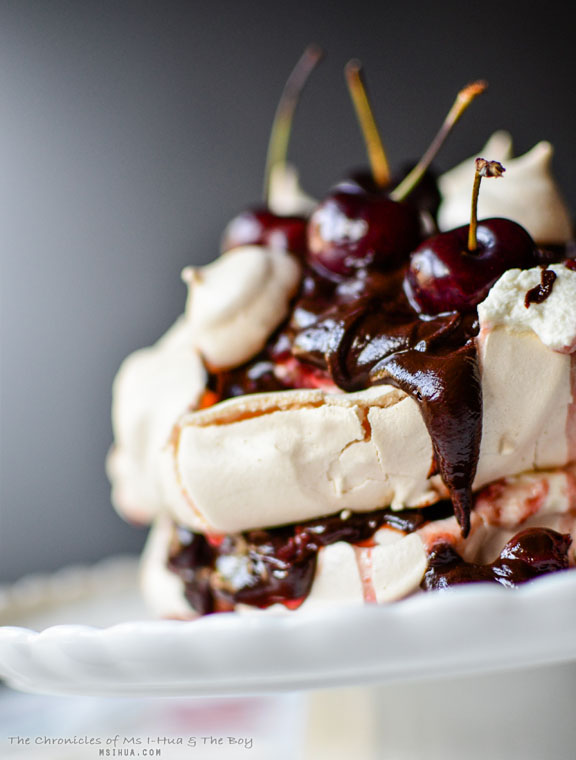 _______________________________________________________________________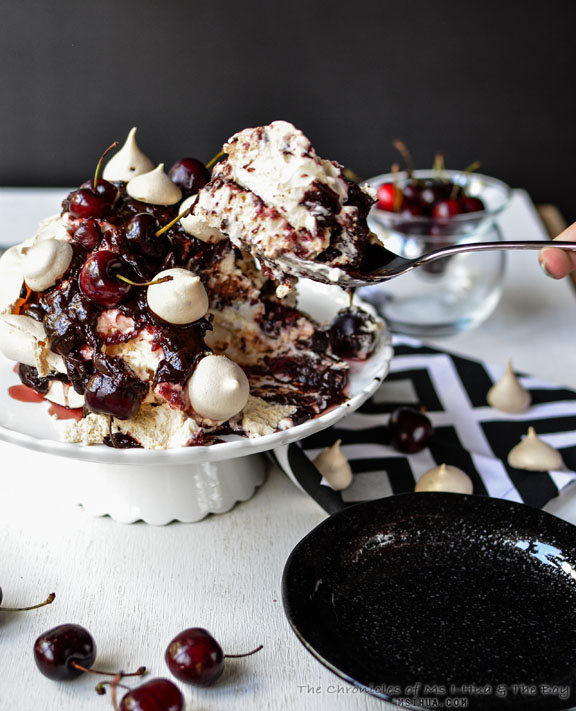 _______________________________________________________________________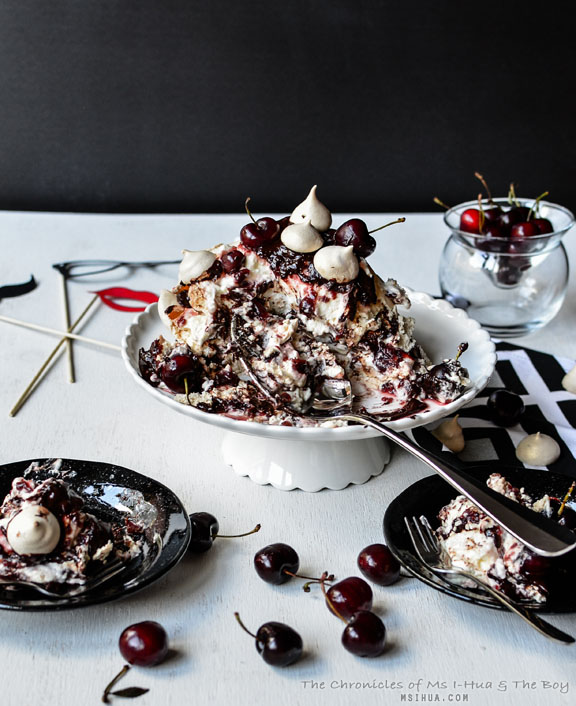 So what do you think? Will you be giving this Black Forest Pavlova a go?
This was also our first time using our brand new shiny Kitchy Kutchy (Kitchen Aid) so it was a perfect recipe to experiment with!