Howdy! So with the colder weather settling in (though it seems more humid and muggy), we thought we would start by posting up a twist to an old Filipino favourite recipe. This braised pork dish will have you saying "Sarap!" (delicious) more than once I'm sure.
How did we come across this recipe and why Filipino cuisine? Well our good friend Cherrie challenged us to a Filipino cook off last year for her birthday, and we've only now got around to posting it up. Cherrie, this means your birthday has lasted for much longer! Yay!
The idea was that we would serve up dishes to suit the Pinoy taste buds and that she, along with Adrian would judge us on the taste and authenticity.
By the end of the night, the judging went out the door as everyone put up some truly amazing dishes. Love food blogger friends!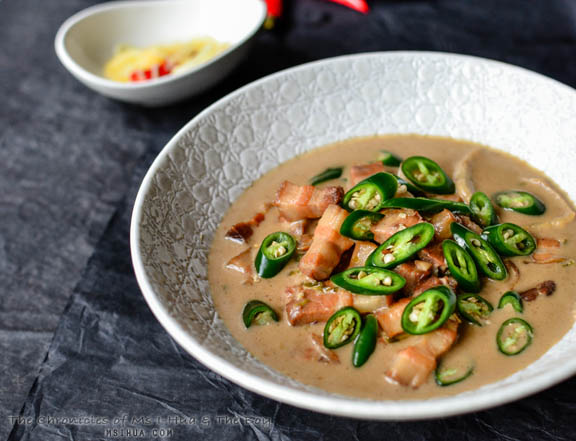 So here is our take on the traditional Bicol Express recipe 🙂 Hope you enjoy!
Sous Vide Bicol Express Recipe
Ingredients
700-800

g

Pork Belly (deboned)

3

Tbsp

of Extra Virgin Coconut Oil

4

Birds Eye Chillies (or 6 Green Chillies) - sliced (reserve a few slices for garnishing)

3

Tbsp

of Shrimp Paste

4

cloves

of Garlic (minced)

1

French Shallot (minced)

2

cups

of Coconut Milk

Salt & Pepper to taste

Canola Oil
Instructions
Vacuum seal pork belly (whole piece) with extra virgin coconut oil and some salt & pepper. Sous vide at 68 degrees Celsius for 12 hours.

Take pork belly out of the bag and allow to cool before cutting into strips.

Heat a small amount of oil on medium heat in a large pan.

Add pork belly strips and sear all sides in the pan (just a quick sear to brown them would be enough as you wouldn't want to overcook them). Sear them in batches if it doesn't fit in the pan (avoid overcrowding the pan). Set aside.

Discard fat from the pan but keep 2 tablespoons in the pan. Heat the pan back on medium heat and add in the garlic and shallots. Sauté until fragrant.

Add in shrimp paste and sliced chillies and sauté all ingredients together.

Pour in the coconut milk and bring to a boil. Reduce to low heat and simmer for 10 minutes.

Add in pork belly and simmer for another 10 minutes for the flavour to infuse into the pork. Your gravy should thicken slightly.

Season with salt and pepper.

Garnish with some fresh sliced chillies.

Serve with a side of Pickled Green Papaya. The pickle helps counter some of the spiciness from the Bicol Express.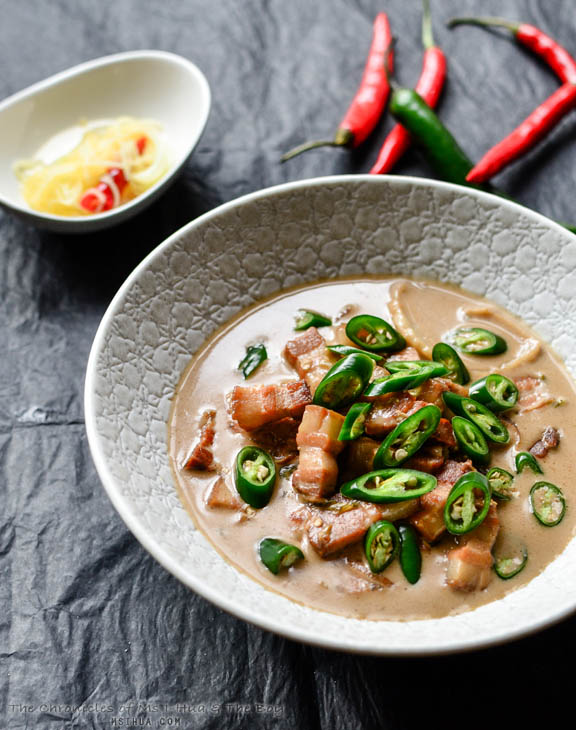 I did so love this dish but wished it was spicier! The Boy who doesn't do spicy, was catering more to his taste buds I fear ("I know! What kind of Asian is he?").
That being said, the pork was super tender and the heaviness of the sauce was broken up perfectly with the tart and zingy pickles.
I LOVE PICKLES!!!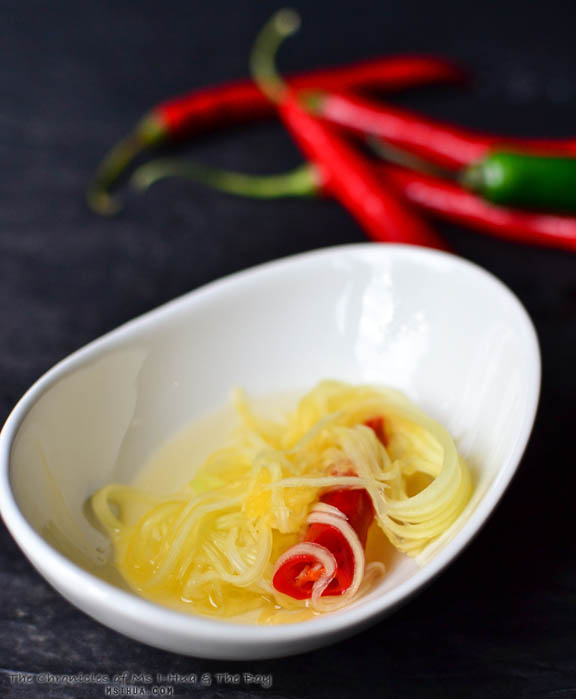 So to finish this post off, have you been exposed to Filipino food before and if so what was it? Did you enjoy the cuisine?
Visit Cherrie's blog for more Filipino inspired food as well as Adrian's blog (he is the famous cook book author that has recently brought Filipino food to the limelight!). Enjoy!