Oh my goodness! Where has the time gone? It's nearly April?
You may have noticed that both The Boy and I have gone missing in action in the last week with nary an update on our blog. However, if you had been following us on our social media updates (mostly via instagram) it would have been no surprised to you that we went away on an eating feast or #eatallthethings trip in Malaysia and Singapore.
It was madness! 3 days in Kuala Lumpur, 2 days in Penang and 2.5 days in Singapore just on a non-stop eating journey.
So whilst we recuperate and try to loosen the tight hold our pants have suddenly developed on us (evil things, waistlines), we now leave you with our visit to Tazio which we were invited to a few weeks ago.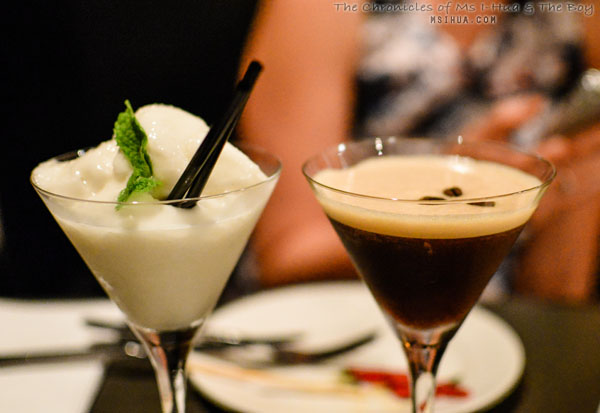 Upon arrival, we were greeted with luscious cocktails. I do so love a good cocktail and they must have been forewarned! We heard about Tazio from Kim Ong and she invited us to go along for a double date at Tazio. From memory, we had the:
Bellini – Sparkling wine served with peach nectar and maraschino cherry juice
Espresso Martini – Vodka, Kahlua, Licor 43 Vanilla shaken vigorously with freshly extracted shot of espresso
Negroni – Beefeater Gin, Campari and Rosso Antico. Stirred and served with a flamed orange peel
Lychee Liaison – Vodka, Soho lychee liqueur and apple juice with muddled fresh lime & mint
Funnily enough, at the end of the night when we were all relaxed and chatting away, the restaurant owner and manager, Ray, we discovered that he used to work in a big corporate company reporting to one of the managers that works in my current company! Such a small world!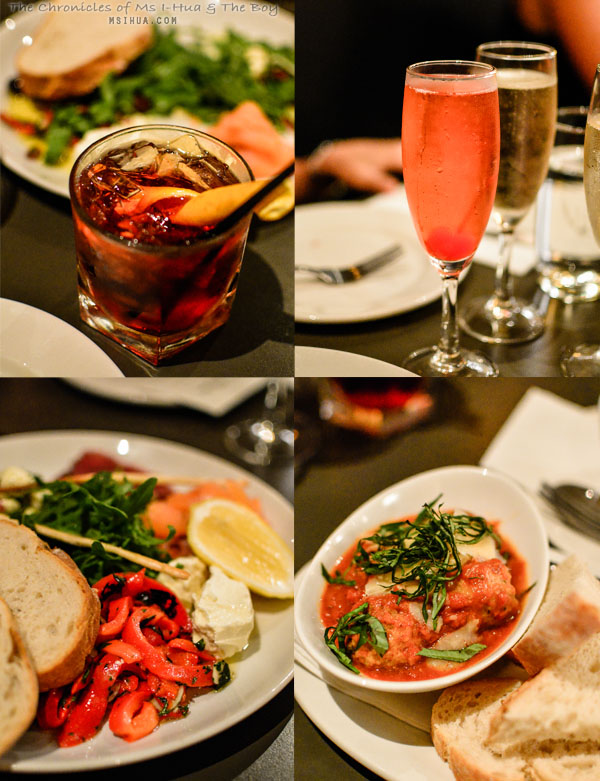 Ray informed us that he had a very simple concept of the shop. Surprisingly, so many restaurateurs get that wrong right from the start. With a background in IT, he knew he was never going to be an expert in Italian cuisine, so he did the next best thing. He hired an Italian chef with a passion for cooking. Ray keeps it simple and manages the front of house (indeed you could see him running around taking orders and assisting the staff as much as he could).
He is such a great, down to earth individual and we have nothing but respect for him and his hard work!
For our double date, Ray had drawn up a tasting menu (which reflects the lunch set menu as well as the special menus that Tazio has during food and wine events).
Appetizers (Shared):
Antipasto – Cured meats, smoked salmon, marinated red peppers, marinated olives, fior di latte, goats cheese and grissini
Entree (Shared):
Polpette di Nonna – Pork & veal meatballs with fresh young basil and parmesan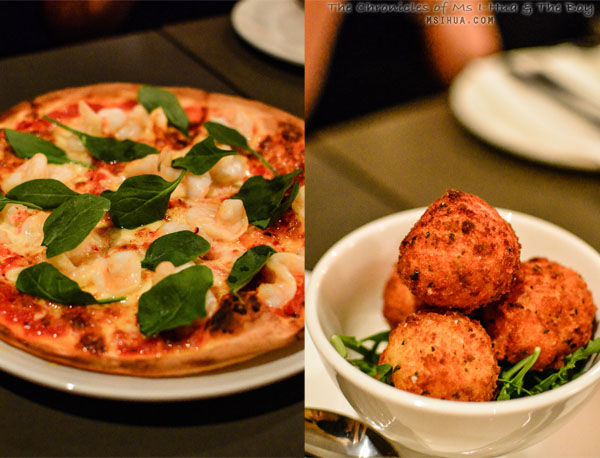 Pizza (Shared):
Della Mare – Tomato, mozzarella, chilli, garlic, prawns & fresh spinach
Entree (Shared):
Arancini – Italian style rice balls with pumpkin, goats cheese and sage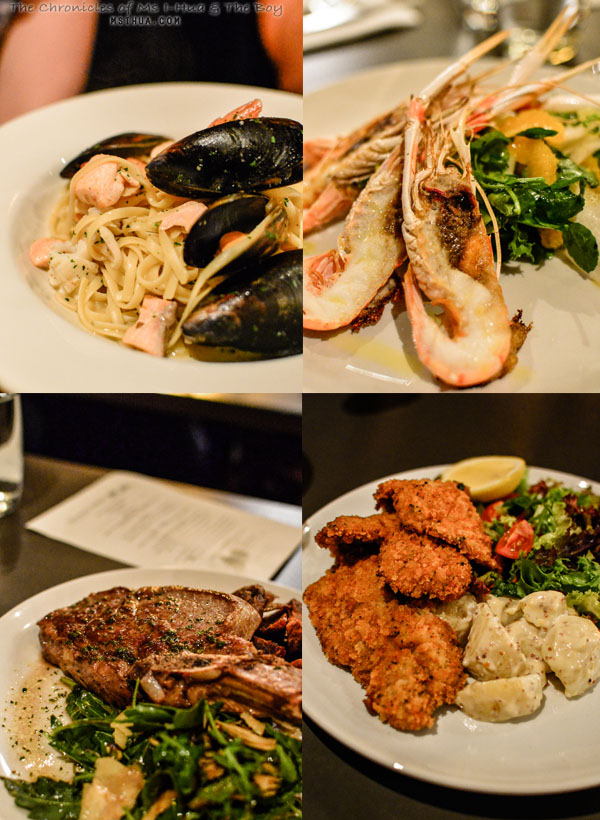 Mains (clockwise from top-left to bottom-left):
Pasta – Linguine marinara with prawns, mussels, calamari and fish of the day
Insalate – Scampi, watercress, endive, witlof, black sesame seeds with orange & lime
Cotoletta – Crumbed veal with a wholegrain mustard potato salad & mixed greens
Bistecca – 350g rib eye with Congo potatoes and rocket, parmesan & pistachio salad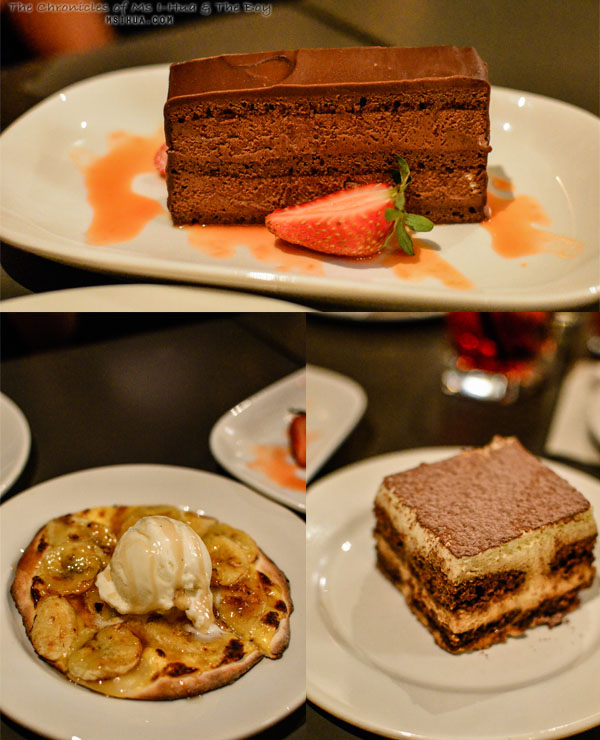 Desserts (Shared):
Chocolate mousse terrine with blood orange sauce
Home made Tiramisu
Mini banana pizza with custard, praline and vanilla bean ice cream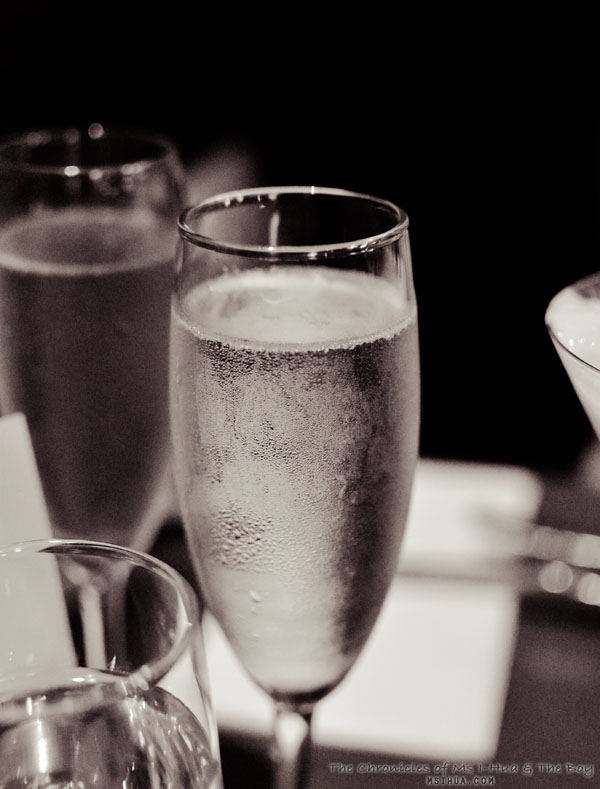 The food itself was simple and I wouldn't say they were groundbreaking. I was not expecting it to be given the cucina atmosphere Tazio was going for. As a group, we really enjoyed the entrees and desserts with the cocktails being my highlight of the night.
My linguine was cooked well, but if I was to be honest, it was not the best seafood linguine I've ever had and was rather plain after all the rich and powerful entree dishes we had. The others, I think I can safely say enjoyed their respective mains. The Boy loved his Cotoletta, as it was crispy on the outside and cooked perfectly on the inside.
We also loved the traditional styled pizza with its beautifully thin crust. So it wasn't surprising that our favourite dessert out of the three was the mini banana pizza!
What I like about Tazio was the vibe and buzz from the restaurant. There were a lot of after work punters ready for a night out in town, couples, as well as families having a reasonably priced good quality meal and enjoying delicious cocktails (I highly recommend the Lychee Liaison, heck I'm going to try their entire fruit based cocktails, they were like fruits on crack!).
So if you feel like a night out in town and can't get a table in the crazy town of Melbourne without wanting to wait in line for 2 hours, I recommend coming into Tazio for a casual and affordable (and tasty) dinner with friends, family or your special someone.
[Ms I-Hua & The Boy attended as guests of Tazio Birraria Pizzeria Cucina]
Disclaimer: All food ratings & review are purely based on my own experiences and how I feel about the service, food and quality at the time of visit
Food/ Cuisine: Italian
Dining Style: Restaurant
Opening Hours:
Monday to Friday, 12:00pm – late
Saturday, 5:00pm – late
Address:
66 Flinders Lane
Melbourne VIC 3000
Phone: (03) 9654 9119
Website: http://www.tazio.com.au/wordpress

Twitter: @taziomelbourne

How to get there: