This post is definitely one from the archives which I couldn't say goodbye to.
Earlier this year, The Boy took me away for a road trip to Birregurra to celebrate my birthday. We were headed off to the 'at-the-time' newish Dan Hunter's restaurant which he opened after leaving the acclaimed Royal Mail in the Southern Grampian Ranges.
It's a much shorter drive from Melbourne (one and a half hours as opposed to three and a half hours).
As we arrived down the dry and dusty road and turn the corner that leads into the driveway of the Brae Restaurant, we can't help but note the quaint white washed cottage which encompasses the restaurant. Parking our car next to the cemetery, we swat flies from the heat and make our way down the garden path into the cool enclosure of the building within.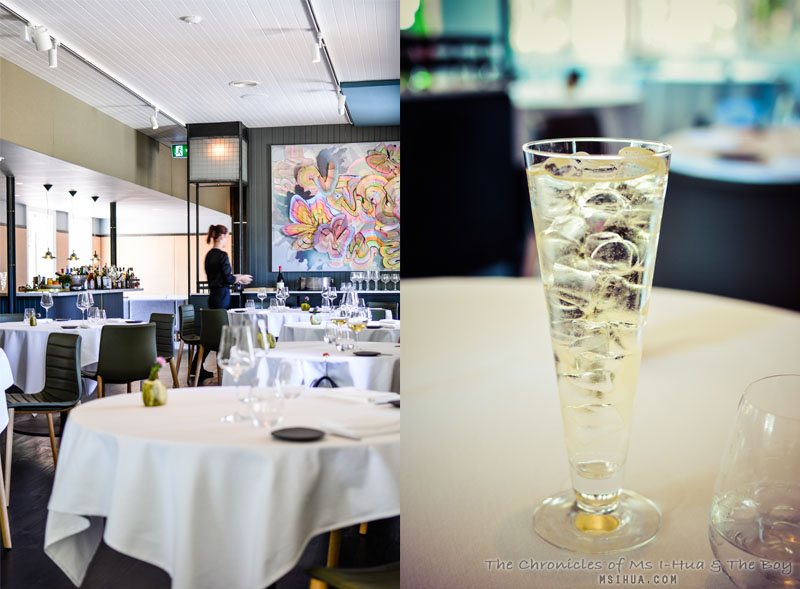 Inside, cool, sleek and modern decoration and furniture awaited us.
A long bar facing the door greets customers with many bottles of liquor and untold dreams of the future. I was getting thirsty by this stage and so was The Boy, who ordered a Pear Cider to quench his thirst.
We were also seated right near the kitchen and got to witness the orderly conduct of the workstation. What I did love was also the sound-proof doors that locked out all sounds from the kitchen when things got too busy, allowing the diners to sit back and relax back into the gentle hum of service.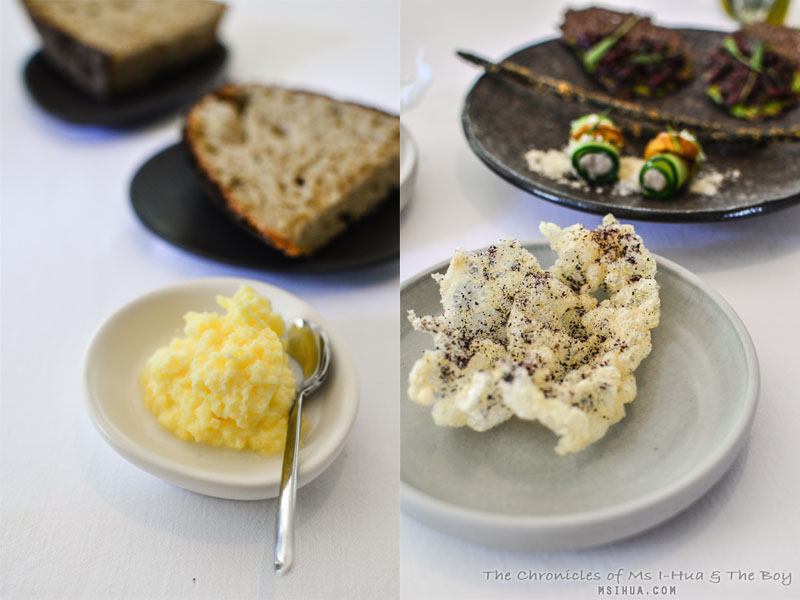 House-made sourdough matched with house-made butter. I'm a big fan of butter (and cream) so this was delicious and I finished the whole dollop on a tiny piece of bread when The Boy wasn't looking.
As a welcome 'snack' we were provided what looked like Rice Crackers. The Boy's was dehydrated Beef Tendon whilst mine was made out of rice 😛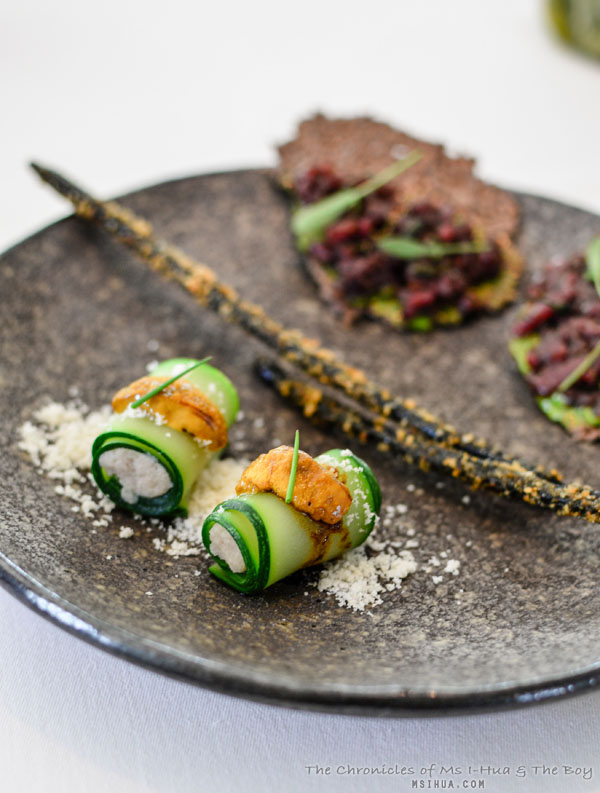 After our rather fun crackers, an assortment of other snacks made their way to our table.
My favourite were the black sticks in the middle which I originally thought looked like barbecued asparagus 0_0 but were instead Burnt Pretzel, Treacle and Pork. The other two were Short Fin Eel, Sea Urchin rolled in a zucchini and Wallaby and Flax, Lemon Myrtle and Wattleseed.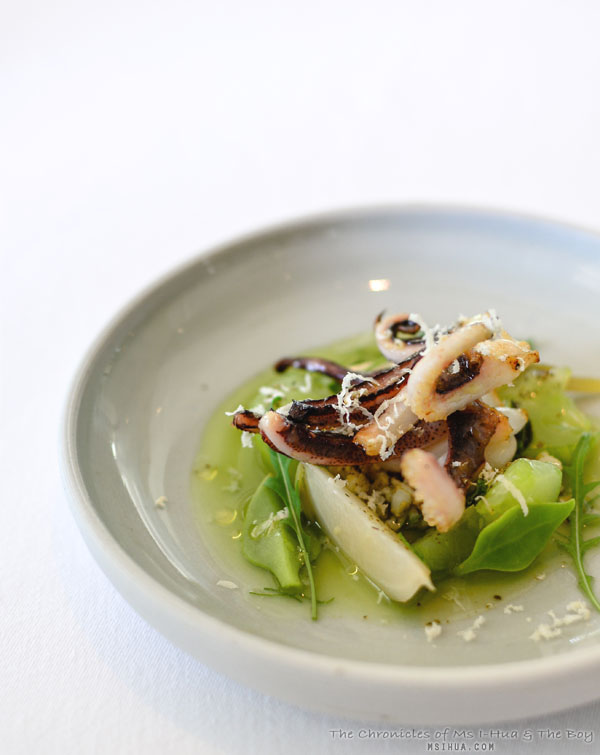 The first course seemed very delicate to us in terms of taste. I was hoping to be beaten over with a stick in the taste department when I read Calamari and Pickles, which was why I was surprised that it wasn't just bursting with flavour.
Instead, it was a light gentle summery dish. A surprising choice in terms of direction of courses as the precursor snacks were so strong in flavour.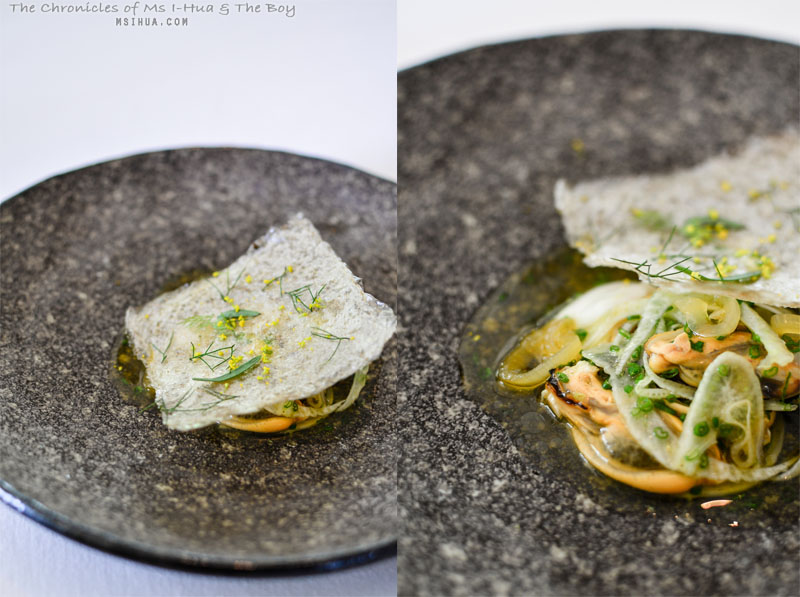 The next course however started to build the flavours on our palates back up.
Behind the beautiful lace-like lattice lay beautifully cooked Mussels and Salt Cod Cream. It was the salt cod cream that made this dish.
I stole some of The Boy's remaining sourdough to mop up the beautiful sauce that was left behind.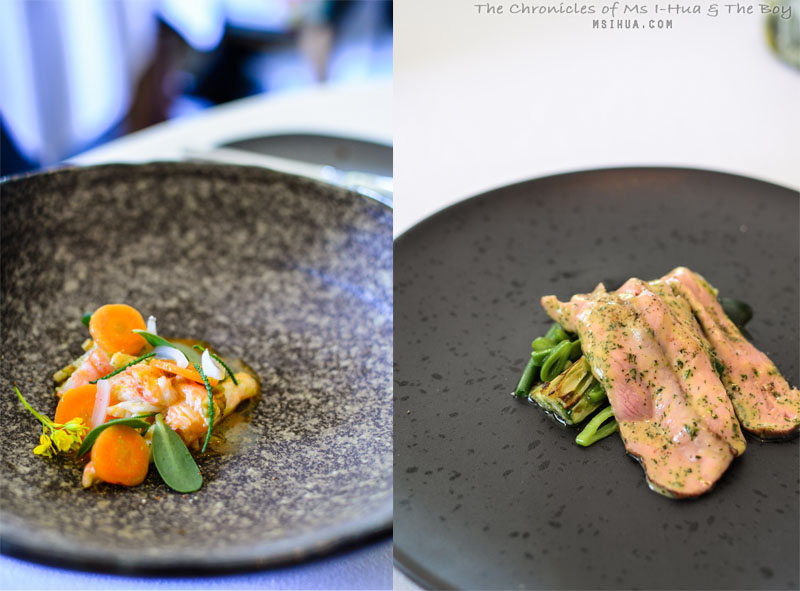 The next two dishes that came out were great. Southern Rock Lobster cooked with carrots, white onion and sea butter provided a delicious buttery aroma that lingered on.
The clear winner of the savoury dishes of the day had to be the simplest sounding one of them all. Salt Grass Lamb and Grilled Lettuce. Slices of lamb were incredibly tender. The pictures don't do it justice and I have to admit, neither does the plating. However, trust us. The lamb was sinfully good.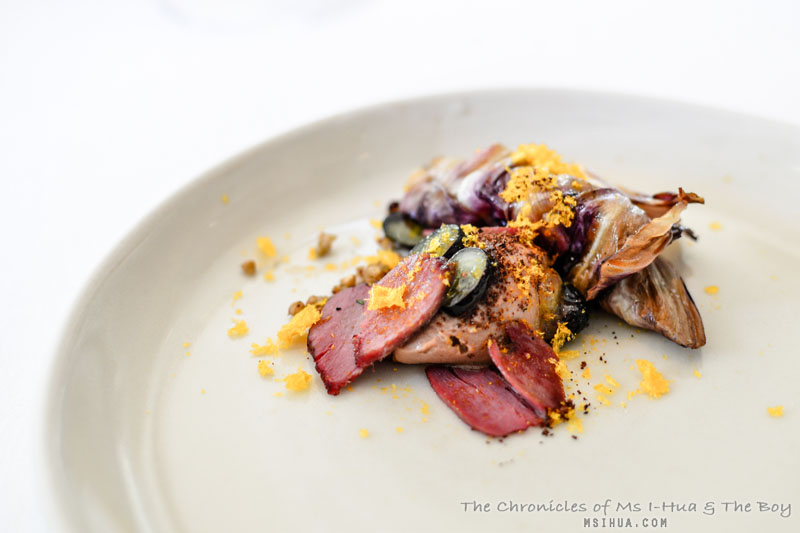 The next dish before our final savoury to be served was an interesting protein, not often served (or at all) at restaurants, let alone fine dining ones at that!
Charred Radicchio, Duck Offal, Native Currants. Texturally amazing and matched perfectly well. The orange powder you see? Freeze dried mandarin peel. Think of this as how the rich aristocrats of bygone eras assume how peasant's version of Duck l'orange should be. Rich folk trying to do peasantry without getting their hands (or tummies) dirty, but we ain't complaining!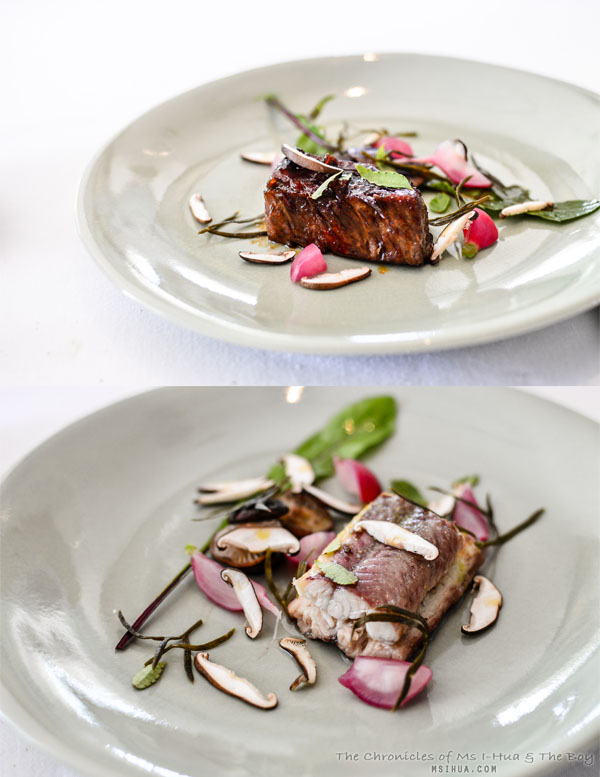 For our final savouries, we were served separate dishes. The Boy had the Grass-fed Wagyu, Rock Samphire, Otway Shiitake and waxed lyrical over the sticky glaze on the short rib.
I had a similar presentation of his dish with the beef replaced by Smoked Eel. Soooo good!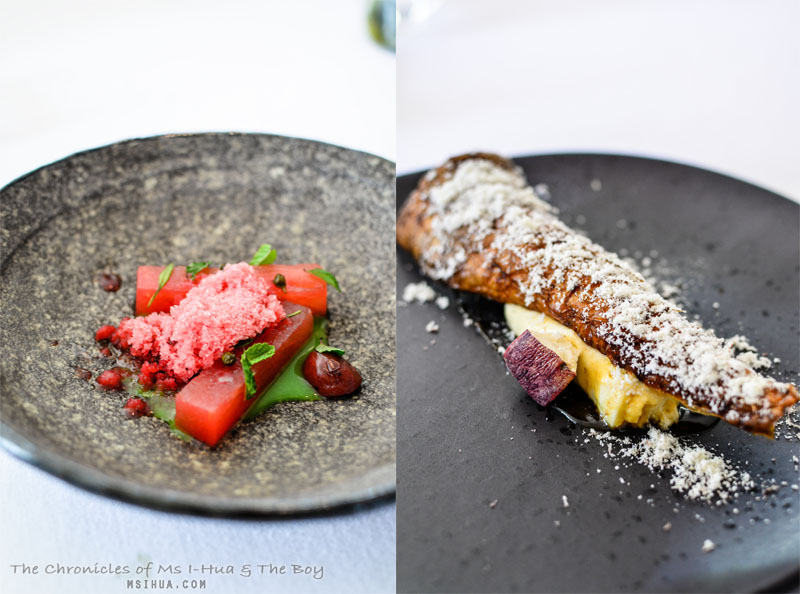 Before dessert was set on our table, we were introduced to the strangest palate cleanser we've had yet. I can't say that I was a fan of it. I applaud Dan Hunter's need to be creative, but perhaps, this could have been left off the menu.
Watermelon, Quandong, Rhubarb and Rose. However, The Boy must have been inspired somewhat as we now have a bag of quandong frozen in our freezer.
The dessert itself has to be the best dessert I've had this year in 2014. Simply entitled Parsnip and Apple, it was anything but simple.
Dehydrated parsnip skin molded back into shape to fit a delicious parsnip-apple custard. This dish, my friends, this dish would launch a thousand ships! Forget about Helen!
It's been months, but I can still recall the taste of this dessert. I yearn for more!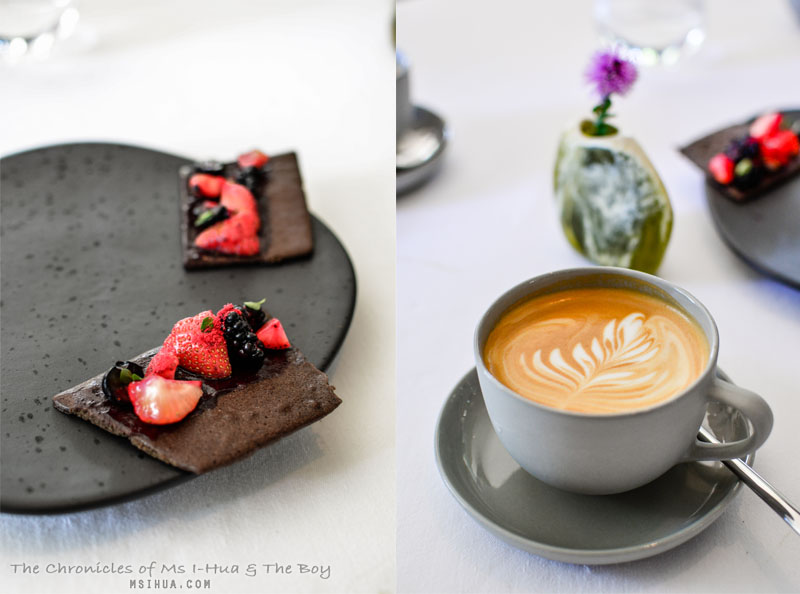 Berries and Blood biscuits were served in place of petit fours with coffee from St Ali.
All in all, we enjoyed our meal here at Brae. It truly was an entertaining array of produce sourced locally (mostly from their garden) and cooked creatively and beautifully by a chef that understands it well.
I love restaurants that pay homage to local ingredients and who try to push the boundaries with their cooking to forever challenge the palates of the people they feed.
Disclaimer: All food ratings & review are purely based on my own experiences and how I feel about the service, food and quality at the time of visit
Food/ Cuisine: Modern Australian
Dining Style: Fine Dining
Opening Hours:
Lunch, Friday to Monday
Dinner, Thursday to Sunday
Address:
4285 Cape Otway Rd
Birregurra VIC 3242
Phone: (03) 5236 2226
Website: http://braerestaurant.com/

Twitter: @BraeRestaurant

How to get there: