The best part of living in a cold weather climate is the warmth the kitchen provides whilst you cook your meals.
I absolutely love it. The warmth, the smells and of course, the consumption of what's been cooking for hours served piping hot!
One of The Boy's favourite thing to cook up during winter (whenever the weather gets a bit chilly actually) is slow cooked pork in milk. He'll find any excuse ready to cook this up. I always make a fuss (but to be honest, I can't help but love it too!)
He's got me really, there's nowhere to hide. You see, whenever he cooks this dish up, he reserves the pork skin for delicious crispy crackling. He also always serves this with crispy potatoes which have been oven roasted with the pork fat dripping from the crackling.
There is no escape for me and I love it!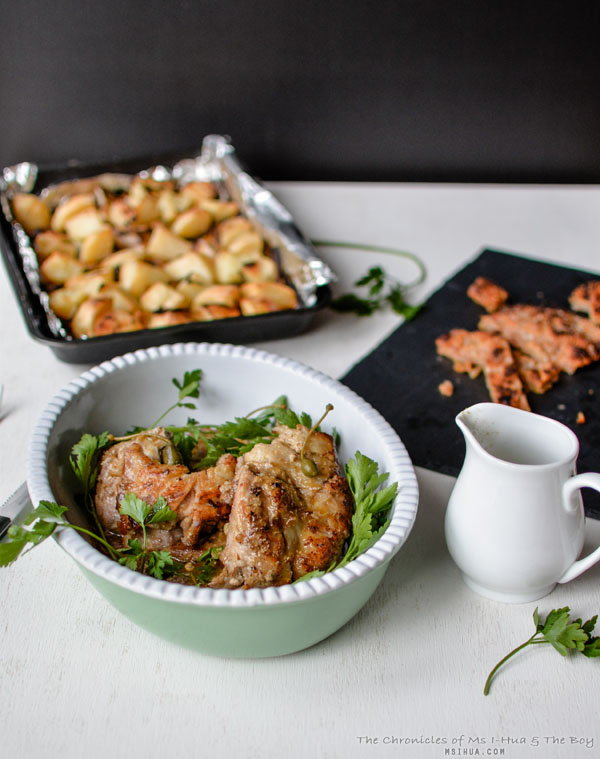 So here's what you need to buy and the steps you need to follow to tuck into this heavenly sinful dish.
The pork is super tender when it comes out and falls apart without a knife.
Maiale al Latte (Pork Cooked in Milk) Recipe
Ingredients
2

kg

of Pork Shoulder (deboned)

6

cloves

of Garlic (peel and cut each clove in half)

Rind from 1 Lemon

150

g

of Unsalted Butter

2

tbsp

of Extra Virgin Olive Oil

4-5

Fresh Sage Leaves

125

ml

of White Wine

625

ml

of Milk

Sea Salt

Ground Black Pepper
Instructions
Remove skin from the pork shoulder with a sharp knife but keep most of the fat intact as it will help keep the meat moist and tender during the long cooking process. The skin can be used for making pork crackling and served alongside this dish.

Generously season pork shoulder with sea salt and pepper.

Heat half the butter (75g) and extra virgin olive oil in a thick-bottomed saucepan with a lid (just large enough to fit the pork) over medium-high heat.

Warm milk in a separate saucepan (do not let it boil).

Add in pork shoulder and brown all sides of the meat. Remove pork and drain off any excess oil.

In the same pan, add the remaining butter (75g), garlic, sage leaves and lemon rind. When garlic starts to colour, add the pork shoulder back in. Pour in white wine and deglaze the pan. Keep cooking until the wine reduces by half.

Pour in warm milk and bring to a gentle simmer. Once it starts to simmer, reduce heat, place a cartouche over pork and half-cover with lid. Continue to simmer on very low heat for 2 to 2.5 hours.

The pork will be cooked when you can easily break it up with a spoon. Once cooked, carefully remove pork from pan and let it rest for 10 minutes under tented foil.

Strain juices from the pan and reduce it in a smaller saucepan. This sauce can be poured over the pork when serving.

Drizzle sauce over pork and serve with pork crackling and roasted potatoes.
Notes
Recipe adapted from River Cafe Cookbook Easy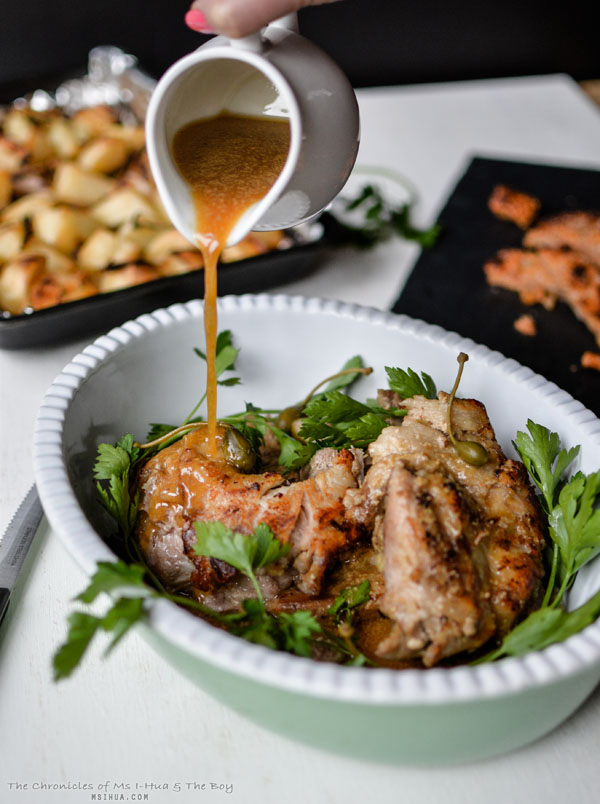 Serve it hot with both sides along with some simple tossed pasta, salad or crusty bread.
I like it just simply, which means I get more pork and happiness to myself without sharing it with other carbs.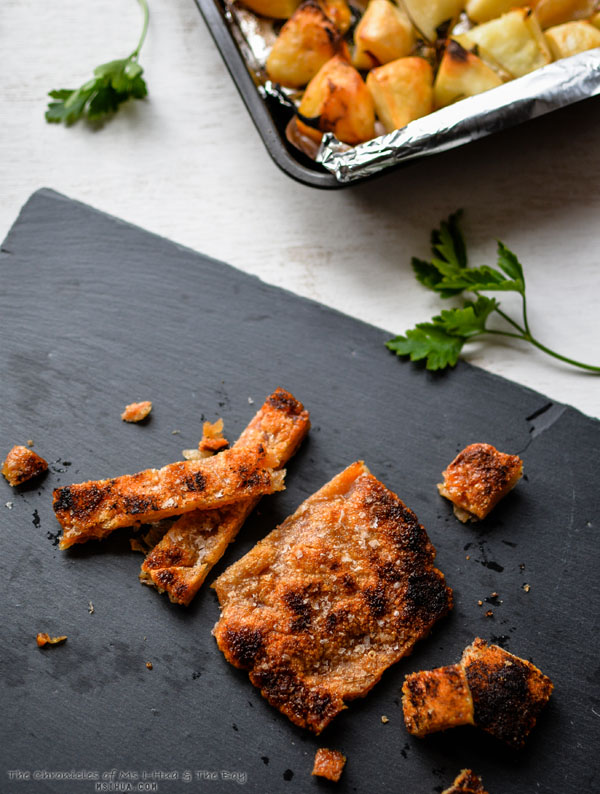 Crispy pork crackling is good on its own or served with salad as well.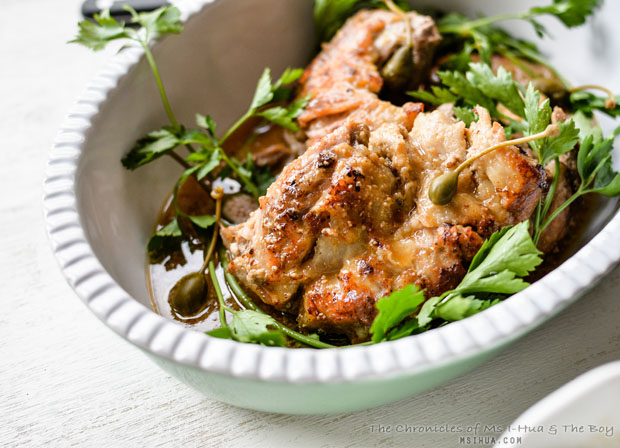 What say you? Would you pretend to put up a fuss as well just so you could get a delicious serve of this every time it gets cold?
I know I would and have. Secret is out of the bag now, but it's not stopping The Boy from whipping this up in the kitchen 🙂 Happy days!