Whenever I feel like having flowers around the house, I have to buy them for my own viewing pleasure. In over a decade, I can name you the two times The Boy has presented me with flowers.
Once when we got together and the second time as a joke one Valentine's Day. That's the sort of relationship we are in. I've always been the more emotionally romantically driven one of the two.
He comes across as cold and sometimes callous because he doesn't behave like how society says he should.
I have to now tell you the truth. He is not really at all. He is quite sweet (though he will kill me when he reads this as I may have spoilt his 'devil-may-care' facade'). He is quite charming when he wants to be and he does show his affections in other ways through food.
To be honest, I would rather be the recipient of his painstaking love and art on a plate than a simple bunch of roses any day (but don't tell him that!).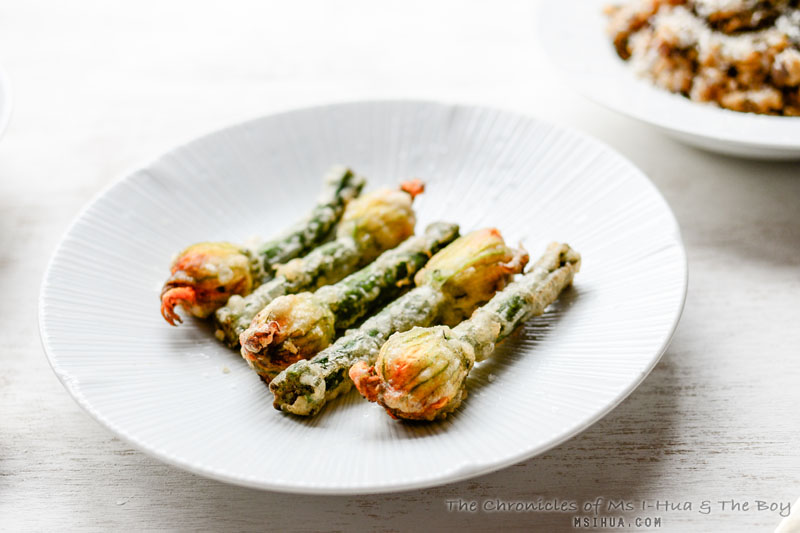 So one beautiful day as we were strolling through our favourite market, he came across a bunch of zucchini flowers and bought them immediately.
Then we went back home and he spent the afternoon putting together the recipe and researching the best way to cook them up.
All for me.
Wouldn't you want your partner to do the same for you? Sure a bunch of flowers is great every now and then, but it is something that I am more than capable in achieving on my own.
To research and serve up a masterpiece on the other hand, requires effort.
Stuffed Zucchini Flowers Recipe
Ingredients
6-8

Zucchini Flowers

100

g

Ricotta Cheese

2-3

Semi-Dried Black Olives (pitted & minced)

1/2

teaspoon

of Ground Nutmeg

1

Tablespoon

of chopped Chives

1

Tablespoon

of chopped Flat Leaf Parsley

Salt

Ground Black Pepper

250

g

Flour

450

ml

Cold Sparkling Water

Grapeseed or Canola Oil (enough for deep fryer)
Instructions
Thoroughly combine Ricotta Cheese, Olives, Nutmeg, Chives and Parsley into a mixing bowl. Season with salt & pepper and transfer filling into a piping bag.

Gently open Zucchini Flower petals and remove stamen. Pipe filling into each zucchini flower until just full and seal by gently twisting the ends of the petals together.

Heat oil in a deep fryer or saucepan until it reaches 180 degrees Celsius / 355 degrees Fahrenheit.

While the oil heats up, place flour into a bowl with a pinch of salt. Add in cold sparkling water and whisk until thick and smooth.

Dip stuffed zucchini into the batter and gently allow any excess batter to drip off.

Gently place into deep fryer (don't overcrowd the fryer) and fry until golden and crisp all over. Once cooked, transfer onto paper towels to drain off excess oil.

Serve immediately.
Notes
Recipe adapted from Lifestyle Food (http://www.lifestylefood.com.au/recipes/11317/simple-stuffed-zucchini-flowers) & Jamie Oliver's (http://www.foodnetwork.com/recipes/jamie-oliver/crispy-zucchini-flowers-stuffed-with-ricotta-and-mint-recipe.html)
So what has your other half done for you lately that is outside of conventional treatments? Are they the romantic kind that showers you with gifts and flowers or the more subdue quiet kind that shows their love differently?