As we promised, here is the first part to our amazing Tasmania long weekend away sponsored by The Spirit of Tasmania (read our journey on board the ship).
As we had a pretty early wake up call prior to disembarking, our tummies were rumbling as soon as we rolled off the ship at 7am into Devonport. Luckily for us, we had breakfast all planned for us at a raspberry farm!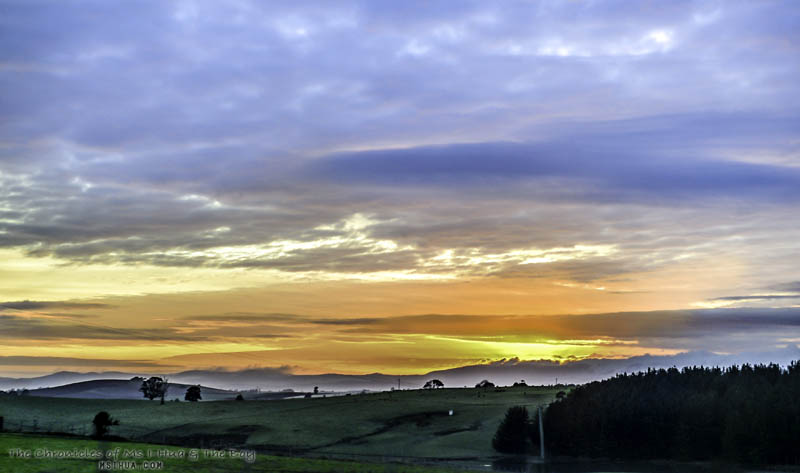 From Devonport to Elizabeth Town, which is where Christmas Hills is located, is roughly a 30 minute car ride.
As The Boy was concentrating on getting us to our destination, I managed to take the beautiful sunrise that was welcoming us that morning through the marvellous countryside.
As our first stop on the Cradle to Coast food trail, we were getting very excited at the thought of sampling some of the finest produce the region had to offer.
_____________________________________________________________________________________________________________
Christmas Hills Raspberry Farm – Elizabeth Town, TAS
As we drove into the entrance of Christmas Hills Raspberry Farm, we couldn't help but notice that we were not the first customers calling that morning. It seemed like a very popular spot for tourists and locals alike to drop in for breakfast before heading out on their journey elsewhere.
For drinks, I ordered a manly latte whilst The Boy had a more feminine hot chocolate with raspberry *tee hee*. The lady serving us that morning also sneaked in some chocolate covered raspberries and raspberry liquor as a treat.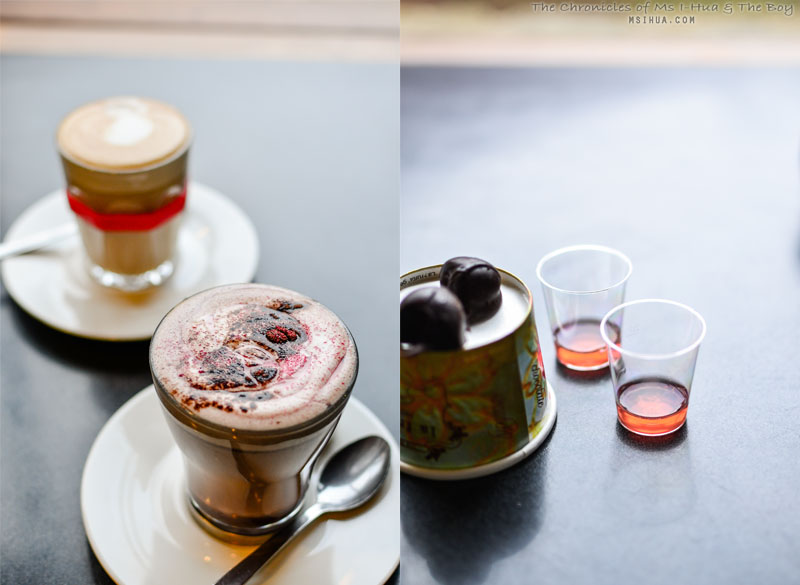 The menu was quite extensive and wasn't just limited to sweets (thank goodness), but had a healthy selection of savoury items as well for people like me that cannot function without some salty bacon in the morning.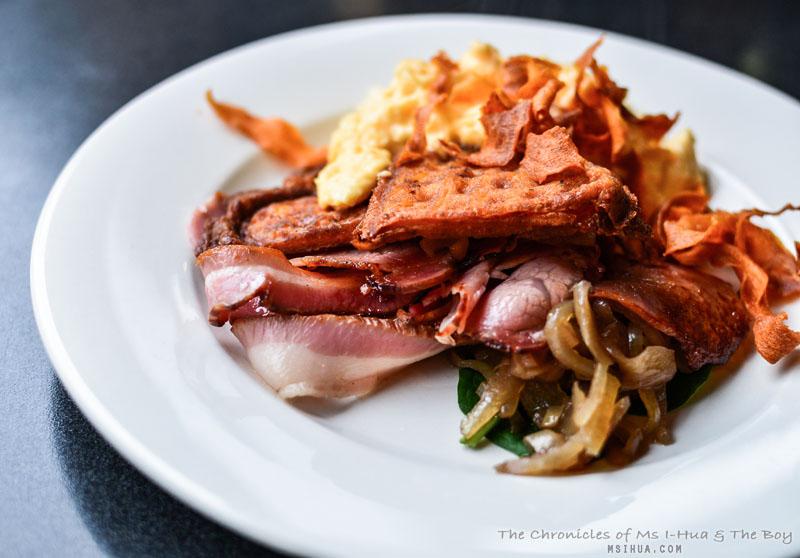 For our breakfast, we decided to go halves and share a savoury and a sweet option between the both of us.
The first thing that leaped out at me was the Sweet Potato & Potato Hash Brown Waffles with scrambled egg, bacon, served with onion marmalade & curly sweet potato fries. There was also an option for a large or a small and we decided with the small option.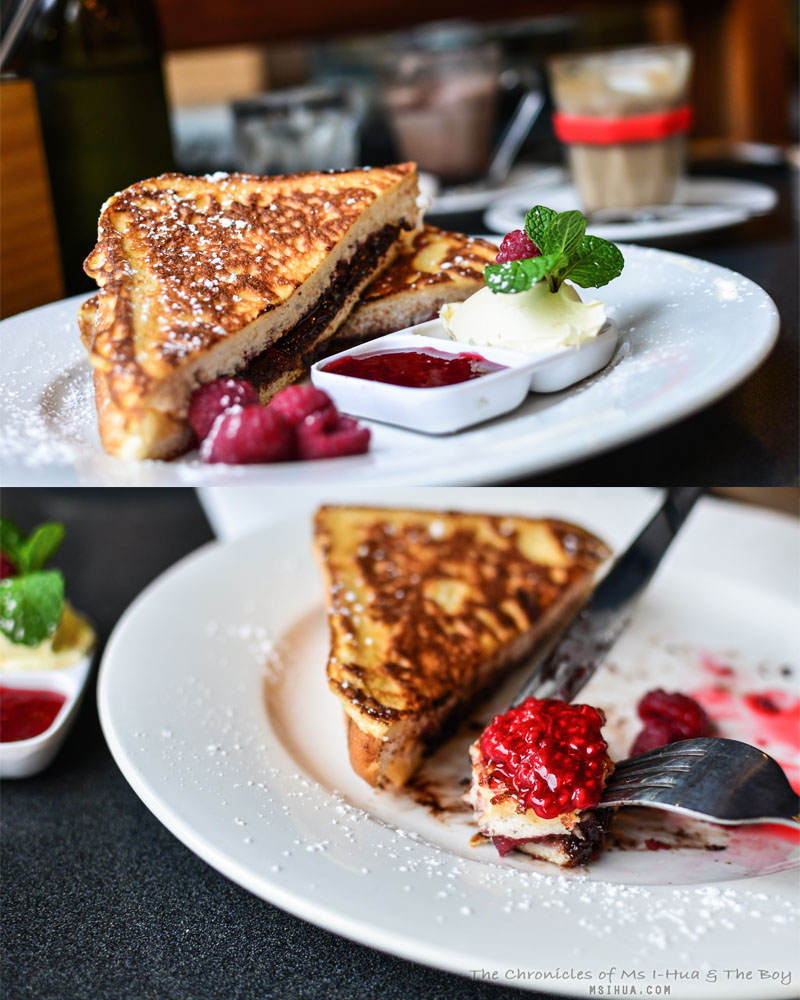 The second item on the menu we decided to try was the Raspberry Chocolate French Toast served with raspberry jam, chocolate and Meander Valley double cream. Need we say more? All you need to do is stare at the picture above and drool!
Address:
9 Christmas Hills Road
Elizabeth Town TAS 7304
Phone: (03) 6362 2186
Website: http://www.raspberryfarmcafe.com/
_____________________________________________________________________________________________________________
Ashgrove Cheese – Elizabeth Town, TAS
From the Raspberry Farm, it was a short drive to Ashgrove Cheese, home of all things happy and dairy.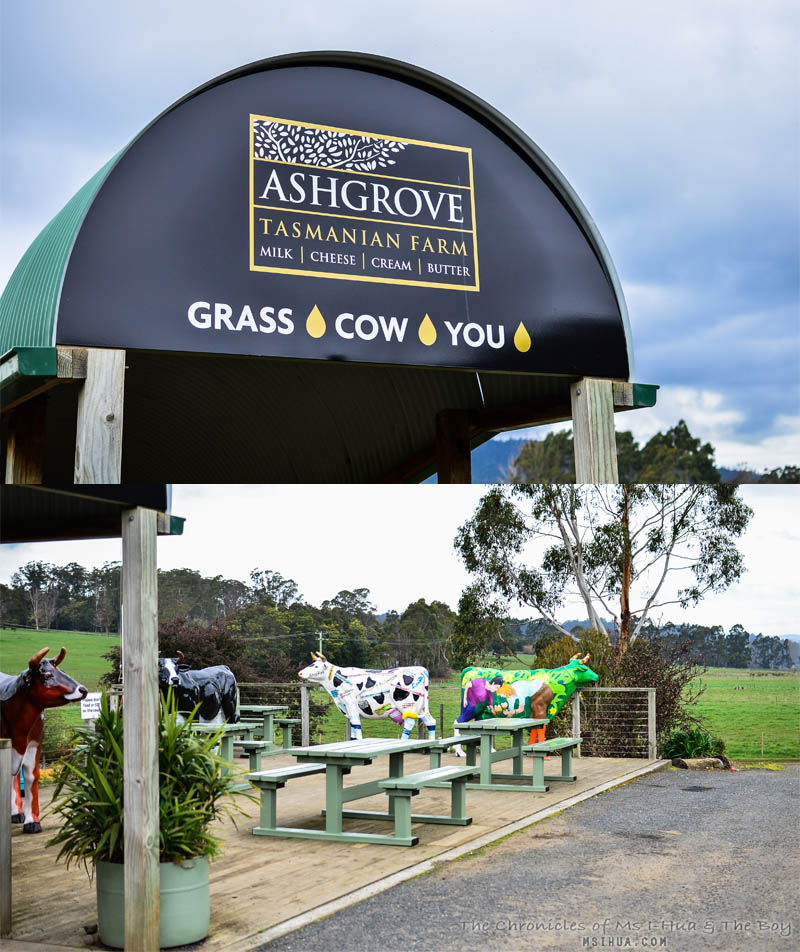 We were met by Danielle who happily brought us around the shop and then to the most magnificent place we'd ever laid our eyes on. The cheese room!
Never in our short lives had we seen so many round wheels of cheese stacked high on shelves. Oooh the lovely little creamy bundles of joy!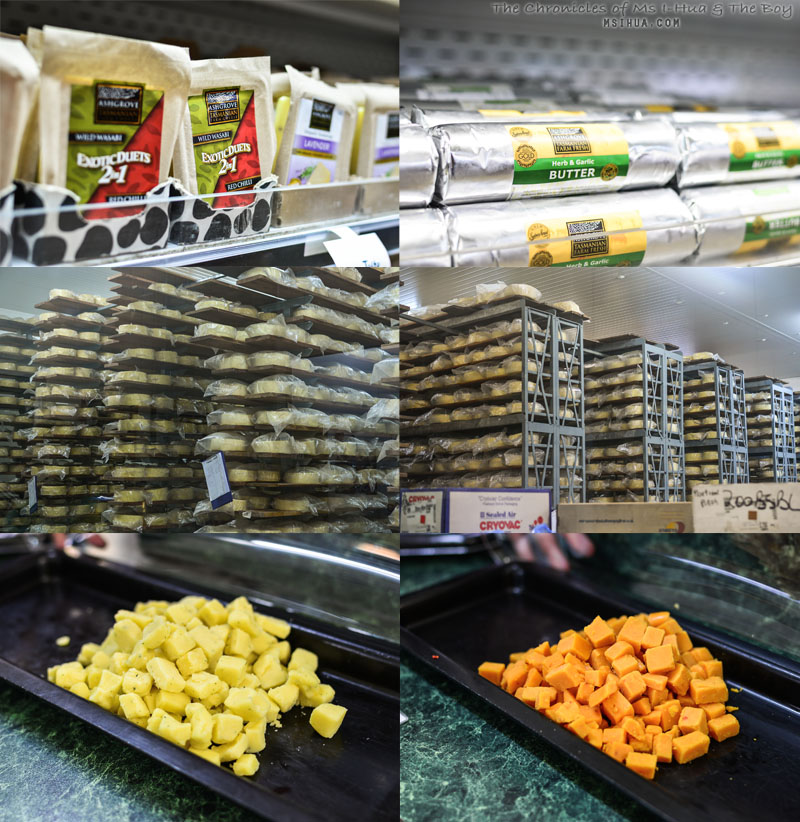 Once Danielle had managed to pry us away from finding a way to break into the cheese room, she lured us deeper in love with the Ashgrove produce by offering us some cheese samples! The cheese sampling is available to anyone visiting the Ashgrove store 🙂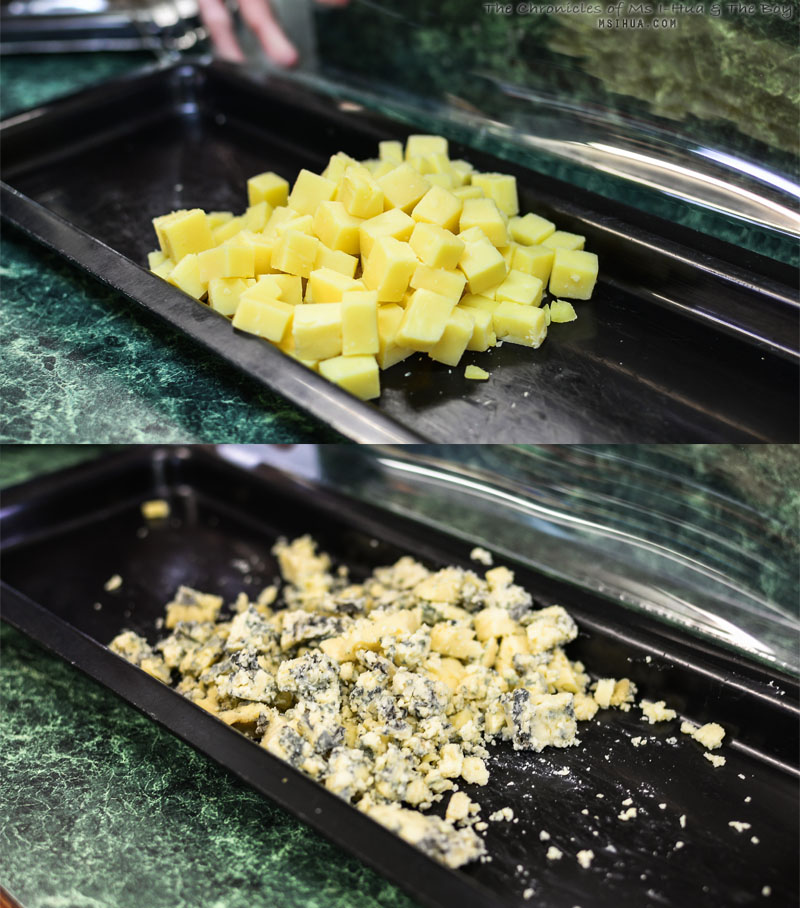 My favourite cheese of them all was the Ashgrove Wild Wasabi cheese (using local wasabi grown in the region). On our way back to the ship at the end of our trip, we stopped by Ashgrove Cheese again, and may have purchased a block of wasabi cheese, butter and creme fraiche.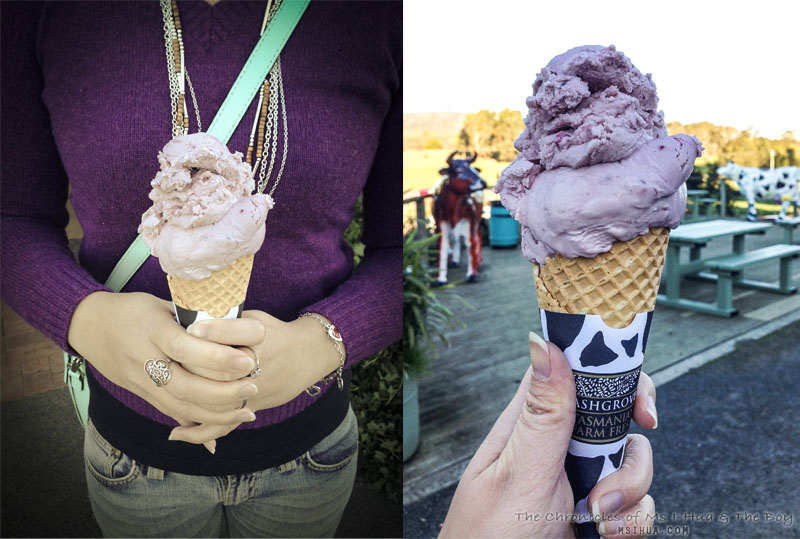 I also couldn't resist the ice-cream that was calling out to me from the fridge. The Boy bought me a scoop of Ashgrove Tasmanian Farm Blackberry ice-cream to keep me happy.
As mentioned when I posted that picture up on my Instagram feed, if you had ever spent some of your childhood in South East Asia, you may have come across a sweet called Sugus. This ice-cream tasted exactly like it!
Address:
6173 Bass Highway
Elizabeth Town TAS 7304
Phone: (03) 6368 1105
Website: http://www.ashgrovecheese.com.au/
_____________________________________________________________________________________________________________
House of Anvers – Latrobe, TAS
After munching on cheese, we backtracked to the House of Anvers which comprises a tasting centre, shop, museum and a cafe set in a beautiful Californian styled bungalow.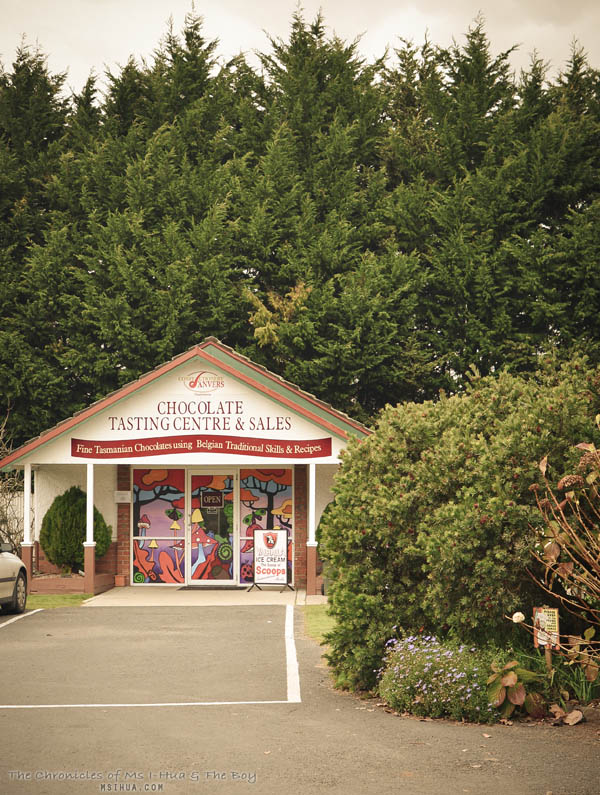 Chocolatier Igor Van Gerwen arrived in Australia in 1989, had the foresight to build his business up from its humble beginnings to what it is today, a famous landmark of Tasmania and Australia.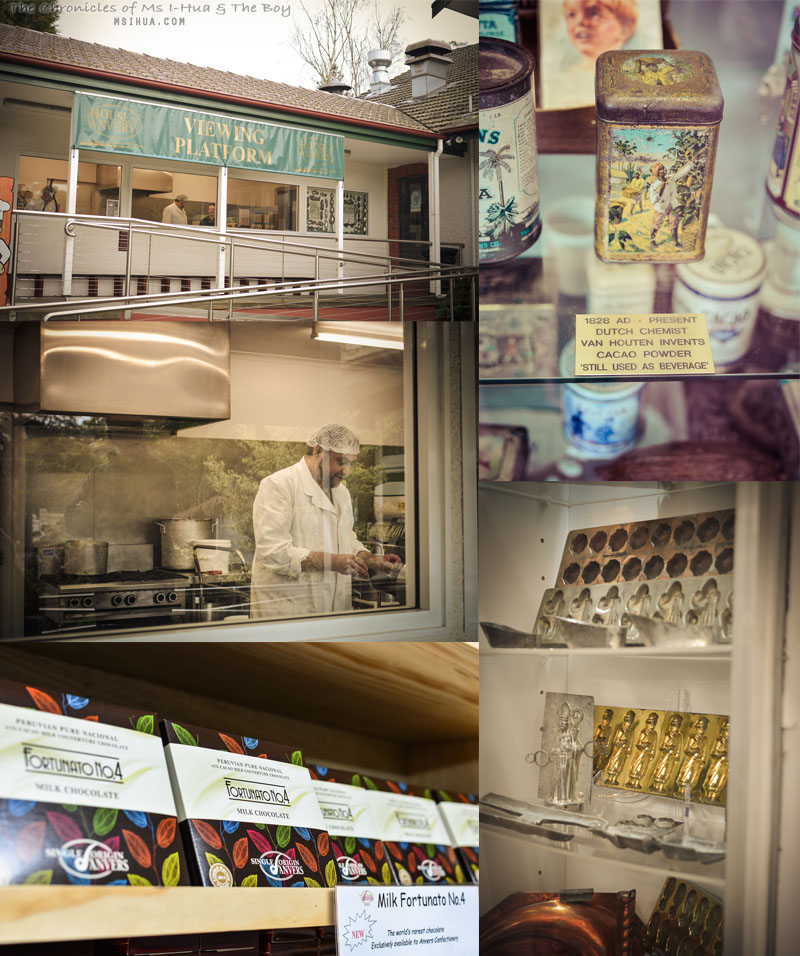 Peek into the museum to discover ancient chocolate moulds, and all chocolate related memorabilia.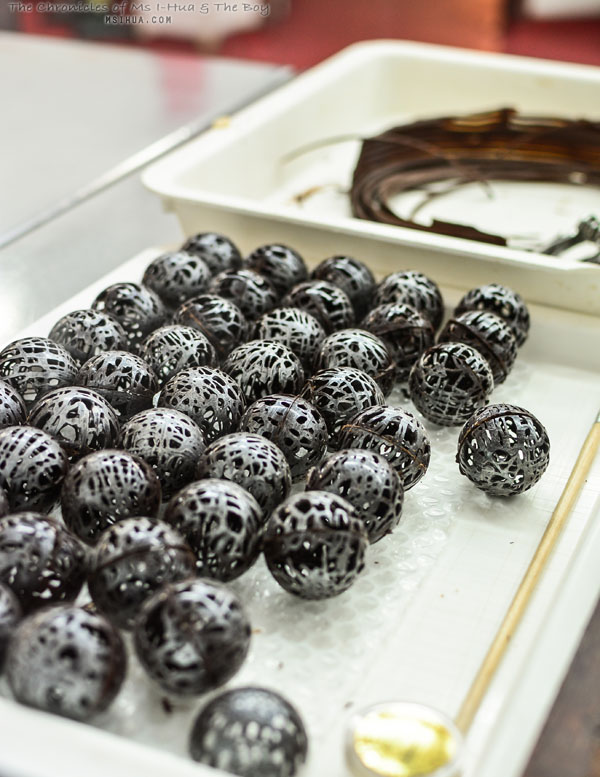 We were also very lucky to have caught a glimpse of both Igor and Pascal Janvier preparing in the kitchen for a sold out dinner they were catering for that night with previous Masterchef contestant Ben Milbourne (otherwise known as Mexican Ben).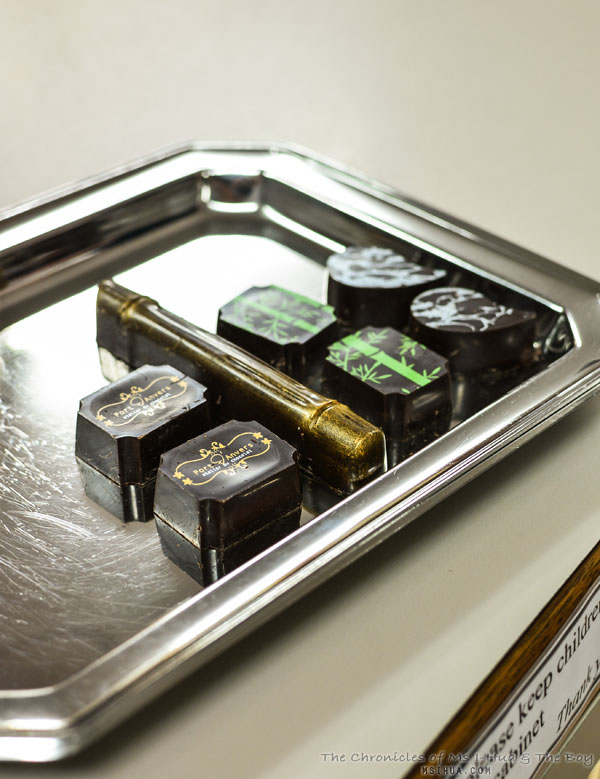 As part of our whirlwind visit to the House of Anvers, we got to sample a great selection of chocolates made in-house.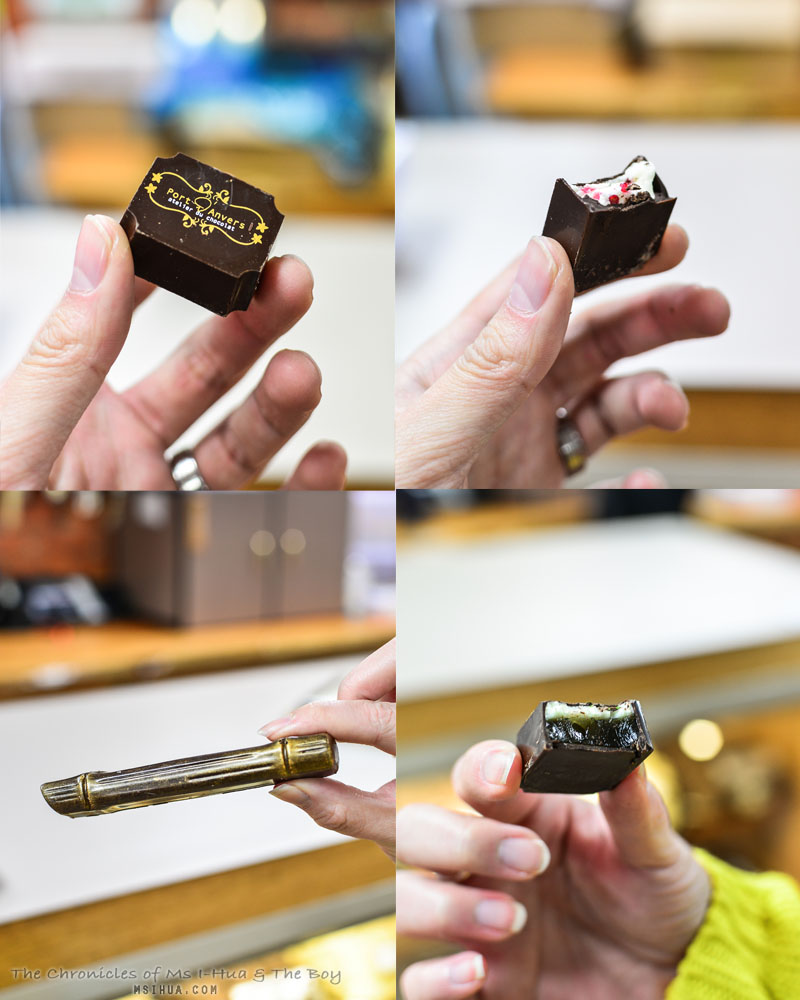 Some of the flavours we sampled were:
Green Tea and Ginger
Whisky Barrels
Gold Bamboo
Yuzu Caramel
Coconut & Sticky Rice and Rose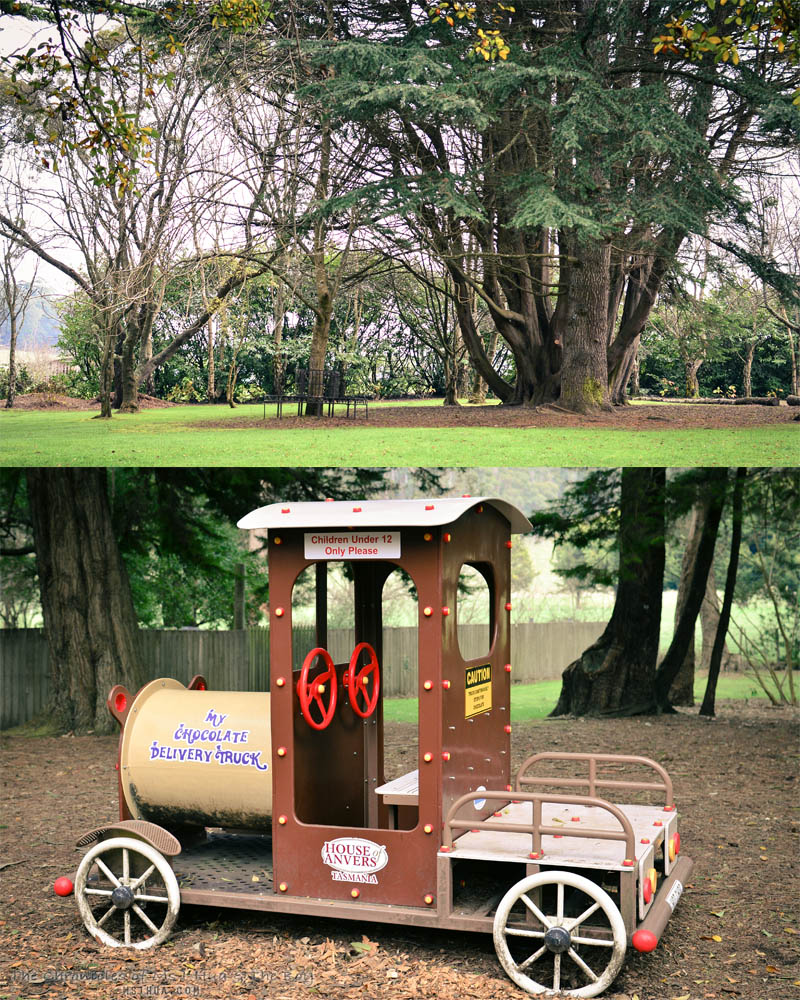 So why do you need to make a pitstop at the House of Anvers besides the obvious? Here's a major selling point, and a secret that I'm not sharing with you.
They also sell the world's rarest chocolate from the white cacao pod variety. It's a single origin cacao that is only found in South America and there are only 23 cacao trees like it remaining in the world. Watch Anthony Bourdain and Eric Ripert search for it.
House of Anvers sells the blocks of chocolate made from these pods!
Another reason to stop on your Cradle to Coast Tasting trail is that Igor was one of the pioneers that started this critically acclaimed trail.
Address:
9025 Bass Highway
Latrobe TAS 7307
Phone: (03) 6426 2958
Website: http://www.anvers-chocolate.com.au/
_____________________________________________________________________________________________________________
Spreyton Cider Co – Spreyton, TAS
After sampling all that cheese and chocolate, The Boy and I were starting to get a thirst.
What better way to quench it than to hunt for some cider?
We drove on to Spreyton Cider Co on our way up to Cradle Mountain.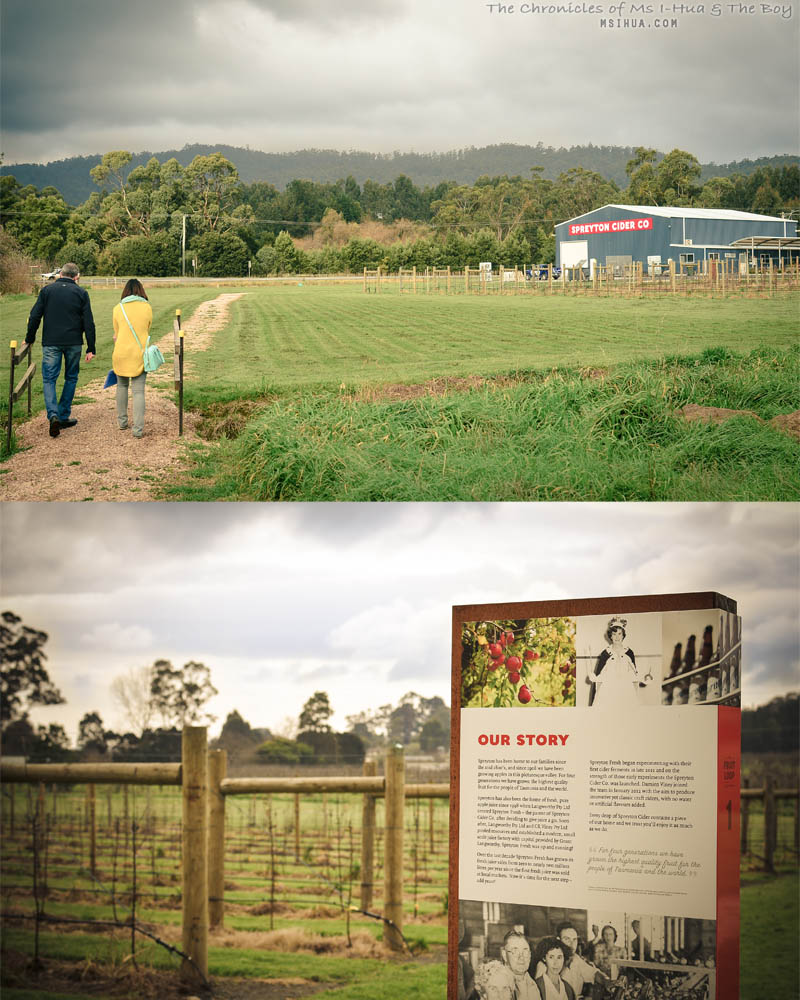 Four generations in, the Spreyton estate is well known in the region for its great apple juice (where they began) and subsequent cider journey.
Just to give you an idea of how popular Spreyton Fresh was with their apple juice, they sold on average about 2 million litres of apple juice every year. It was only a matter of time before they started dabbling with their fruit by encouraging it to be friends with yeast 🙂
Grant Langworthy, director at Spreyton Fresh (parent company of Spreyton Cider Co) greeted us on that frosty day and took us out for a brisk tour around the farm.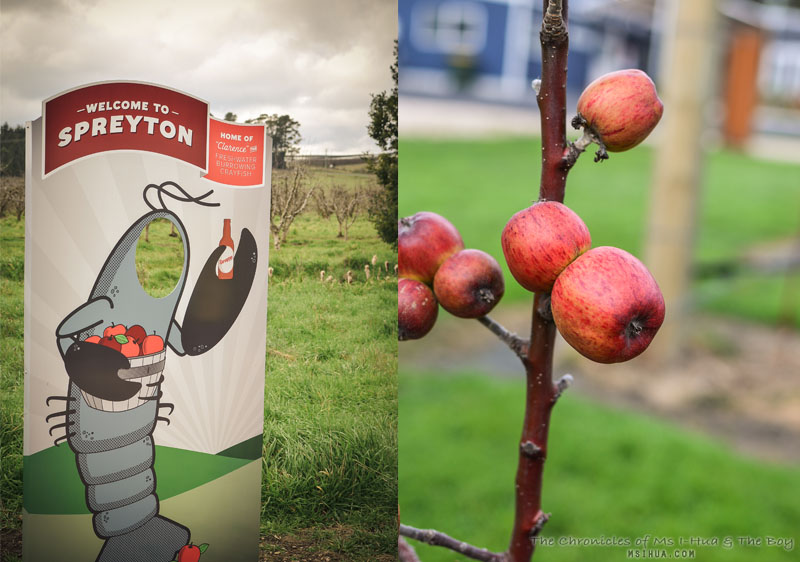 Once we got back in to the shed, we had a quick lesson in cider tasting finishing off with the award winning Spreyton Apple Juice.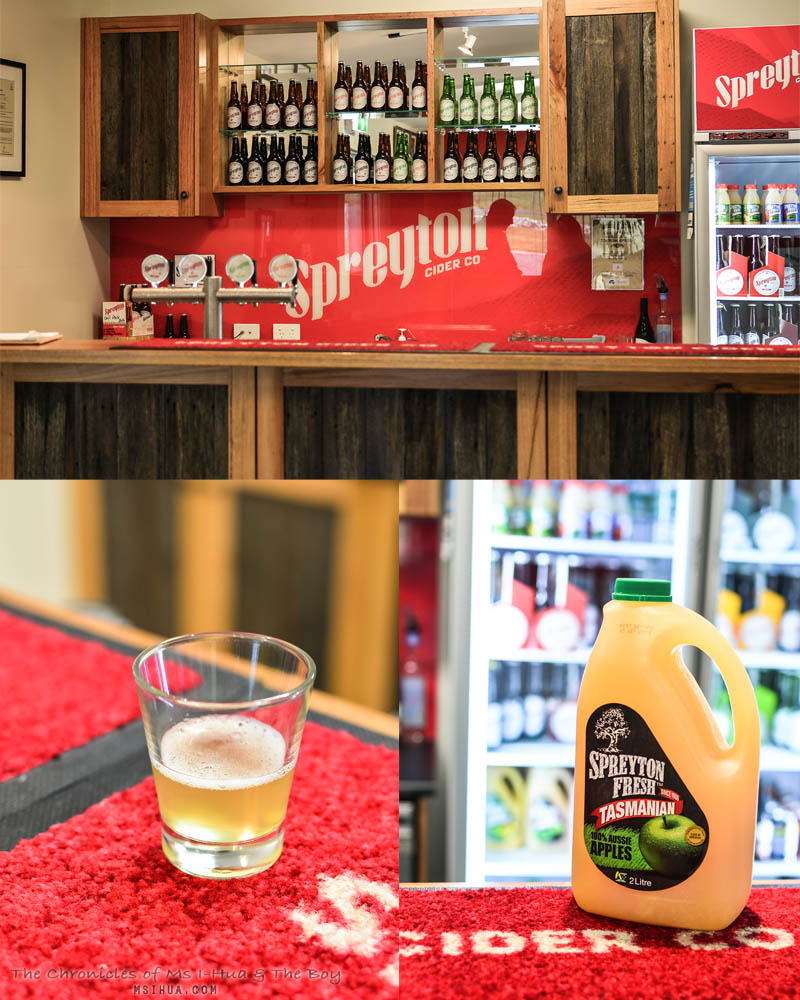 As a surprise, Grant shouted us lunch of delicious fresh wraps and sandwiches and more Ashgrove Cheeses! We were so humbled by his generosity and friendliness to us.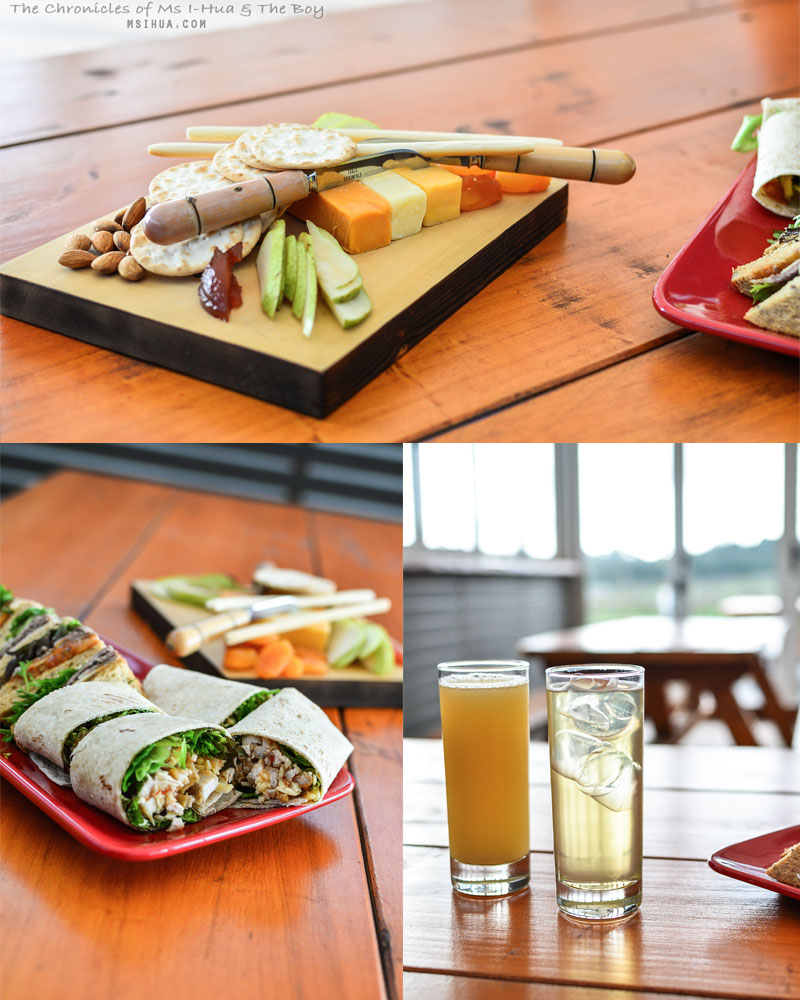 Address:
Cider Tasting & Sales, Cherries & Juice Sales
Cnr Sheffield and Melrose Road
Spreyton TAS 7310
Phone: (03) 6427 3664
Website: http://spreytonciderco.com.au/
_____________________________________________________________________________________________________________
After quenching our thirst and satisfying our tummies with the delicious fare, we continued on our journey up to Cradle Mountain.
Grant made a suggestion for us to stop by the small town of Sheffield, otherwise known as the 'Town of Murals' (more on that in our next post!).
To find out more about the Cradle to Coast Tasting Trail, which is completely run by the members of the trail (so the farmers, producers, business owners, and Cradle Mountain tourism), visit:
Cradle to Coast Website
Cradle to Coast participants
If you are interested in mapping out our journey from Devonport and our trip, see below 🙂
Map (includes drive to Cradle Mountain):
[Ms I-Hua & The Boy visited Christmas Hills Raspberry Farm, Ashgrove Cheese, House of Anvers, and Spreyton Cider Co as guests of Spirit of Tasmania]