Spring season is here and that only means one thing if you live in Melbourne.
Races! How many other nations do you know provide you with a public holiday once a year to commemorate horse racing?
We've lived in the vicinity of the Caulfield Racecourse for nearly 10 years now and it never fails to amaze me when this little area comes alive once a year due to the races.
When we were both studying at uni, we would associate going to Caulfield Racecourse with attending exams.
Now that we are a little older and no longer have nightmares of studying for finals, the racecourse has become a different sort of playground for us.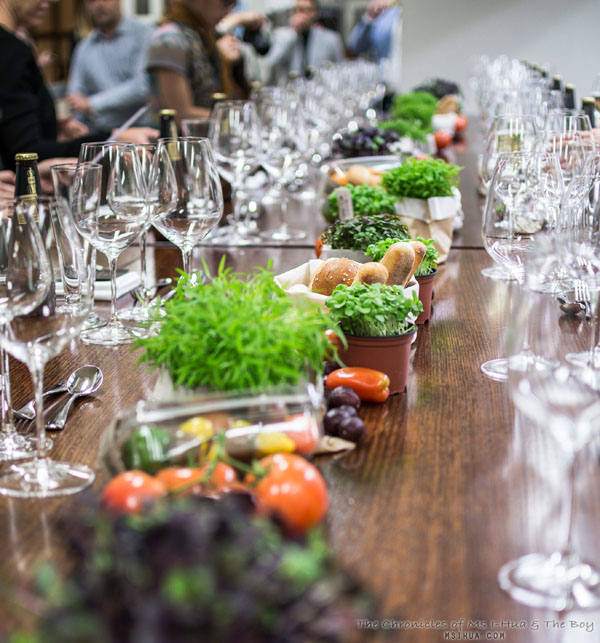 Recently, I was invited to sample the menu from Caulfield Racecourse's Black Caviar Restaurant which will be served during the Caulfield Cup Carnival week. It wasn't hard to say no when it was Melbourne Racing Club's new Executive Chef Julian Robertshaw, Black Caviar Chef Ian Curley and Carlton United Brewery Master Brewer Tully Hadley doing the hosting.
It was delightful to view the racecourse at night and dine in the kitchen itself. Made it more exciting and secretive all at once.
As we arrived, we were greeted with a few Canapés served with NV Pommery Brut Royal.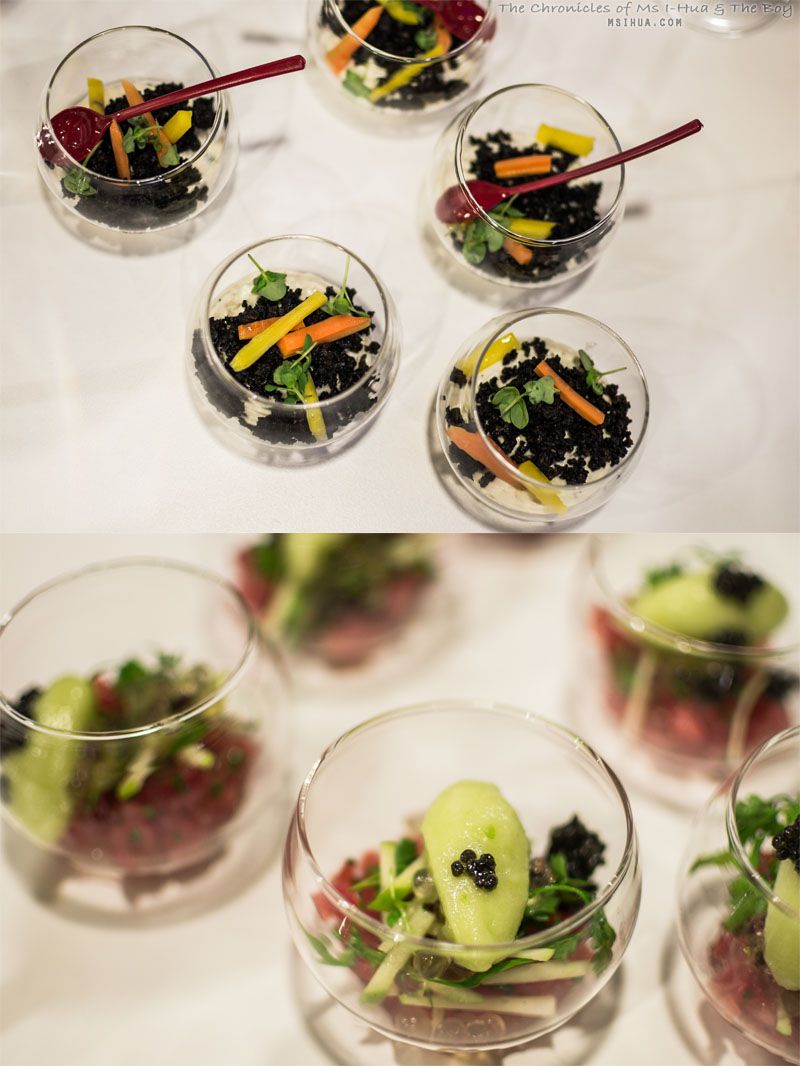 We had two types of canapés served. One was a soft goats cheese blended with confit shallots, de-hydrated mushroom and Mt. Zero olive soil and pickled heirloom carrots and the second was a sashimi grade tuna served with textured green apple (green apple salad, caviar and a champagne) and sevruga caviar and apple and wasabi sorbet.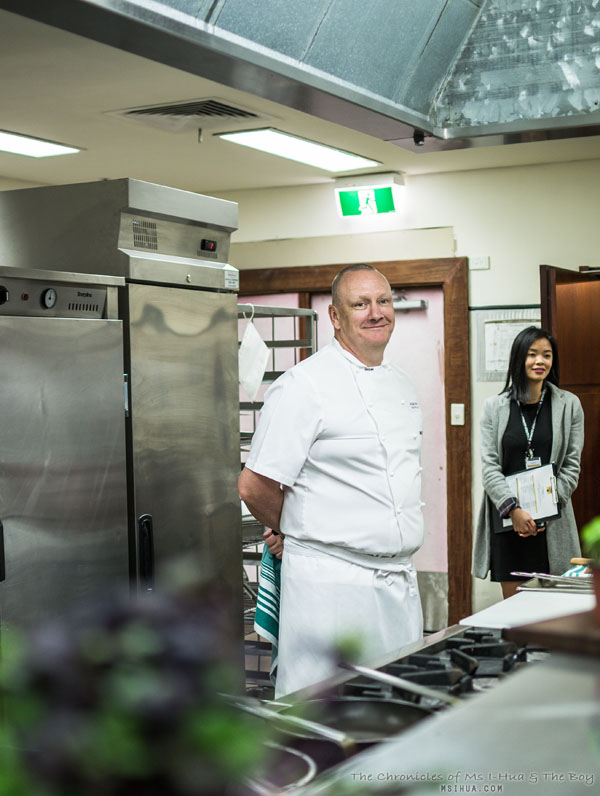 Then it got serious.
Chef Ian Curley (you may know him from the European) got all sexy with a John Dory.
He filleted the fish pretty much with his eyes closed and proceeded to challenge us to do the same.
Wisely, no one picked up on the challenge, allowing the master to do what he does best and have the mantle all to himself.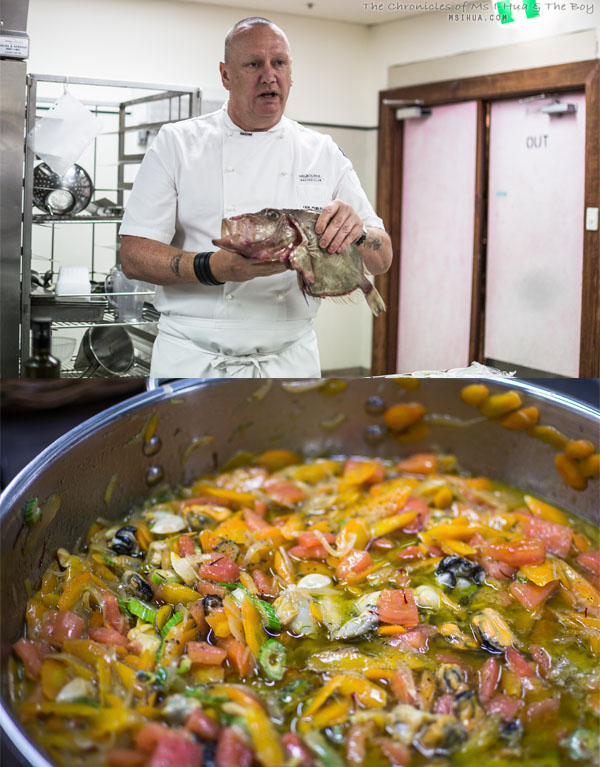 Ian showed the crowd of food bloggers how to make an escabeche.
Using a whole bottle of olive oil.
Seriously.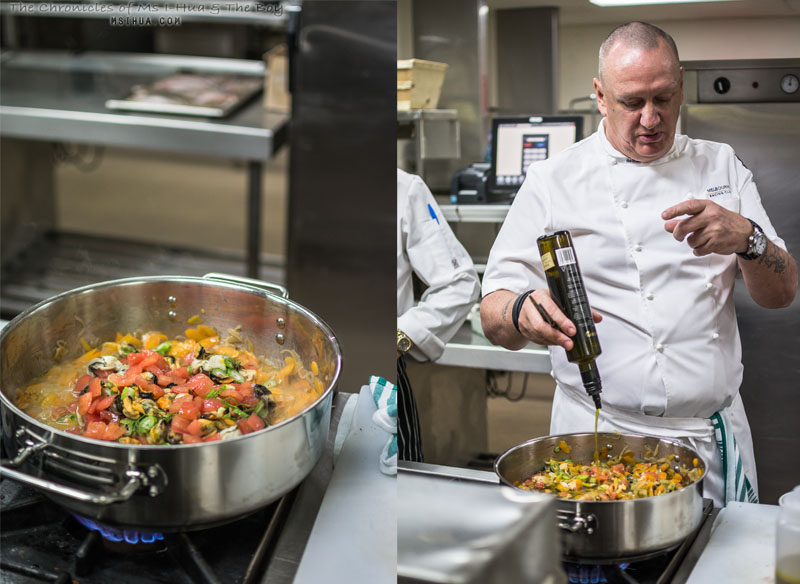 Whilst he was cooking up the escabeche, a few jockeys (Michael Rodd and Chris Symons) who were attending the dinner with us were invited to assist with the plating. They were so lovely and a great comedic duo as well!
It was quite hilarious to watch normal people (non-kitchen experts) trying to plate 20 dishes up with a gaggle of onlookers. I don't think I could have dealt with the stress 😛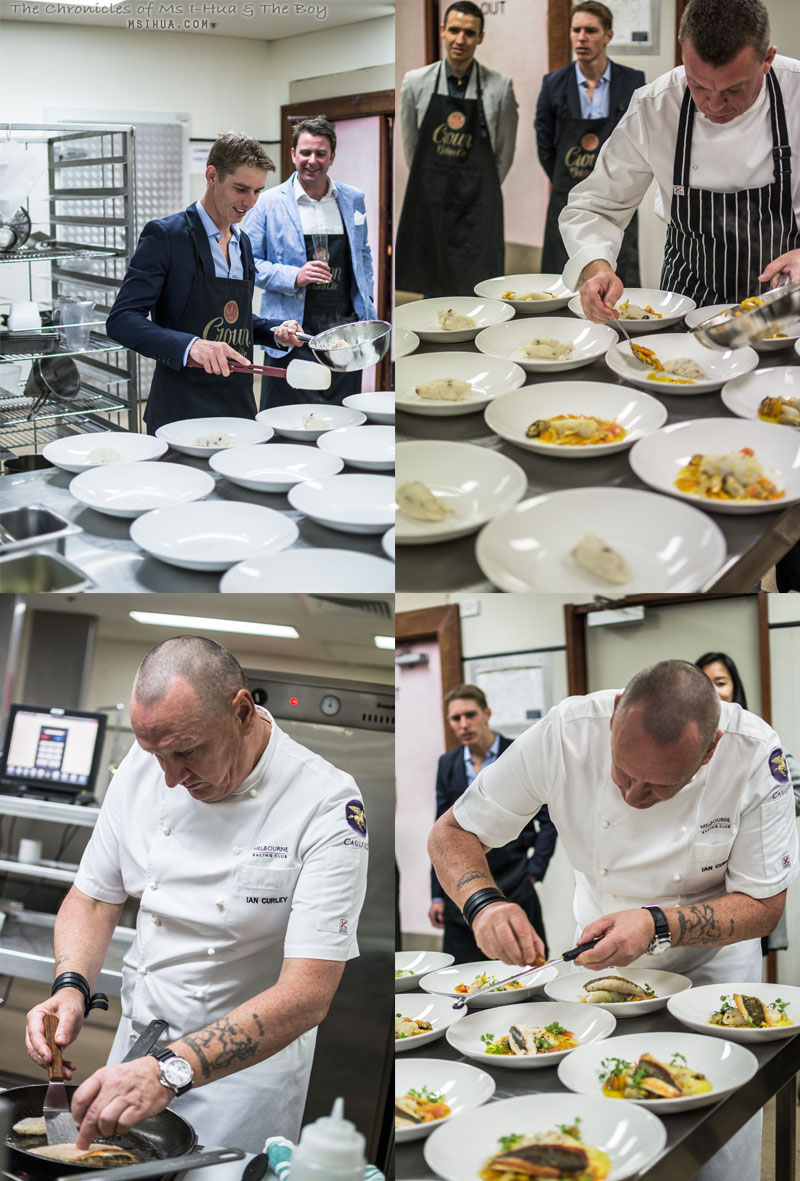 How many people does it take to successfully plate up 20 plates of main courses? Exactly 2 chefs, 2 jockeys and 2 bloggers.
Team work!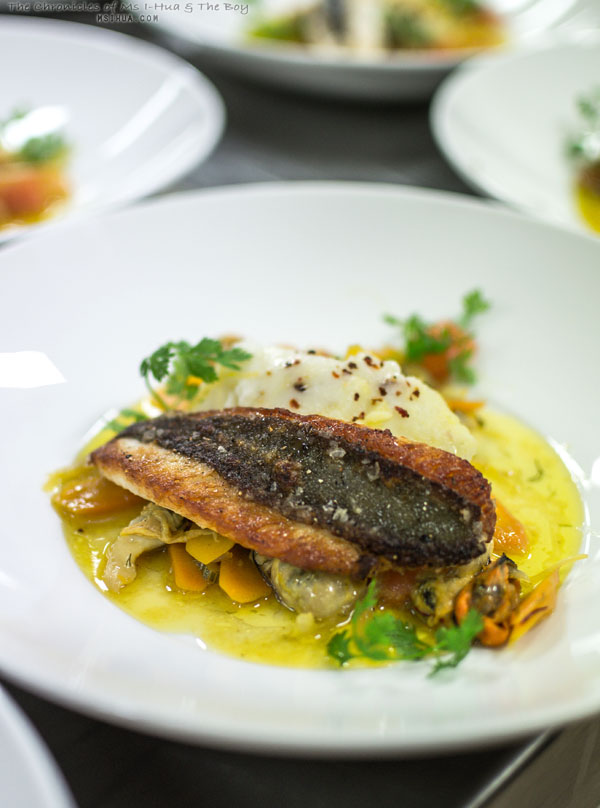 Main course served. A Fricassee of John Dory with Oyster and Mussel Escabeche which was paired with a Penfolds 311 Chardonnay.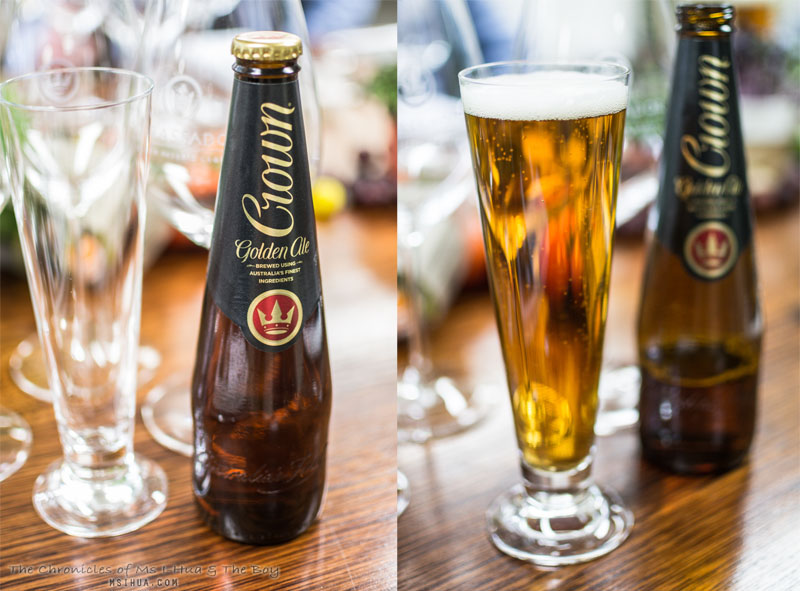 As we were enjoying our main course, our next class of beer appreciation began, Master Brewer, Tully Hadley began to walk us through the finer details of the Crown Golden Ale and to whip out the misconception that comes along with the Crownie.
I've never been a big fan of beer, but I was swayed by his convincing points by having a small sip (which later turned into big sips) of the Crown Golden Ale.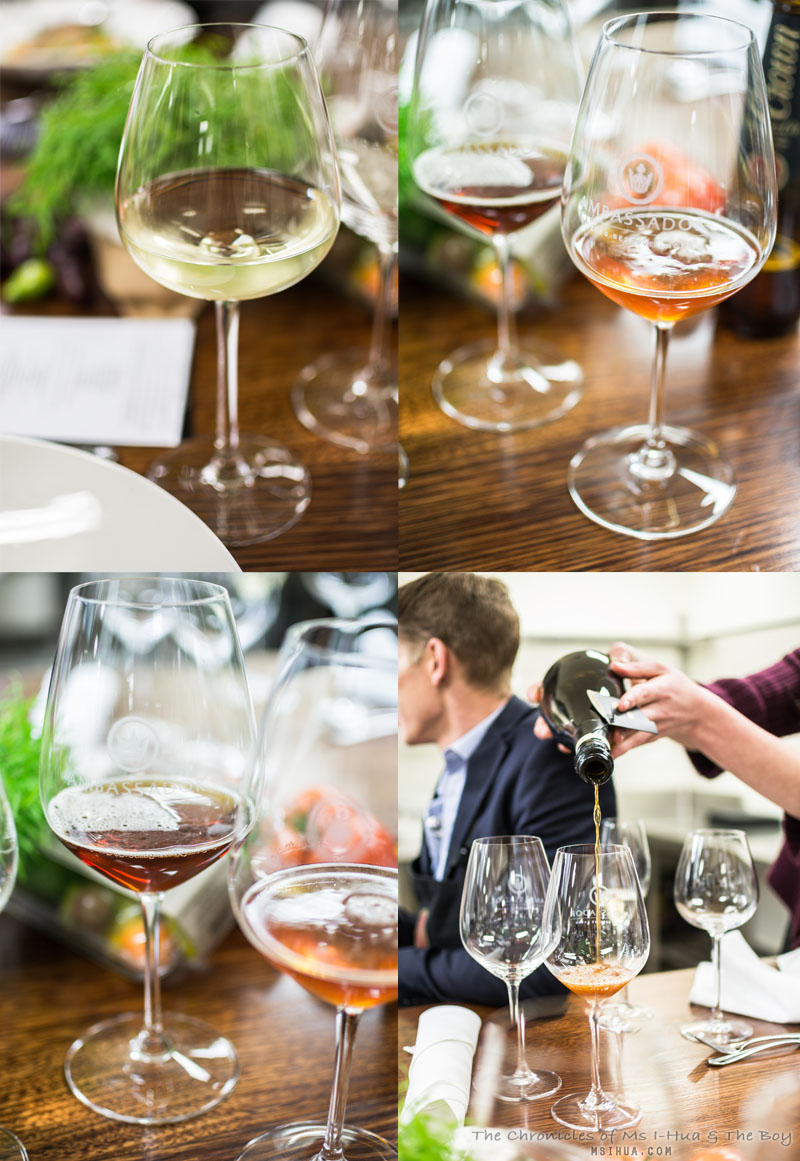 What I really fell in love with, was the Limited Edition Crown Ambassador 2009 and 2012 vintage ales that we were lucky enough to drink.
The 2012 had a robust yet rounded finish to it. Almost like a sweet bitter ale. To be honest, if you wanted to do a quick comparison (and I'm not kidding), try mixing a can of coke with a can of Irish stout. The taste is quite reminiscent of the vintage brews. Only without the refined taste of course. Also, you may have to be slightly on the tipsier scale when attempting to mix those two beverages together.
The 2009 was the clear winner for me. Just think butter beer. But dessert wine-like.
I was in heaven!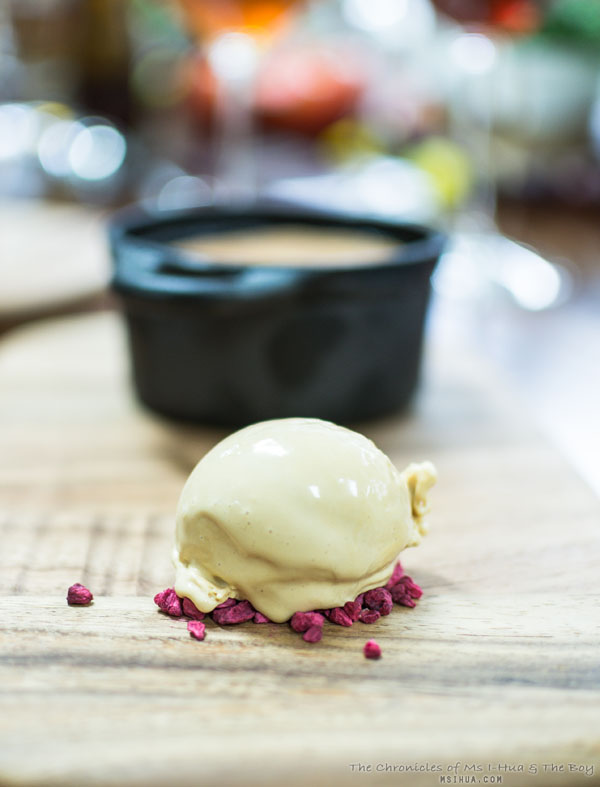 To match the delicious vintage ales, we were served a Rhubarb and Ginger Pudding with Mint Caramel Ice-Cream.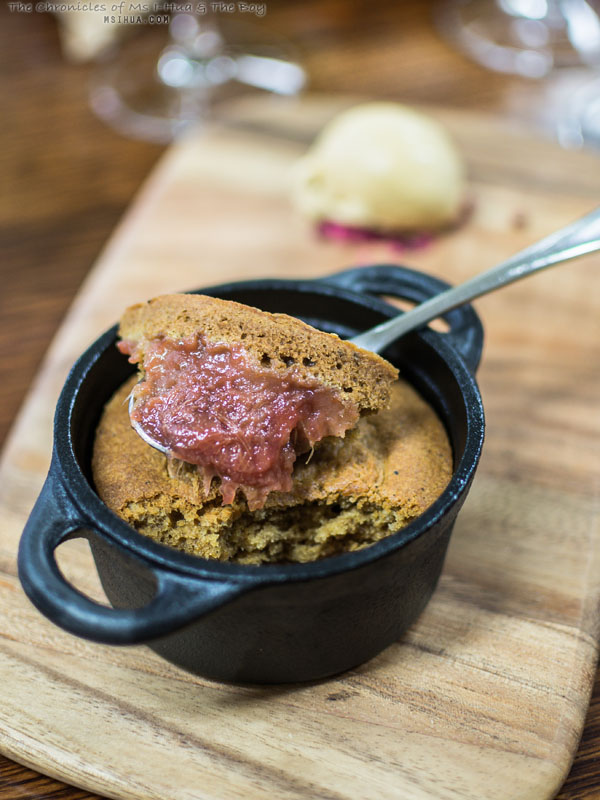 It was perfect for an early spring night.
So, will we see you at the Caulfield Cup Carnival this year?
[Ms I-Hua attended the Crown Golden Ale Caulfield Cup Dinner Preview as guests of Melbourne Racing Club and Haystac]
Caulfield Cup Carnival:
(Dates: 11th October – 18th October 2014)
Address:
Caulfield Racecourse
Station Street
Caulfield East VIC 3145
For more information, visit:
Black Caviar Restaurant
Caulfield Cup Day – 18th October
Caulfield Cup Carnival Events