The last couple of months have literally been a whirlwind. Time is passing much too quickly these days!
I swear that the clock just jumps a few hours every time I look to check the time at work.
Busy, busy, busy. Buzz, buzz, buzzing like bees we are.
Sometimes, we need to take a pulse check.
Sometimes, we need to take a reality check.
Sometimes, whether you like it or not, reality checks in with you anyway. Before it does and hits you in the face, it's best you take a rain check on your busy work schedule and take time out to recuperate.
I know I've learnt this the hard way and my body at the moment can hardly keep up.
I've learnt that no matter how busy or stressed you are at work, life or any situation you find yourself in, that it is important to take a step back, close your eyes and think about what you're doing. Think about the end goal and then think about how you are currently getting there.
The clock will keep ticking, the world will keep turning and the lights will still come on at the end of the day, no matter how important you think you are.
So take a chill pill (easier said than done) and relax.
Enjoy our Playground post for this month (we didn't realise that we missed last month's!).
It's a bit of a serious piece of meat that has been broken down with The Boy's playful twist and creative outlet.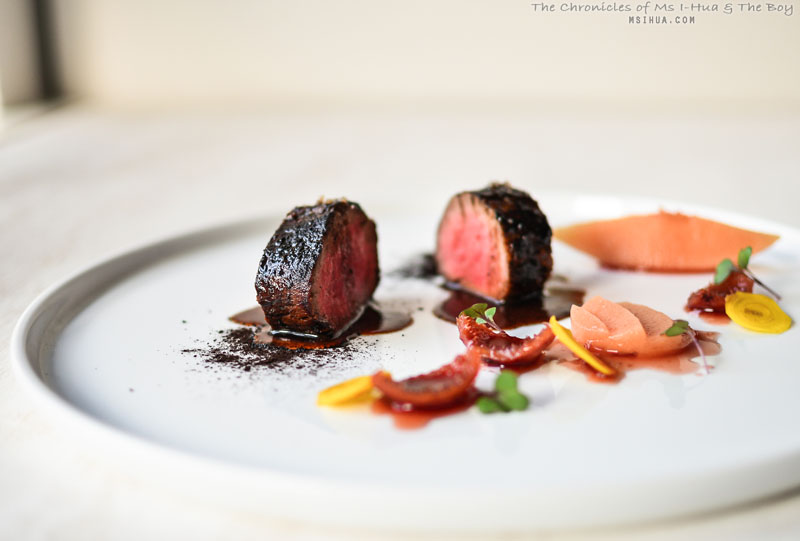 Elements on the Plate:
Roasted 30 day Aged Angus Eye Fillet topped with Jus & Leek Ash – Roast eye fillet in oven at 200 degrees Celsius with your favourite herbs/root vege and cook to your liking. Reduce pan juices in a saucepan to get your jus.
Poached Quince & poaching syrup – If you're wondering how to get the circular shaped quince on the plate below, slice poached quince wedges into thin slices (lengthwise, about 2mm thick). Stack them on top of each other (leaving some gap, about 5mm from the top of each slice), and use a cookie cutter to cut circles out. Gently transfer onto plate.
Rehydrated Quandong – We used dehydrated quandongs and rehydrated them in water and a little bit of sugar over the stove on medium heat.
Golden Beetroot – cooked until tender and sliced.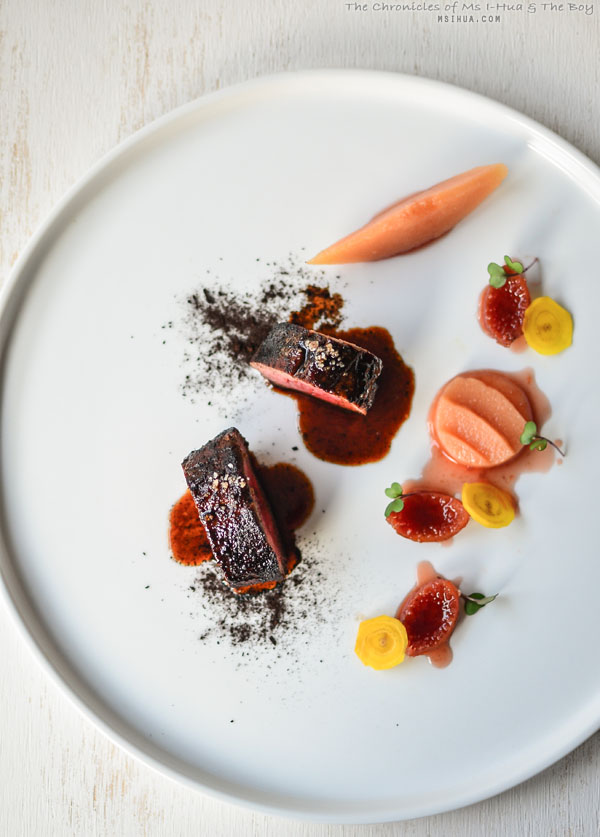 Personally, I love how each of the colours pop on the plate.
I love how such a serious piece of meat, "Hi, I'm a 30 day Aged Angus Eye Fillet" (blah blah blah), has been forced onto this very non-serious presentation.
There is colour, there is flavour, there is jus, there is ash.
It's like a really old uncle that has been taken out for a makeover!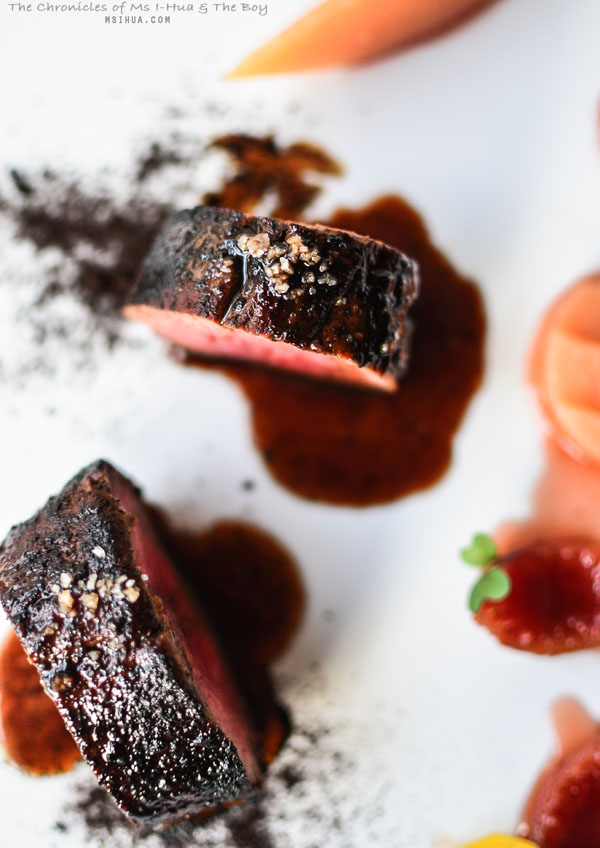 What are your thoughts and interpretation of this dish upon first glance? We would love to hear your thoughts!