For years, I've worked around the area where the old Silk Road used to be. I remember nights out in my mid-twenties with my workmates here. Nights where there would be free drinks from random (married) man all in the name of fun, as my workmate told them I was from overseas (true story) and my name was Kawasaki.
They loved it and in turn, we loved the free drinks.
The Boy was always horrified when I got home to tell him what we girls had been up to.
Fast forward and I'm now in my thirties. Silk Road is no longer around. Instead, a new grungy, funky bar has taken over.
Ms Collins is the new chick in town and she's a punk-edge, hot pink rebel, ready to rock the sleepy side of Collins Street.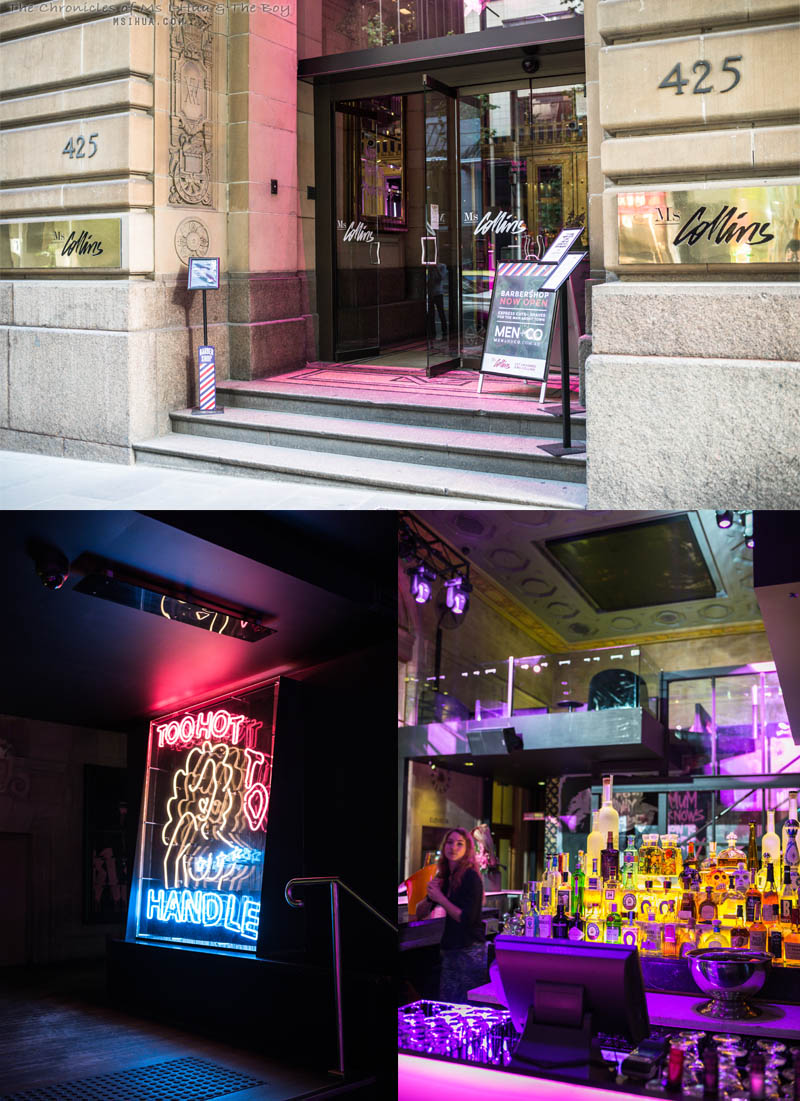 Gone are the massive chandeliers that once hung from the ceiling. If you squint hard enough, you can still see Medusa up high, though her face is now marred. Along with the windows and splashes of hot pink paint across the graffitied walls.
A really surprising thing for me was to discover that there was a fully equip kitchen serving delicious food from well-know chefs in the kitchen!
Now how did that happen? When? What? In a bar? Right next to work?
BRING IT ON!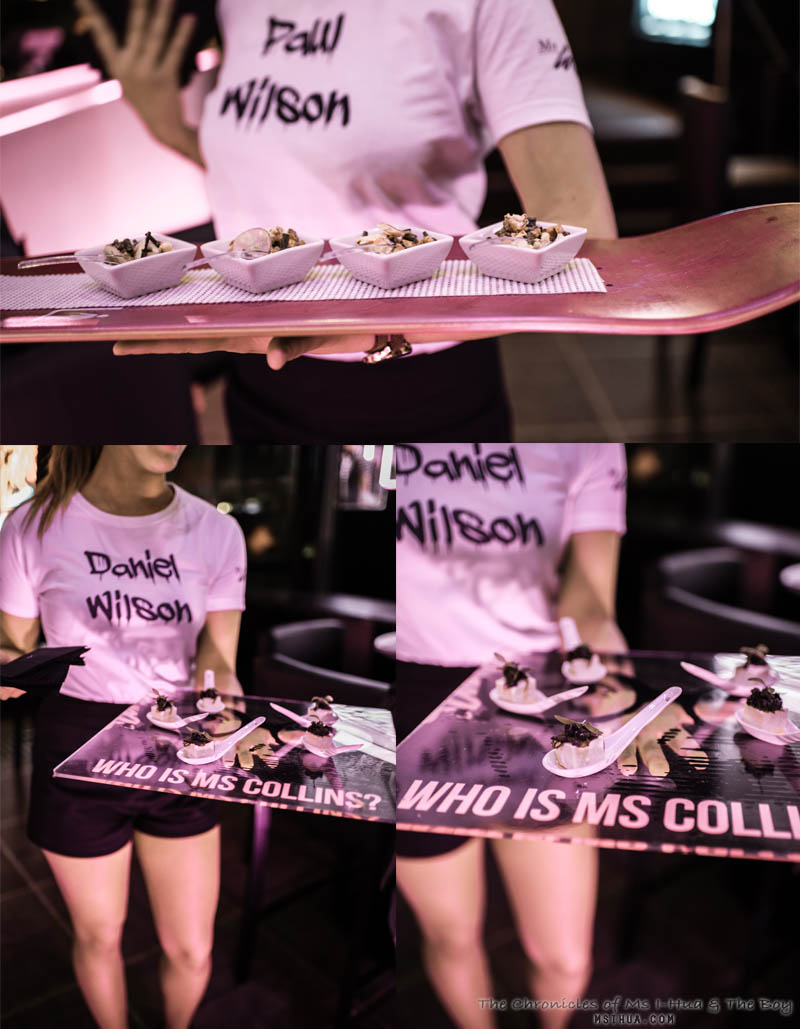 And so they did! We were invited as part of a blogger dinner event showcasing the signature menu of famous chefs in Melbourne (to be updated on an annual basis). As this was the first year implementing this idea, they got no other than Jacques Reymond, Paul Wilson (Icebergs), Daniel Wilson (Huxtable) and Riccardo Momesso (Valentino).
Intrigued with this twist (my mind still boggles that a bar around the corner is serving up restaurant quality dishes), we went along with an open mind.
As we arrived, we were greeted with waitresses with glassless hipster glasses, shorts and t-shirts emblazoned with the names of the chefs of which the canapes were from. We could not get enough of Jacques Reymond's Croque's Monsieur Canape. Indeed, we tracked every move the waitress with his name emblazoned across her chest made as she zipped around the crowd!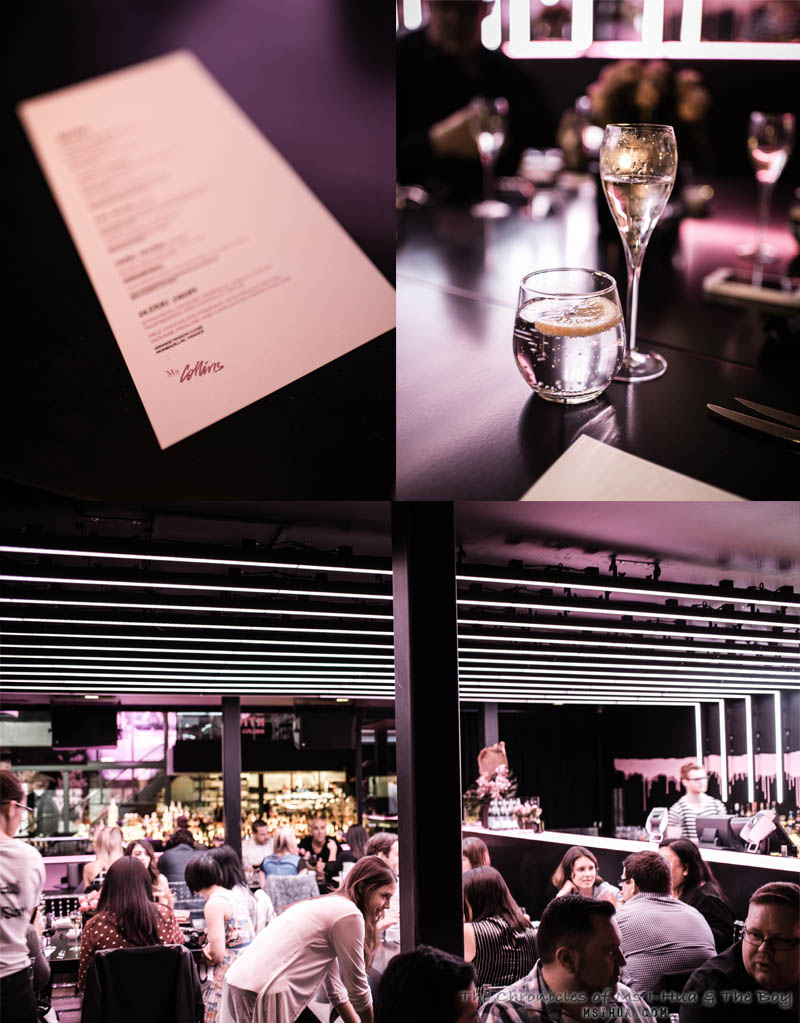 So what can you expect to be on the menu?
The plan of attack for the night apart from stuffing our faces with too many canapes, would be to sample two courses from each chef, each matched with a full glass of wine. Wheeeeeee!
From Riccardo Momesso:
Baked Lamb & Eggplant Polpette served with a 2013 Yves Culleron VDP Syrah, Rhone Valley, France
Crab & Pea Arancini served with a 2011 Max Ferdinand Richter Estate Riesling, Mosel, Germany
From Jacques Reymond:
Beignet of Spanner Crab, Ginger and Coriander, Sauce Rouille, Acidulated Cos Lettuce served with 2010 Hugel Gewurztramner, Alsace, France
Pate Chaud of Peking Duck, Red Cabbage & Rhubarb Chutney served with 2013 Ten Minutes by Tractor 'Ten X' Pinot Noir, Mornington Peninsula, Victoria
From Paul Wilson:
Emapanadas de Picadillo with Mission Fig Mole served with 2011 Domaine Jean Baptiste Senat Grenache Blend 'La Nine', Minervois, France
Prawn & Quinoa Quesadillas, Chipotle Remoulad Sauce served with 2012 William Fevre Petit Chablis, Burgundy, France
From Daniel Wilson:
Spiced Tuna Tartare, Yuzu Curd, Sesame Rice Cracker served with Veuve Clicquot NV, Champagne, France
Southern Fried Chicken Ribs, Jalapeño Mayo served with 2013 Sorrenberg Sauvignon Blanc Semillon, Beechworth, Victoria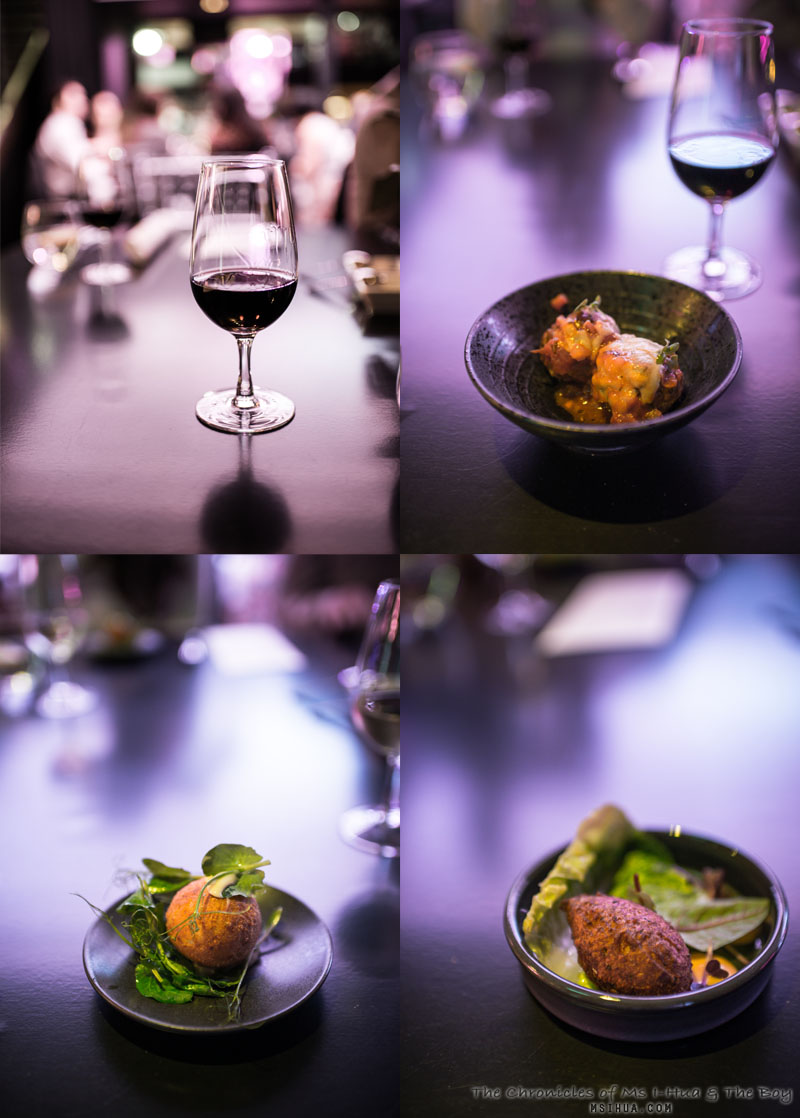 _______________________________________________________________________________________________________________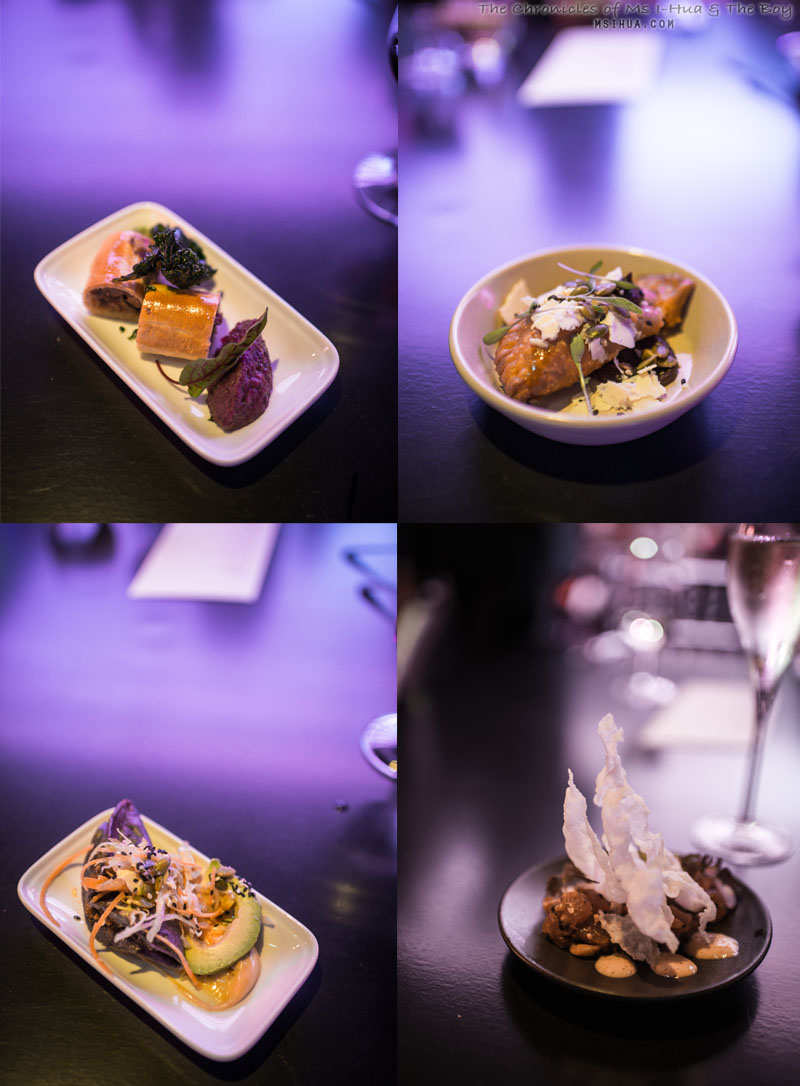 _______________________________________________________________________________________________________________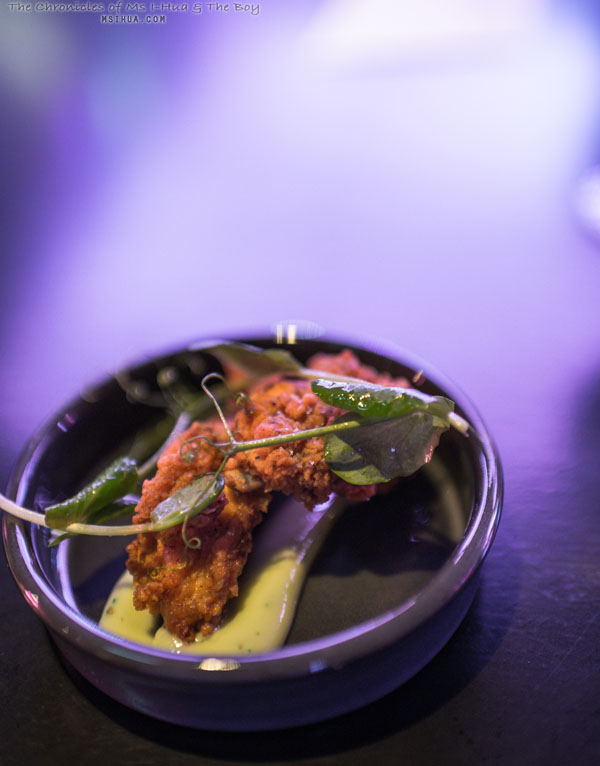 _______________________________________________________________________________________________________________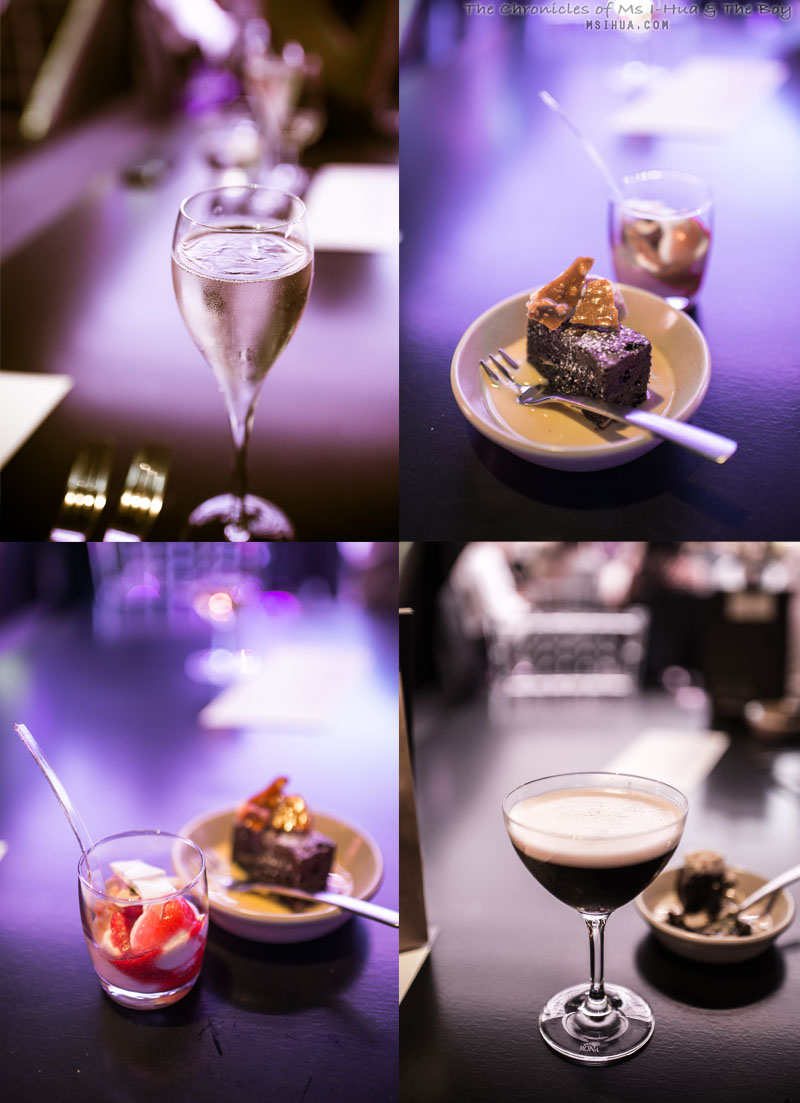 The food didn't stop there. We had to finish off with some sweets of course. This was served with a glass of Grande Maison Cuvee, Monbazillac, France.
Eton Mess, Crushed Meringue, Vanilla Liquor, Raspberries and Chantilly Cream
Milk Chocolate Fondant with Peanut Butter Mousse, Praline, and Cafe Paton Creme Anglais
As a nightcap, we sipped on Espresso Martinis as well.
You can be assured that the quality of the food here is pretty decent given all the big names that have lent their reputation confidently on the menu.
[Ms I-Hua & The Boy attended as guest of Reymond Communications]
*Disclaimer: All food ratings & review are purely based on my own experiences and how I feel about the service, food and quality at the time of visit
More information: http://www.mscollins.com.au/weekly_nights/after_work_drinks_&_cocktail_lounge
Address:
425 Collins Street
Melbourne VIC 3000
Phone: (03) 8614 2222
Website: http://www.mscollins.com.au/

Twitter: @MsCollinsMelb
How to get there: