Good morning folks and Happy Friday! It's hard to believe, but the first working week of the year is nearly over! How has your 2015 been so far?
If you are struggling to think of a place to brunch over the next few weeks, why not try out Stovetop over at Carlton? Don't try it this weekend though, they only reopen from the Christmas and New Years break on Monday the 12th of January 2015.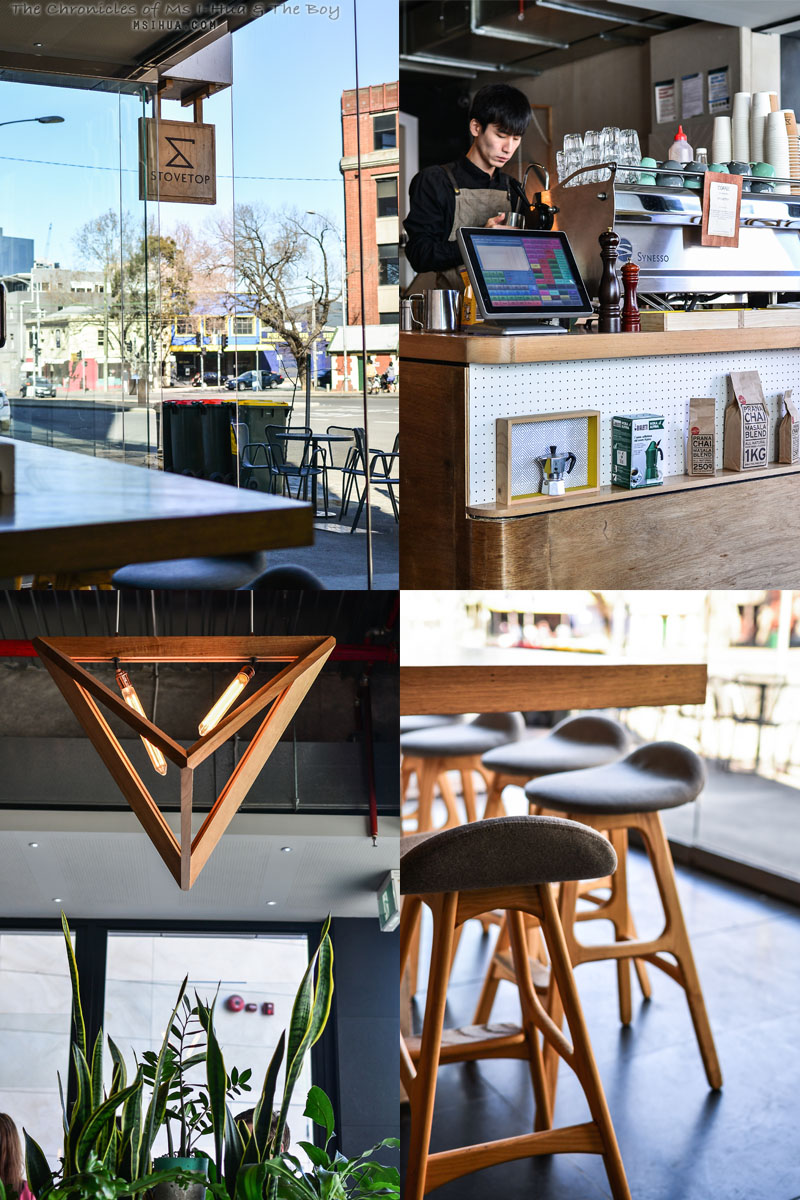 Upon first perceptions, we immediately fell in love with the interior decor and styling of the little cafe.
I couldn't help but gasp as I saw the replica Eric Busch chairs. Clearly they had to be a copy of the real deal as the price tag to get that many would not justify opening a cafe. A quick Google search result later also made me nearly fall off my seat as the replica prices aren't that cheap either! Oh how I want them in my house!
And that pendant light! Oh, how my heart flutters!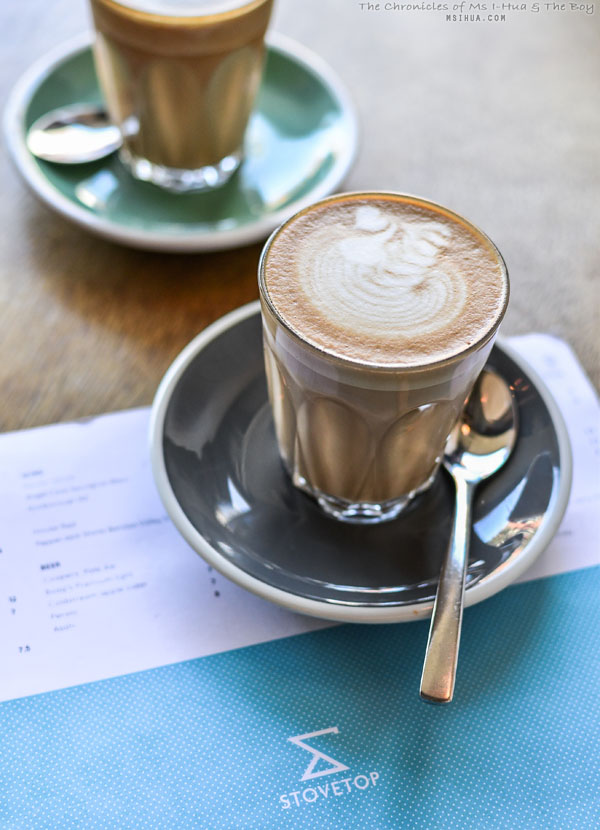 As we visited Stovetop towards the end of last year (sometime in September :P), it's best you check their website for their most up-to-date menu before you rock up!
We enjoyed their creamy smooth 5 senses coffee blend for our lattes.
As we had rocked up close to 11am, we were afforded the flexibility of ordering from both the breakfast and lunch menus.
So I excitedly shouted "LUNCH MENU!!!" out loud to The Boy, who despite this embarrassment, was quite used to my little manic outbursts and was well-trained to ignored me.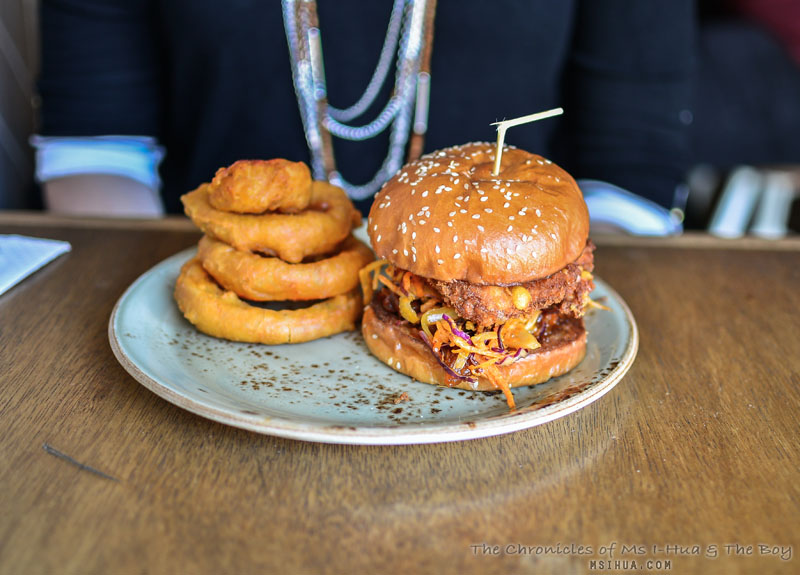 Southwest Fried Chicken Brioche with Smoked Pineapple Chutney, Ginger Aioli, Spicy Texan Slaw and Beer Battered Onion Rings ($15.00)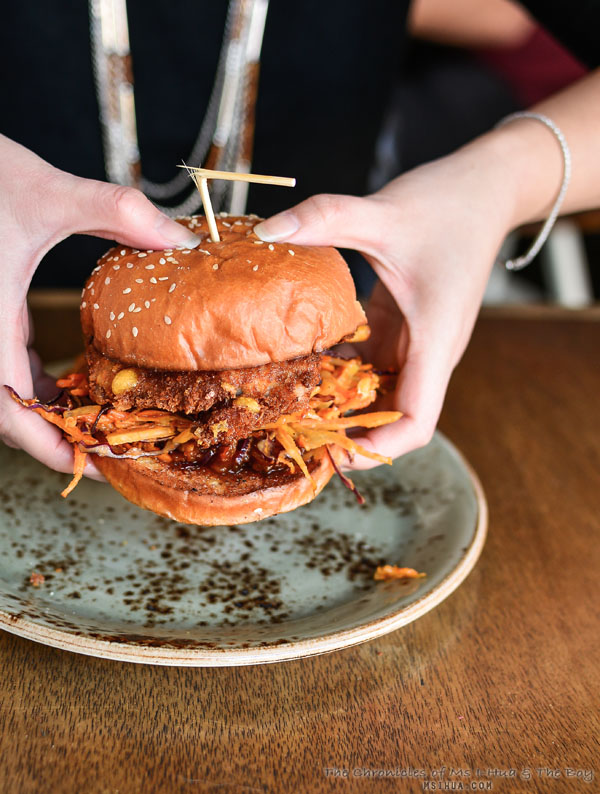 Of course when I noticed the words Brioche and Fried Chicken on the menu, I was done for. Also it came with a side of Onion Rings!
As first meals of the days go, it was simply epic! I was so excited to be able to grab the giant brioche burger with both hands, that it was only by a lucky chance The Boy managed to shoot the picture before I continued to chomp on my happy meal.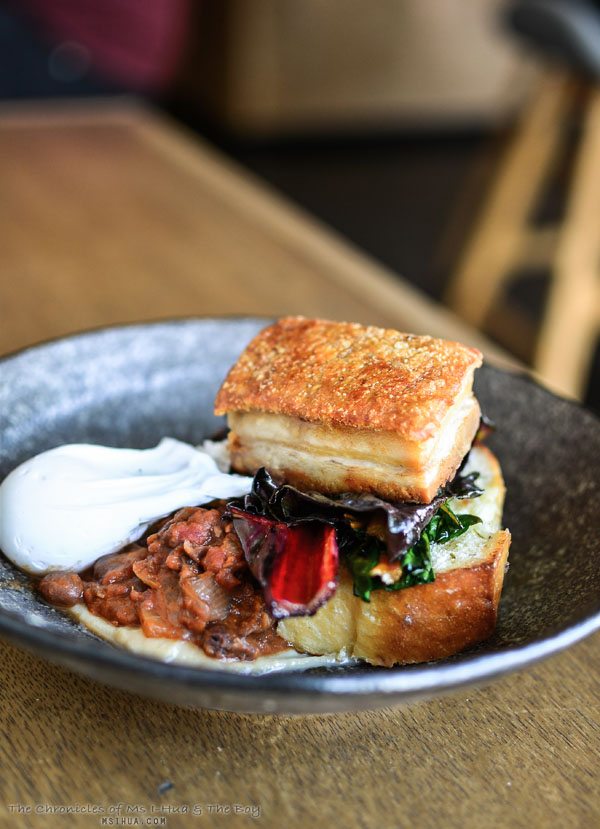 Being of a more sophisticated background than I, The Boy ordered the classier (less fan-girl screaming) choice of brunch. He opted for the Crispy Pork Belly with Mexican Berlotti Bean Cassoulet, Smoked Celeriac Puree, Grilled Rosemary Brioche, Wilted Rainbow Chard ($16.00 + $2.00 for additional egg). The Boy really enjoyed this dish and was very happy with the portion size.
Now it's not often that I go pass a pork belly dish at a cafe, especially one with the word 'crispy' in front of it. But pass it by I did and not an ounce of regret. My brioche burger was the clear winner for me. I was only sad when I got closer to my fingers as I ate, as that meant that my meal was nearly over.
As greedy as I was in wanting to order another serve, I held off. It was a pretty decent sized meal and I was filled to the brim!
So what say you? Will you be visiting soon when they reopen next week?
*Disclaimer: All food ratings & review are purely based on my own experiences and how I feel about the service, food and quality at the time of visit
Food/ Cuisine: Breakfast, Lunch & Coffee
Dining Style: Cafe
Opening Hours:
Monday to Friday, 7:00am – 5:00pm
Saturday & Sunday, 8:00am – 4:00pm
Address:
100 Leicester Street
Carlton VIC 3053
Tel: (03) 9347 2010
Website: http://www.stovetop.com.au/
Twitter: @Stovetop_cafe
How to get there: