One evening after a stressful day at work, Kimchi and I took a walk along Flinders Lane to unwind with a glass of wine. And then some.
We sat there, talking about life in general, careful to avoid any conversation that would bring work up.
The next thing we knew, we were both talking about how much we miss our grandparents and our grandmothers who had passed away.
To change the topic and to stop us from having a full waterworks show, I asked Kimchi what cake should I bake next to bring into work.
She excitedly said, "Victoria Sponge Cake!"
To which I looked at her with curiosity and said, "I have no idea what that is?"
Being English, she nearly disembowelled me with a look that said, "This is absurd! This cake is the epitome of all tea cakes in England! How could you not know what this cake is?"
Of course, what she said out loud and with a smile was, "Oh! How can you not know? Let me show you all this pictures on Google Images!" 😛
The next thing that happened was her being so excited that she nearly fell off her chair as she remembered that her Grandpa had sent her Nan's Victoria Sponge Cake recipe on email and after a few failed attempts at it herself, gave it up for a lost cause.
Knowing what had just occurred was a momentous event (secret family recipe of a much loved nan) which was helped by a few glasses of wine, I knew that I had been assigned a mission. A mission which I could not fail (cue Mission Impossible theme song).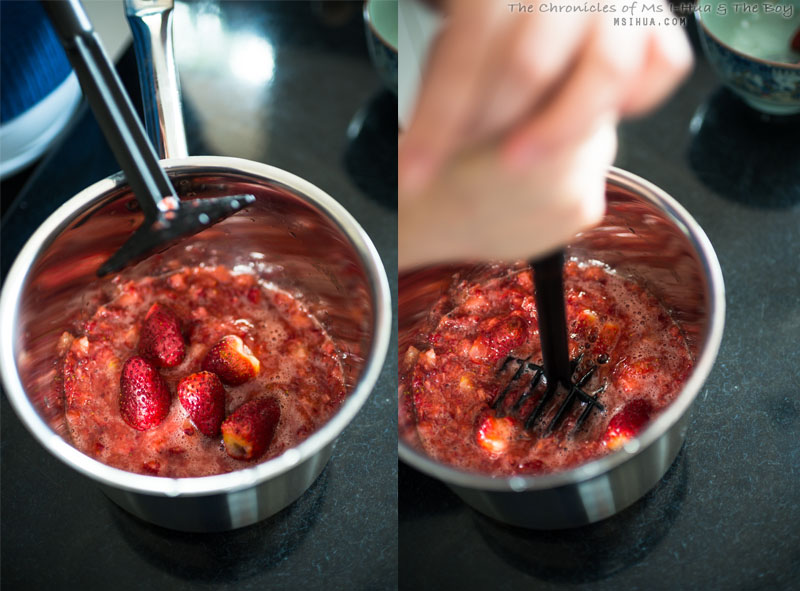 One of the ingredients of the Victoria Sponge Cake was strawberry jam. As I wanted to make this cake as special as possible, I made my own strawberry jam to go with the cake. Obviously, if you are doing this for a normal occasion, store-bought strawberry jam is good enough!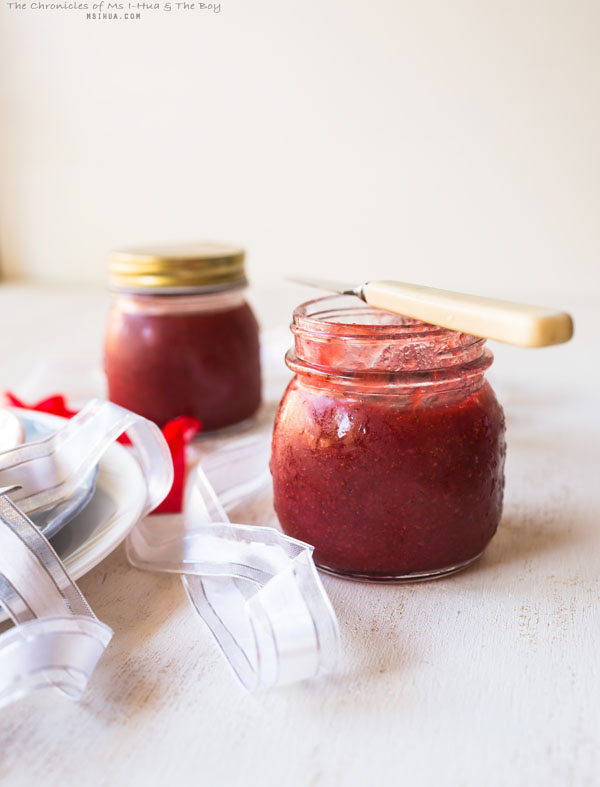 So this post gives you a bonus recipe for strawberry jam! Now aren't you glad you visited? 🙂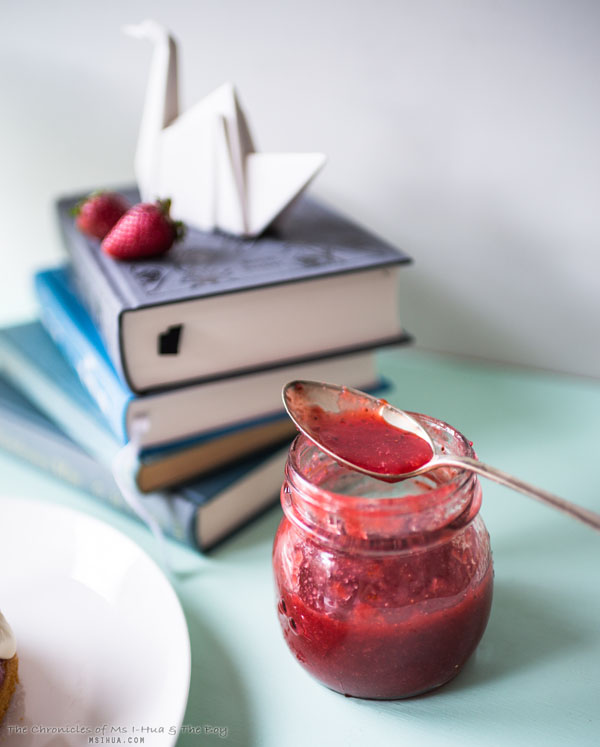 Victoria Sponge Cake & Homemade Strawberry Jam Recipe
Ingredients
For the Strawberry Jam (makes two small jam jars)
434

grams

of Strawberries (hulled)

190

grams

of Caster Sugar

30

ml

of freshly squeezed Lemon Juice
For the Victoria Sponge Cake
168

grams

(6 oz) of Plain Flour

168

grams

(6 oz) of Caster Sugar

168

grams

(6 oz) of Unsalted Butter (softened)*

3

Eggs (beaten)

Strawberry Jam

Freshly Whipped Cream
Instructions
For the Strawberry Jam
Mash the strawberries to a juicy pulp. I used a potato masher for this de-stressing activity.

Add the sugar and lemon juice.

Place the combined strawberry mixture into a heavy saucepan and boil on high heat.

Once the mixture hits 105 degrees Celsius, turn off the fire and let cool.

Once the strawberry mixture has cooled, pulse with a stick blender.

Store in sterilised jam jars and keep in the fridge.
For the Victoria Sponge Cake
Heat the oven up to 165 degrees Celsius (325 F/ Gas Mark 3).

Grease and line a 22 cm springform pan and set aside**.

In a large mixing bowl, cream the butter and sugar.

Add the eggs one at a time.

Add half the flour and continue mixing until combined before adding the remaining flour into the mixture.

Pour the mixture into the pre-prepared cake pan and bake on the middle shelf for 30 minutes (or until wooden skewer comes out clean).

Once the cake has cooled ,turn the cake out onto sugared greaseproof paper.

Decorate the cake as you like by layering on the whipped cream, then with the strawberry jam and topping it with fresh strawberries.
Notes
*Nanna June's recipe asked for Stork Margarine (which I am unable to locate in Australia). **The original recipe asks for two 20 cm tins, but I changed this to one 22 cm cake tin and two 9 inch cake tins.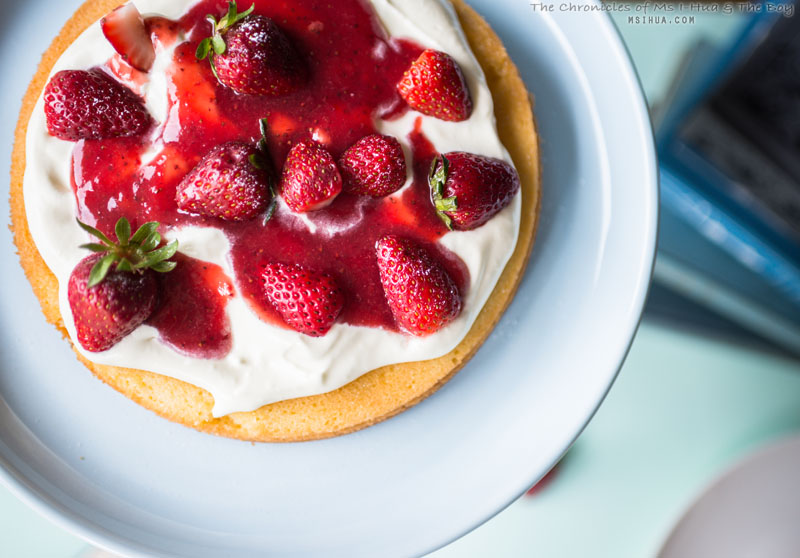 When I brought the miniature Victoria Sponge Cake in to work the next day, Kimchi nearly died from happiness.
I was so stressed that she wouldn't like the cake at all, so I kept telling her to judge it after she had tasted it.
Impressively enough, she said it tasted just like when Nan June used to make it and it reminded her of her childhood!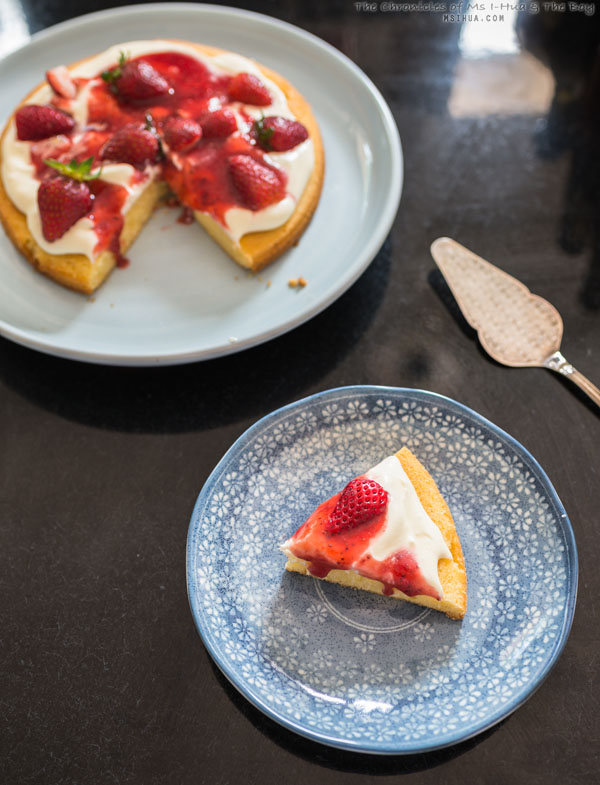 Mission accomplished, I was satisfied that I provided some happiness and a sweet trip down memory lane with something that came out of my kitchen!