Last week, I channelled my inner Betty Crocker and came up with this variation of cake doughnuts or donuts. The week previously, I had made some yeast doughnuts that were deep fried in beautiful glistening golden oil. They turned out amazingly well (recipe to come). Read more here about cake doughnuts vs yeast doughnuts.
So I thought, the next step, would be to attempt cake donuts (from this point on, I'm going to use the easier-to-spell version). I racked my uncreative brain cells for some inspiration deep within for a flavour that would suit what I wanted.
Inspiration came from an instagram post which my dear Hannah posted up. It was a picture of a Red Velvet Cake ice-cream in a cone.
Next thing I knew, I was researching recipes on the internet. I was often distracted with pictures of cats and puppies.
A few hours later of laughing insanely at my Mac at videos of cats jumping and failing badly at landing, I had a semblance of a recipe in hand, much to The Boy's dismay.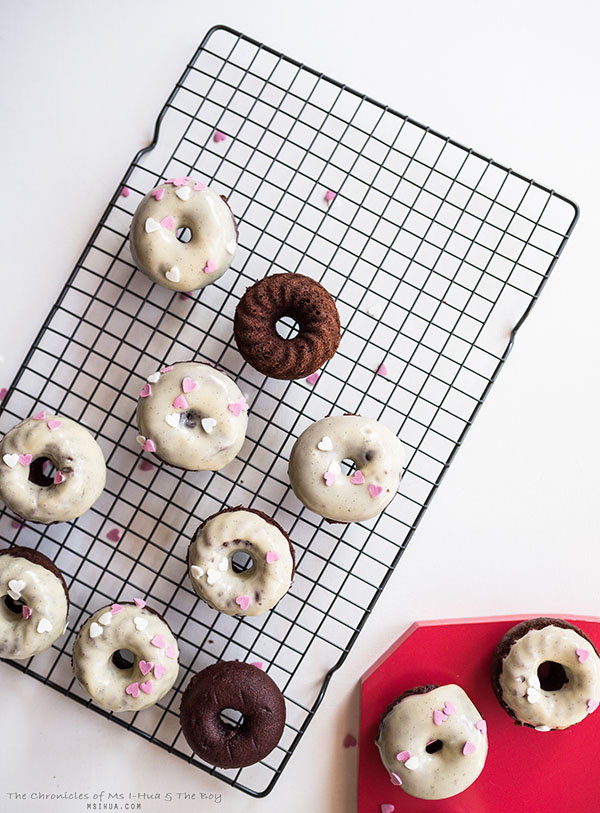 Get ready, here is the recipe.
Red Velvet Cake Doughnuts Recipe
Ingredients
Ingredients for Red Velvet Cake Doughnuts:
140

grams

of Flour (cake or all purpose)

1/2

teaspoon

(4 grams) of Baking Powder

1/4

teaspoon

(1.5 grams) of Salt

2

tablespoons

(14 grams) of Cocoa Powder (unsweetened Dutch cocoa)

100

grams

of Caster Sugar

1

large Egg

beaten

85

ml

of Buttermilk

30

grams

of Grape Seed Oil (or Butter)

1

teaspoon

of Vanilla Bean Paste (1 whole vanilla bean)

3/4

teaspoon

(~ 3 grams) Vinegar (distilled white)

1/2

teaspoon

(4 grams) of Baking Soda

1/2

teaspoon

of Red Food Colouring
Ingredients for White Chocolate Cream Cheese Frosting:
60

grams

of Cream Cheese

1

teaspoon

of Vanilla Bean Paste (1 whole vanilla bean)

80

grams

of Icing Sugar

30

grams

of White Chocolate

Sprinkle of Salt
Instructions
Grease a donut pan and set aside. I didn't have a donut pan, so I used a mini bundt pan (and it worked fine).

Set the oven to 220 degrees Celsius.

In a large mixing bowl, sieve together flour, cocoa powder, sugar, salt and baking powder.

In a separate bowl, mix together the buttermilk, eggs and oil.

Beat the wet mixture into the dry flour mixture until well incorporated.

Mix together the baking soda, vinegar and vanilla paste. Add the mixture into the donut mixture.

Once completely mixed, add the red food colouring and continue mixing until the red colour is incorporated thoroughly.

Carefully spoon (or pipe) the mixture into the pre-prepared donut pan evenly.

Bake for 7-8 minutes.

Once the donut is cooked (use the skewer test), remove from oven and set aside to cool.

Whilst the donut is cooling on the wire rack, start preparing the white chocolate and cream cheese glaze.

Microwave the white chocolate up in a small bowl for 15-20 seconds (I like to microwave for an initial 15 seconds, swirl the bowl around, and microwave for another 10 seconds before mixing thoroughly with a spoon to ensure that the chocolate has tempered).

In a stand mixer, whisk the cream cheese and vanilla paste.

Slowly whisk in the icing sugar until a paste starts to form.

Add in the tempered white chocolate and whisk until a smooth glaze forms. Sprinkle in the salt and continue mixing.

Once the donuts have completely cooled, dip one side of the donuts into the glaze and set aside on a wire rack for the glaze to set.

Sprinkle with sugared hearts, flowers, sprinkles or any other toppings as you see fit.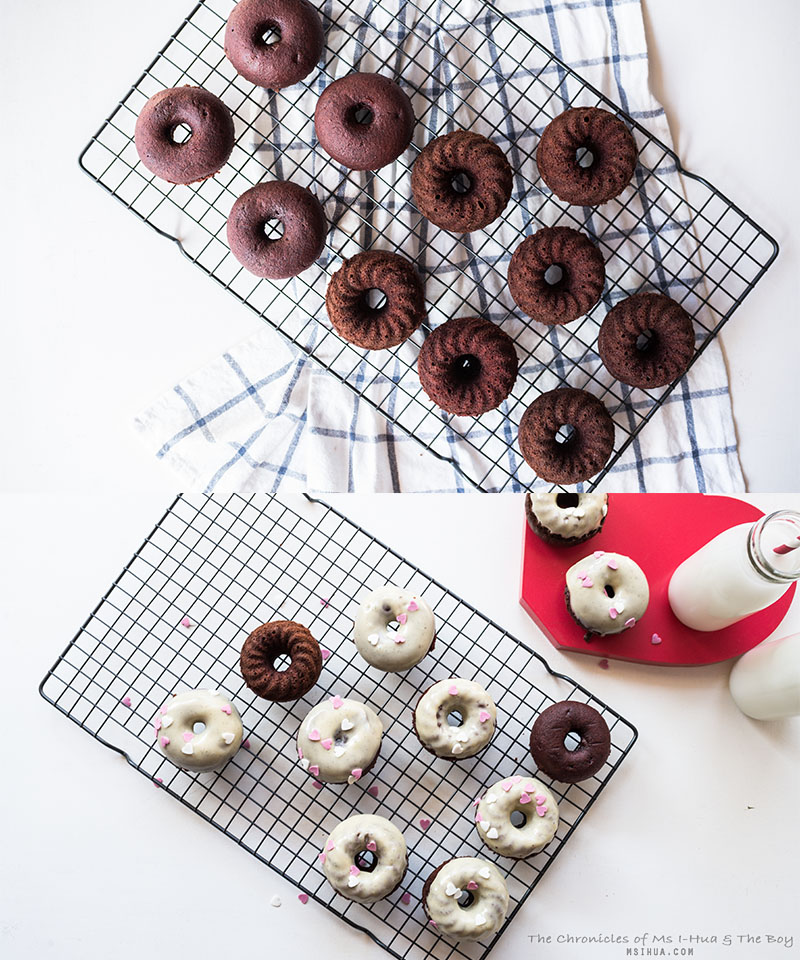 Attempt this on Valentine's morning. As you pull these babies out of the oven and swirl them around the beautiful white glaze, turn on your Spotify Playlist and sing along to the one and only MJ, "The way you make me feel! You really turn me on, you knock me off of my feet now baby, My lonely days are gone! Achaaa oOooH!"
Your sweetheart may at that point come out into the kitchen thinking you'd been singing to them. You can lie and let them think that you were 😛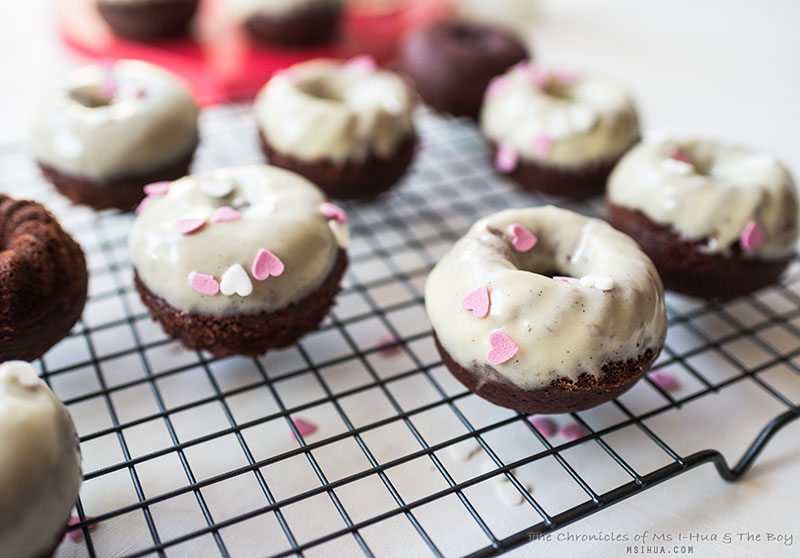 Nothing better than donuts for breakfast. Serve with a glass of milk.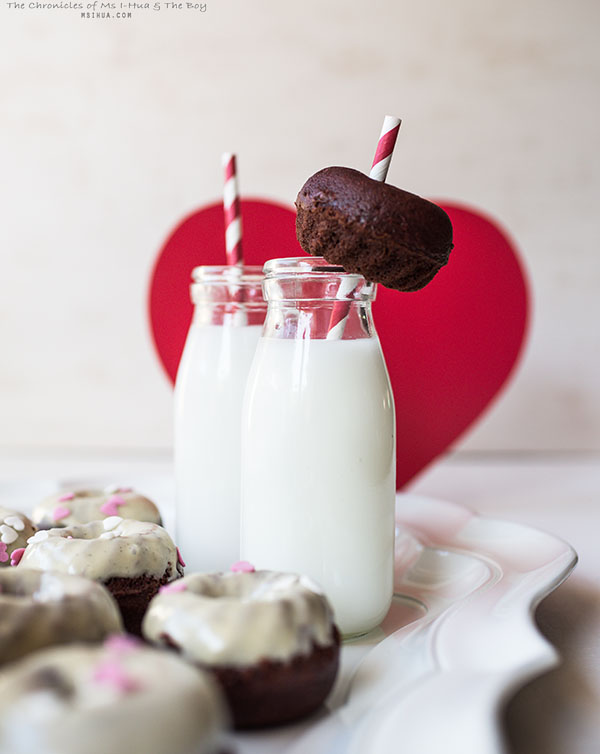 If you have any extras ('cause to be honest, there are way too many donuts made from this recipe for two people), take them out to share with your friends and family.
These beauties were meant to be shared with love.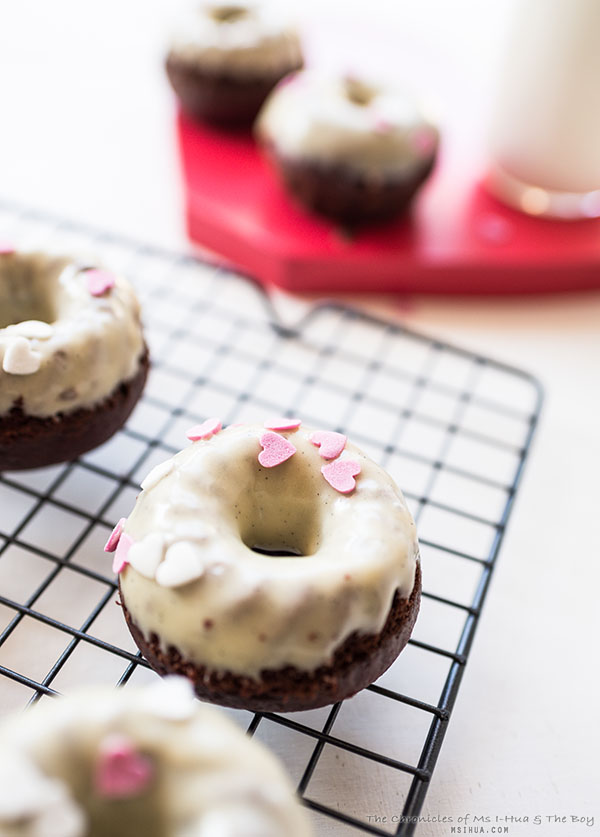 Happy Valentine's Day!
xoxo