Away from the hustle and bustle of Melbourne CBD lies a tranquil little modern town famous for its natural mineral springs and spas. However, apart from those seeking a little bit of relaxation and peace, those in search of great food come by to this side of the country.
Daylesford. Famous for its slush greens and beautiful lake, punters come from all over to eat. Victorians sure are a lucky bunch. We only need to drive out for about an hour and half away from the CBD to escape the busy city life and we'll be able to find ourselves up in the mountain, seaside or country side such as Daylesford.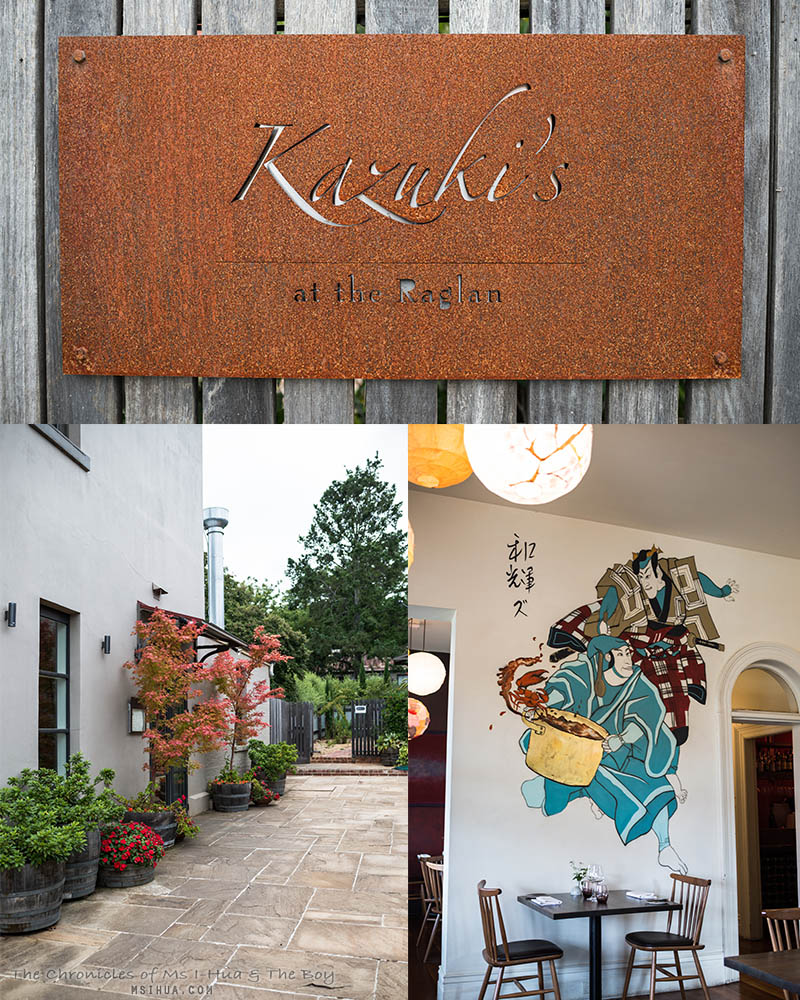 For my birthday this year, The Boy organised (that is, he thought about the place and I made the reservations) for us to visit Kazuki's at the Raglan.
We decided to go with the Seasonal Tasting Menu option at $120 per person (with an added main at an additional $40 per head). For further choices and pricing, see below!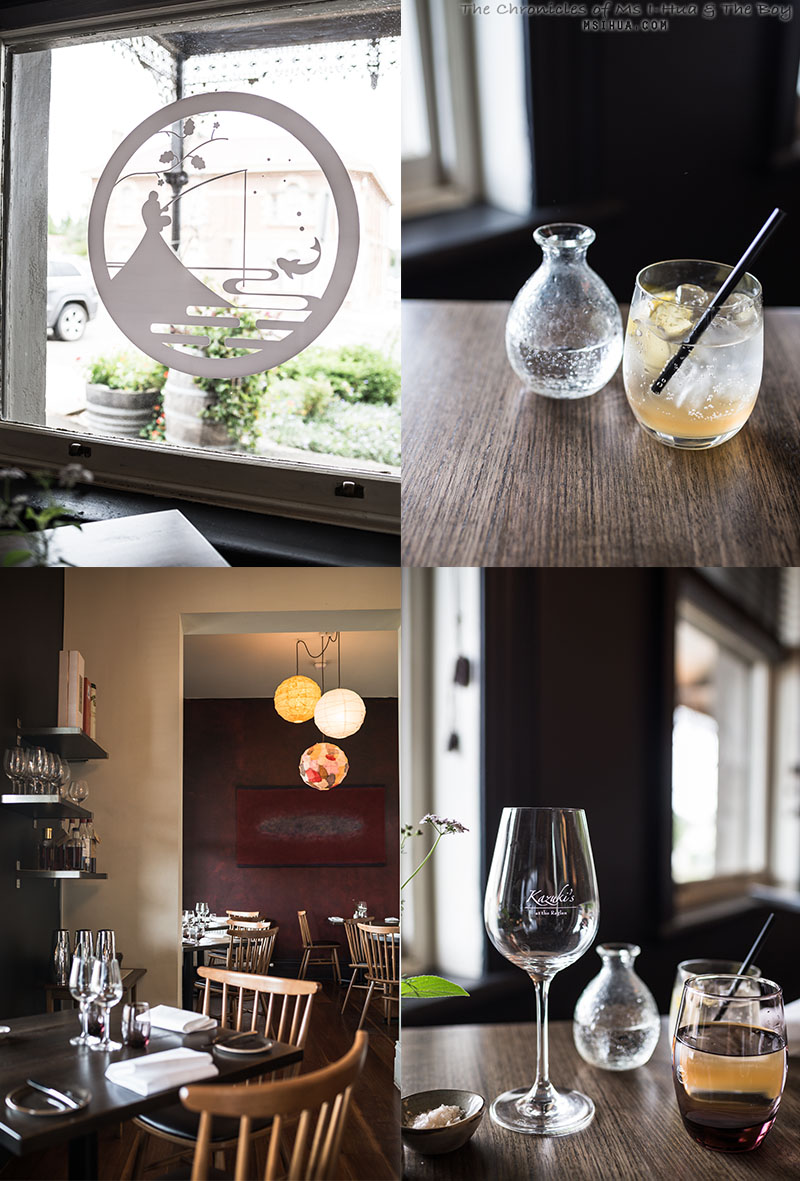 As it was my birthday, we both decided to have a drink. I went with the Sochu option of Seiko-Udoku (rice & sweet potato) Kagoshima, Japan $11 on the rocks, and The Boy went with a mocktail of Kazuki's house made Elderflower & soda. Très délicieux!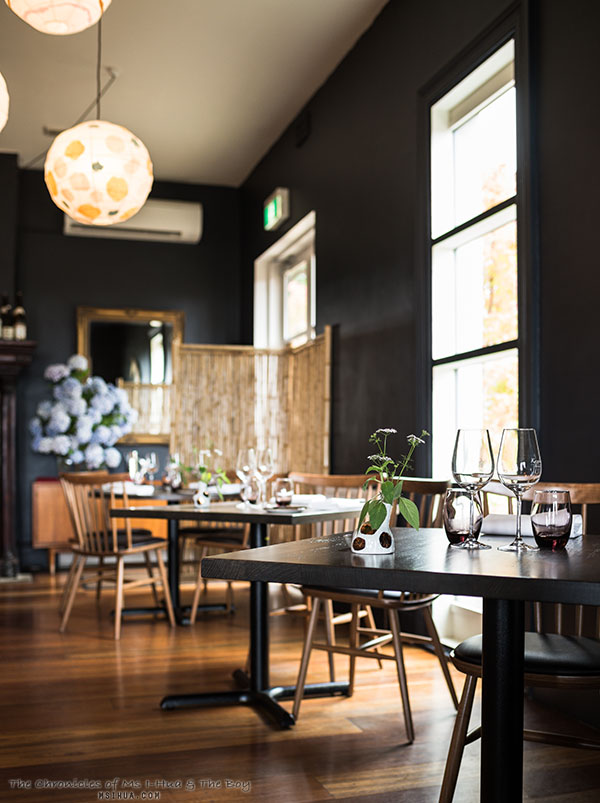 We've always said that you can tell how good an upcoming meal is going to be, by the quality of their butter and bread. So it was to our delight, when the butter was brought out with much fare and introduction in a little container with the waiter informing us that our house made butter was served.
Churned from cows milk with umeboshi plum, saké, squid ink, and nori, we couldn't wait for the bread to arrive (hot out of the oven) so that we could spread and lather the black goodness everywhere!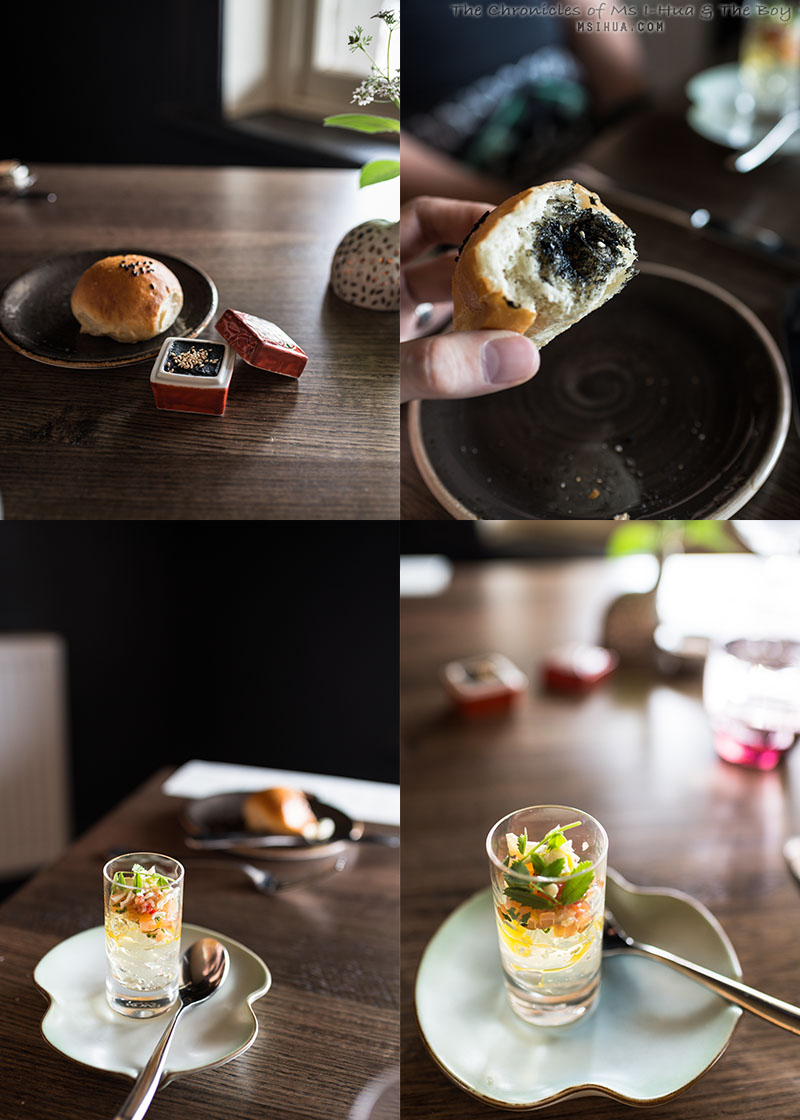 Don't be afraid to go OTT with the butter too as they replenish it as soon as you're done with the entrees.
To start, an amuse bouche of Tomato Gazpacho was brought in a shot glass. Filled with a tomato tea jelly, cured salmon and papadum, it provided a taste of what was to come and a hint of the lovely textures that would feature in our dishes ahead.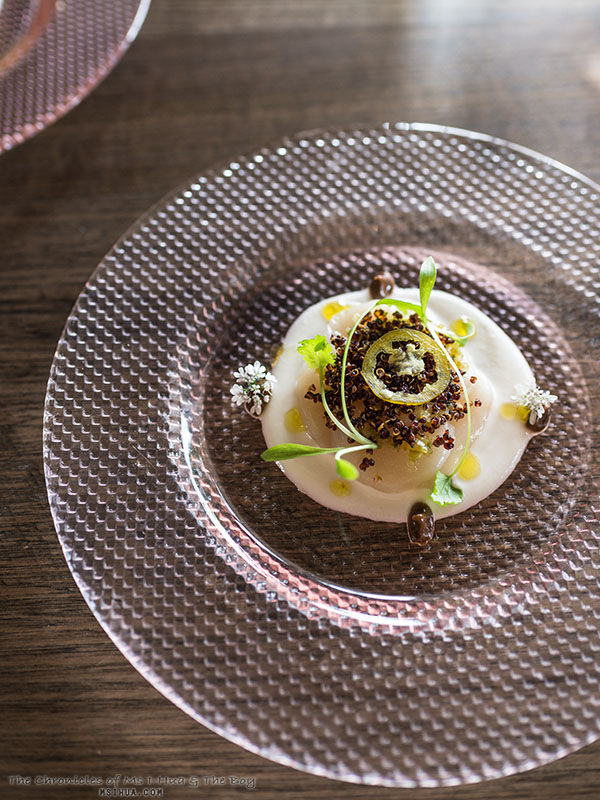 First Course: Scallop Ceviche
served with coconut milk with lime and fish sauce, black garlic puree, jalapeño vinaigrette, deep fried Quinoa, coriander flower and off shoots.
I loved the play of South East Asian flavours here with a traditional South American cuisine. It was fun, playful and tasty!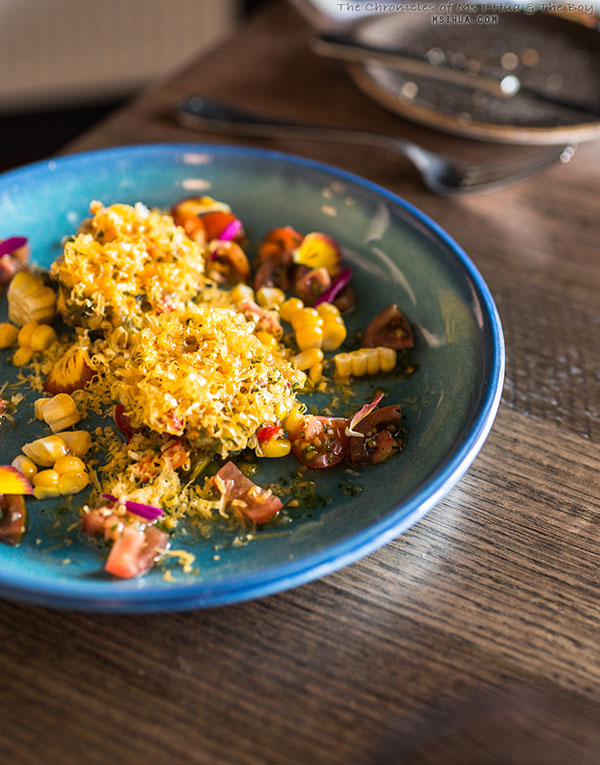 Alternate Second Course: Corn Fritters
served with piccalilli, vierge, mimolette
The piccalilli (an English interpretation of Indian pickles) was so delicious! I am bias as I generally love pickled vegetables and this was no exception. This was also the first time I'd eaten mimolette, a type of soft cheese popular in the region of Lille, France. You may shave mimolette on my dishes any time!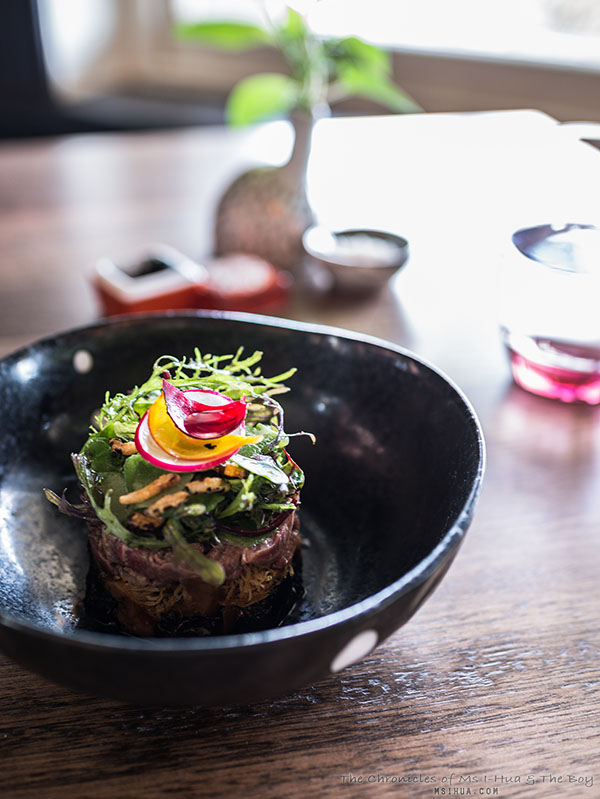 Second Course: Beef Tataki
served with pickled eggplant, puffed grains, horseradish, dashi jelly and potato
The dish though good, was not what you would expect from a normal tataki dish and was quite heavy, due to the larger chunks of meat served here. But it's definitely a winner in the texture and taste department.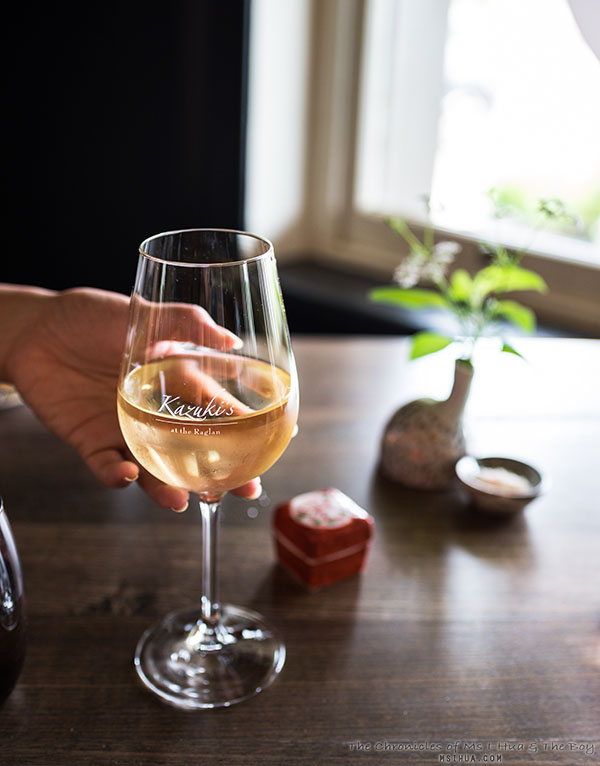 By this stage, I had finished my sochu and wanted another drink, preferably a white, preferably a Riesling. Our waiter recommended the 2013 Domaine Mittnacht, Gyotaku (Pinot Blanc blend) Alsace, France $14. A blend of Pinot Blanc, Riesling, Pinot Gris and Gewürztraminer, this is a drink created for the winemaker's wife, a Japanese lady who wanted a wine to pair with sushi and sashimi.
I learnt that Gyotaku is a form of Japanese art that involves applying ink to a fish, then stamping it onto paper. Yup, a fish stamp! Apparently this originated for fishermen in Japan to log their catches. This is also seen on the label of the Domaine Mittnacht Gyotaku.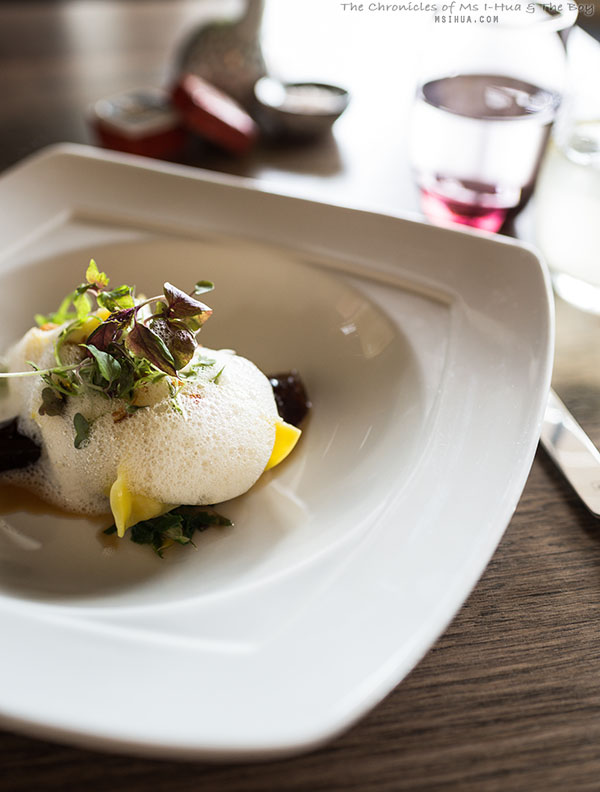 _____________________________________________________________________________________________________________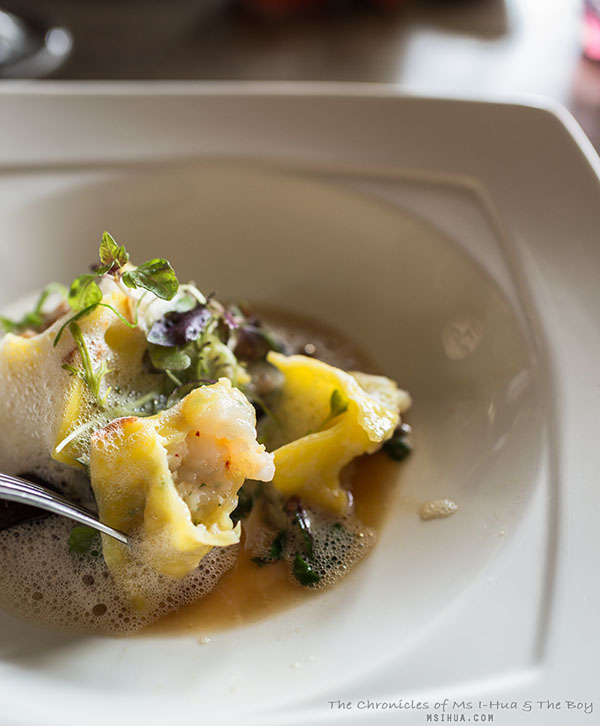 Third Course: Morton Bay Bug Dumplings
served with ponzu jelly, milk and Saké emulsion, rainbow chard and butter.
This was so delicious and so indulgent. Our waiter strongly recommended that when he next brought out the bread and asked if we wanted more, that we should say yes, and use the bread to mop up the beautiful sauces.
We did so very obediently and secretly loved that we were allowed to!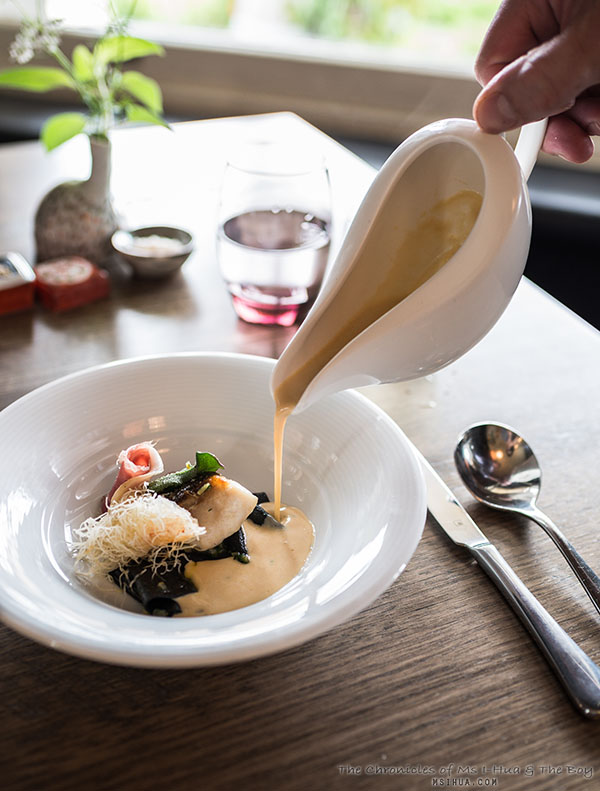 _____________________________________________________________________________________________________________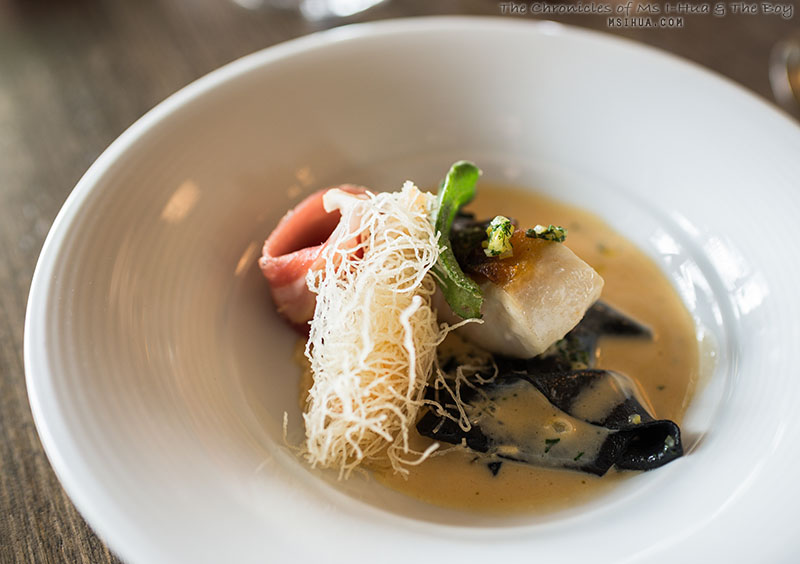 Fourth Course: Snapper
served with a Scampi Kataifi, squid ink lasagnette, jamón, and drizzled with sauce Américaine.
Our waiter, once again bedazzled us with his service and promptly told The Boy to not panic and to get ready for the 'action shot'! I love him!
This was my second favourite dish for the day. If I had skipped the additional main dish, I wouldn't have believed that another dish on the tasting menu could outperform this. The flavours balanced perfectly and it was hard to say good bye to the dish. Though we did give it a good clean with our bread!
The Gyotaku wine paired extremely well with the two seafood dishes as well!
_____________________________________________________________________________________________________________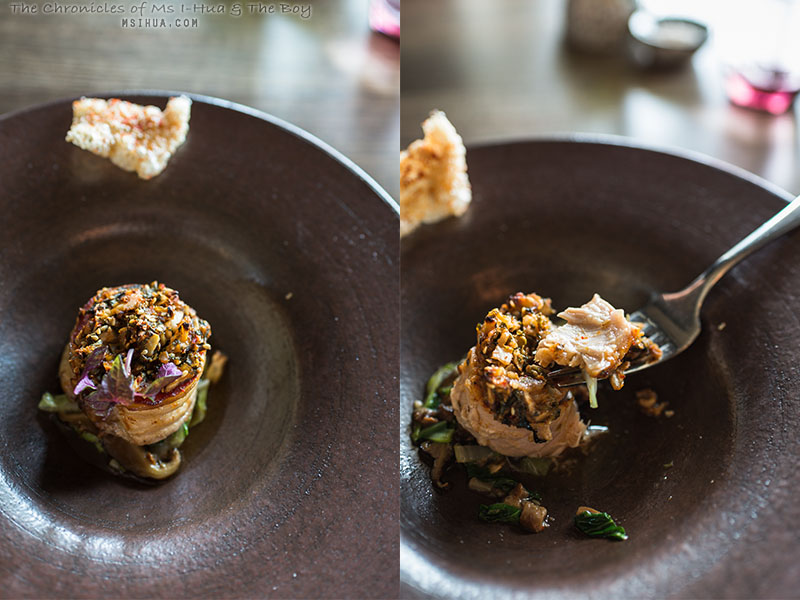 Fifth Course: Pork Belly
cooked in Masterstock and served with bokchoy, shiitake, trotter, shisho kimchi with walnuts, and crackling.
The pork was beautifully rendered from its fat and was pretty much melt-in-the mouth. It just fell apart and was so tender!
The crackling deserves a medal of honour all on its own. Magnifique!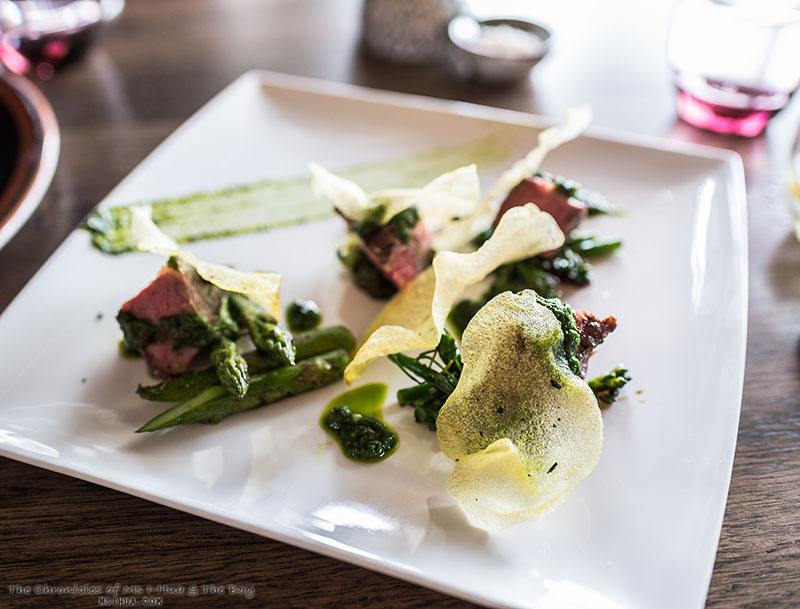 _____________________________________________________________________________________________________________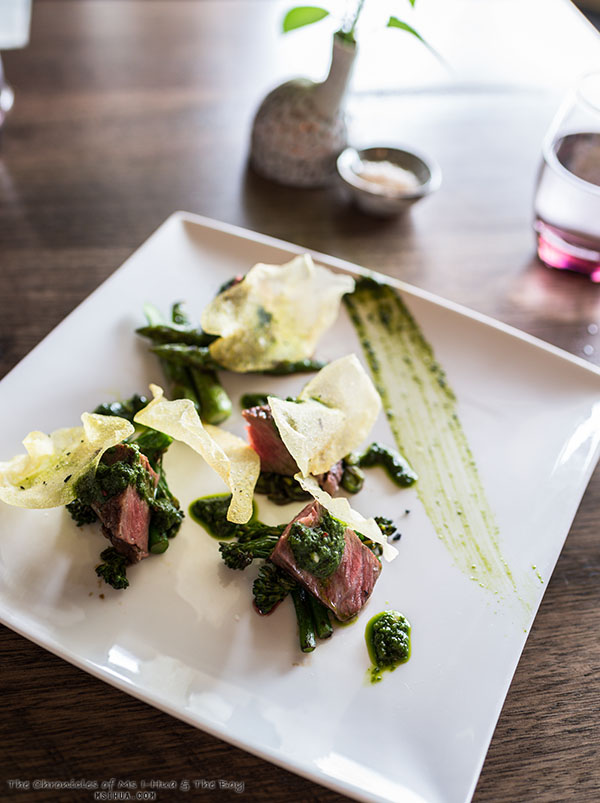 Sixth Course (Additional): Sher Wagyu Scotch Fillet, MS 9+
served with chimichurri,  potato crisps with volcanic salt from Cyprus, broccolini, asparagus and mangetout (fancy name for snow peas).
The Boy thought that the flavours went really well and the potato crisps added a lovely texture to the dish.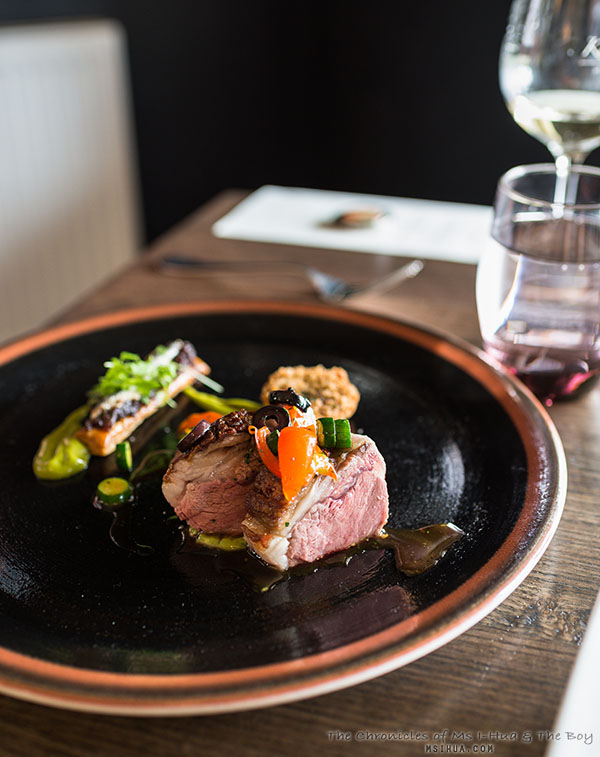 _____________________________________________________________________________________________________________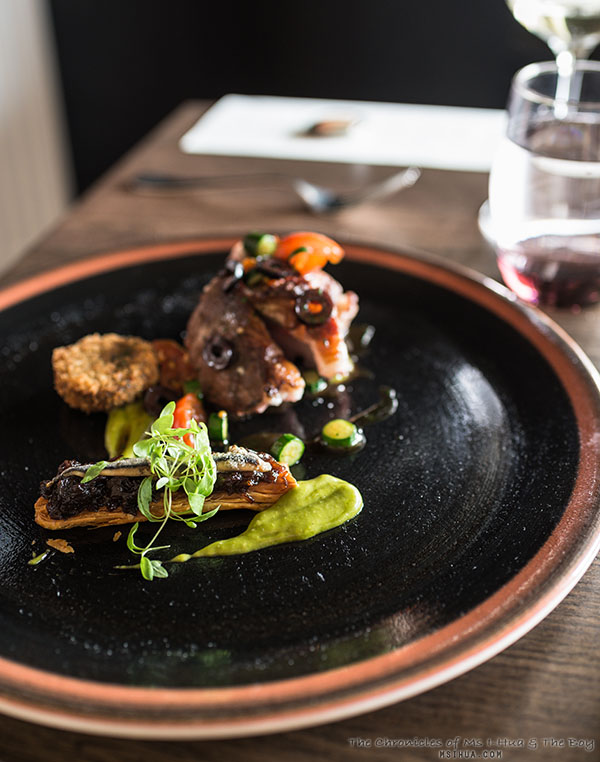 Alternate Sixth Course (Additional): Lamb Provençale
Sous vide 3 point rack of lamb, carved and pan fried, served with pesto, lamb shoulder croquette, zucchini, olives, tomatoes and avocado as well as a pissaladière (pastry from Nice, France with sweated onions and white anchovy).
This my friends, was the winning dish for me that day. That lamb. OMG. Best cooked lamb I've had in a very long time and I'm going to wax lyrical about it until the cows return to the paddock.
It was so beautifully cooked, amazingly tender and with the fat kept on the bone (and crispy), the meat just tasted so good. I was so full after the pork belly dish that I swore to The Boy that I wouldn't be able to eat anymore and regretted ordering the additional course.
Obviously this all went out the window as soon as I had a taste of the lamb and I devoured it!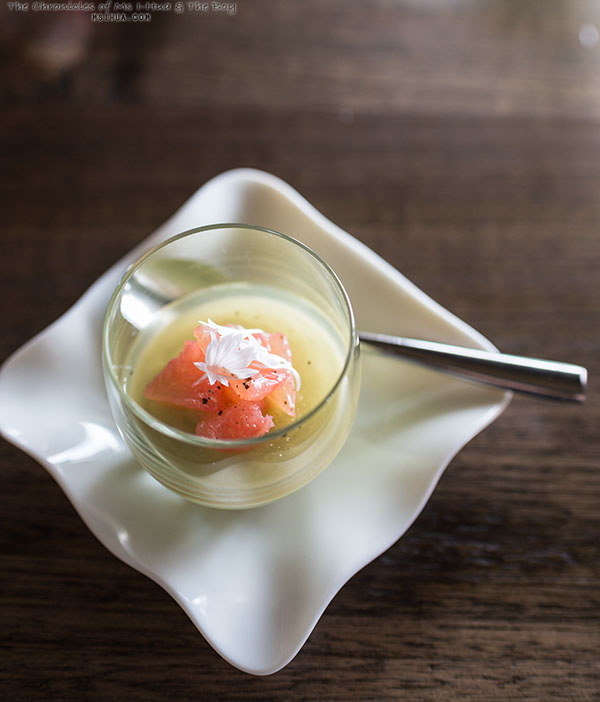 Palate Cleanser
Avocado mousse, apple jelly, pink grapefruit, black pepper and white cornflower
To help us accept the dessert, we were brought out this refreshing and tart palate cleanser. It was much needed after that last two courses and I felt all the better after it.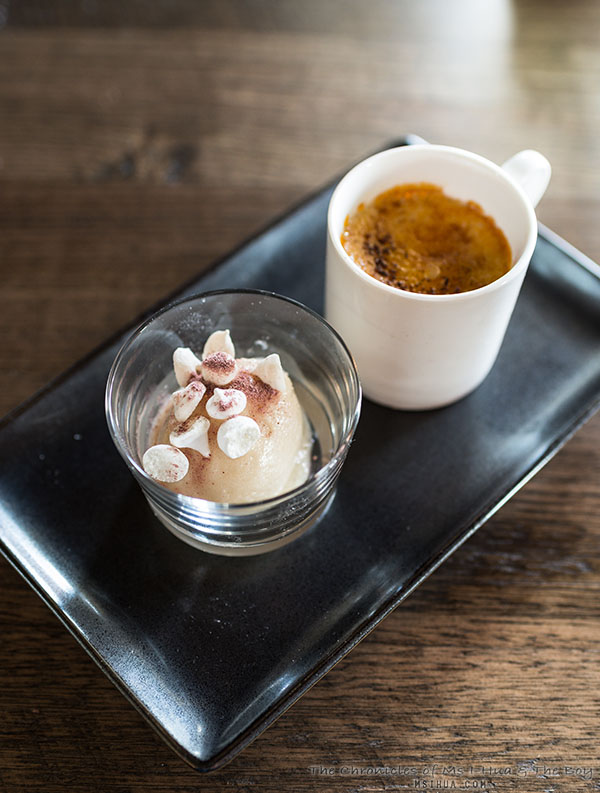 Seventh Course: Dessert
Tonka bean crême brûlée with white peach sorbet, and meringues topped with dehydrated white peach skin.
I loved how light and fluffy the crême brûlée was and how sweet yet tart the white peach sorbet was. This was certainly a very good way to end a very filling and extended lunch extravaganza.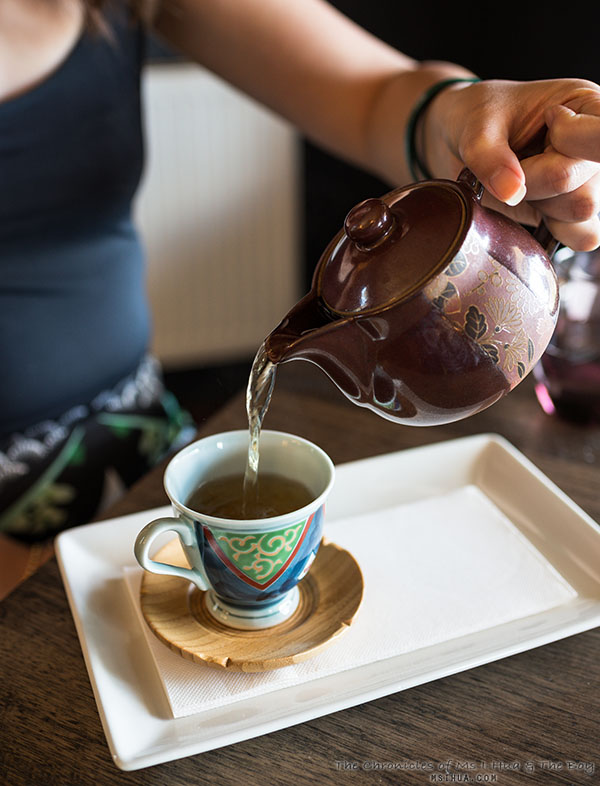 To wash it all down, we shared a pot of Hojicha (a type of green tea which has been roasted in a porcelain pot over charcoal for extra aroma) $4.50 and is our go-to tea when it's available.
All in all, we immensely enjoyed our visit here at Kazuki's and highly recommend you drop in for a visit if you are planning a road trip out of Melbourne!
Tasting menu options:
Two courses $60
Three courses $80
Four courses $100
Traditional/Seasonal tasting menu $120
Vegetarian tasting menu $110
*Disclaimer: All food ratings & review are purely based on my own experiences and how I feel about the service, food and quality at the time of visit
Food/ Cuisine: Modern Japanese (Contemporary)
Dining Style: Fine Dining
Opening Hours:
Lunch: Friday to Monday, 12:00pm – 2:30pm
Dinner: Thursday to Monday, 6:00pm – 9:30pm
Address:
1 Camp Street
Daylesford VIC 3460
Tel: (03) 5348 1218
Website: http://www.kazukis.com.au/
How to get there: