One of the best part about living in Melbourne is that you never run out of cafes to visit. If you want to have a brunch experience in a different cafe every weekend for the year (both Saturdays and Sundays), you could do that!
And not even get bored or disappointed! Such is the quality of life in Melbourne. We are so darn lucky.
A cafe that has been in the brunching scene for a while now, that we haven't found the time to visit, despite its close proximity to us, is Hobba Prahran.
So when they threw a Bloggers party to welcome in the new Hobba's Autumn Menu Launch, we decided to go along for the ride.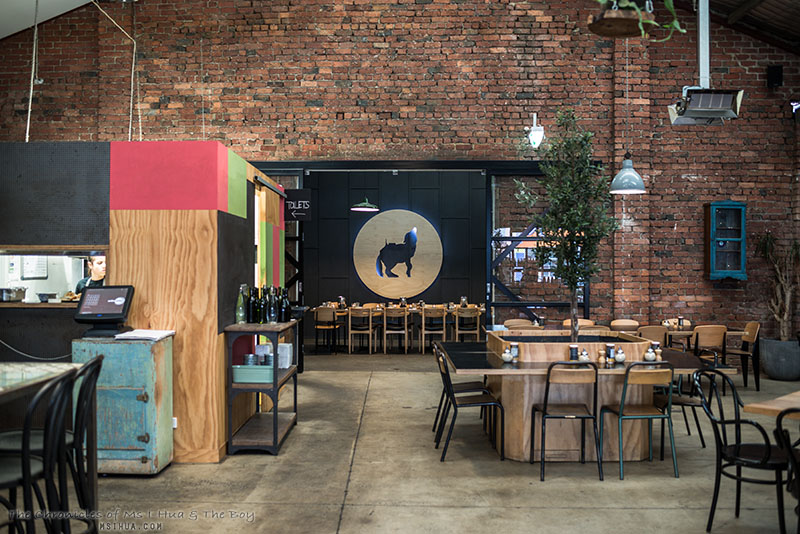 When else would it be acceptable to dine out and have breakfast for dinner? Incidentally my favourite meal of the day and I can't encourage you more to have breakfast for dinner 🙂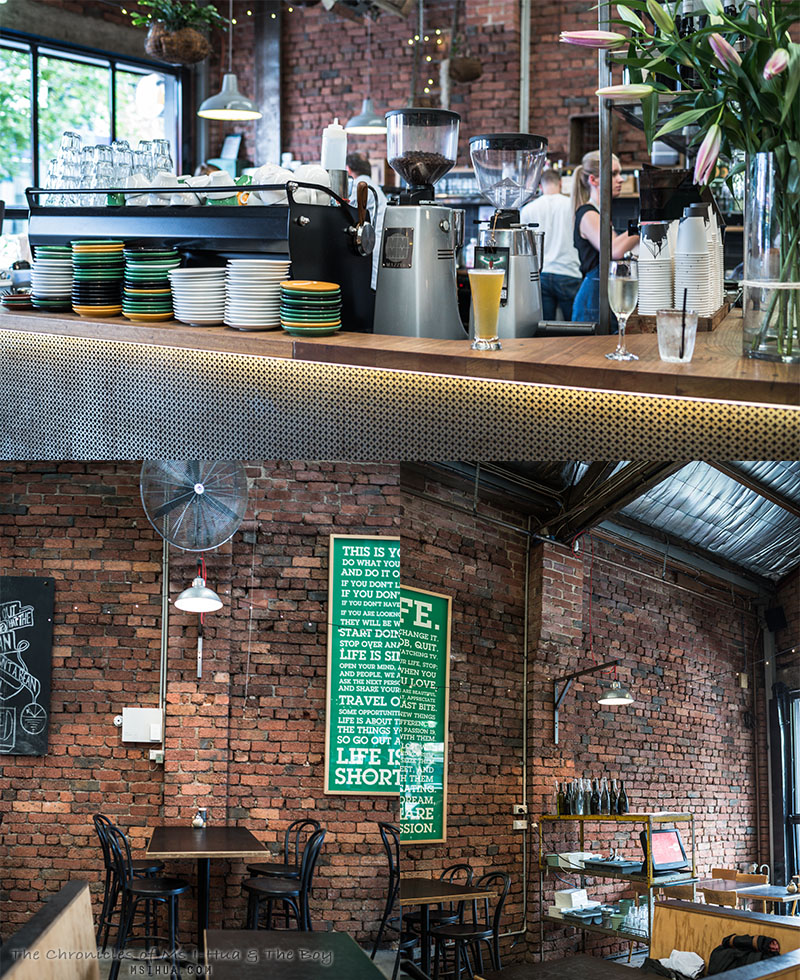 For those of you that have never been to Hobba (like us), we walked in and were blown away with how spacious the cafe was. You could throw a party, a bar mitzvah or even a wedding in here! So pretty! Throwing a party in a cafe these days has devenu à la mode, become quite the thing to do these days.
Not surprisingly then, Con Katheklakis, owner of Hobba confirmed to us that they do rent out their beautiful space for special functions.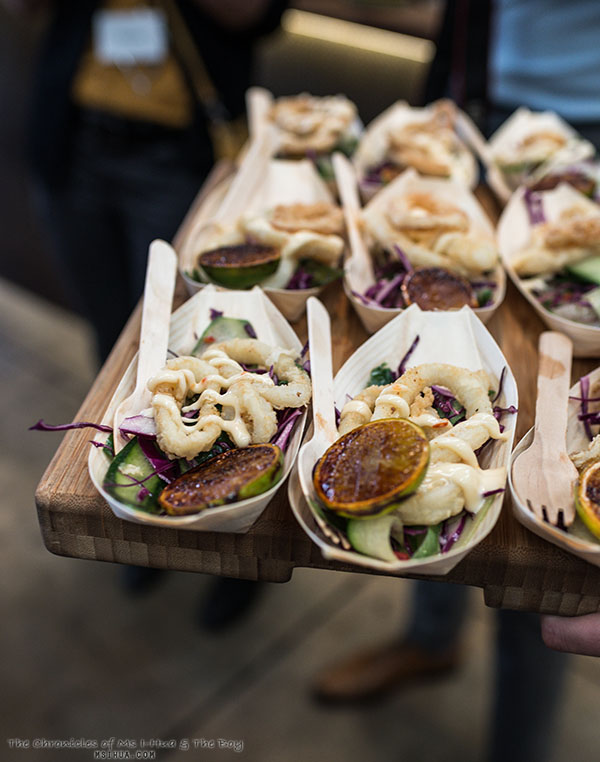 So what better way to showcase their capability in that area than by showing us an item of their function menu. Crispy Calamari and Asian Salad. So delicious!
Not surprising though, their chef, Rhys Hunter (formerly of Giuseppe, Arnaldo and Sons, St Ali and D.O.M in Brazil) with his extensive and impressive working experience is given free reign in Hobba's kitchen.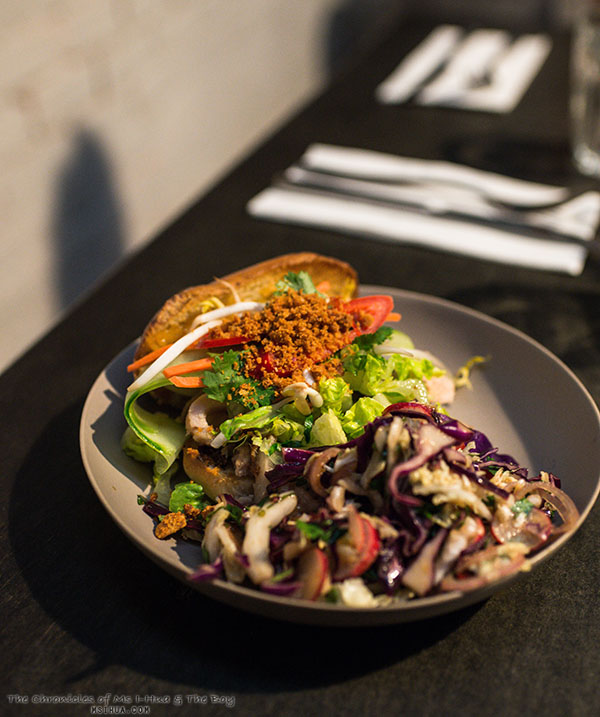 My favourite dish of the night, in our breakfast for dinner showcase? It had got to be Hobba's Vietnamese 'Banh Mi'. Marinated pork loin with lemongrass and ginger, served with chicken liver pâté, pork crackling crumb and radish, wombok and slaw salad in a sweet buttery brioche bun. It was perfect. The crackling crumb did it for me!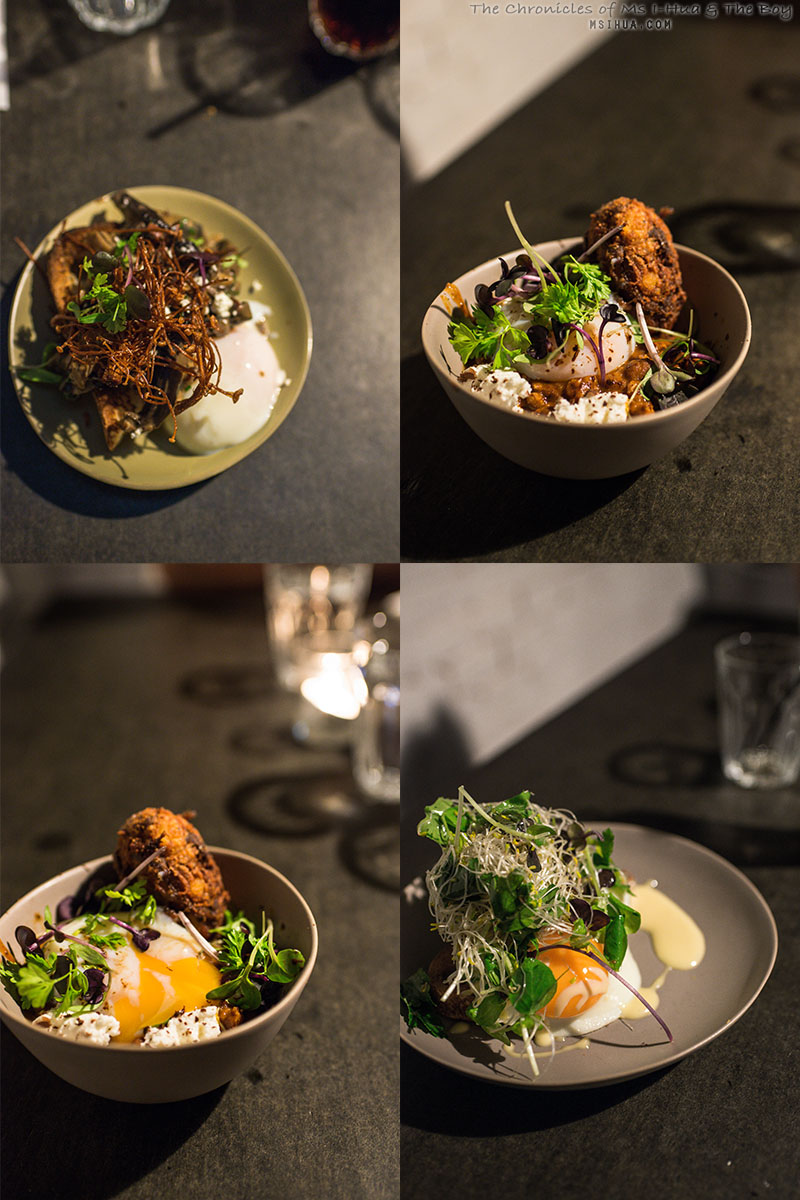 [Clockwise from Top Left: Wild Mushrooms; Chili Con Carne; Hobba Stable: Alfa Feast and another shot of the Chili con carne]
The next dish we had was the Wild Mushrooms, of wood-ear, enoki and oyster mushrooms, served with sherry jus, green chives and a slow poached egg. We had an interesting debate on our end of the table as we couldn't agree if the eggs were cooked at 62.5 or 63 degrees, and Clarissa (from Hobba) confirmed with us after following up with Rhys, that it was a 65 degree egg!). She thought it was most hilarious and didn't take us seriously at first as we were asking her about the temperature!
This dish was easily my second favourite breakfast item from Hobba.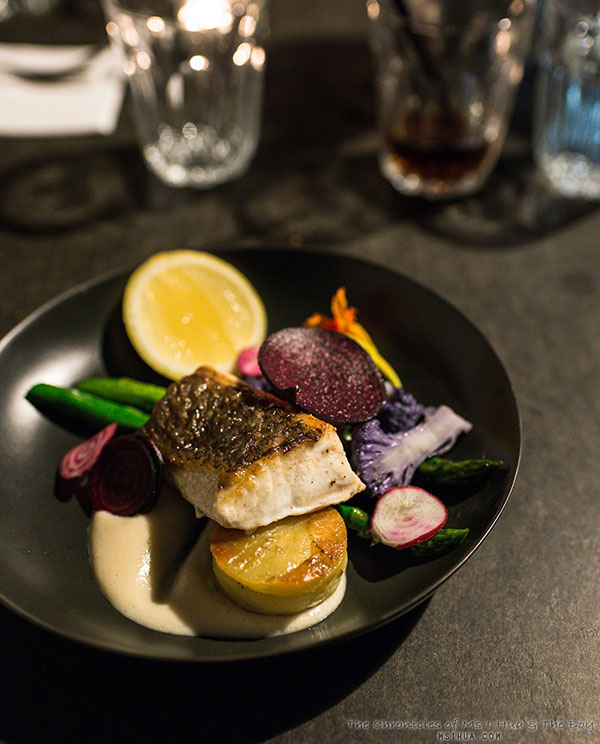 Next up, was a perfect dinner dish for us. Pan Seared Snapper, served with cauliflower puree, potato gratin, asparagus and heirloom beets and purple cauliflower.
The fish was cooked to perfection and the sides accompanying it were just delicious.
From there, more dishes with eggs arrived, including the Chili Con Carne (which I skipped), served with 10-hour confit brisket and goats cheese croquette, topped with a 65 degree poached egg and shaved dark chocolate. Next up was the Hobba Stable: Alfa Feast of southern style slow cooked pulled pork served with fried eggs, fresh alfalfa salad, and a pear cider reduction hollandaise.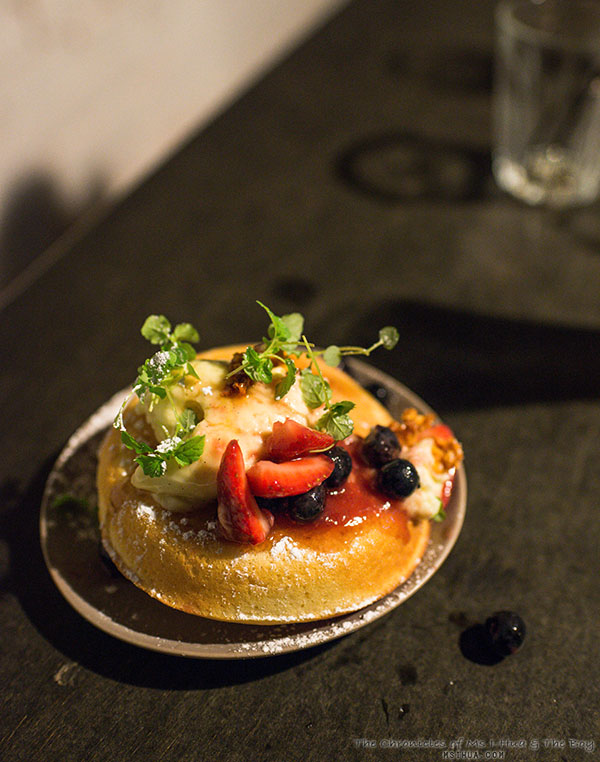 At the end, we had about 4 eggs each (I had 3 as I skipped the beef item) and everyone was full to the brim!
We ended with another Hobba staple, Hotcakes! Which you got it, was made with more eggs!
Despite that, the fluffy hotcakes served with seasonal berries, whipped mascarpone, honeycomb, vanilla bean and house-made maple syrup was a sure fire winner. So delicious! The next time I come back, I wonder if they would let me modify this dish and turn it into a savoury option instead. I would have their beautiful hot cakes with bacon and pork crackling crumbs! Oh yeah!
To top it all off, Hobba had little gift bags of their Classic Brownie to take home. So gooey and delicious! My workmates, certainly enjoyed the treat!
[Ms I-Hua & The Boy attended as guests of Hobba Prahran]
*Disclaimer: All food ratings & review are purely based on my own experiences and how I feel about the service, food and quality at the time of visit
Food/ Cuisine: Breakfast, Lunch, Coffee
Dining Style: Cafe
Opening Hours:
Monday to Sunday, 7:00am – 4:00pm
(Public Holidays: 8:00am – 4:00pm)
Address:
428 Malvern Road
Prahran VIC 3181
Tel: (03) 9510 8336
Website: http://www.hobba.com.au/
Twitter: @hobbaprahran
How to get there: