[This post is sponsored by Tassal]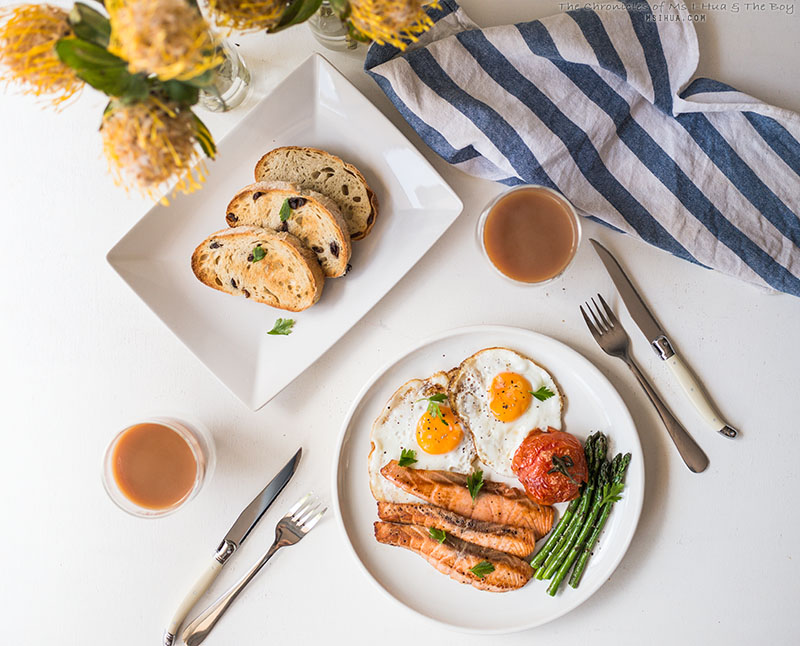 I swear, as the years go by, we seem to find that our time is more and more precious.
Gone are the days where we could just watch our days waste away as we wile away in the sun. These days, it's about cramming in as much as we can, to maximise the time we have, particularly on the weekends, before Monday rolls around again.
So that is why the newly launch Tassal Tasmanian Salmon Rashers is so handy. The folks at Tassal had delivered a beautiful breakfast hamper to my workplace on Friday. So delicious did all the ingredients look that I had to fend off my workmates that had begun to hover around my desk like a pack of vultures.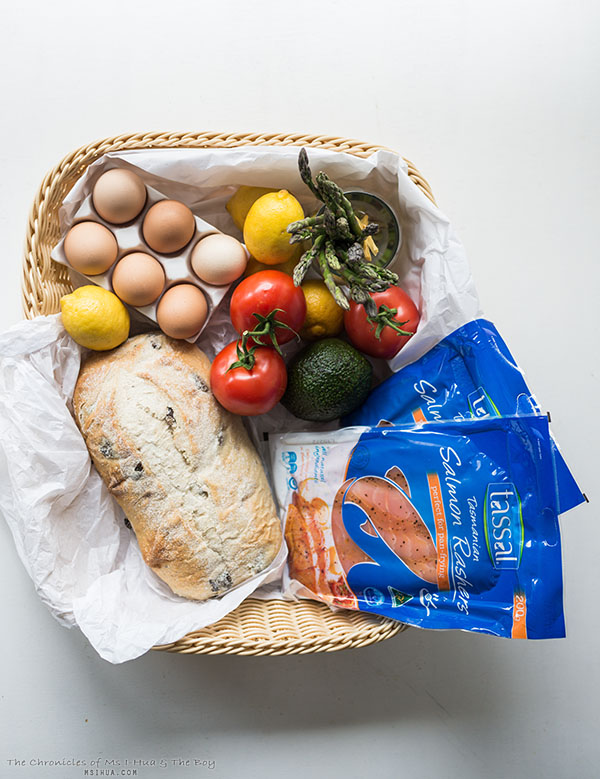 That seemed as if it was a positive start. Already, I was passing on the message that we would be whipping up a delicious cafe styled breakfast with the salmon rashers in the hamper. They couldn't wait to see what we could show them.
So with the weekend that has just gone by, The Boy and I rolled our sleeves up and decided to put the Tassal Tasmanian Salmon Rashers to the test.
More often than not, we want to have a quick, nutritious breakfast, before we head out into the big bad world, ready for some fun and trouble-making. Particularly with Summer fast approaching, we don't want to spend our time lining up somewhere on our precious sunny weekends.
We love our brunch adventures (as can be seen by our many brunching posts), but sometimes, we do enjoy a little home time and each other's company without battling the crowds at the next FOMO dining cafe.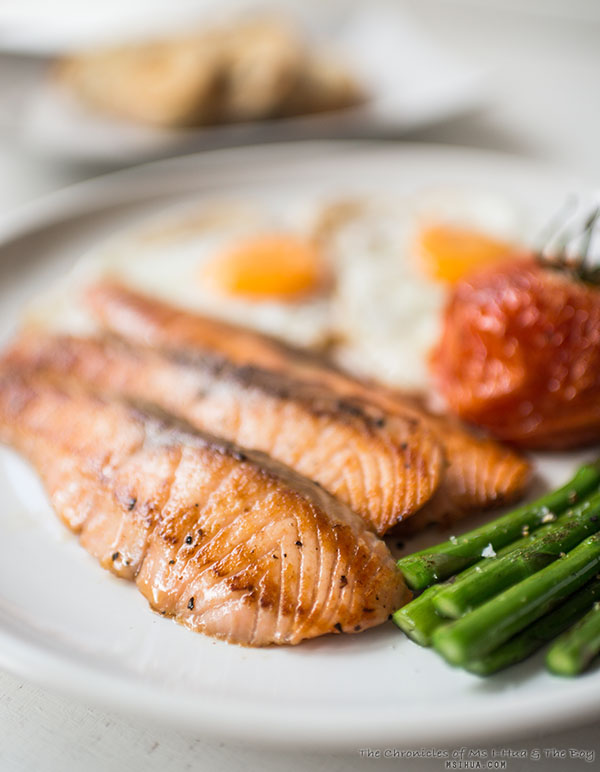 You can still maximise quick and healthy meal without compromising on taste. Many of our friends are quite afraid to cook seafood at home, particularly when it comes to salmon. They find the entire process daunting and stressful. The thought alone would petrify them.
Whilst I pottered around the house cleaning and rearranging the cushions, The Boy made a simple yet delicious breakfast by pan-frying the salmon (did we mention that the rashers are smoked in Beechwood chips?), and served it with fried eggs, oven roasted tomato and pan fried asparagus! Thank you very much, that will be twenty dollars!
The salmon went really well with the eggs and together with the freshly sliced olive bread, it was as good as dining in the newest and trendiest hipster cafe!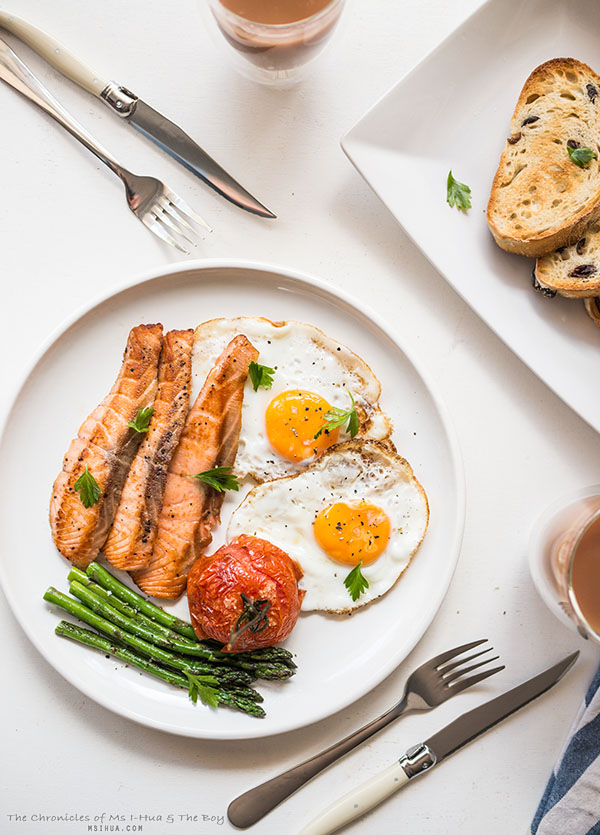 I was so proud of The Boy, that he promptly went back into the kitchen to put together a second breakfast option. He made beautiful baked eggs incorporating some of the smoked salmon rashers. The result was a delicious, smoky and creamy baked egg dish that I would happily visit and pay any cafe for!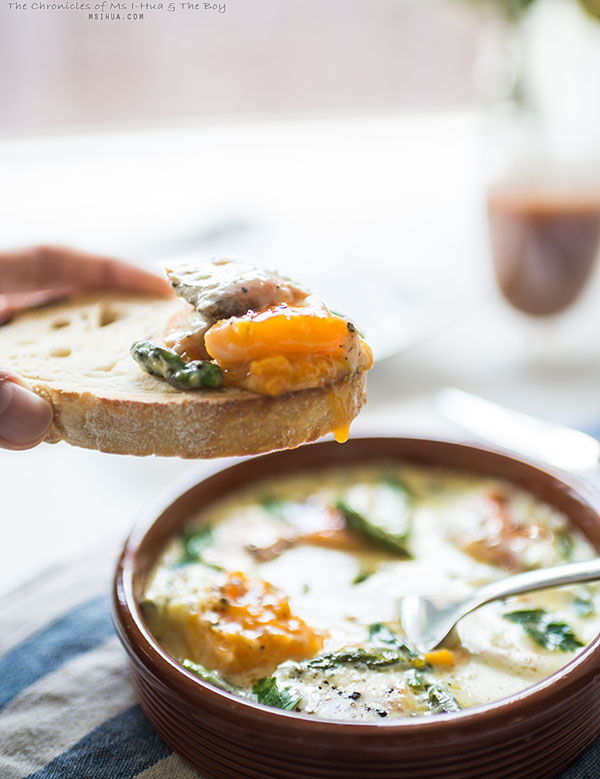 So why should you buy Tassal Tasmanian Salmon Rashers? If we hadn't convinced you enough with the words and photos, here are some facts for you!
As with all Tasmanian Atlantic salmon, Tassal salmon is rich with Omega-3, scientifically proven to help in the prevention of high blood pressure, coronary heart disease, rheumatism, arthritis and depression! It even helps with your complexion! It's like magic food.
If you want to find out more about the benefits of Tasmanian Atlantic Salmon, visit the webpage here or to the Tassal Tasmanian Salmon website for health information.
Visit your local Coles or Woolworths store to buy Tassal Tasmanian Salmon Rashers and other Tassal products.