And here we have it our dear friends, a visit to a restaurant backed by one of the most recognisable names in the food world.
On Halloween, together with two other friends, we entered the domain of Dinner by Heston Blumenthal, at Crown Melbourne and had quite the lunch experience.
Now before you get all excited and wide eyed about what we would be eating, let us remind you that this is no Fat Duck. Sure, it has some similarities in terms of presentation and may even feature some of his famous dishes from Fat Duck on the menu here, but it is not the same.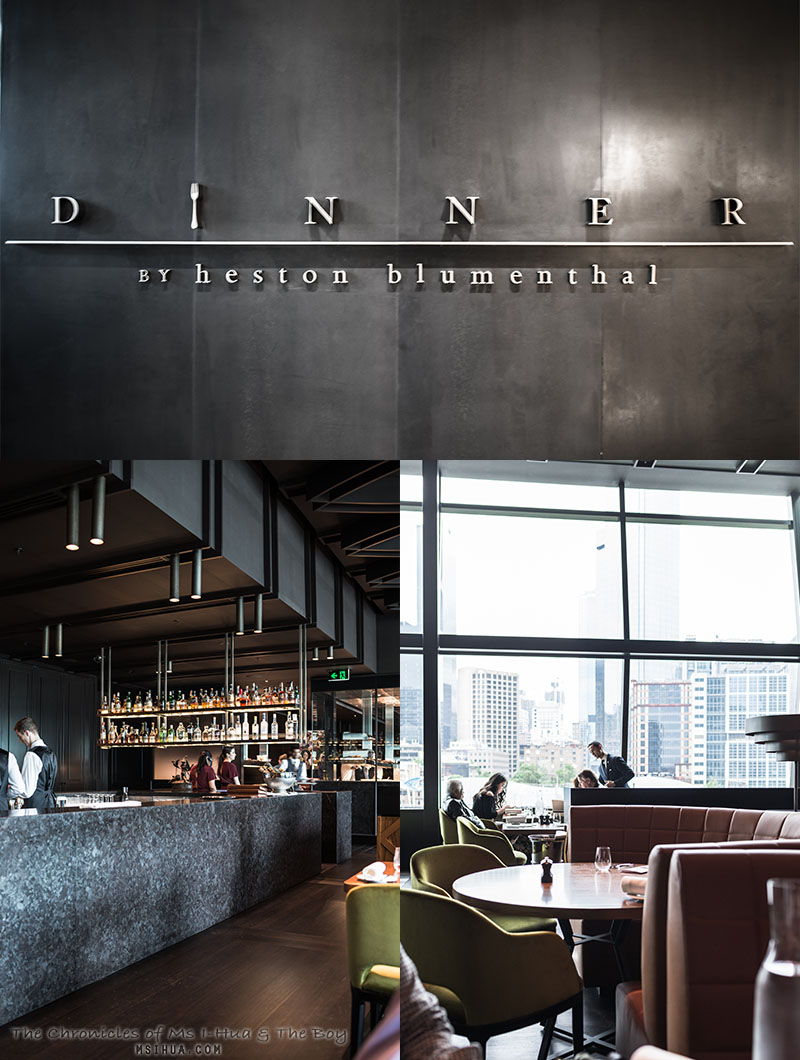 Dinner is the more sophisticated and serious dining establishment of Heston. The interior and furniture of the restaurant reminded me of a private gentlemen's club. Leather seats and dark wall panelling. All very secret and sexy at the same time.
The original Dinner restaurant, located at Mandarin Oriental, Hyde Park is currently sitting at a comfortable 7th spot on the World's 50 Best Restaurant listing.
So it certainly is with high expectations that we arrived with. So let's start with our initial experience.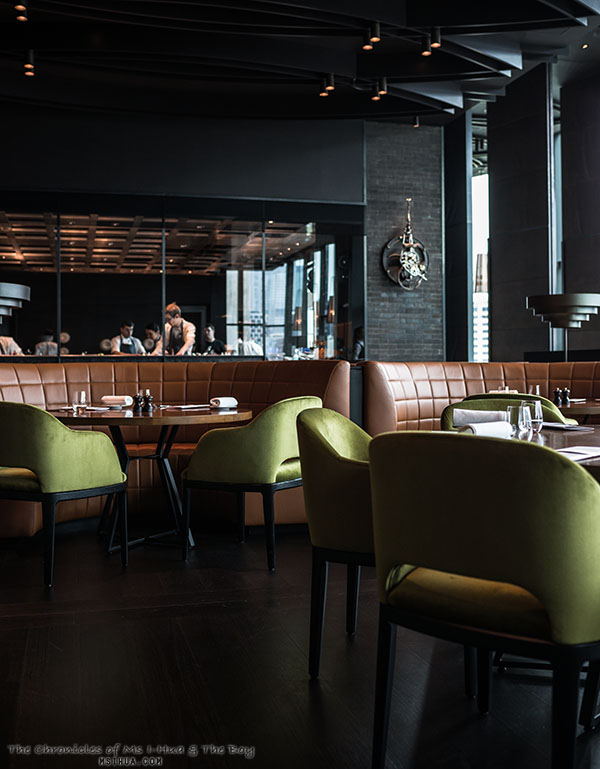 The actual dining space (which was The Fat Duck's abode for 6 months prior) is open planned with large floor to ceiling windows. We were quite excited to see the windows as we had booked for lunch so that we could use natural lighting. Sadly for us, we were placed in the darkest area of the restaurant with perfect yellow spotlighting.
Note to self: Book window seats next time!
The service was efficient, with very little hiccups (it was only the second week of opening). That being said though, some of the wait staff seemed extremely nervous when reciting the dishes as they were introduced to the table, which made us all feel sorry for them leaving us each time on a slightly awkward note.
The general feel of the food was good. Personally, I think I came in expecting to have been blown away with a Fat Duck experience, and was slightly let down by what we actually had, which was an overall a really great meal. Real first world problems, which is why I thought I would give you prior warning in the introductory paragraph.
The format of Dinner is quite simple really, if you have watched episodes of Fantastical Feasts, some of the dishes would be familiar to you.
Recreating old English recipes with a 21st century modern twist, Dinner is anything but simple English fare. On the menu, you will be able to see that all the dishes (and drinks) have the year in which the earliest documented evidence placed right next to them.
The dining option at Dinner is pretty straight forward as it is mostly ala carte style (catered to those who partake in a long sophisticated business lunch). That being said, there is still the option of dining Privately or via the Chef's Table, if you can get a table or afford it :).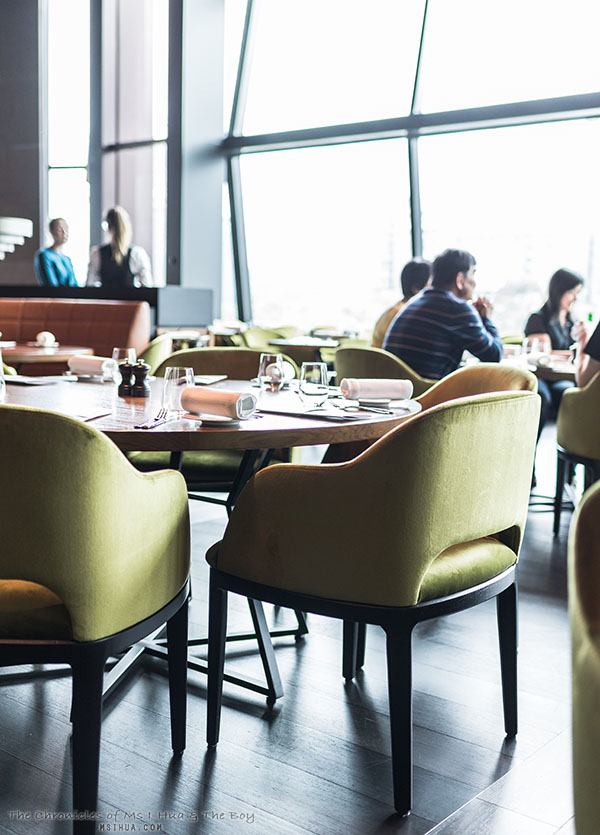 _____________________________________________________________________________________________________________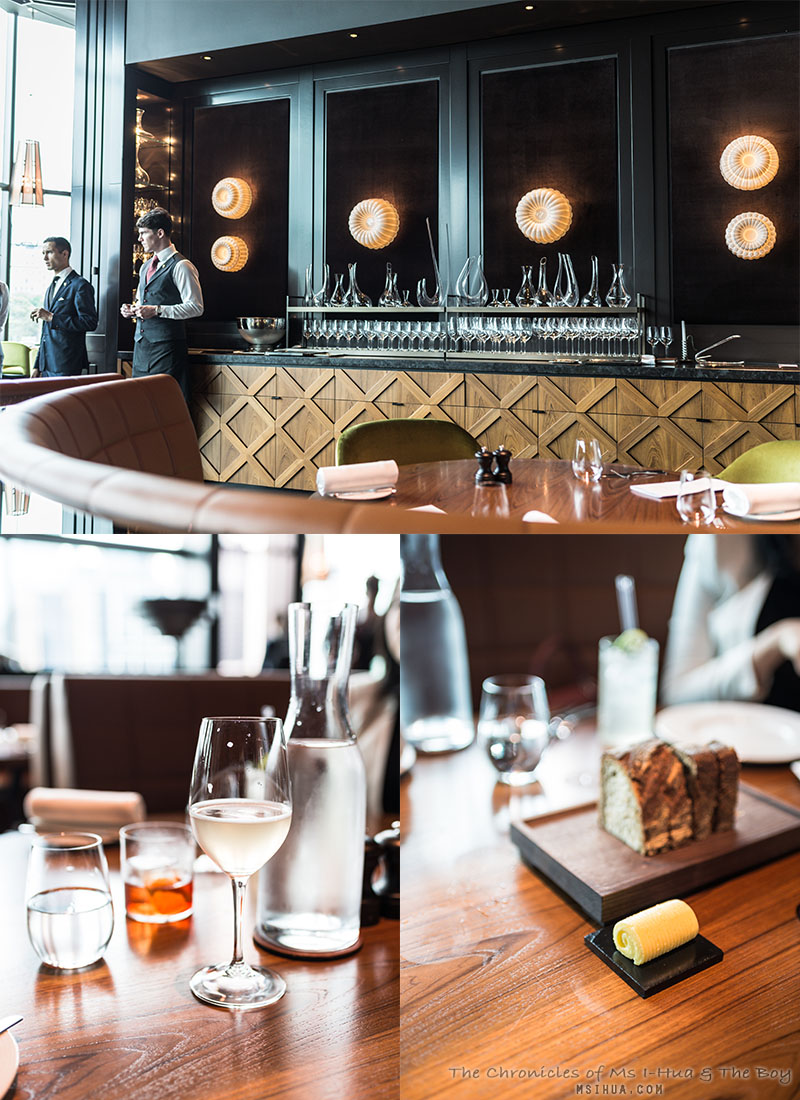 As a start, we ordered a couple of drinks. I'm still never quite used to how pricey cocktails are in Australia, despite having lived here for over 12 years. All Cocktails are priced at $24, non alcoholic cocktails are priced at $14. Classics start at $26.
I ordered the Pineapple Sparkler (c. 1910) of Pineapple Infused Rum, Pineapple Vinegar, Pineapple Syrup, Soda whilst The Boy enjoyed a Sarsaparilla Soda (c. 1750) , a non-alcoholic drink of Sarsaparilla, Pectin, Eucalyptus, Soda.
In terms of the bread and butter offering, we were nonplussed and did not bother offerings of a second serve.
As there were 4 of us, we decided to order 4 entrees, 4 mains and 3 desserts and make our very own mini (lazy Susan style) degustation. Even with this clever move, we only managed to cover half of the menu!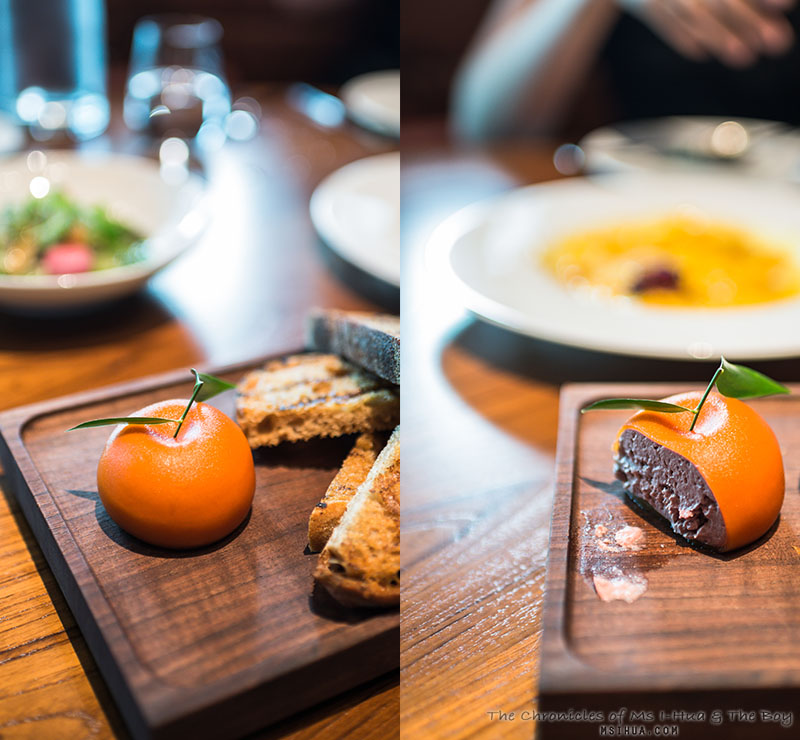 Meat Fruit (c. 1500) – Mandarin, Chicken Liver Parfait & Grilled Bread ($38)
The very first entree requires no introduction whatsoever and is firmly a classic Heston dish these days.
The parfait was as smooth as butter and I must admit, we each generously spread a portion onto our pieces of grilled bread, so much so that when we were asked if we needed more bread, we all hastily said no. The poor waiter made a quick turnaround. It wasn't until The Boy noticed that he had a tray of extra bread already on a platter for us did we instantly regret our hasty rejection.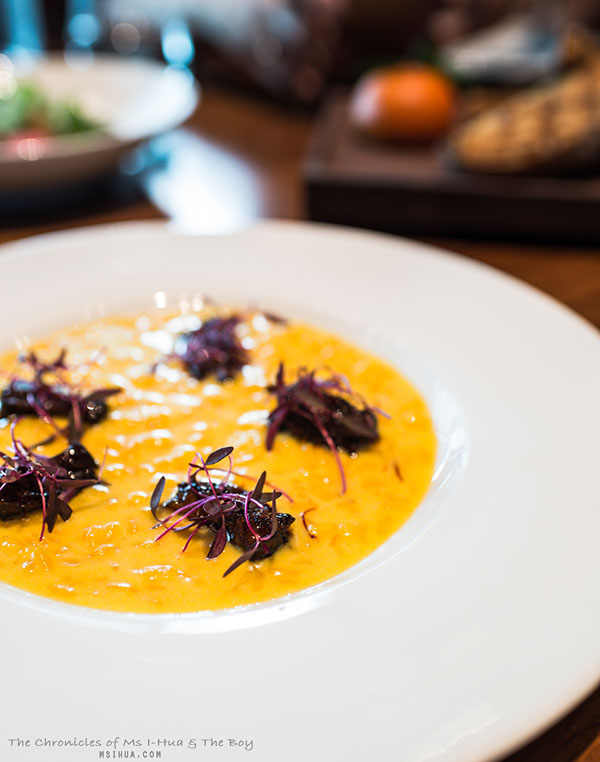 Rice & Flesh (c. 1390) – Saffron, Curried Kangaroo Tail, Red Wine & Amaranth ($36)
The second entree was our favourite entree for the day. It may have looked fairly plain and innocent on the plate. But the moment we each put a spoonful of rice into our mouths, we were each blown away by the intense yet wonderfully balanced flavours. So so so good!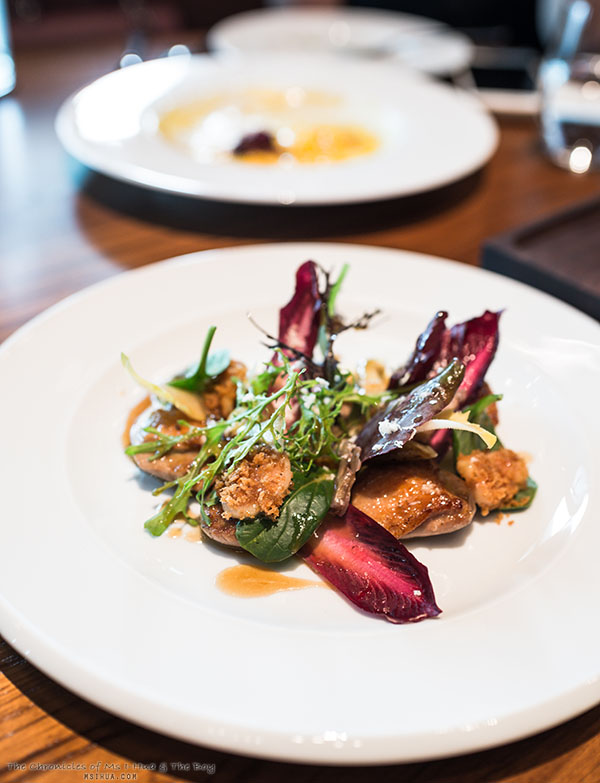 Salamagundy (c. 1720) – Chicken Oysters, Braised Artichoke Stems, Horseradish Cream, Marrowbone & Pickled Walnuts ($36)
This was a dish that EK really wanted to have and so we went along with his choice. As our entrees arrived, we couldn't help but realise that they hadn't brought the Salamagundy out to our table. Upon probing, we realised that the order had not gone through. Aghast, the waiter quickly rectified the order.
It was an overall tasty dish, but no stand-out when compared with the Kangaroo from before.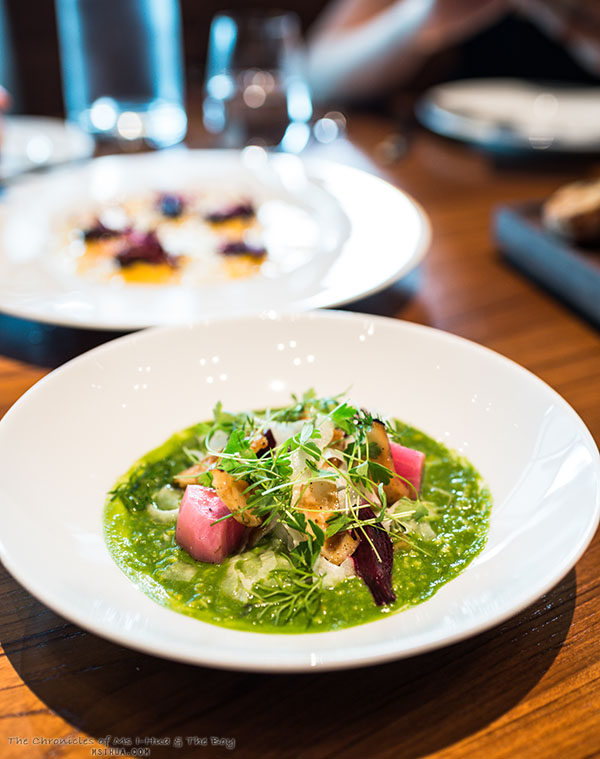 Savoury Porridge (c. 1660) – Garlic & Parsley Butter, Grilled Abalone, Pickled Beetroot & Fennel ($36)
We were excited to order and try the savoury porridge as Mayyan had previously tried the Snail Porridge at Fat Duck. She mentioned that this version was indeed very similar to the snail porridge, albeit minus snail.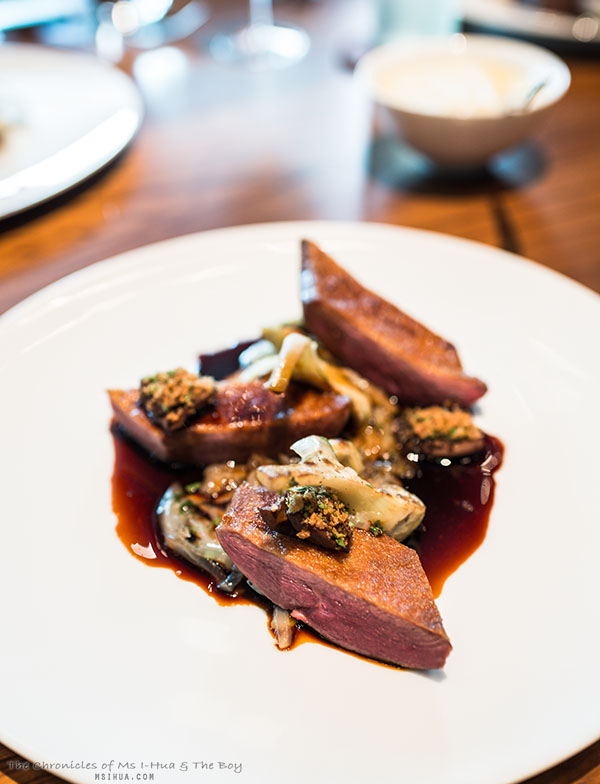 Powdered Duck Breast (c. 1670) – Cooked with Ale & Artichokes ($54)
As far as duck breasts go, this was a magnificently cooked piece of meat. Tender and perfectly cooked, we could not fault this dish apart from it being slightly on the saltier side.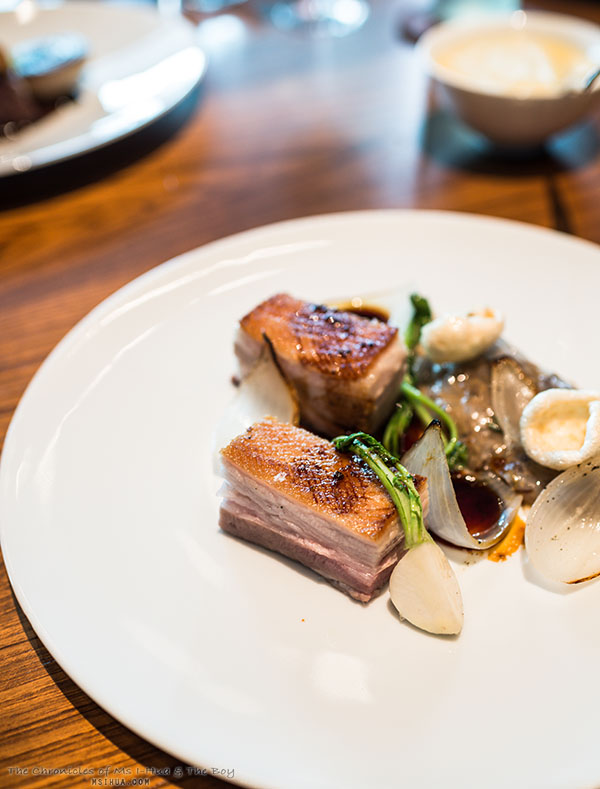 Slow Cooked Pork Belly (c. 1820) – Spelt, Lardo, Baby Turnip & Robert Sauce ($54)
In unison, as we noticed pork belly on the menu, we knew we had to order it. It was another well cooked dish. My only gripe was that there wasn't enough crackling to go around. The boys each took a piece and left the girls with none and we cried, "Whee Whee Whee, all the way home!".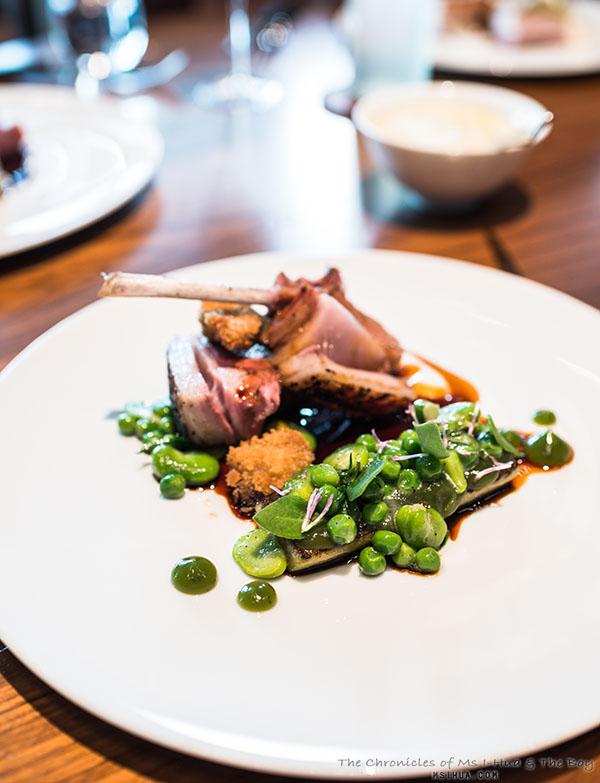 Lamb & Cucumber (c. 1830) – Best end of Lamb with Roast Cucumber Heart, Sweetbreads, Broad Beans, Barilla & Mint ($56)
This was our favourite main dish of the day. Lamb cooked to perfection. Flavours extremely well balanced and everything on the plate just went together. It was a magnificent dish!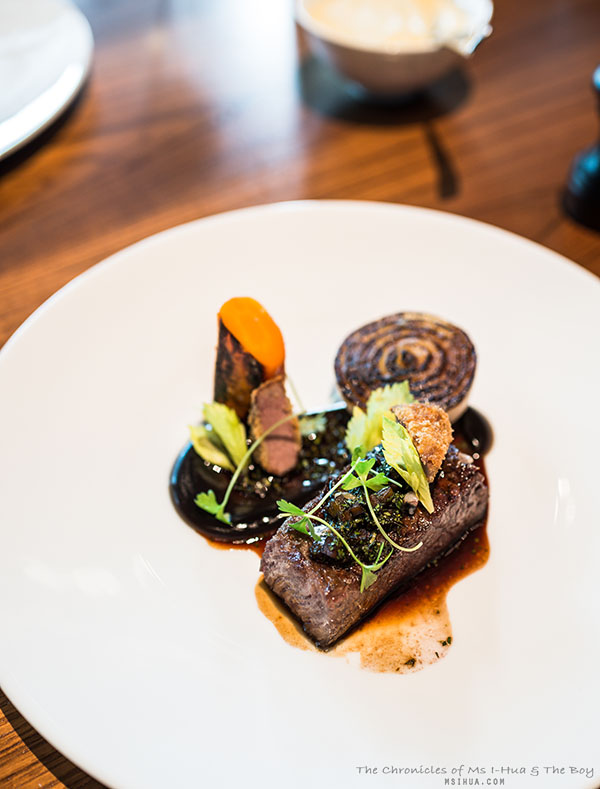 Beef Royal (c. 1720) – Beef Short Rib, Crumbed Ox Tongue, Chargrilled Onion, Carrot.
As I do not eat beef, the other three decided to forgo ordering the Angus beef dishes, however, I managed to convince them to try the special beef dish as I didn't want them to miss out.
The other reason why we chose not to order the beef dishes on the ala carte menu was that they weren't serving them with the famed Heston's Triple Cooked Chips! It was then explained to us that Dinner had yet to acquire potatoes that matched the standards set by their scientist.
The table was sold on the Beef Royal when we were told that it had been cooked for over 56 hours (at 56 degrees). Even so, the dish fell short of remarkable when compared with the lamb main.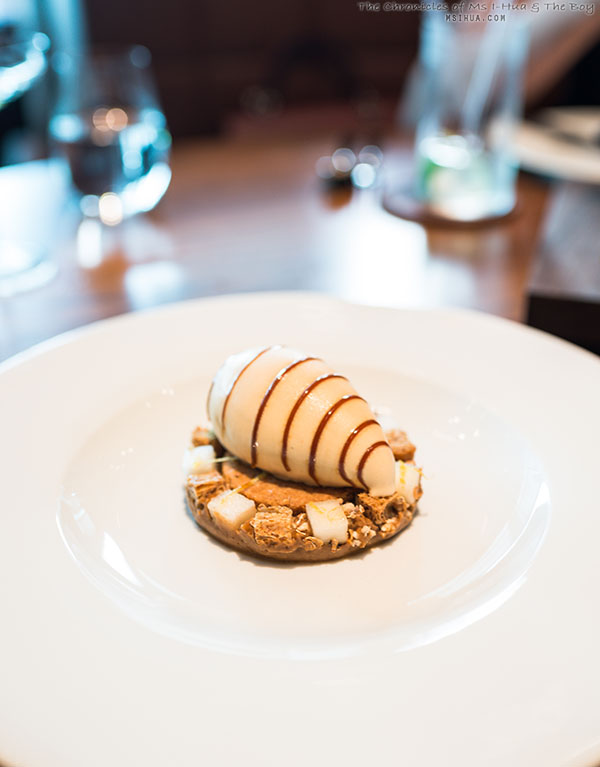 Brown Bread Ice Cream (c. 1830) – Salted Butter Caramel, Pear & Malted Yeast Syrup ($26)
Before we knew it, dessert was brought to our table. The Brown Bread Ice Cream was so delicious. I really loved the combination of textures used in this dish. It also wasn't too sweet, which is perfect for me!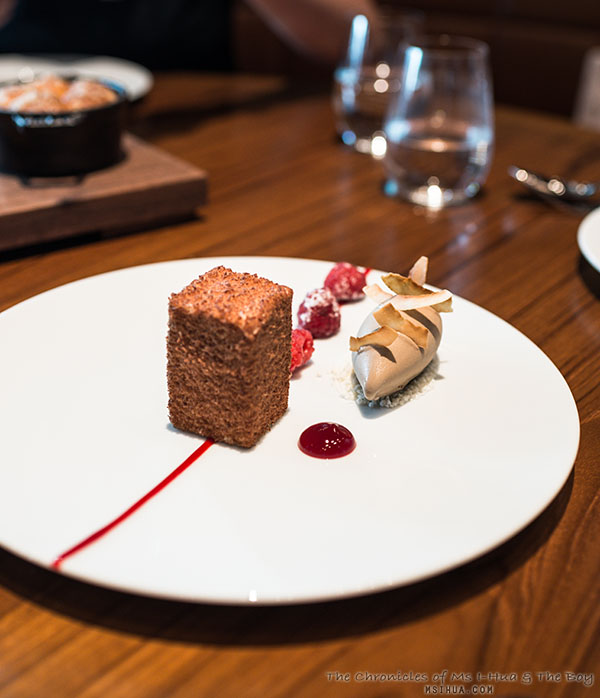 The Lamington Cake (c. 1900) – Grilled Raspberries, Toasted Coconut & Cocoa Ice Cream ($25)
As a tribute to Australia, there was a slight addition to the menu with The Lamington Cake. So we had to order this! Represent!
I thought it was a fair interpretation of Australia's beloved cake.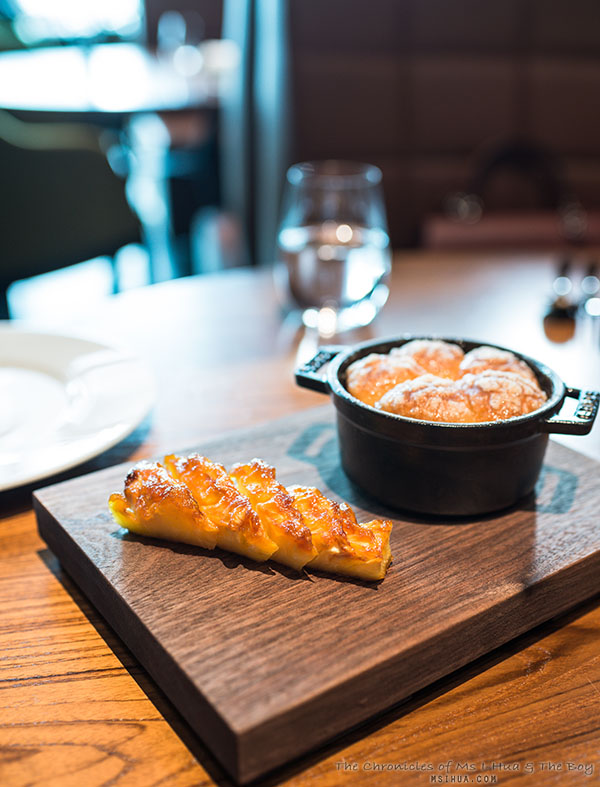 Tipsy Cake (c. 1810) – Spit Roast Pineapple ($30)
Probably the second dish that requires no introduction, is the Tipsy Cake. From the moment we walked in, sat down and placed our orders, Mayyan continuously chanted, "Tipsy Cake, Tipsy Cake", to anyone that was willing to listen.
I have to admit. This was a mind blowingly good dessert. It wasn't that the combination of flavours were out of this world. It was more so the texture of the cake itself. Absolutely fluffy brioche soaked in Sauternes, brandy and vanilla cream served with spit-roast pineapple. You could almost have said that the spit roast pineapple was a distraction and was not required. That was how magnificently good the brioche was on its own!
We found the recipe for this, and I can say that it takes an incredible amount of work and skill to be able to put it up. Not to mention patience!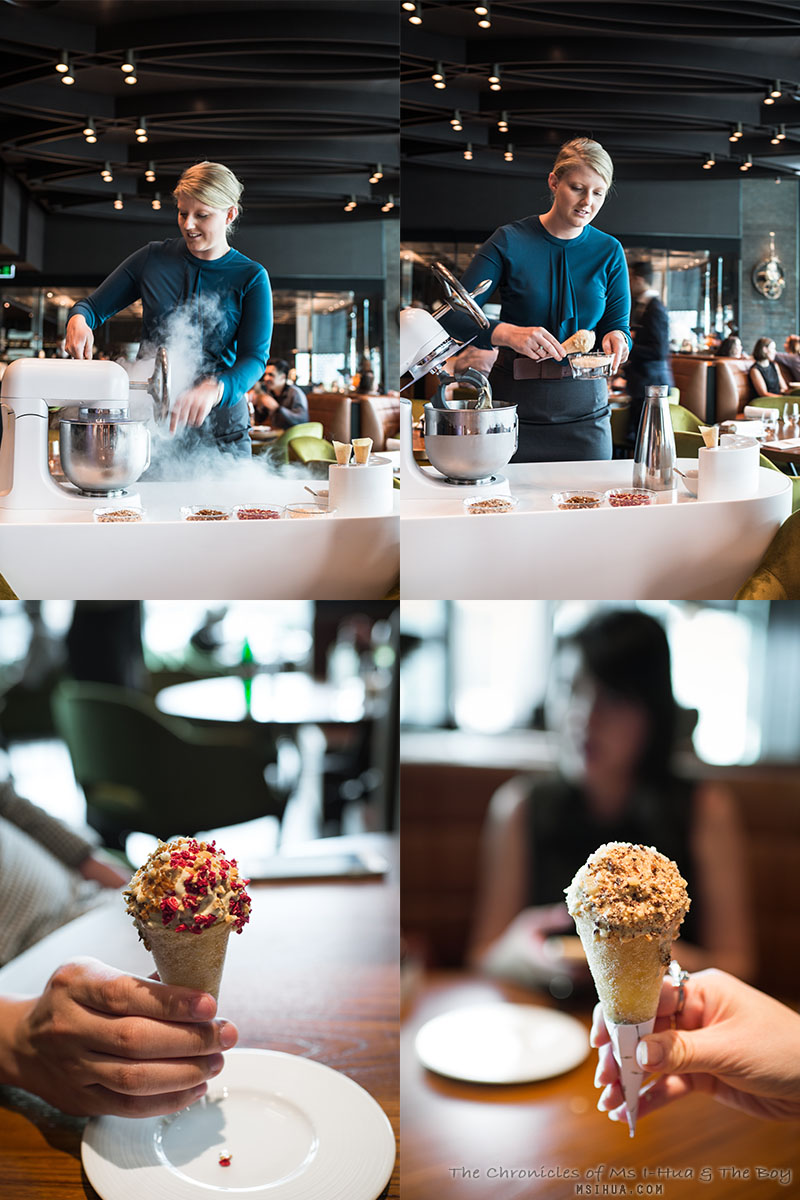 Liquid Nitrogen Ice Cream Trolley
As a bonus (and a little bit of a gimmick), we ordered two serves of Liquid Nitrogen ice-cream from the ice-cream trolley that came along. This brought the number of desserts we had to 4!
The ice-cream melted pretty quickly (from the moment we held onto them), which made me think that the ingredients ratio wasn't a 100%, as I've eaten many NO2 ice-creams before and none of them have ever melted as quickly as the ones we had that day.
Perhaps it was a Halloween trick! And we had been served! Bam!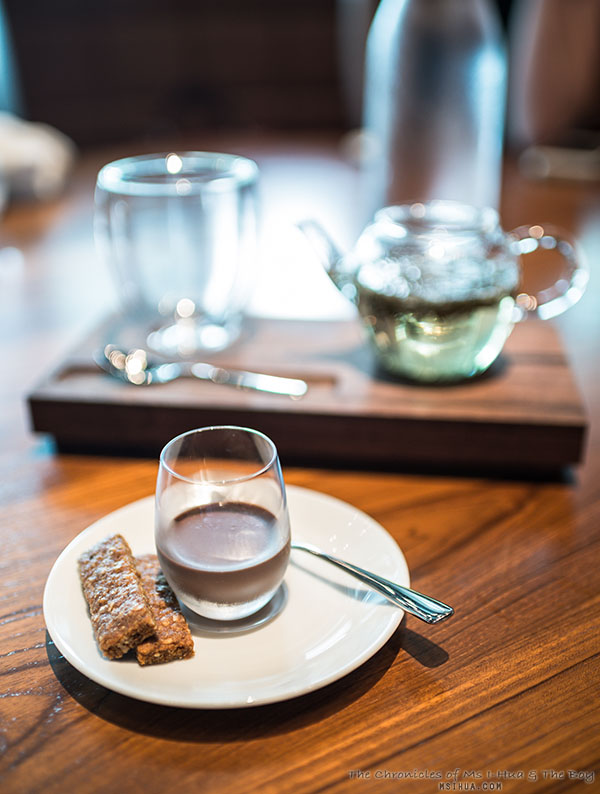 For our petit fours, we were served a little shot glass of chocolate ganache and little biscuits as a sweet ending to our meal at Dinner.
Though the prices of the dishes are expensive, the portion sizes are quite generous. As I mentioned before, even though we didn't experience theatre and drama with our meal, we still enjoyed our meal very much here.
Will we return? All I can say is that The Boy is already planning a return visit in the new year.