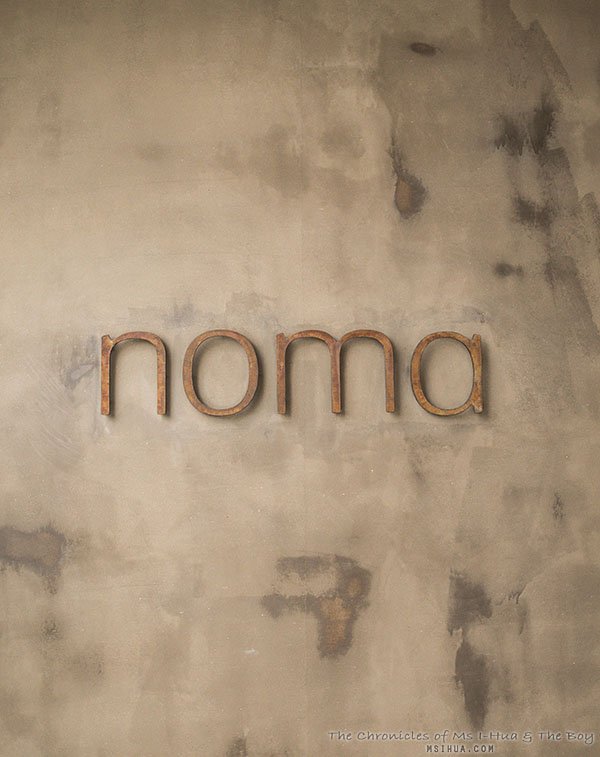 The moment the six of us have been waiting for since we managed to snag our lucky tickets a few months back had arrived.
Coincidentally, it happened to land on my birthday weekend. Dining at Noma Australia was always going to be a spectacular affair, I just didn't realise that it was going to be one of the best days of my life (and with tickets sold out in under 4 minutes, we were very lucky indeed) as well!
We had all planned to arrive earlier, so that we could take photos of the outside and relax before the main event was to start. Upon walking towards Barangaroo, where Noma Australia has parked itself for the next 10 weeks, we were greeted with warm smiles and hospitality.
Our wait staff had also turned into our photographers as well as butlers, waiting on us hand and foot until we were ready to be escorted to our table.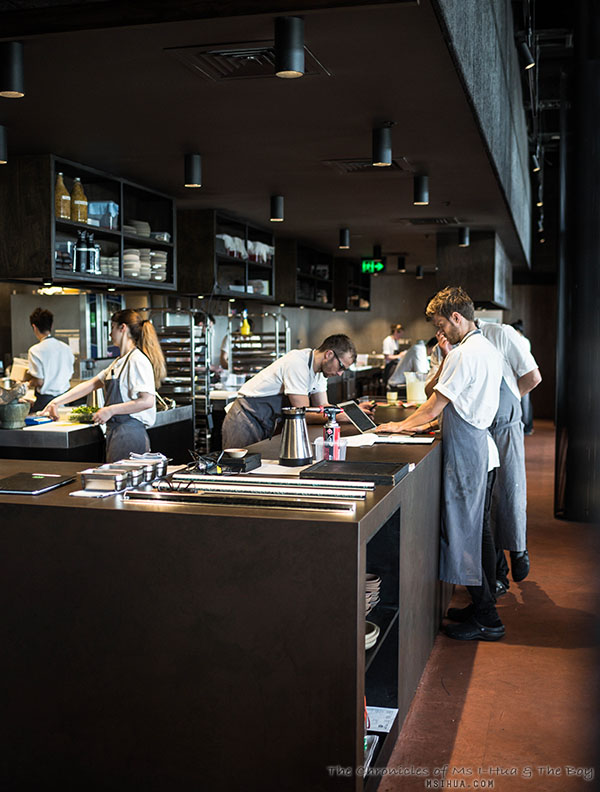 As you walk through the doorway that passes the kitchen, Rene and all the kitchen staff (those who were inside) greeted us warmly with smiles. Star struck! Both The Boy and I have met Rene previously in Melbourne, but each time, we are still blown away by how humble and down to earth he is.
The aesthetics of the interior were very clean and Nordic. True to the Danish style of furnishing, with very minimal decorations apart from some table decorations of native plants and furry wallaby coverings adorning two of our six chairs.
To start us off with our lunch, we had a round-table serve of Snakebite (Two-Metre-Tall, Derwent Valley), a type of aperitif that is a combination of cider and beer.
The overall meal took on a pretty fast pace. Rene is a firm believer in treating his staff well, and that includes reasonable working hours. As such, our dishes kept up a steady pace and we did not have to wait long between courses.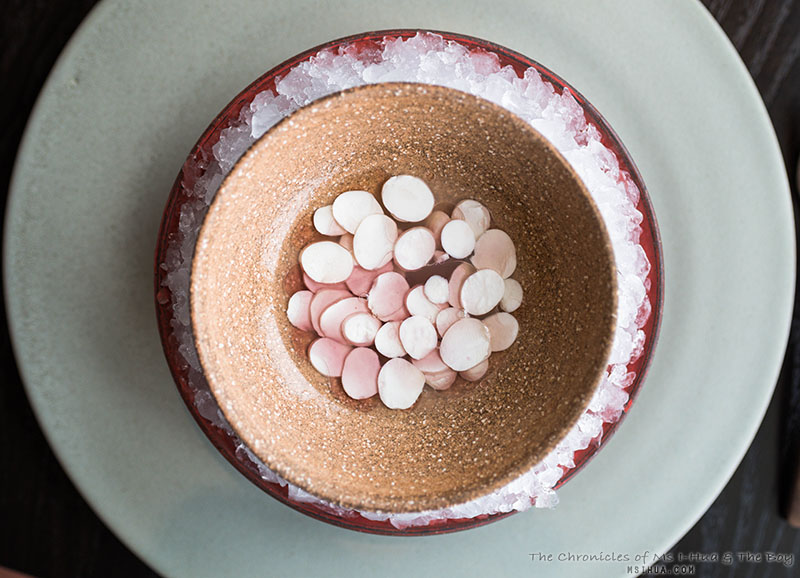 The first course was a Shaved Unripe Macadamias in a Spanner Crab Broth and Rose Oil. The hint of rose oil was light and fragrant and not too overpowering. I loved the textural component of this dish and found the crunchy bits of the raw nuts similar to that of the water chestnut, the broth very light and refreshing.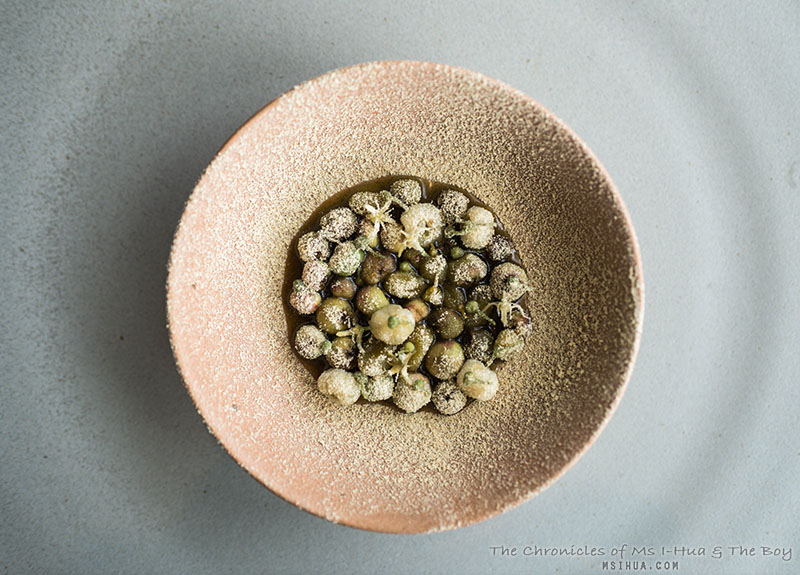 On to our second course of Wild Seasonal Berries (muntries, lemon aspen, riberry, desert lime) seasoned with grated Gubinge (also known as Kakadu Plum) and kelp oil. The overall flavours for this fresh native berries dish I found to be a little too sharp and tart. I didn't understand the combination and balance of flavours on this dish. If I'm at all honest, this was my least favourite dish of our meal. But, taste is so subjective, and I am learning to appreciate the cleverness of this dish, as EK simply describes this as a dish where every mouthful is different. And that's so true, depending on the different berry combination you get on a spoon, you get a slightly different taste each time. An impressive interpretation of Bush Tucker or bush food, I must admit.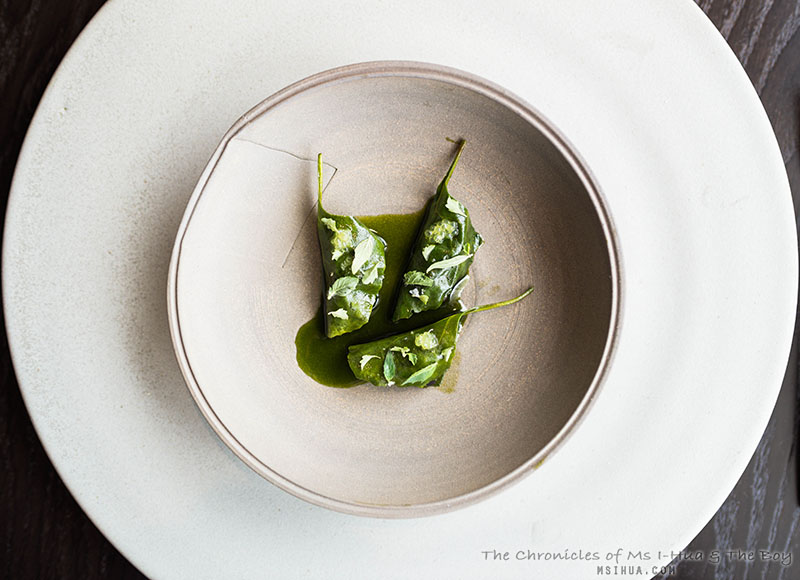 As the third course began, so did our drinks pairing. Half of our table went with the Juice Pairing option ($95 per person) and the other half went with the Wine Pairing option ($195 per person).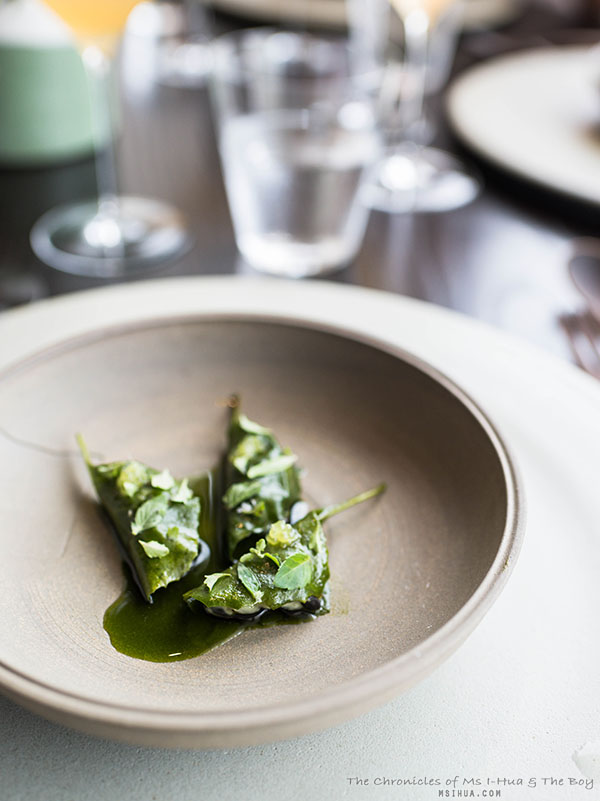 Porridge of Golden & Desert Oak Wattleseed with Saltbush, served with an oyster emulsion, anise and cinnamon myrtle and finger lime. We also found out that the salt bush leaves were compressed with celery oil.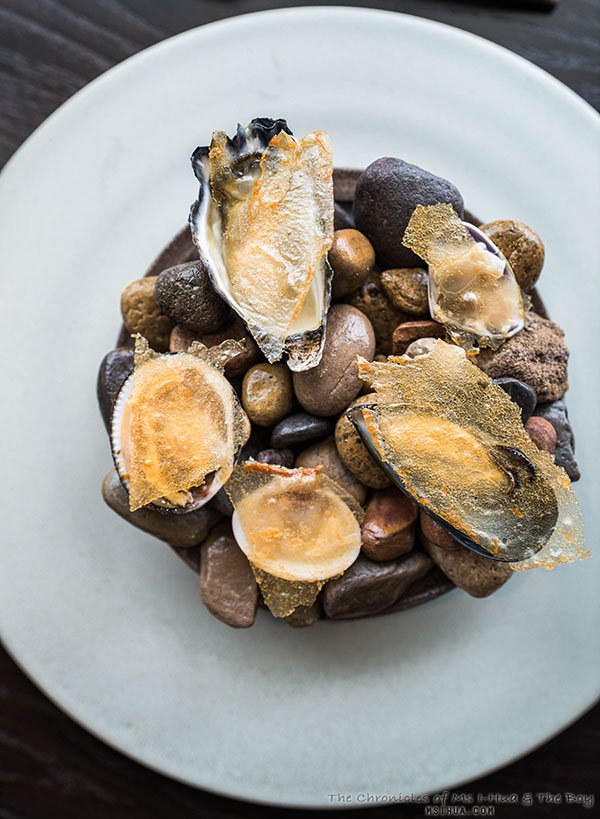 As our fourth course, we exclaimed and clapped our hands with joy with Noma's interpretation of the Aussie Seafood Platter. Apart from Shellie and Ewen (who aren't fans of shellfish such as the ones served), we couldn't wait to dive into the common pipi, mussel, strawberry clam, flame cockle and oyster. Between the four of us, we got to select more friendly shellfish from Shellie and Ewens' dishes. Huzzah!
The best part of the whole seafood platter? It was the delicious crisp duck skin cooked with crocodile fat. The mind-blowing bit? It wasn't even real duck skin, but rather skimmed duck fat dried and brushed with crocodile fat. Honestly, duck fat will never ever cut the mustard again! Give us all the crocodile fat!
Don't think you can go into your local grocery shop and start asking for crocodile fat however, we were told that the crocodile fat is sourced from the very same farmers that sell the crocodile for a certain high-end luxury brand.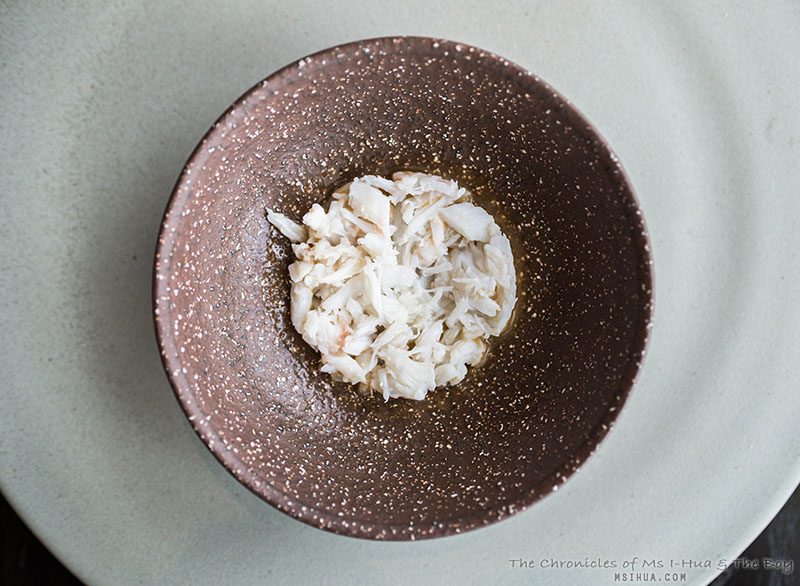 For our fifth course, we were served a WA Deep Sea Snow Crab (from Albany) with Cured Egg Yolk. For the other five, they had their egg yolks cured in kangaroo that had been fermented for 6 months.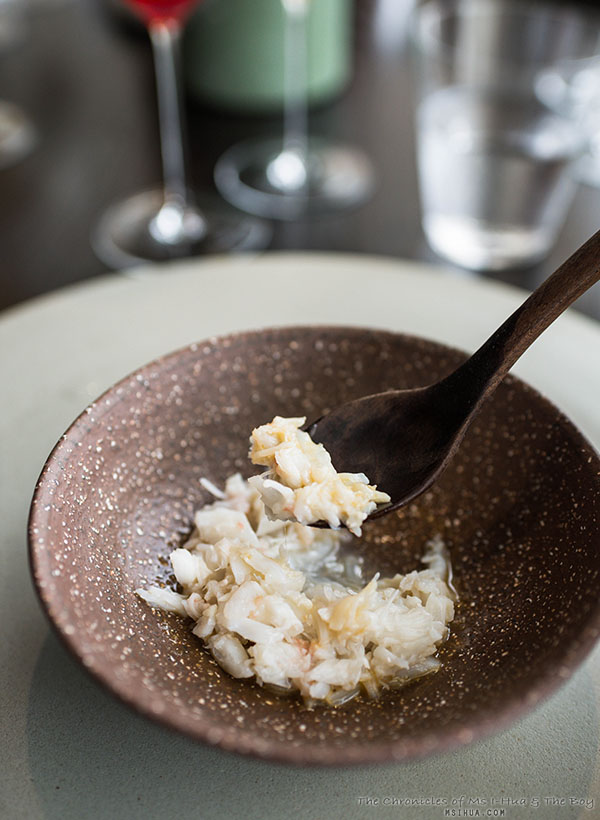 The crab that adorned my plate came with miso. I found that my dish was richer and more umami in flavor. So so good! Not a single crab shell or cartilage was in my dish! This is always so amazing, as this is the single hardest thing apart from fish bones for chefs to prep in the kitchen. I was lucky that I didn't score any, but some others did, but no one minded at all as we all understand the difficulty in this. It's one of the worst prep jobs in the kitchen, that's for sure.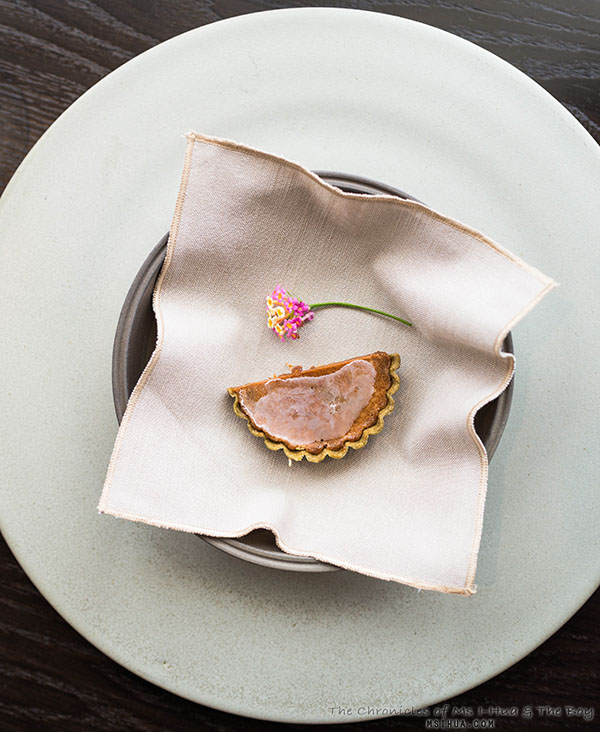 _____________________________________________________________________________________________________________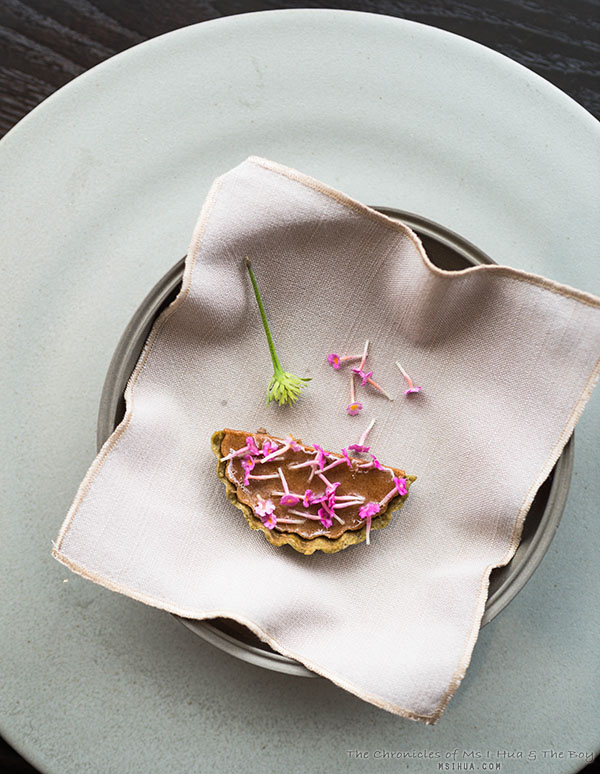 At the halfway mark, we were served a Pie. Not any ordinary pie, but one that was filled with dried scallops and garnished with edible pink lantana flowers. The tart shell was made out of dried seaweed (kelp) and filled with lantana blossoms as a layer between the shell and the filling. This was a fun interactive dish where the whole table proceeded to pull the lantana flowers out of the semi poisonous stem to individually food style. Who knew eating weeds would be this fun?!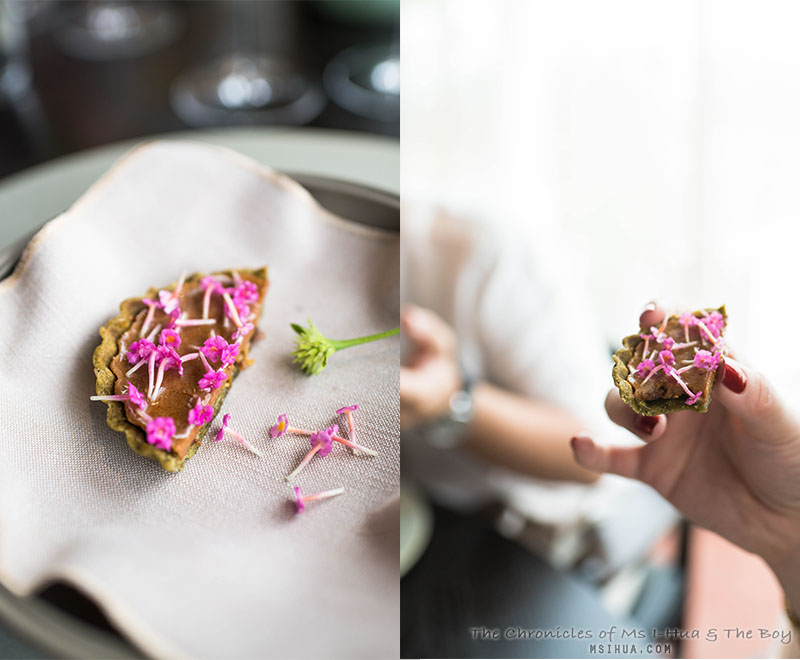 This dish made me reminisce on my childhood where I would be sitting out in the front yard whilst mum pottered around in the garden and I would be smashing together flowers that included lantanas in my masak-masak (cooking) play time. I could have been a budding forager in my youth! Alas, my parents knew not of my potential.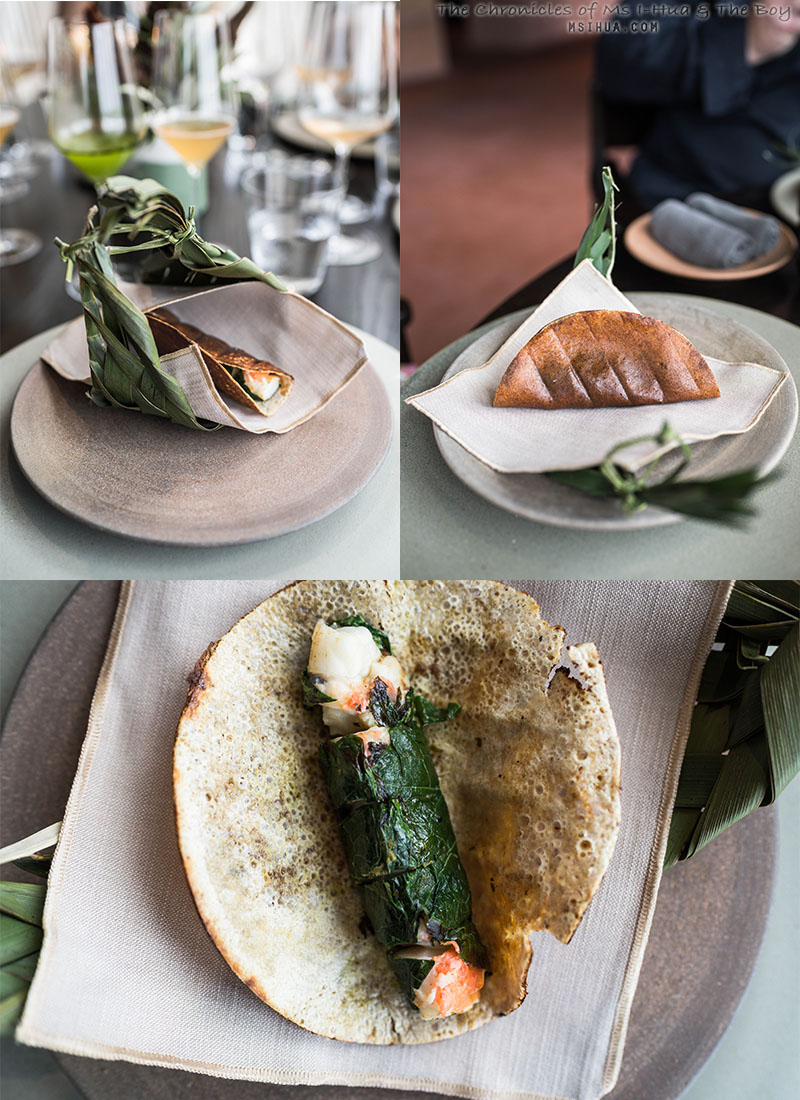 As our seventh course approached and was brought to our table, it almost felt as if we were out dining in an Asian styled banquet. Such was the style of presentation of the next dish.
BBQ'd milk 'dumpling' with Marron and Magpie Goose. The beautiful palm leaf was folded in such a way that would make origami masters weep. So beautiful.
The milk skin was cooked to perfection, almost resembling a Malaysian street food snack known as apung or apom balik. Folded over as if it was cradling the Marron within, which had been brushed with a Bolognese made with the Magpie goose. Those with more western upbringing may think that this 'dumpling' resembled more of a taco shell!
Fun fact: The Magpie Geese eat mangoes. And they don't just eat the mango as a whole, they eat the sweetest part of the mangoes. They are pretty much considered a pest to the Australian mango farmers.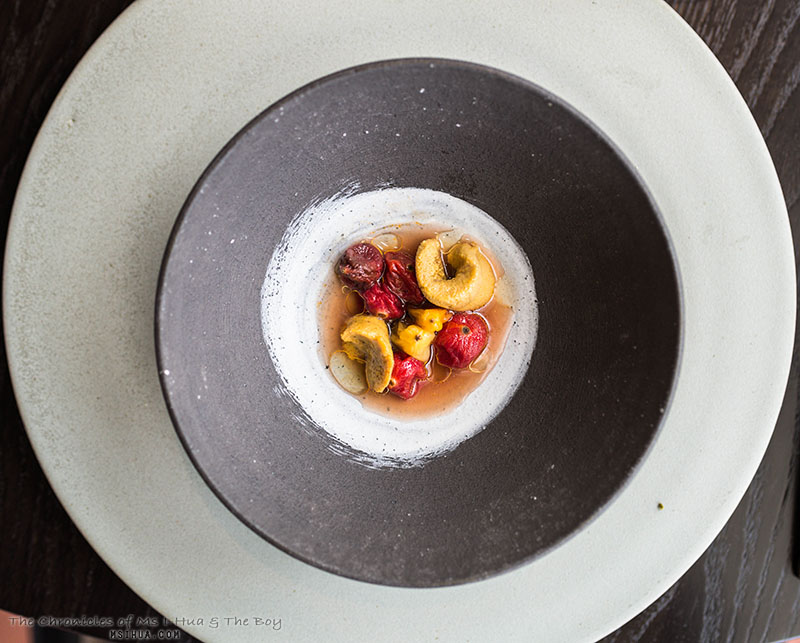 The eight course arrived. Uni!!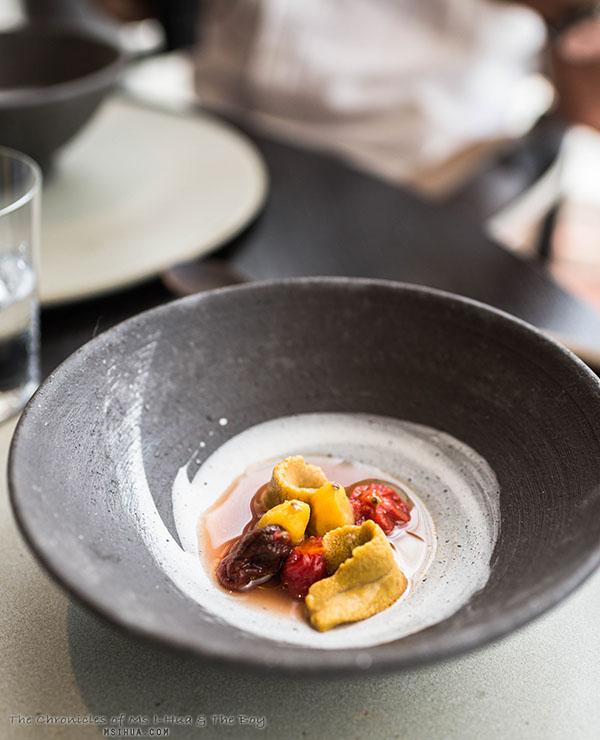 Sea Urchin & Tomato Dried with Pepper Berries. The Sea Urchin or uni derives from Ulladulla, a coastal town in New South Wales and the tomatoes are from Launceston in Tasmania.
You would have thought that with a dish like this, the star would be the sea urchin. For most of us at the table, it was the tomatoes! This was one of The Boy's favourite dishes. Rich and umami.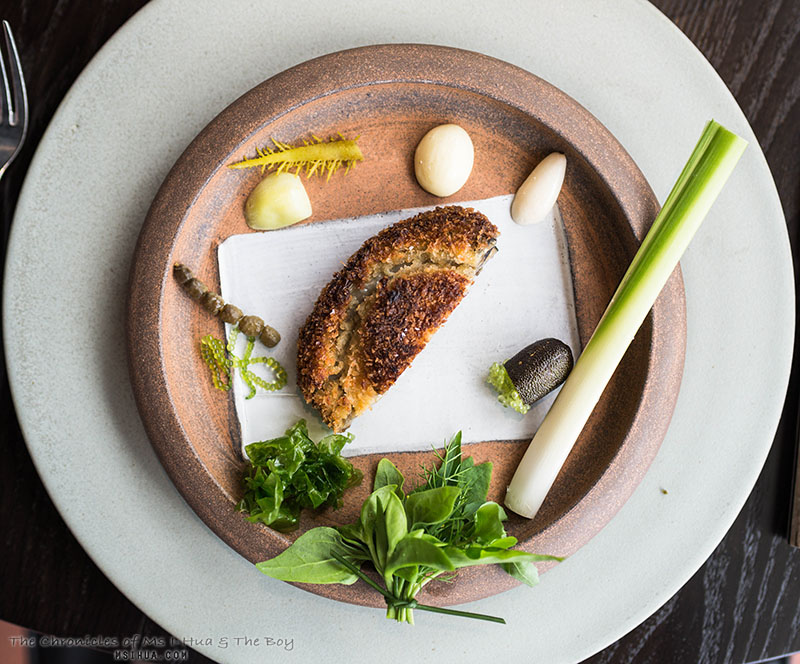 The ninth and final savoury course was an all round favourite with everyone at the table. A schnitzel like no other.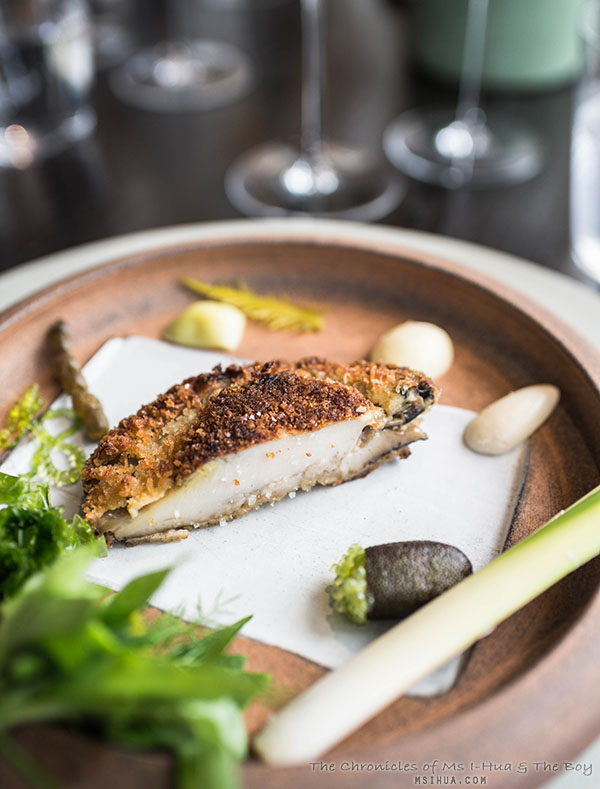 Abalone Schnitzel and Bush Condiments. This was served with assorted beach plants such as Sea Lettuce, Sea Grapes, Sprouting Kelp and Neptune's Necklace. Other items foraged and placed onto the plate were the Kakadu Plum, Bulrush, Bunya Nut from the Bunya Pine, Finger Lime, Mat Rush and a bouquet of fresh seaside plants.
All of this served with the most umami rich mushroom dipping sauce.
The abalone was unlike any abalone I've ever had before. It was tender, soft and silky and cooked to the perfect texture. Amazing.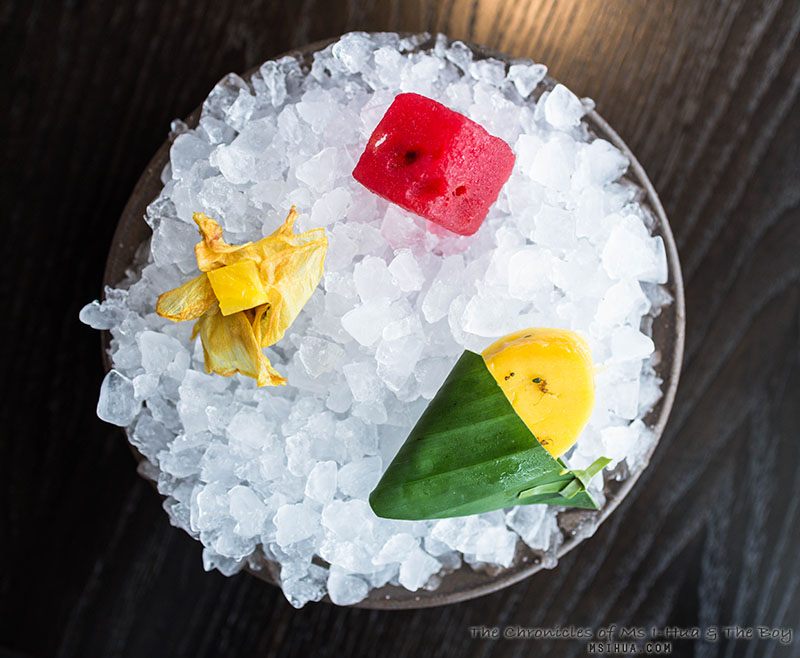 Marinated Fresh Fruit. This of course was meant to be the most 'challenging' dish served at Noma Australia, with native green ants. Ultimately, it was like a Thai version of a Mango dessert in a sandwich with a paste of green ants. None of us at the table were able to distinguish or identify the lemon scent of the ants.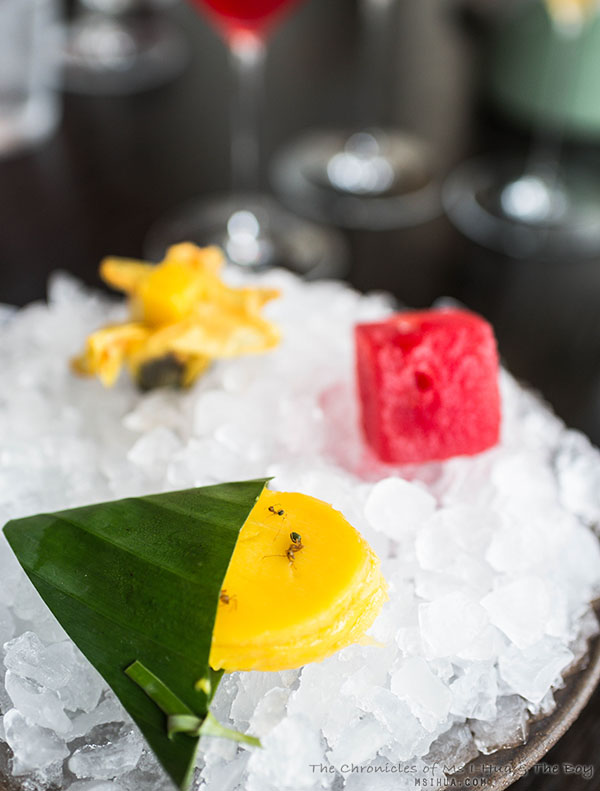 Also on the fruit platter was a pineapple soaked in blackcurrant wood oil wrapped in wild hibiscus and a watermelon soaked in a juice of Davidson plum.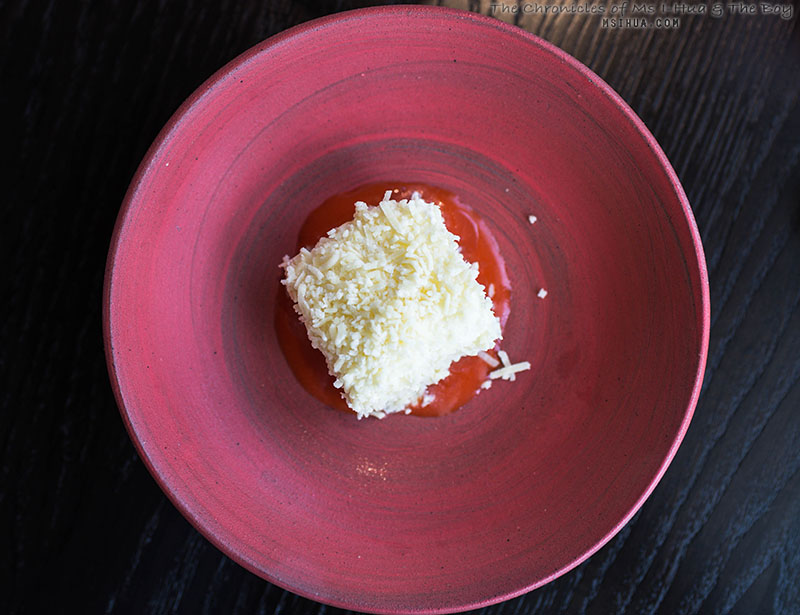 _____________________________________________________________________________________________________________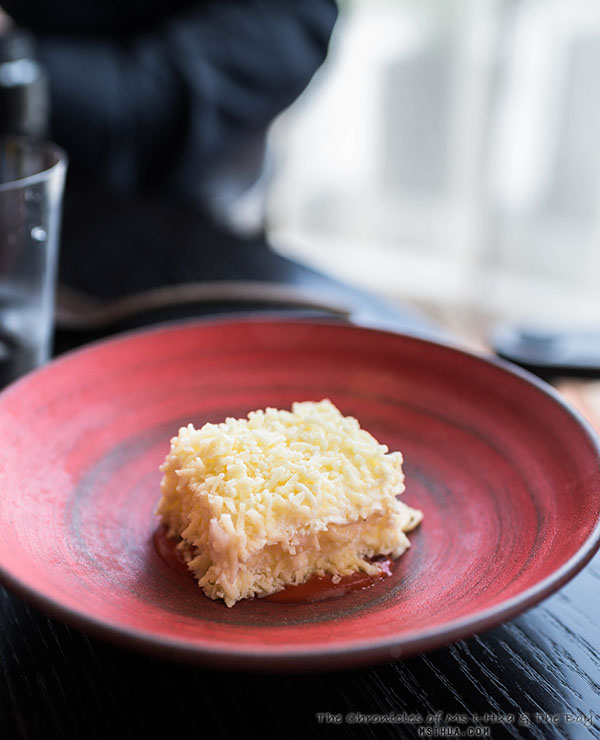 For the second dessert course, we were served a Rum Lamington, an ode to the Aussie favourite. Served with a milk crumb and rose oil. A light aerated rum cake that was like a fluffy cloud. Here one minute, gone the next.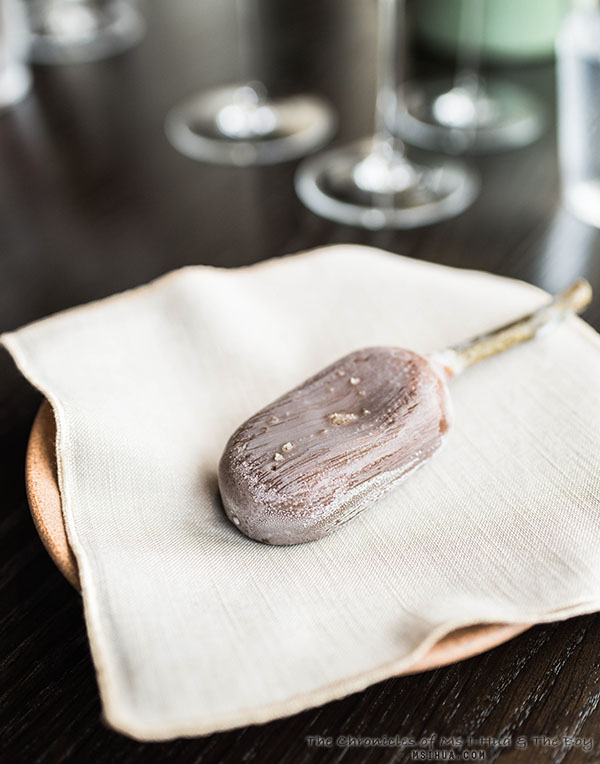 _____________________________________________________________________________________________________________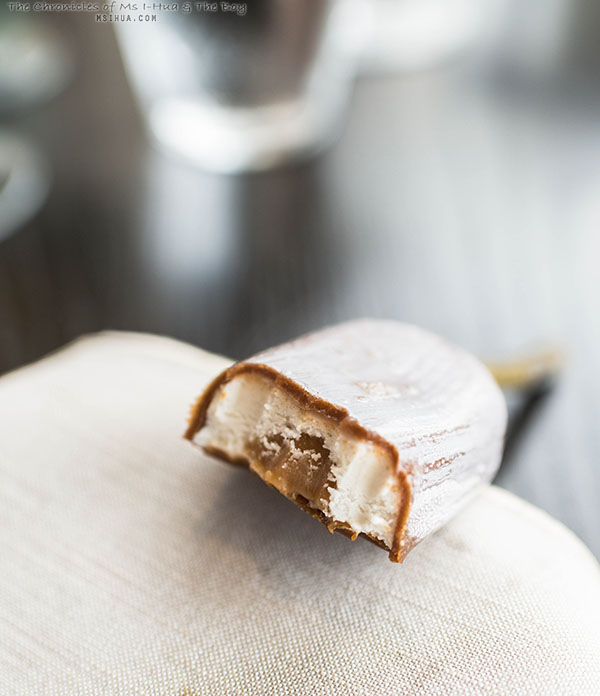 The final dessert was a Peanut Milk and Freekah "Baytime", another nod to Australia's love with dessert, this time, the Golden Gaytime. I particularly enjoyed the hidden toffee layer and roasted Freekah.
By this time, I was well and truly sloshed, so my notes, surprisingly made more sense than I remembered!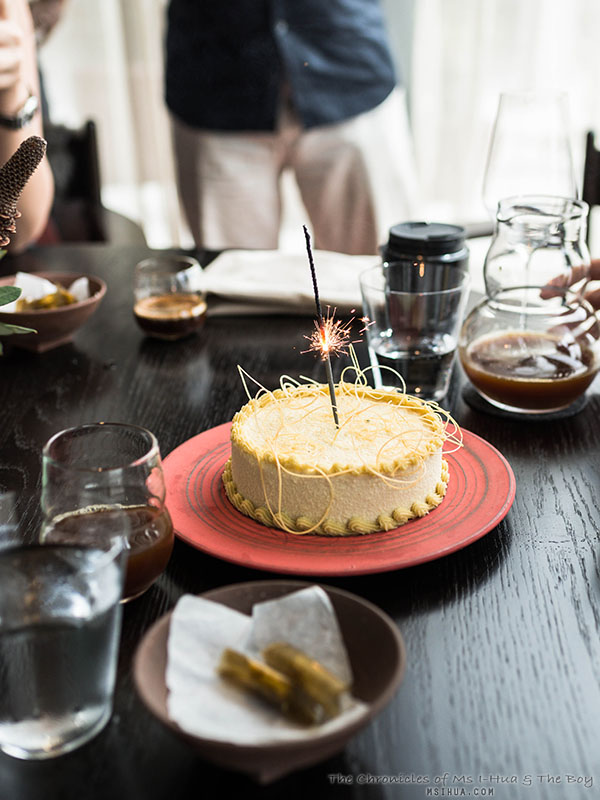 And then! A wonderful surprise. A special birthday cake arrived with a sparkler all for me (and my friends). A delicious Banana and Lemongrass cake.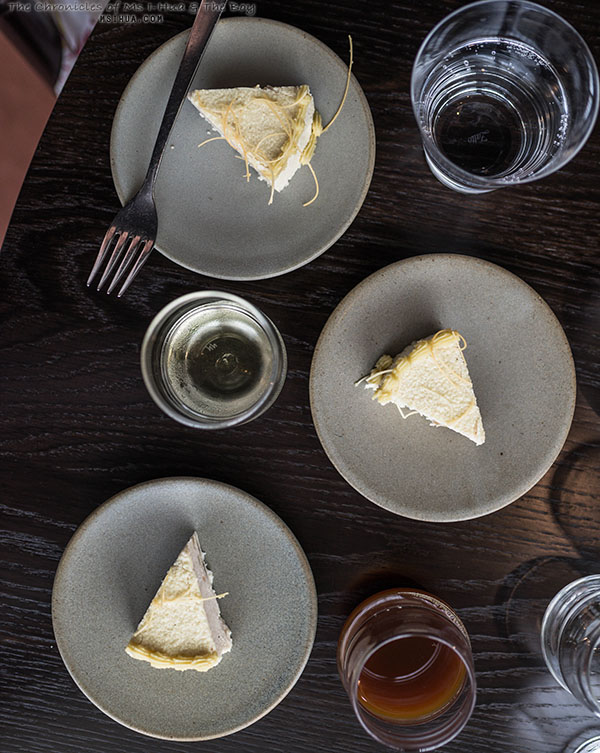 Once we were done with our meal, we were ushered to continue with drinks on the outside concourse area, where we continued with some merry making.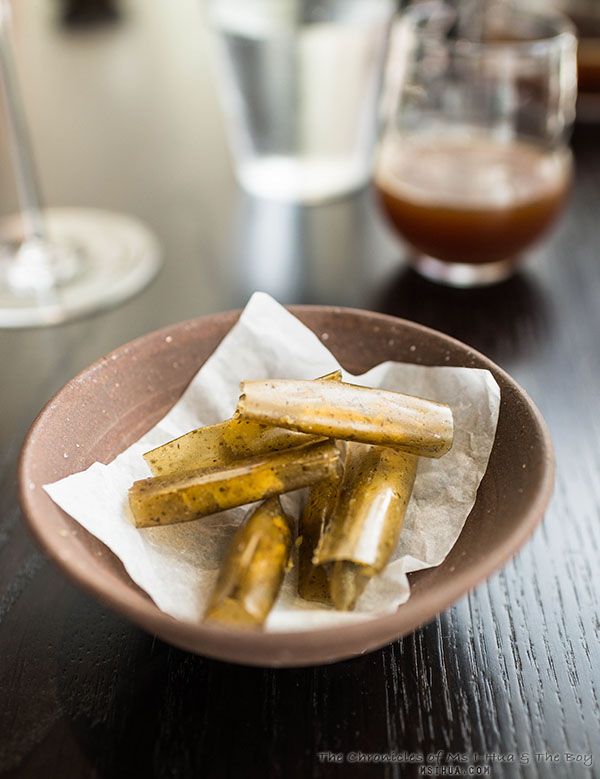 All in all, for nearly $700 AUD per person (slightly less for those doing juice pairing, and including all other incidental drinks), the total experience was one of a kind. The only gripe that some of us had, was that it was too short a degustation. It would have been perfect if there were a few more courses (15 or 16 would have been good), at 12, we were left wanting more. It felt like the story ended too abruptly, and we were craving for more.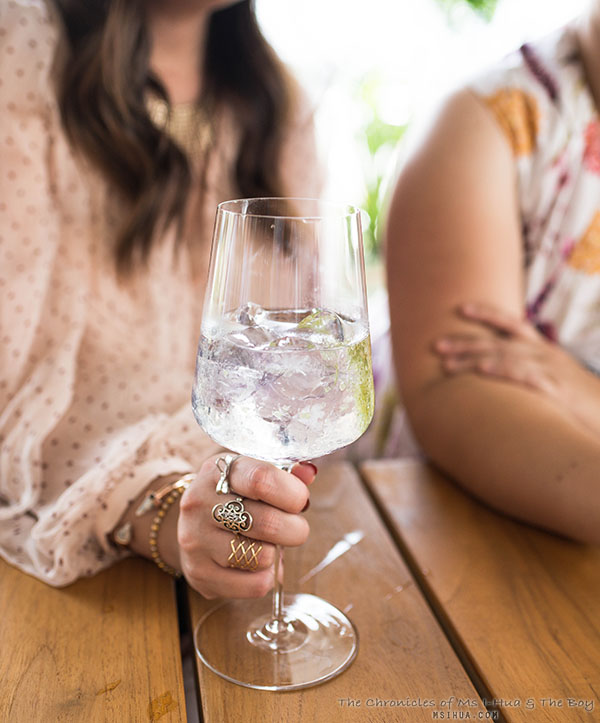 It was a great experience, and one that I am truly thankful for, in the sense that it was truly a life experience. We appreciated the whole Noma team uprooting themselves from Copenhagen with their respective families and moving so far down under to Australia, cooking with completely foreign ingredients that the Australian food industry is only starting to touch on. Kudos for their bravery and well done to Rene and the rest of the Noma team. I can truly see how Noma has won the prestigious The Worlds 50 Best Restaurants four times running!
Extra shout out to all the staff who bothered to play with us and take countless #selfies and #wefies on their very first weekend service in Australia!
Special thanks goes to our lovely dedicated wait staff, Tamara Archer, Katherine Bont, James Spreadbury and of course, the genius himself, Rene Redzepi!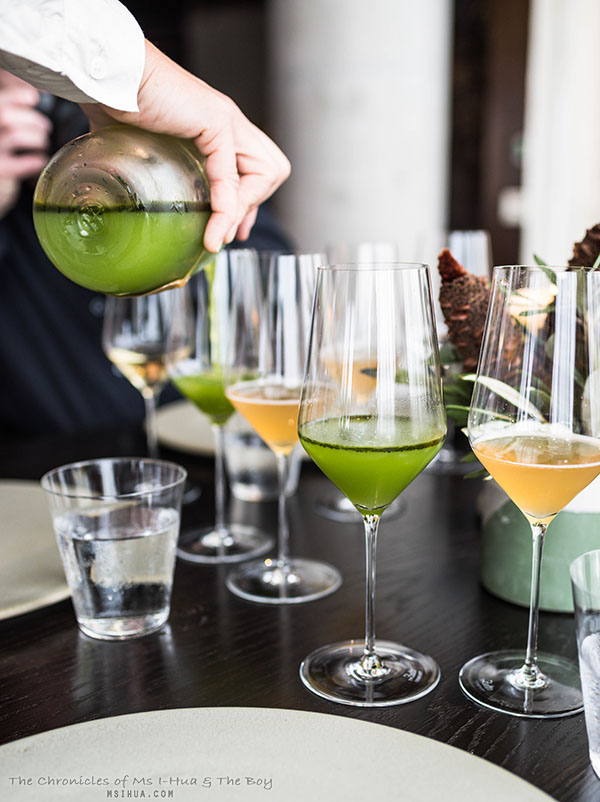 Juice Pairing: Bergamot Kombucha with Native Mint; Rose Kombucha with Spruce Wood Oil and kaffir lime oil; Green Tomato with Lemon Myrtle, celery and blackcurrant leaf oil; Smoked Pepper with Red Pepper Berry and Davidson Plum; and Riberry with Native Lemongrass.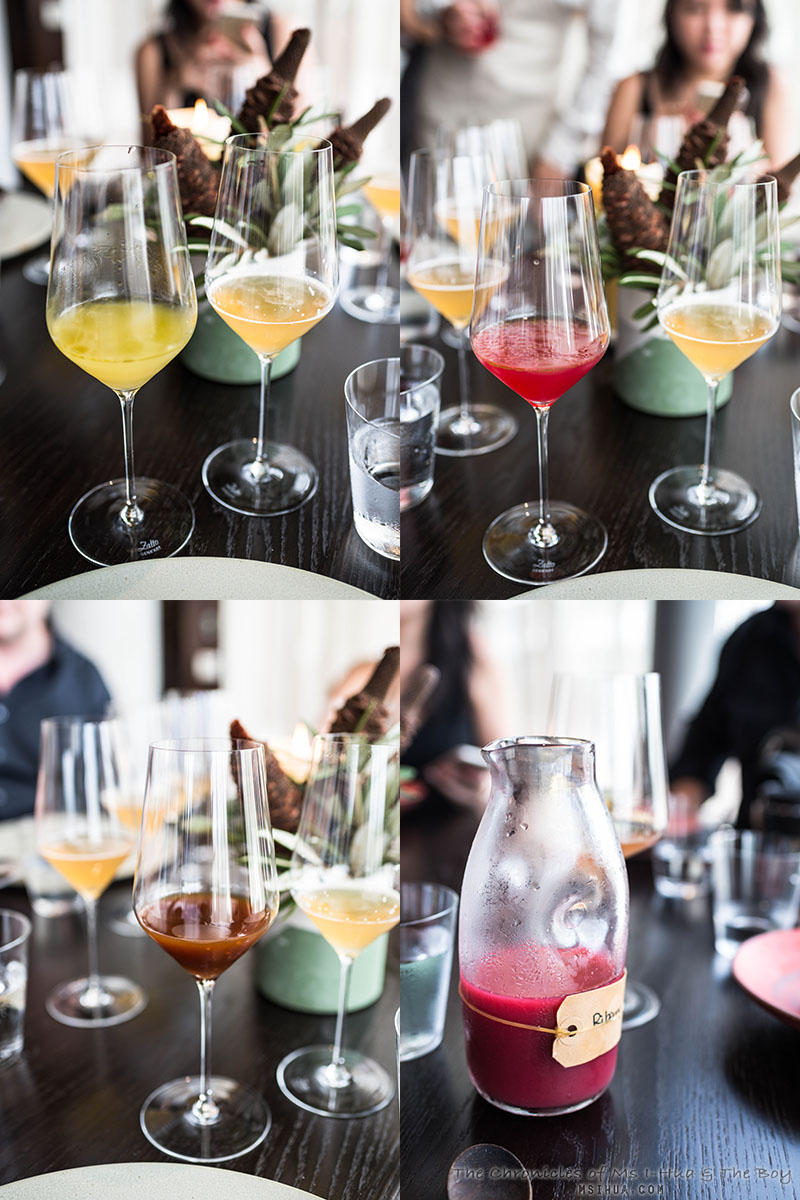 Wine Pairing: 2015 Robot!, Travis Tausend, Basket Range; 2015 Estate Chardonnay, Commune of Buttons, Adelaide Hills; 2015 Rizza, Brian, Tamar River; 2015 Chardonnay, Domaine Lucci; Basket Range; 2015 Yettie and the Kokonut, Sercial, Clare Valley; 2014 On Skins, Pyramid Valley Vineyards, North Canterbury; and 2013 Moto Shibori, Akishika Shuzo, Osaka.
_____________________________________________________________________________________________________________
Thanks to the amazing Ewen Bell for snapping the candid photo below of Eugene, Mayyan, Rene and I in our favourite kawaii pose 🙂 As can be seen by our happy smiles, it truly was one of the most relaxed dining experience (almost like going home to family and friends) despite it being one of the top restaurants in the world! Completely unpretentious with good warm vibes.