The Boy and I often get asked what our favourite restaurants are, and if we could pick, what's the ultimate restaurant we would recommend. We have always been a bit hazy with our choices. We could never pick a name, nor could we really suggest one that we would both agree with, that was a favourite.
That all changed last year, when we visited The Fat Duck (TFD) on our trip to London. TFD clearly needs no introduction, however for those who haven't heard of this restaurant, it is the brainchild of Heston Blumenthal. A man who also needs no introduction and has been instrumental for changing the stiff formal dining scene in the fine dining arena. Think fun, surprising, challenging, and to expect the unexpected, Heston, is the epitome of the mad scientist, or the nutty professor, in the kitchen. If you don't know who he is, then you may need to crawl out from the rock you've been hiding in.
Having been a massive fan all these years, and having missed out on the opportunity to spend all our hard earned money when TFD popped-up in Melbourne in 2016, whilst the original restaurant was undergoing renovations, we decided it best to save our cash and visit the original location if we ever journeyed to London. Personally, I couldn't have asked for better companions than The Boy and The BFF (who flew into London just for this experience with us) to dine with at TFD.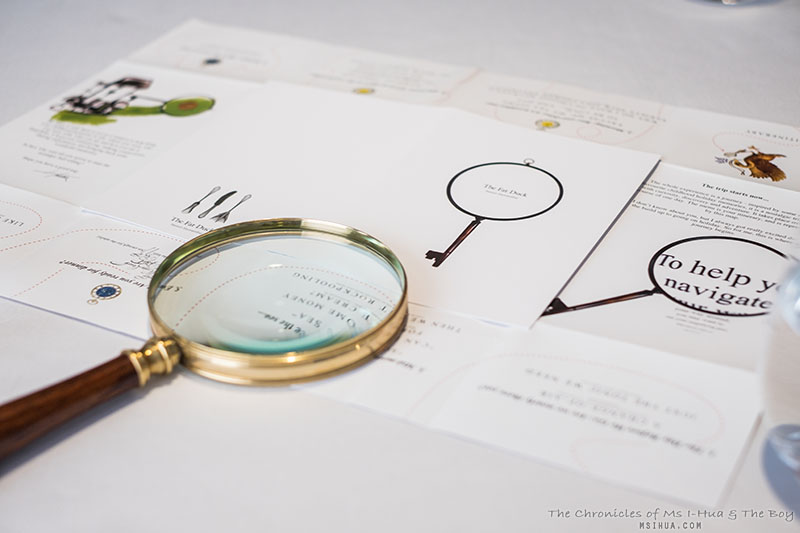 Getting to TFD was pretty easy. We met at Paddington Station (where we found the bear and took many photos with), and took a train down to Maidenhead. From there, we took an Uber to the quiet and quaint little town called Bray. Giggling madly in the rain (of course it was raining), and turning into the restaurant, the three of us could hardly contain our excitement that we were finally at TFD!
The dining experience began as soon as we walked in and was greeted by our personal Storyteller, Ryan.
From there we were provided with the drinks menu whilst we also familiarised ourselves with the contents laid out on the table. Imagine an entire menu devoted to Heston's favourite childhood memories, chiefly a beach holiday, complete with a map, and a magnifying glass!
Without wanting to give too much away, we will be sharing pictures of some dishes below, minus the usual descriptions. Feast with your eyes. For a true experience, do, if possible, make a trip to London and visit The Fat Duck in person. Some of these may be familiar to you from previous cookbooks and TV shows, but the presentation and interwoven storyline is quite different.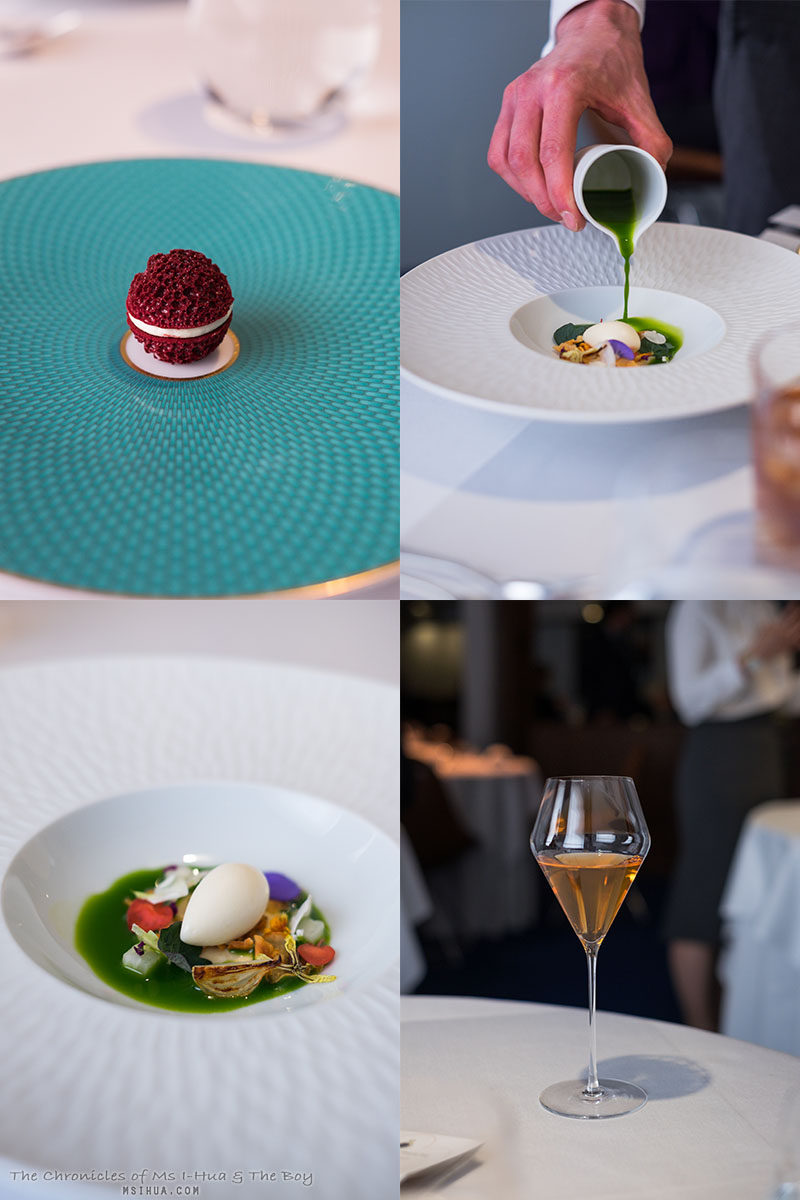 The Day Before We Go: Are we nearly there yet?
[Clockwise from Top Left: Aerated Beetroot Macaron with Horseradish and Mascarpone; a glass of Plum wine; and Smoked Cumin Royale, Jerusalem Artichoke ice cream.]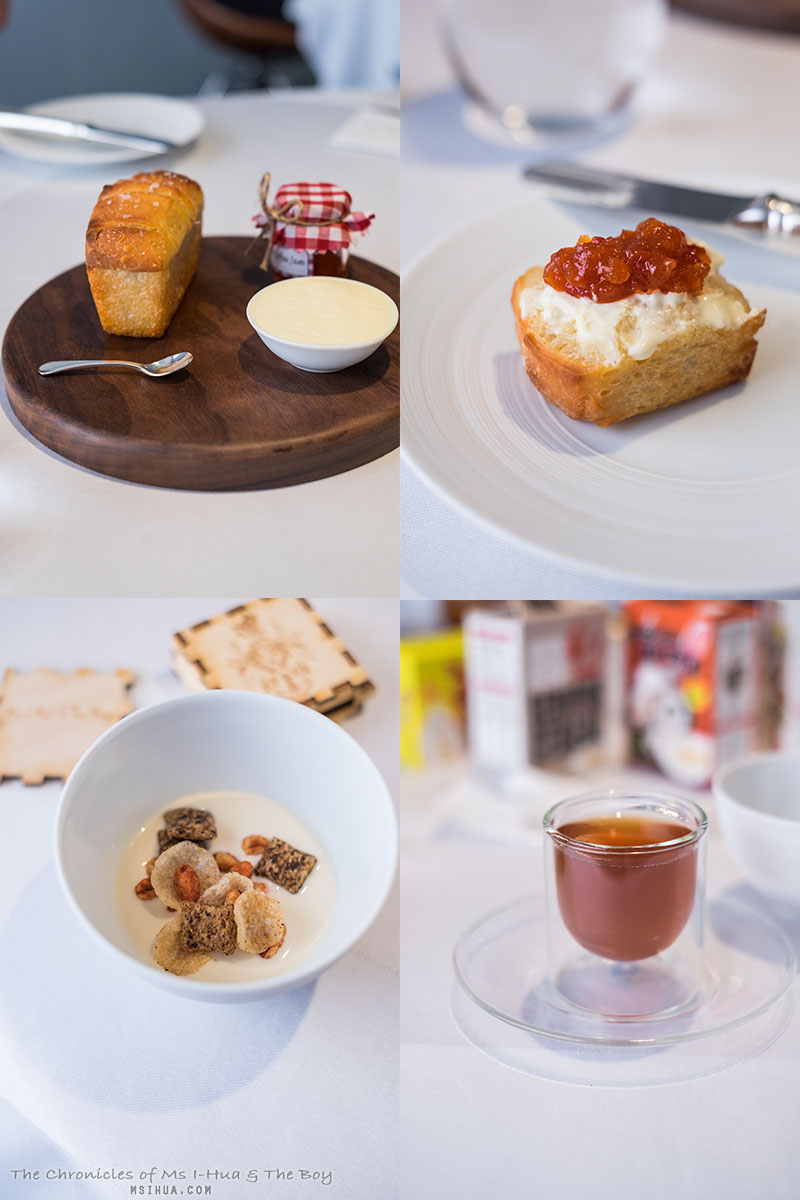 Morning: Rise and shine, it's breakfast time
[Clockwise from Top Left: Brioche with Clotted Cream and a Tea/Coffee Jam; Hot and Cold Tea; and Truffled Egg Mousse, Jellied Tomato Consommé, Bacon and Toasted Bread Cream, Cereals]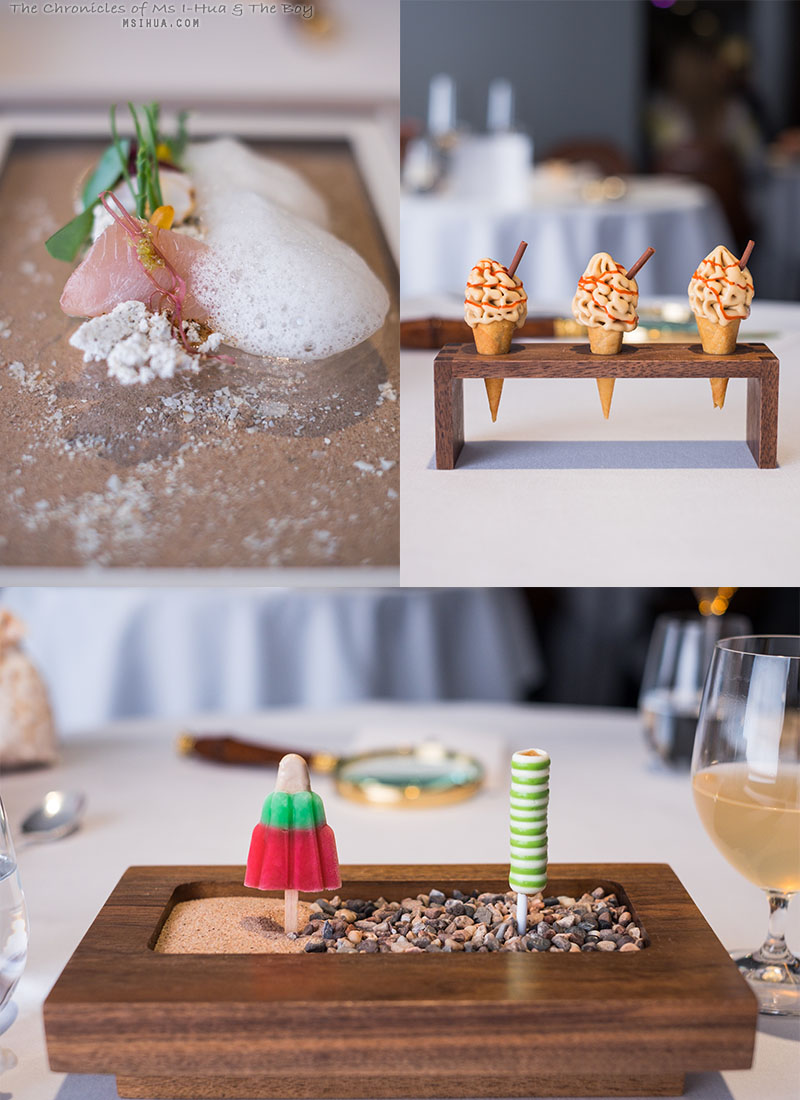 Mid-morning: First one to see the sea…
[Clockwise from Top Left: Sound of the Sea; Crab and Passion Fruit "99"; Waldorf Salad "Rocket" and Salmon, Avocado, and Horseradish "Twister"]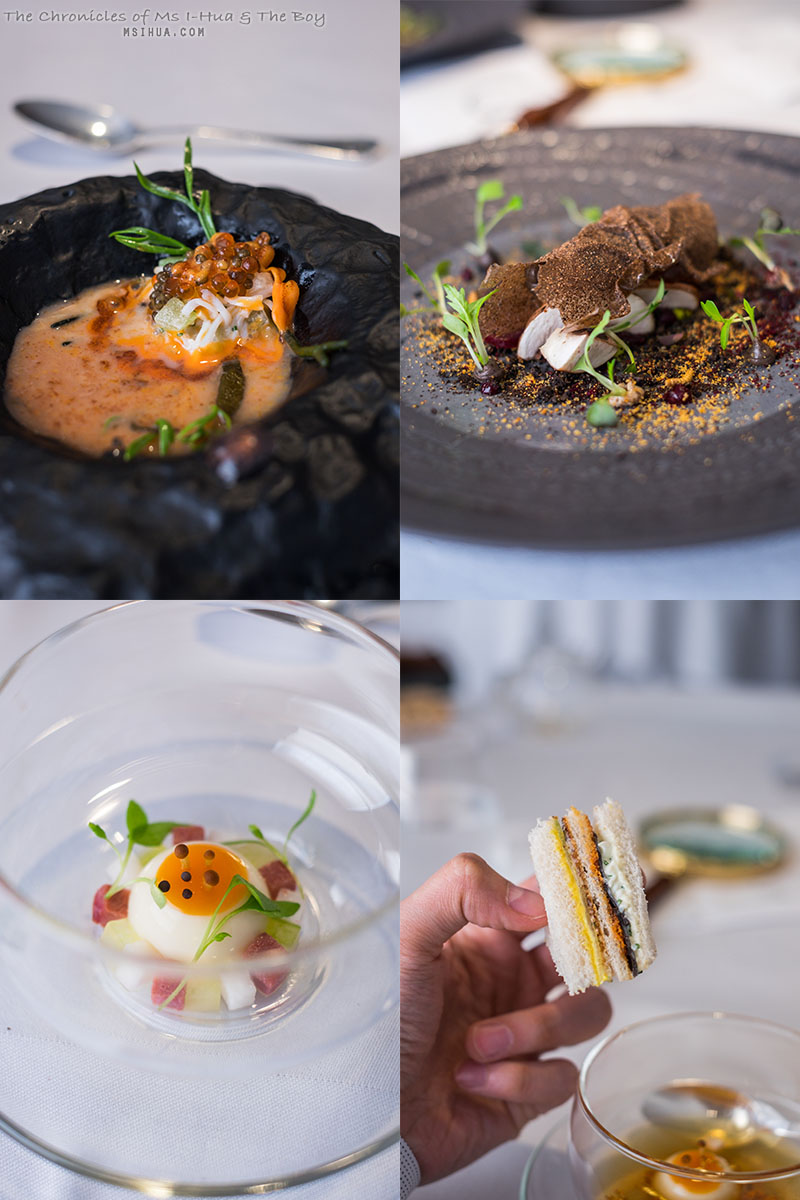 Afternoon: If you go down to the woods today…
[Clockwise from Top Left: Cornish Crab (from Mid-Morning); Mushroom, Beet and Blackberry; Mock Turtle Soup]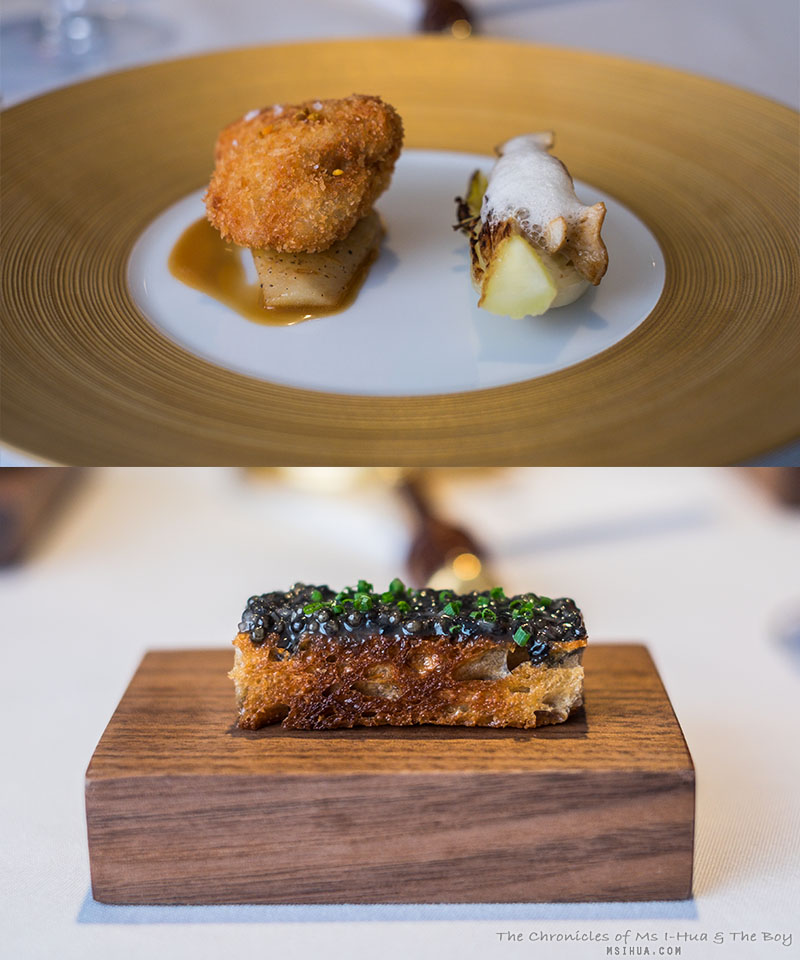 Evening: Are you ready for dinner?
[Top: Starter – Veal Sweetbread; Bottom: Starter – Caviar Toast]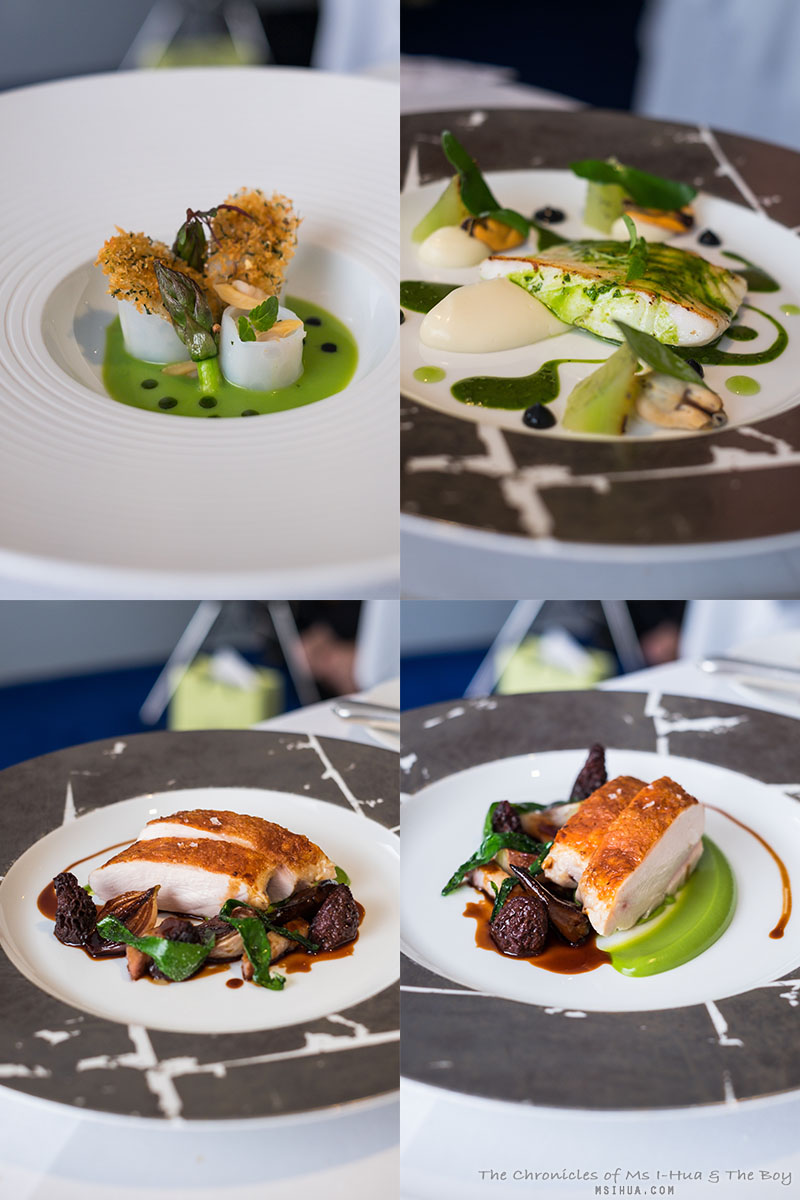 Evening: Are you ready for dinner?
[Clockwise from top left: Starter – Cuttlefish Cannelloni; Main – Roast Turbot with Caviar; Main – Coq au Vin]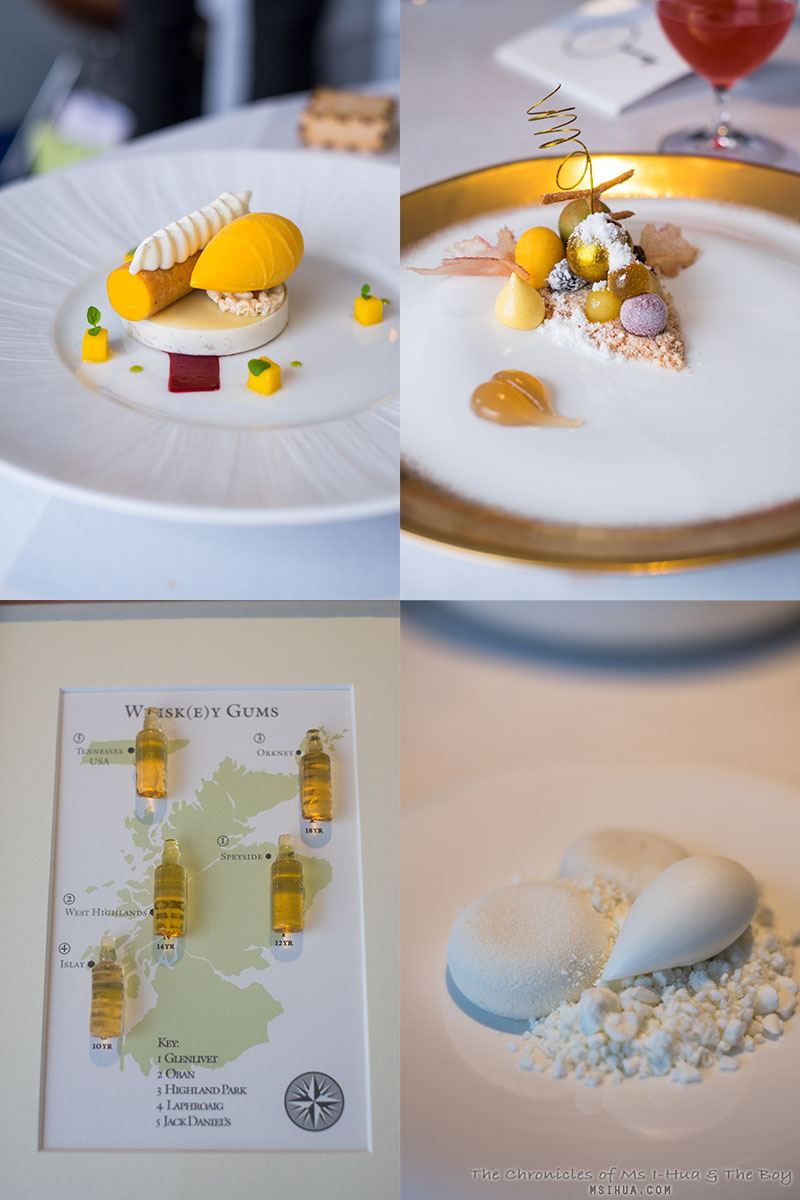 Evening: Are you ready for dinner?
[From top left: Dessert – Alphonso Mango, Pepper, Mint; Dessert – Botrytis Cinerea; Bottom left: Digestif – Whisky Gums]
Bedtime: Off to the Land of Nod
[Bottom right: Malt; Orange Blossom; Tonka, Milk, Meringue, Crystalised White Chocolate, Pistachio]
Once the last course was set down, a calm quiet descended upon us. As we were one of the last tables left, and had seen the other tables before us slowly go through their dining experience, we knew that the end was nigh and we would be leaving soon.
But with all things at TFD, that wasn't the case!
Our Storyteller, Ryan, emerged with his comrades with a cheeky grin and a wink. They looked at The Boy pointedly and mentioned that there was one more surprise to be had, before walking out with three glasses of kirsch wine, and three serves of the famous Black Forest Gateau.
Even as his eyes lit up, The Boy was still looking a tad surprised that we had been served an 'extinct' course. The BFG (as it is affectionately known), is a dessert dish from the previous TFD menu that was retired.
The Storytellers gleefully exclaimed and recounted a memory from The Boy's 18th birthday (which I had shared secretly with the TFD team when making our reservation). On his 18th Birthday, our friends had shared and bought a Black Forest Cake (The Boy's favourite) for The Boy. Once the birthday song was ended, one of our more obnoxious friends, decided it would be a great idea to smash The Boy's face into the cake, thereby rendering the cake to a pile of mush that only The Boy could eat. I had thought that if TFD could provide the BFG for him, we could replace the memory of the destroyed birthday cake with a more pleasant memory. I think we succeeded!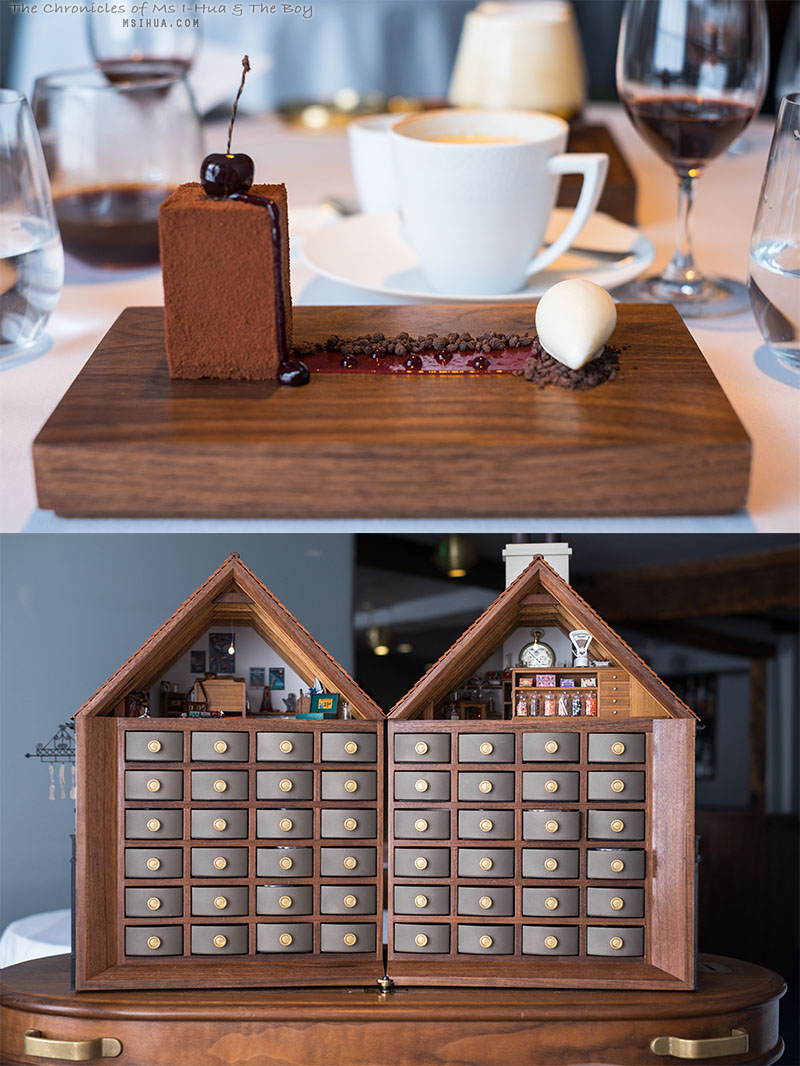 And then to dream…
[Top: Black Forest Gateau; Bottom: Candy Shop]
There were a few more surprises during our meal at TFD (check out my instagram page for these under the #msihuainlondon).
So back to why this is the best restaurant that we have ever been to.
It wasn't just a dining experience focused on food. It was the entirety of the experience, the drama, the theatre, the surprises, the stories, and of course, the food. Every table in the restaurant was filled with people with giant smiles and infectious laughter. It was the most positive dining room we've ever encountered! Every adult in attendance was relaxed and experiencing TFD with a childlike wonder.
We greatly enjoyed our visit at TFD and highly recommend it as a once-in-a-lifetime dining experience. More if you're lucky enough (and willing enough to spend) to visit The Fat Duck.
The Fat Duck
High St
Bray
Berkshire SL6 2AQ
Phone: +44 1628 580333
Website: thefatduck.co.uk