We have often said, you can judge how good a meal is, depending on how great the snacks are (and if there are snacks) before the tasting menu commences.
As we arrived at the beautiful Corner House (@cornershousesg) located at the heart of Singapore's Botanical Gardens, and relaxed on a balcony window to commence our lunch, we couldn't help but admire the beautiful stately bungalow which houses the restaurant.
Led by Chef Jason Tan (@chefjasontan_sg), and unknown to us, we were about to embark on one of my favourite meals of 2018.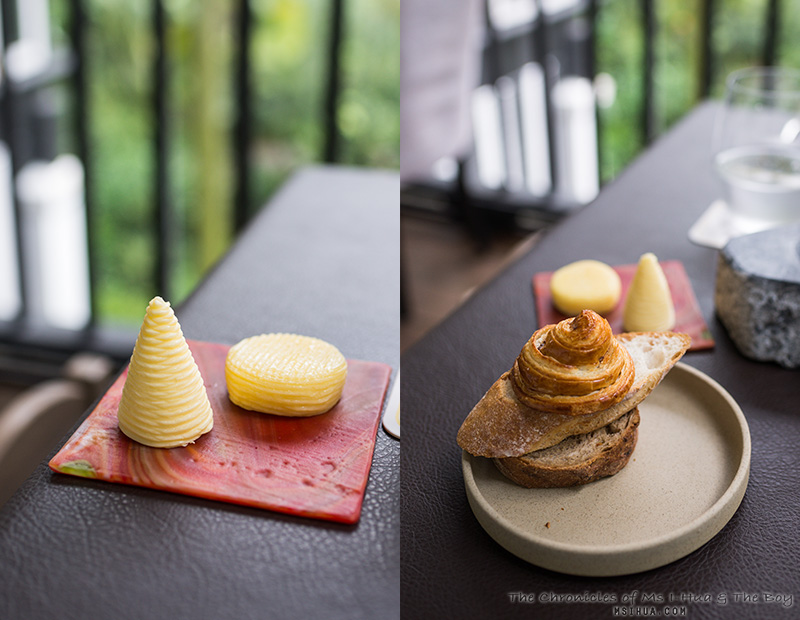 Choices of butter and bread before the snacks were brought out.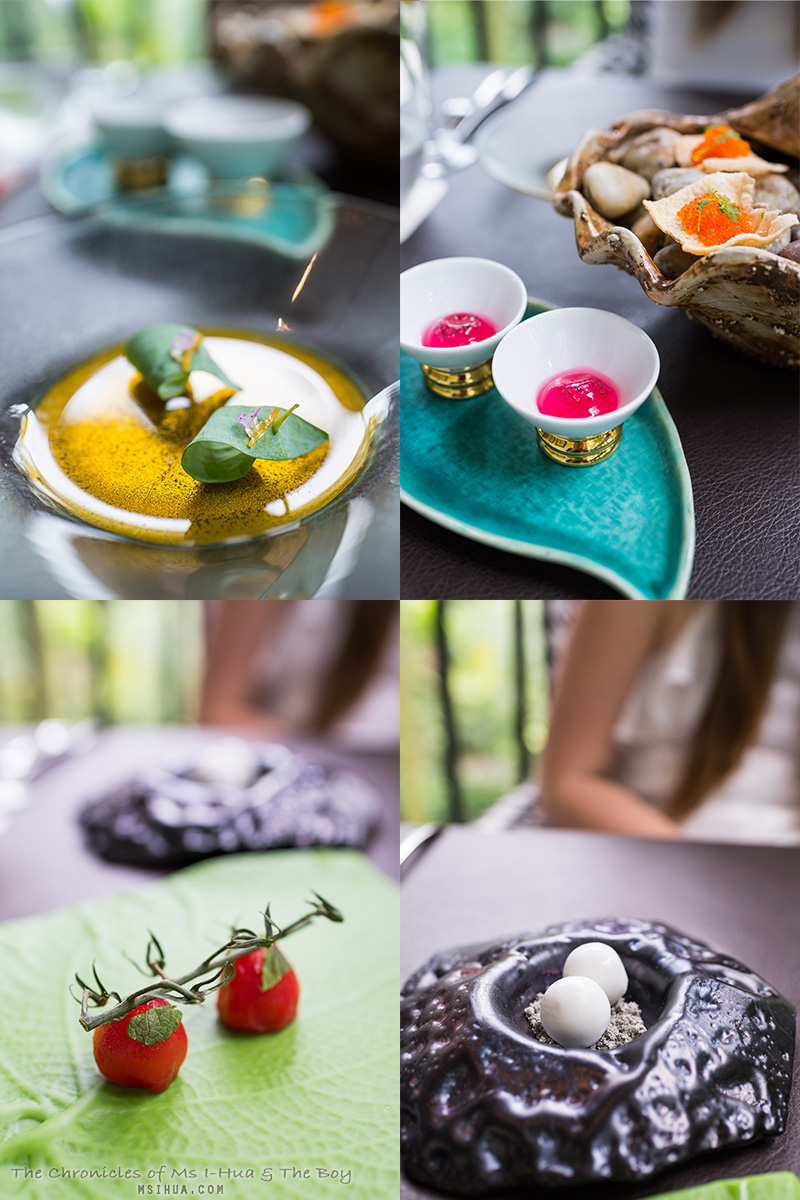 Back to the topic of snacks! Chef Jason Tan takes snacks to a whole other level here at Corner House. The presentation and execution was almost flawless, and we were served 6 different snacks before we started on the main part of our tasting menu.
The snacks kept coming out 3 by 3, and we were thrilled with their presentations.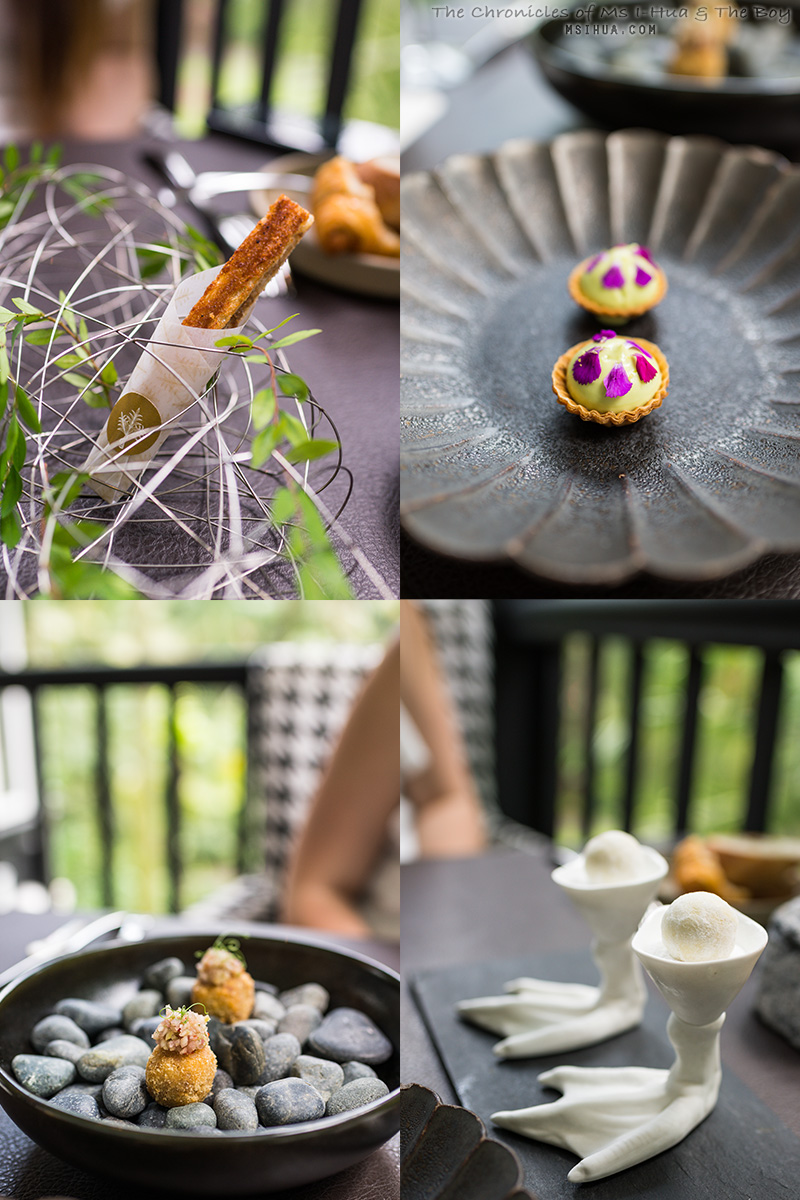 From oyster leaves, to duck confit, even a snack featuring spam(!), every snack presented was meticulous and refined.
One of the snacks, was cherry tomatoes marinated with plum, honey, calamansi and mint – so refreshing and so familiar in taste.
Foie Gras Bon Bon (served on duck feet), served with 150 years aged Grand Marnier was also a super fun treat (almost like an exploding flavour).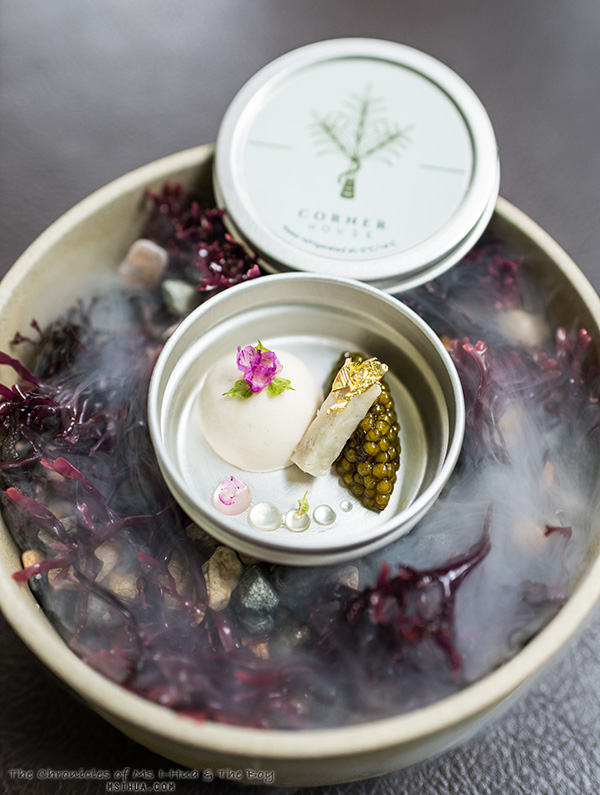 Smoked Eel Parfait, Yuzu, Kristal de Chine Caviar.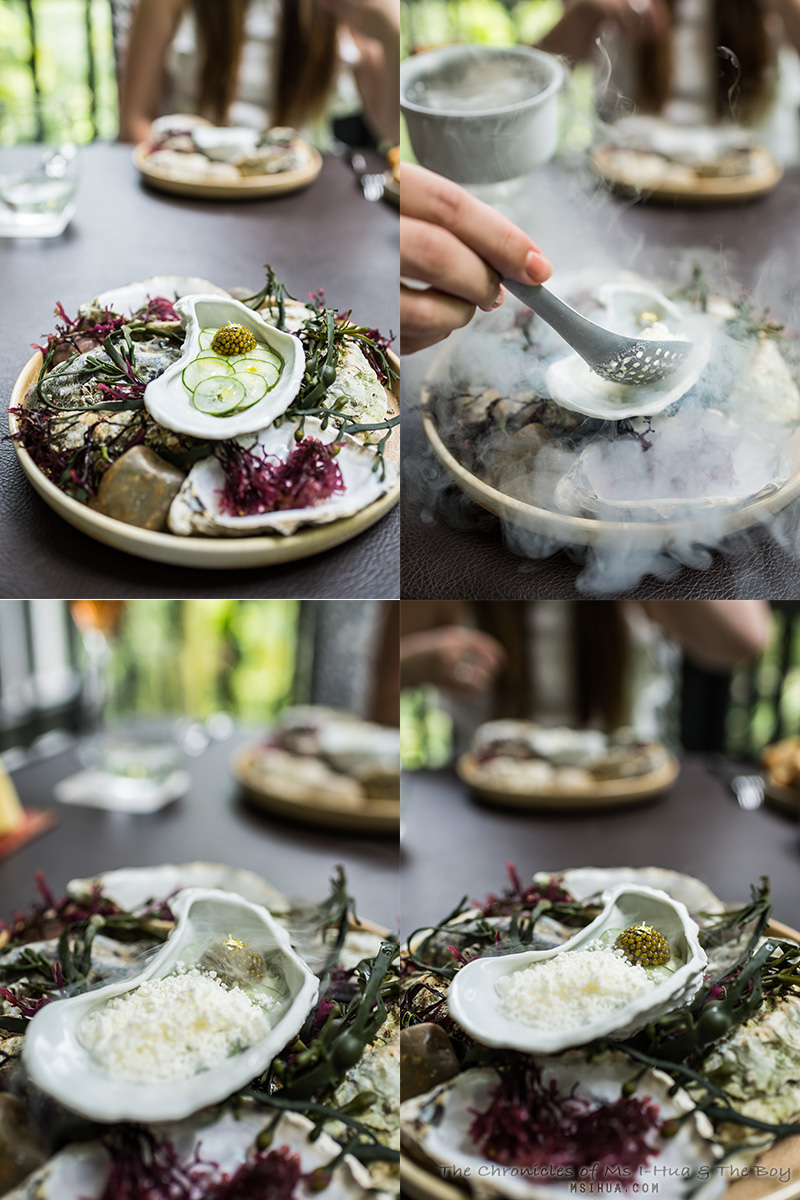 Royale Oyster (Cucumber, yuzu kosho, mint, creme fraiche, Kristal de Chine caviar)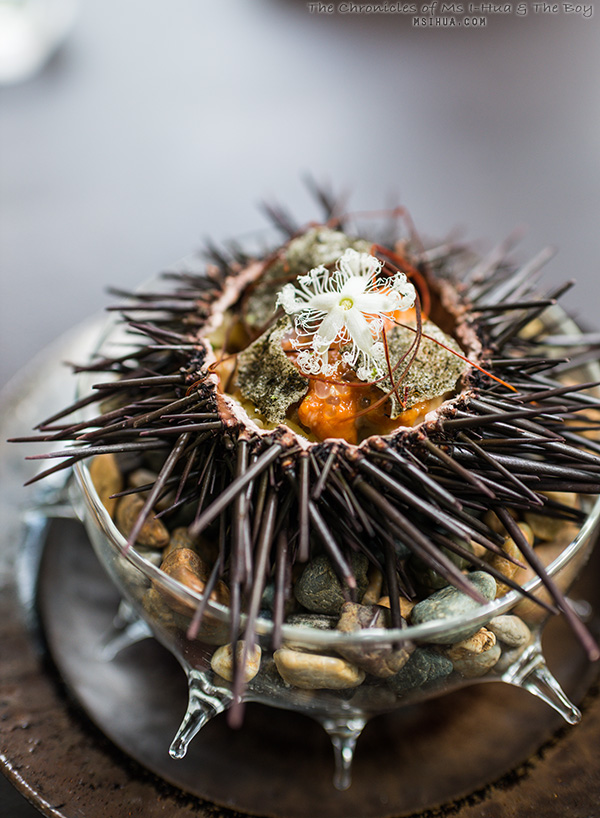 Sea Urchin (Riso, seaweed, cider, crustacean, finger lime)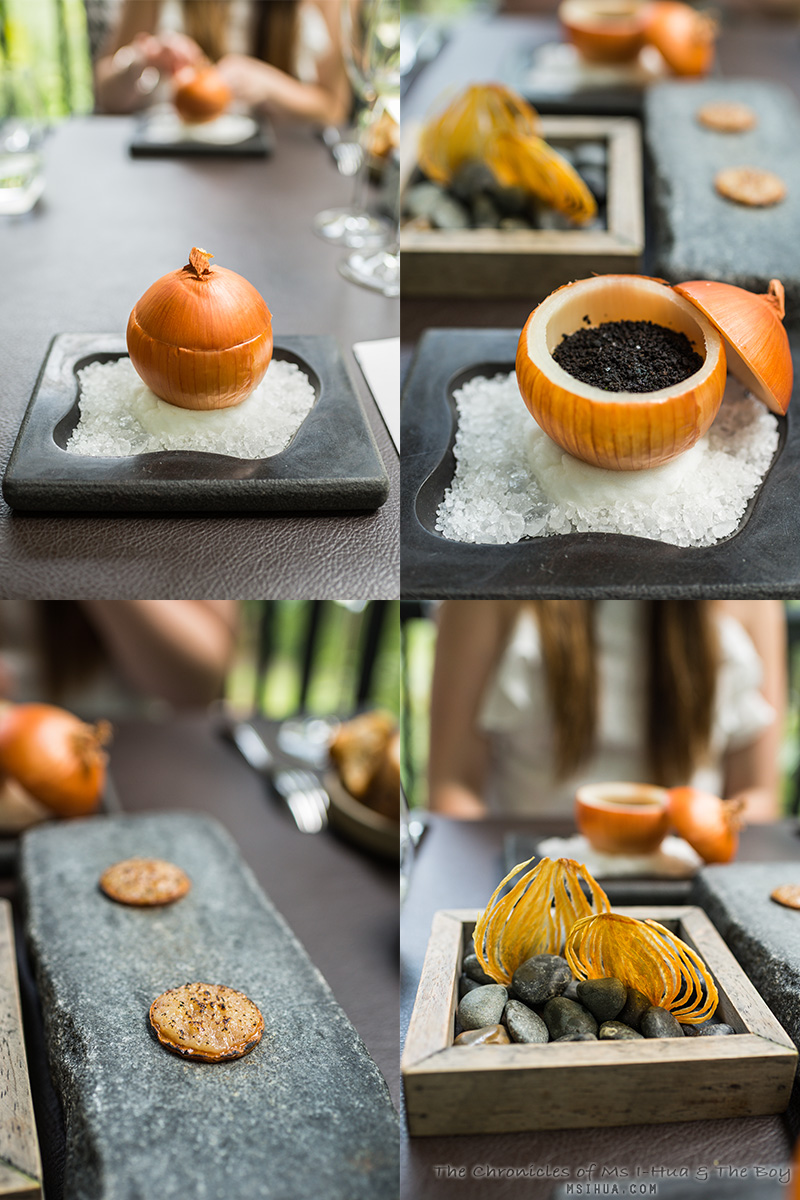 [Interpretation of My Favourite Vegetable (Oignon doux des Cevennes)]
The piece de resistance dish certainly belonged to Chef Tan's signature Oignon Doux Des Cevennes. The beloved onion is served four ways.
Firstly, baked in an onion cup (a whole onion, hollowed and baked, filled with onion puree and confit, served with a 62 degree sous vide egg, chives and black truffles.
Then as an Onion Tart, a delicate onion confit on crispy filo pastry topped with cheese.
Thirdly, a delicate thin (almost glass-like or butterfly wings) slice of onion which had been dehydrated for 24 hours and lightly salted.
Last but not least, as an Onion Tea. An emulsion of onion confit and cream, with an Earl Grey-infused onion tea. Seemingly simple, this was the most complex and most expensive of the four versions, involving 3 kilograms of onions, and two days of work, to produce a mere 200ml of this liquid.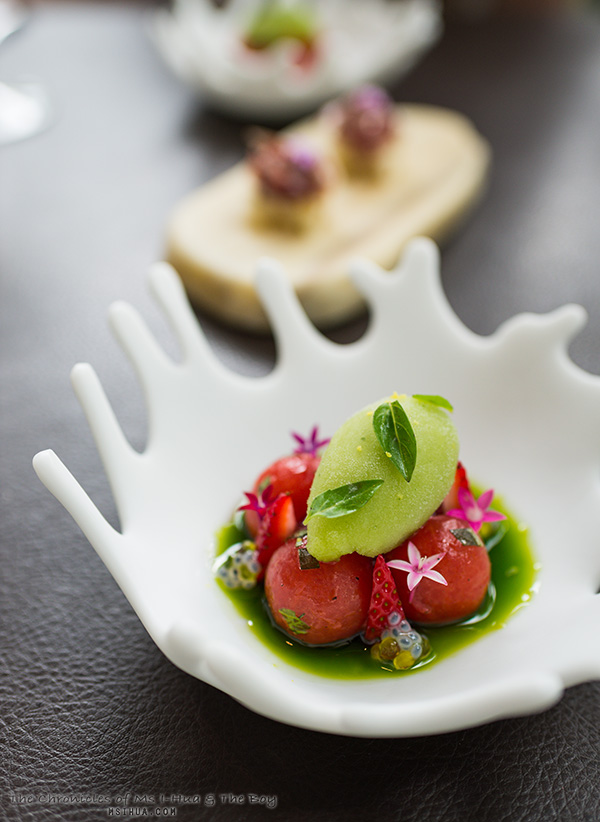 Tomato: Le Jardin de Rabelais (Strawberry, basil, yuzu, basil seed, cavaroli, Iberico Ham)
I remember being very intrigued with one of Chef Jason Tan's dishes which he had put up on instagram, and professed that I would have loved to try it, if the opportunity was there.
To my utmost delight, the dish (not part of the menu) was brought out to us, and I was just so gobsmacked that the chef remembered!
The dish was Bomba Rice (pictured above), a Peranakan-inspired dish, consisting of Buah Keluak (pangium edule), Toretama egg, and seaweed. It was an umami bomb of flavours, with every mouthful yearning for the next. Well balanced earthy flavours.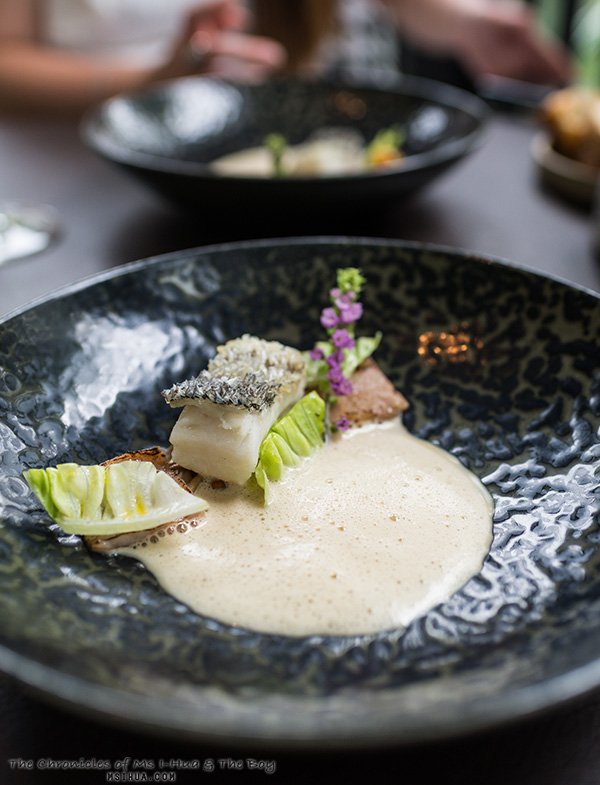 New Zealand Blue Cod "crispy scales" (Iberico pork jowl, cha enoki, romaine lettuce, Shaoxing)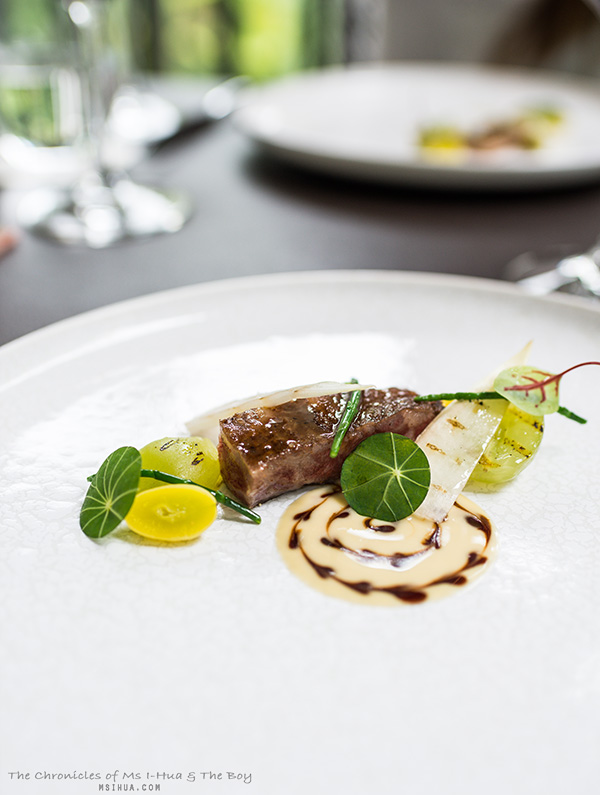 A4 Toriyama Wagyu (Shine muscat, ginnan, Fourne d'Ambert, sherry, endive)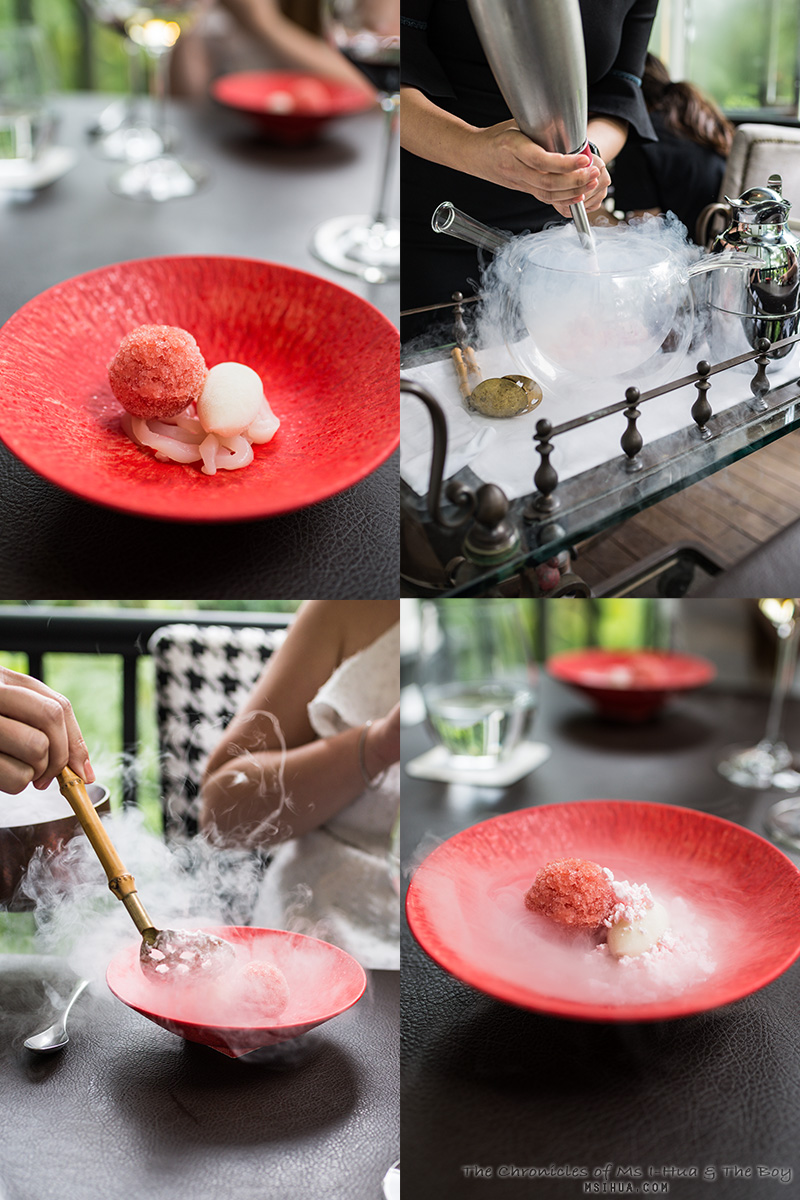 Palate Cleanser: Soursop (Watermelon, rose, rambutan)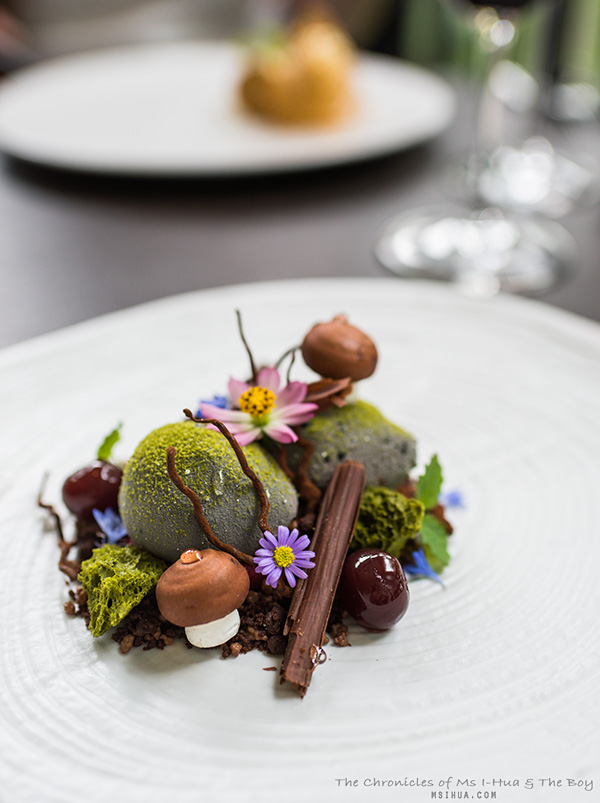 Cocoa "Pebbles" (66% Caraibe, Kirsch, cherry, Madagascar vanilla)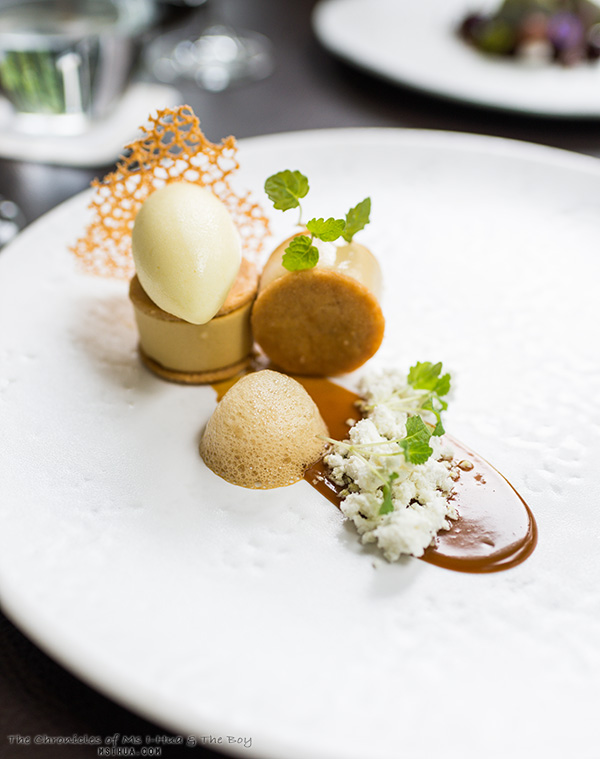 My Interpretation of Kaya Toast (Pandan, coconut, Gula Melaka, muscovado, pineapple)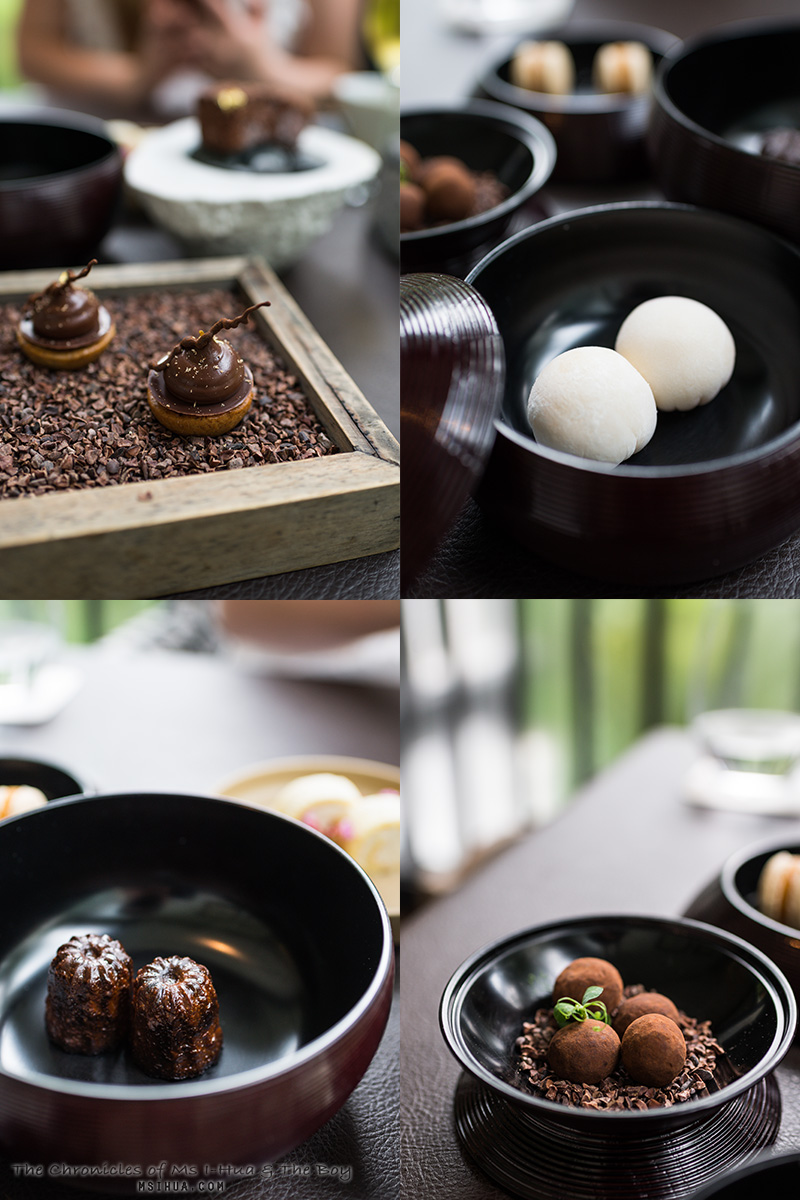 A selection of Petit fours:
Chocolate, Nutmeg, Ginger
Jackfruit Mochi
Canele de Bordeaux
Caramelised Macadamia "Jivara"
Milo Dinosaur
Mao Shan Durian "Singroll"
Salted Egg Yolk Macarons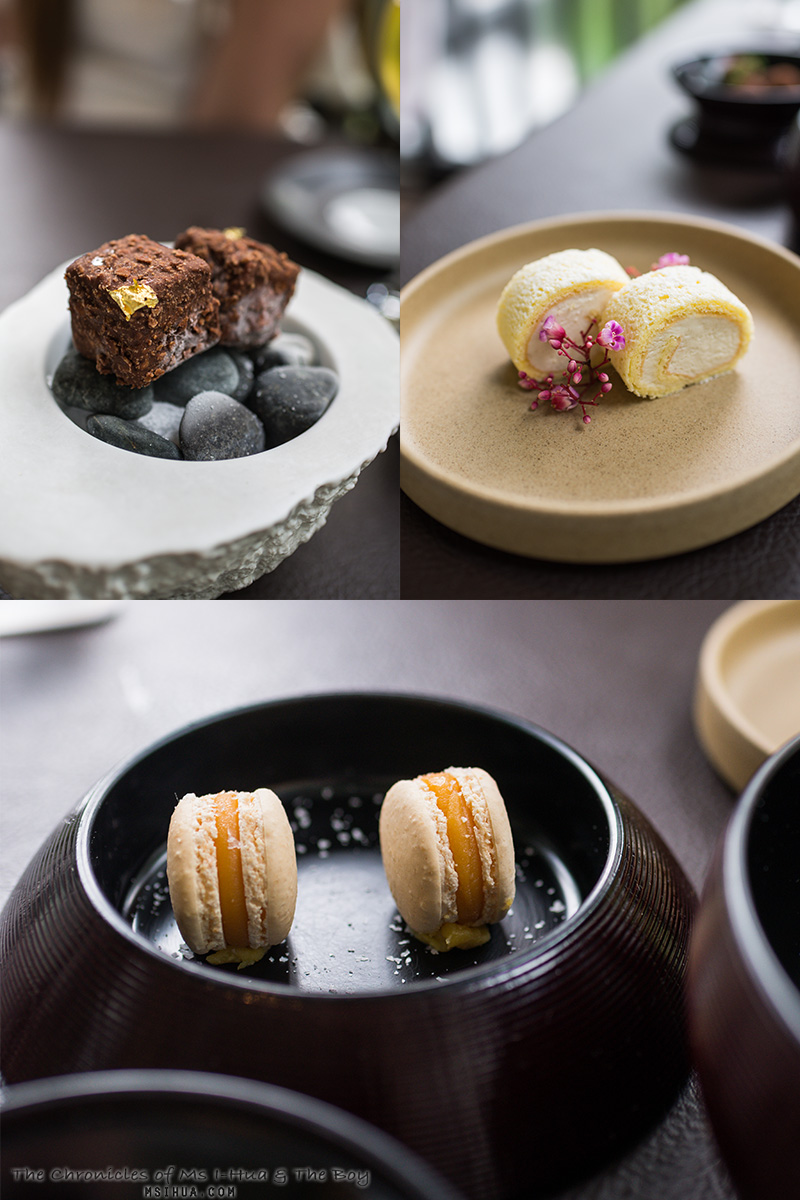 And there you have it, a thoroughly delicious and beautiful meal, utilising French techniques, to celebrate local Singapore flavours.
If you happen to be in Singapore, do make time and place a reservation. It is hugely under rated and I'm not even sure why! But I promise you, if you do make a visit, you won't be disappointed.
Address:
1 Cluny Road
EJH Corner House
Singapore Botanical Gardens
(Nassim Gate Entrance)
Singapore, 259969
Phone: +65 6469 1000
Website: https://cornerhouse.com.sg
For reservations or enquiries on press and events:
[email protected]
Opening Hours:
Weekday Lunch: 12 pm – 3 pm (last order 2 pm)
Weekday Dinner: 6.30 pm – 11 pm (last order 9 pm)
Weekend Brunch: 11.30 am – 3 pm (last order 2 pm)
Weekend Dinner: 6.30 pm – 11 pm (last order 9 pm)
Closed on Mondays
Dress code:
Smart Casual
Shorts and bermudas are allowed with loafers or shoes. No slippers.