Having been to Bali annually the last 4 years, we decided to change tacks and stay at Ubud during our summer break.
Previous trips had only seen us rushing up to Ubud, spending a day or two and then rushing back down to either Seminyak or Nusa Dua, where we usually base ourselves.
Having all the time and luxury to relax at Ubud, meant that we were able to spend some time with Owner-Chef Eelke Plasmeijer who showed us around the local farms before letting us trudge mud through their pristine restaurant (much to my horror and embarrassment), Locavore. The other Owner-Chef Ray Adriansyah, was away on a family trip in Japan at the time and we missed him on this visit.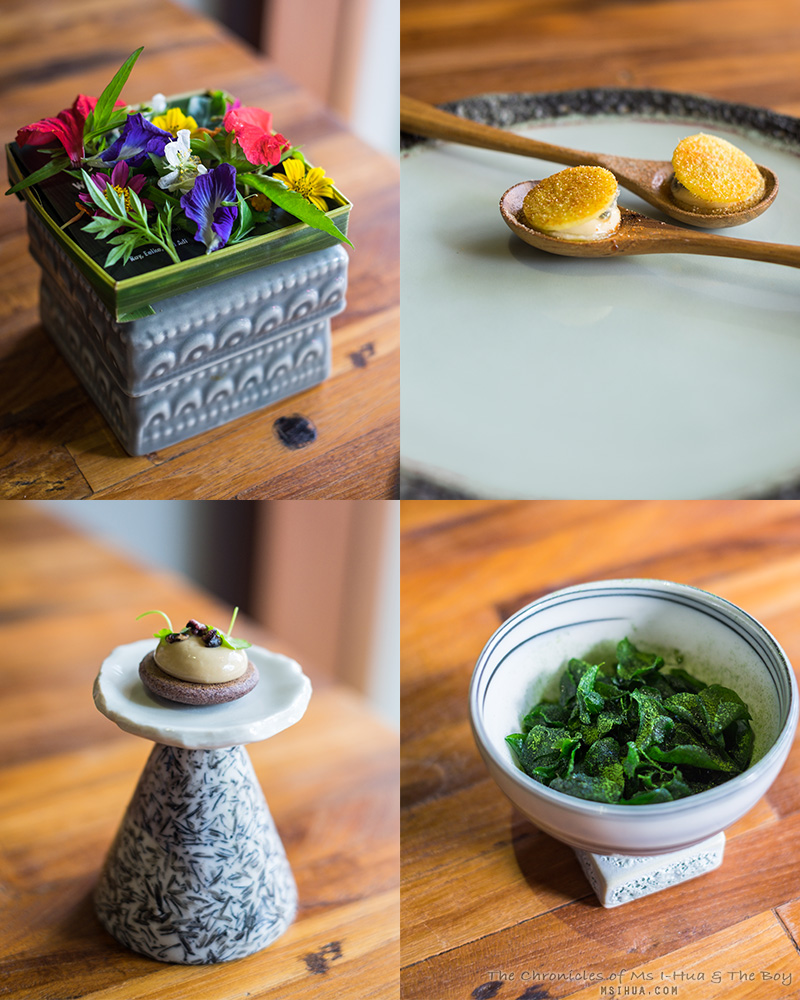 It was my third visit to Locavore (and The Boy's second), and once again, I was blown away by how local ingredients and produce were showcased and served to their diners, but more impressed that their menu was still surprising me at my third visit! Not only was every dish presented beautifully, but every ingredient was either sourced locally around Indonesia, or grown and harvested locally in the semi-wild farm we had visited earlier in the day.
Once you are ready to start, you're initially presented with Locavore's edible version of the Balinese, Canang Sari. If you've been to Bali, you would be familiar with these daily offerings made by Balinese Hindus to thank the gods in praise and prayers. You can see them everywhere in Bali, including shrines, on the streets, and shop fronts.
Other snacks included dehydrated pumpkin leaf with seaweed salt; black rice blini, with an egg emulsion and black rice; mushroom custard, with cava beans, and moringa leaves.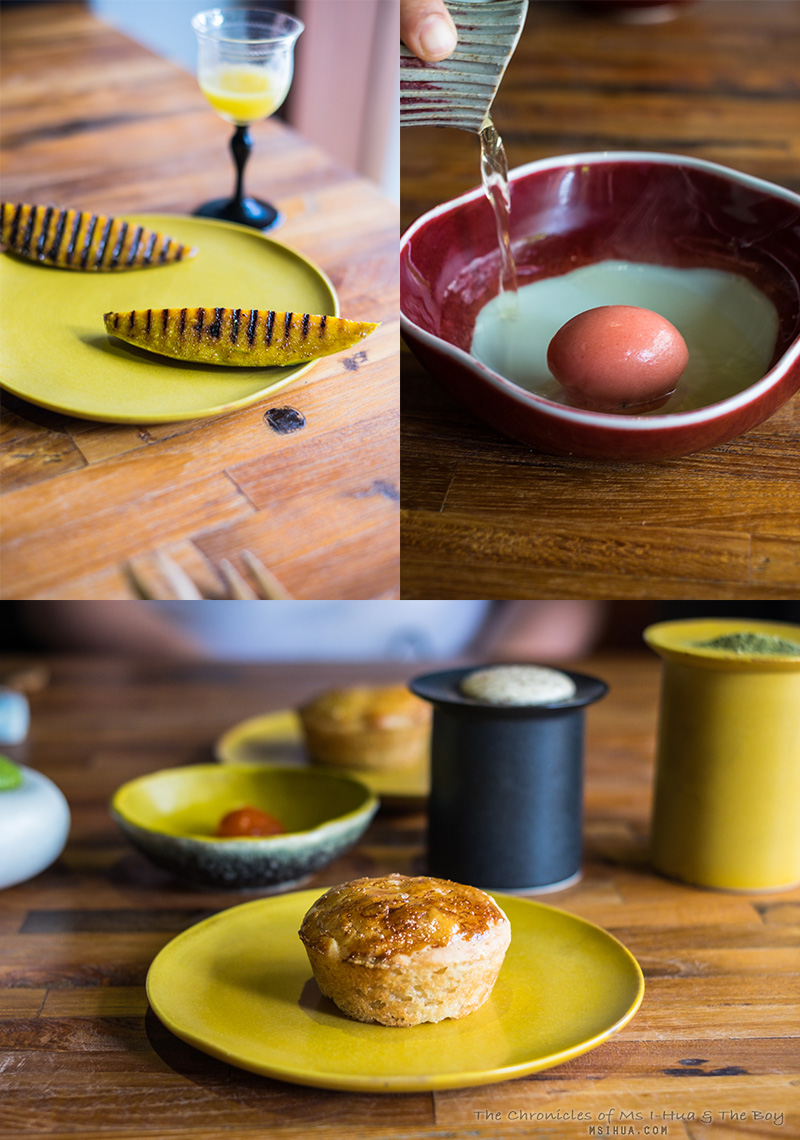 Snacks of barbecued young mango with passionfruit and chilli served with mango kombucha, and was followed by a sambal tomato sorbet, topped with frangelico, tomato and chilli to open up our tastebuds. A final snack before the main menu began, a homemade brioche (using lard instead of butter) utilising leftover herbs, cashew nuts, chilli gel, confit garlic with chives.
Cut the Crab: Mud crab, bonito garum emulsion, pickled young mango, jellied crab consomme, katsuobushi.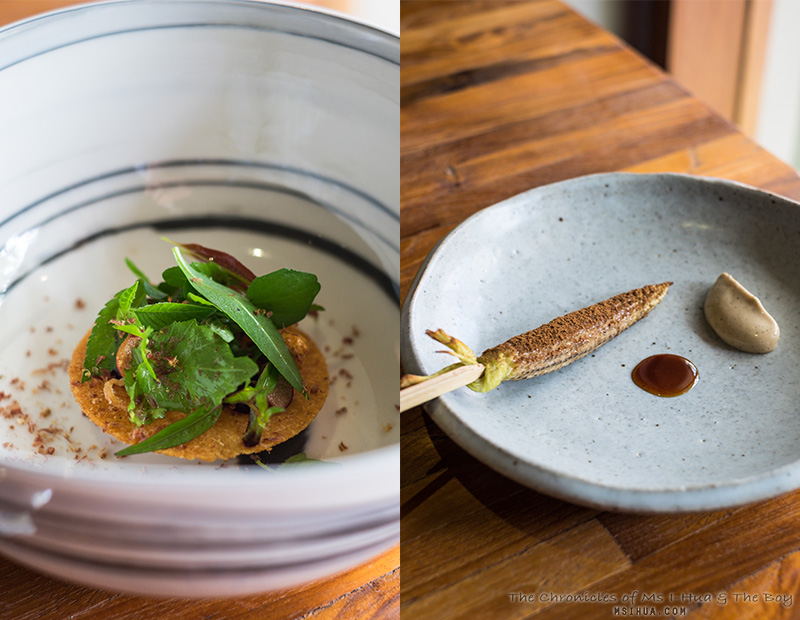 Foie Gras Kambing: Goat liver mousse, rice flour cracker, pickled wild berries, cured smoked goat's heart, rosella kombucha vinaigrette.
Jagung Bakar (a.k.a. did someone just put coffee on my corn?): Charred baby corn, coffee-miso emulsion, termite powder, coffee kombucha reduction, grated coffee bean.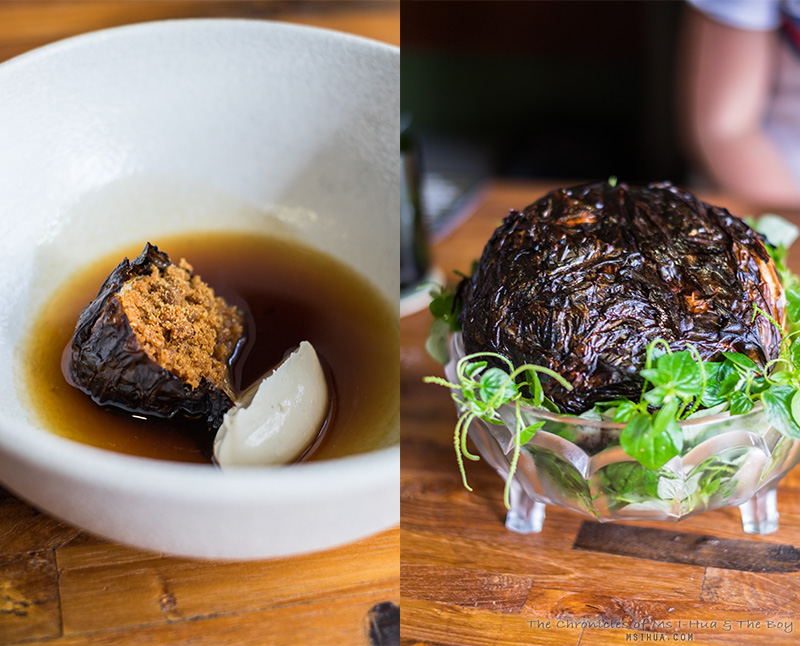 Cabbage and Bacon: Whole cabbage roasted in bacon fat, cashew sour cream, bacon dashi, lacto-fermented onion powder.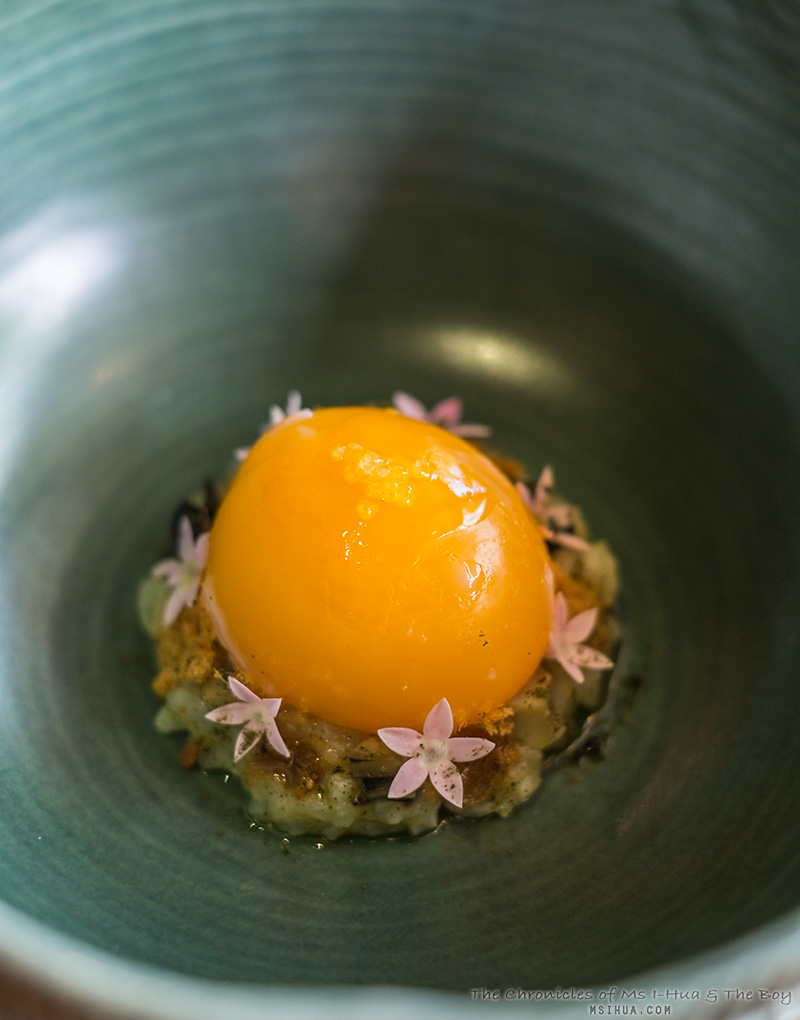 Into The Sawah (a.k.a. everything that lives, grows and swims in and around the Ubud rice fields): Heritage Galuh rice porridge, 64 degrees duck egg yolk, snails, frog leg abon, fern tips, wild flowers.
This is the dish of Locavore, and has been on every iteration of the menu I've been honoured to try. One of our favourite dishes, as it captures tradition in a modern context.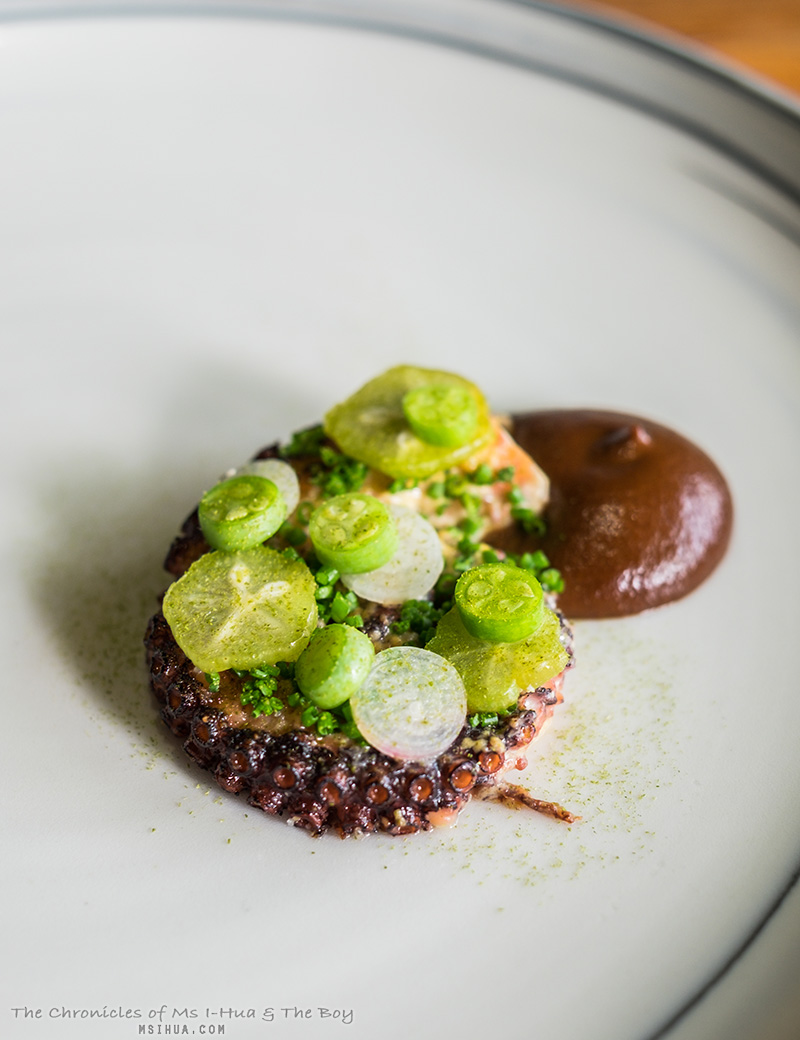 Gurita Bakar: Grilled octopus, kluwak mole, belimbing wuluh, chives, coconut curry, timun tikus, lime pickled spring onions.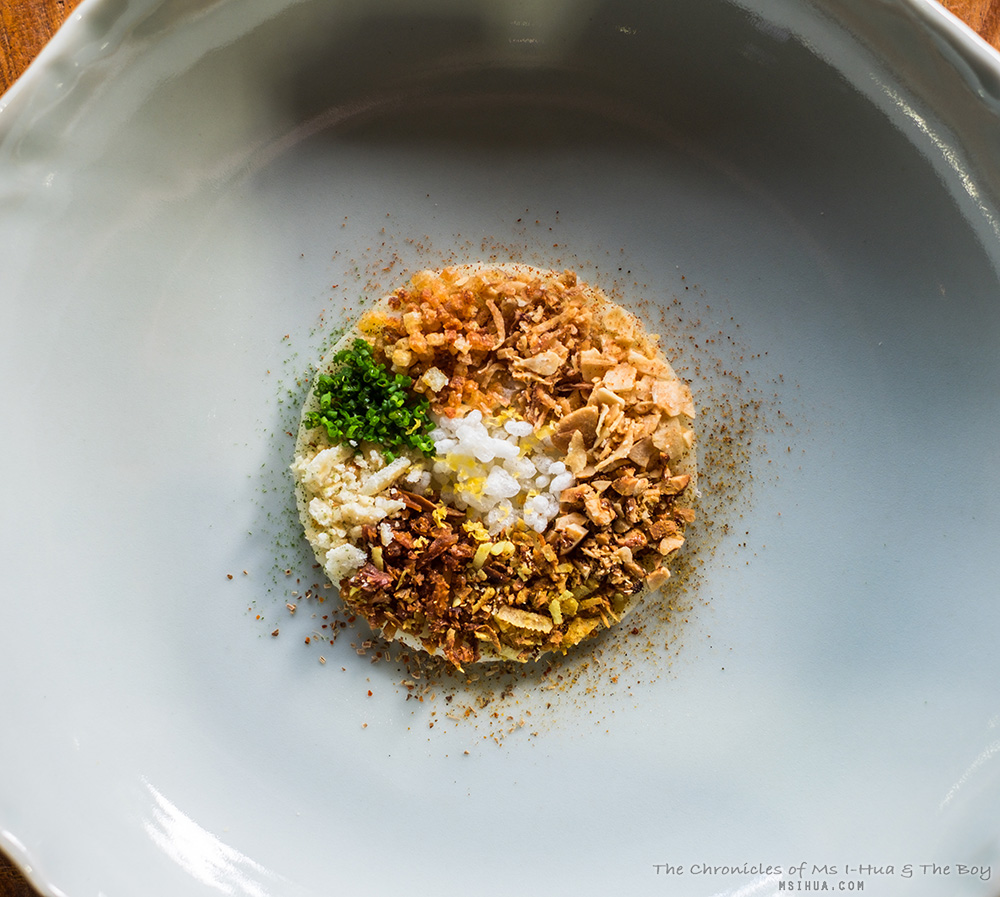 Singkong 17: Cassava garlic mousseline, with 17 tasty condiments including, chives, mushroom, fried mung beans, cured egg yolk, melinjo crackers, fermented sambal matah powder.
This is possibly my new favourite dish at Locavore. It definitely showcase what they are doing in the kitchen, as well as tells their story, all in this one dish.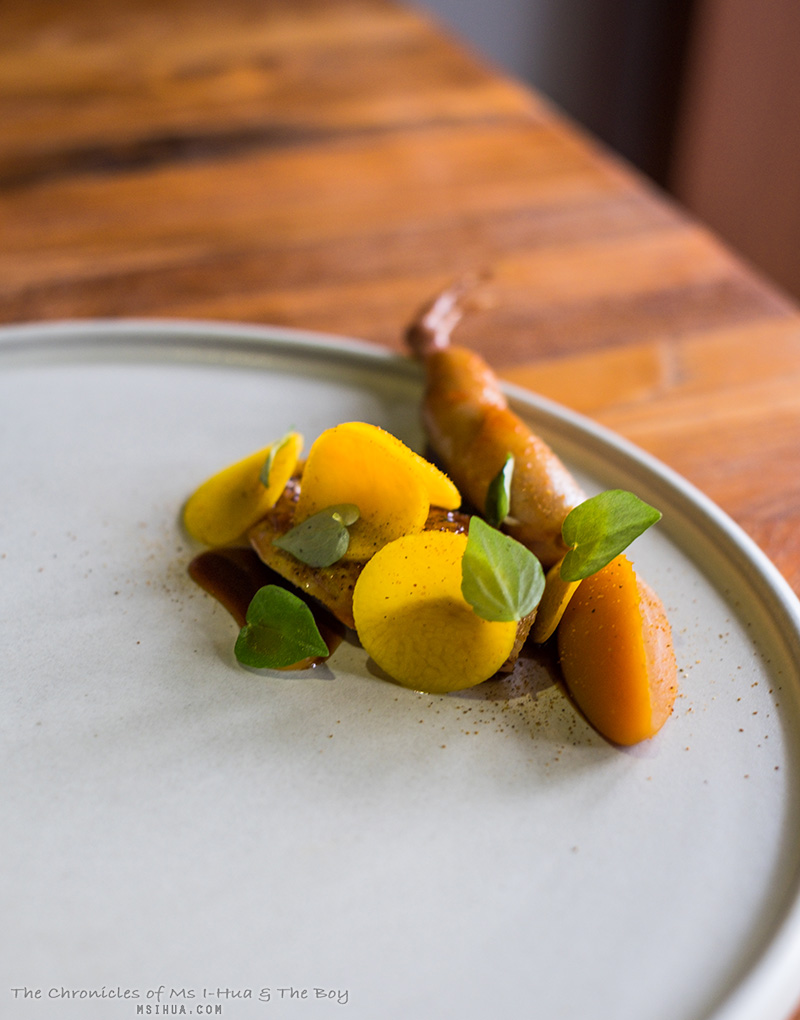 Burung Puyuh: Roasted quail breast, ginger-cinnamon butter, barbecued glazed quail leg, smoked pumpkin, charred pineapple gel.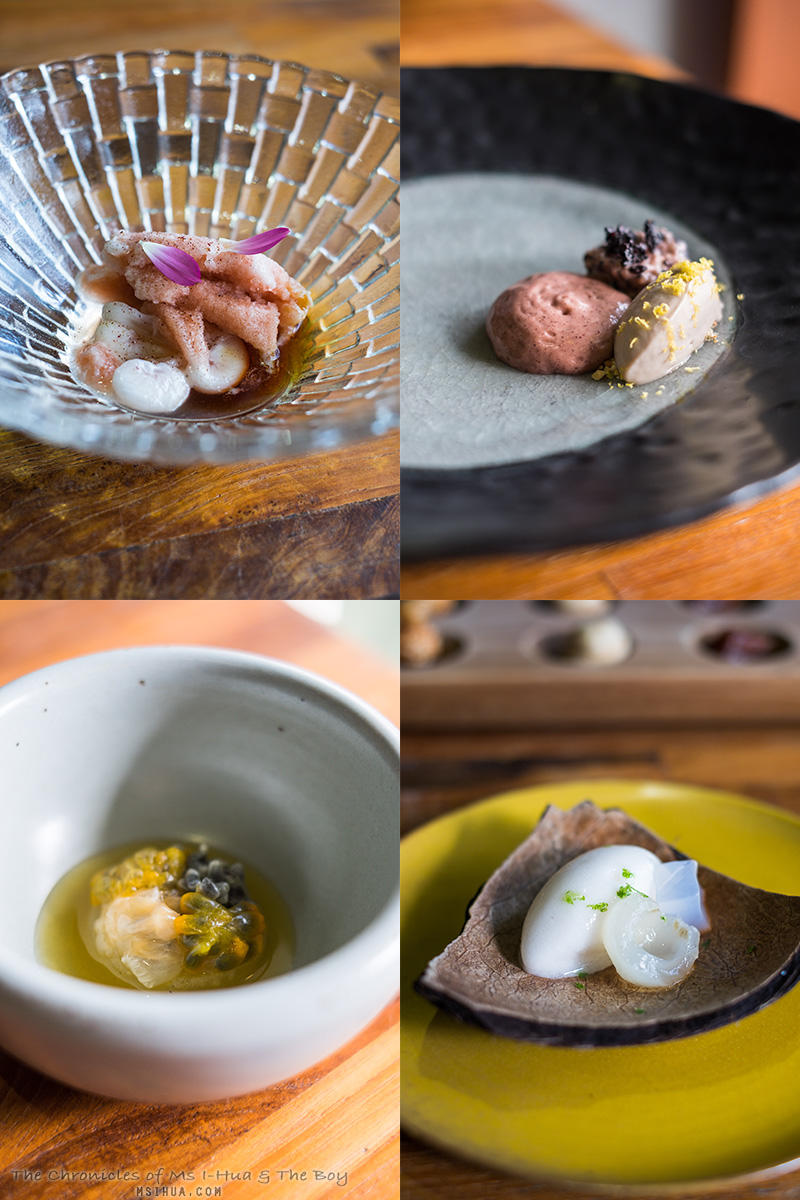 We also got to try 4 different types of passionfruit (we had just learnt earlier in the day at the farm with Chef Eelke, that there are hundreds of variants to this simple fruit (and we only know 1 or 2 in the commercial market).
Bubur Tape: Left-over brem making porridge, palm sugar ice cream, fermented black rice foam, sugar cured egg yolk.
We also had a coconut based dessert and another with local mangosteen.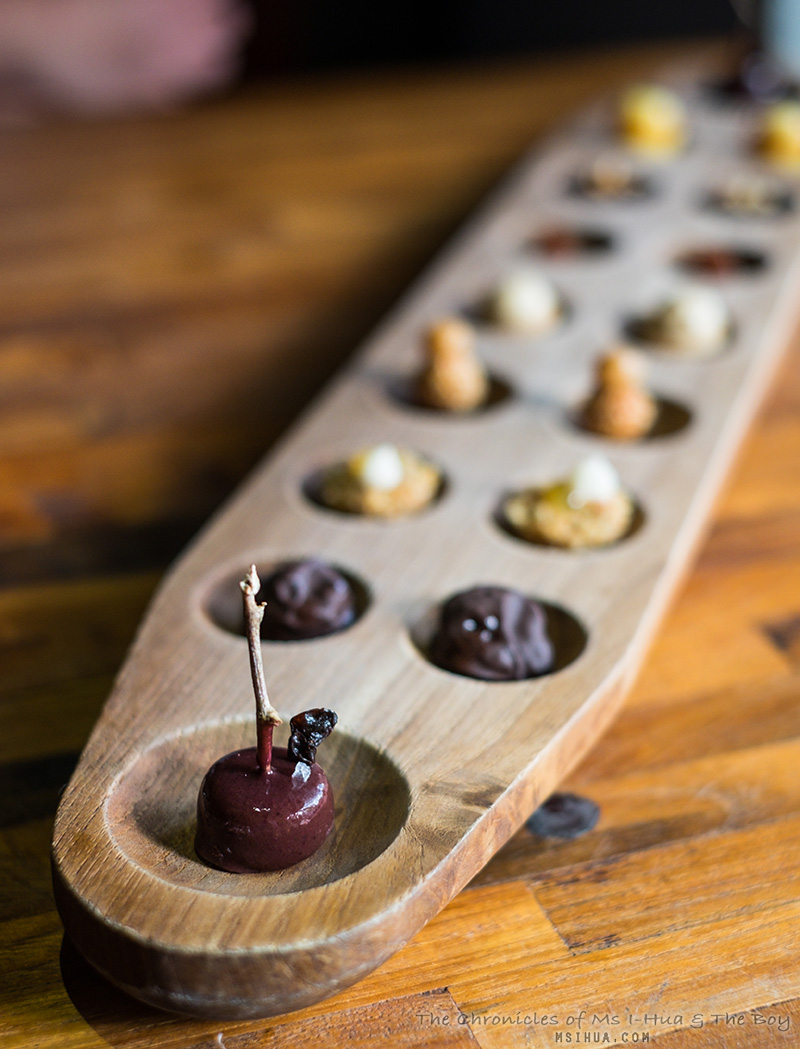 Congklak petit fours (we grew up in Malaysia and knew it as Congkak). Congklak is a type of mancala game popular in South East Asia, and typically involves seeds or modern day marbles.
At Locavore, this is another course that evokes nostalgia for us, and brings about a time when it was much simpler in our childhood.
It is easy to see how Locavore was the recent recipient of the Asia's Most Sustainable Restaurant Award, with very little food wastage (I mean they make courses with leftover ingredients), reuse as much as they can, minimise on any plastic use (if any). This is a feat that should be seriously lauded, for the fact that plastic usage in South East Asia (and most parts of Asia) is extremely high from my own personal experiences.
If you do happen to find yourselves in Bali, or plan a trip there, be sure to have Locavore on your list of places to eat at. If fine dining is too dear for you, do check out their other restaurant, Nusantara (a casual contemporary Indonesian restaurant), Locavore to Go Deli, or even their bar, Night Rooster.
[Ms I-Hua and The Boy dined at Locavore as guests of Locavore]
Address:
10 Jalan Dewi Sita, Ubud
Bali, Indonesia
Opening Hours:
Tuesdays to Saturday (Lunch)
Monday to Saturday (Dinner)
Phone: +62(0) 3619 777 33
Website: https://www.locavore.co.id